Golden Moments, the beloved homegrown durian artisan brand has launched Singapore's first Mala Lobster crackers made with a 100% authentic Sichuan Mala recipe. Long Da Ge is the sister-brand of Golden Moments introduced its first product line of Mala Xiao Long Xia consisting of crunchy bite-sized classic lobster crackers with a fiery twist!
The irresistible crackers are made with fresh small lobsters to accentuate the rich lobster cracker flavour, the tantalising bite-sized crackers are well-seasoned with dried Sichuan red chilli pepper and peppercorn from prickly ash trees, promising a full kick of spices melded in symphony with a rich umami flavour in every bite to ignite the senses.
Our editorial team speaks to Josiah Jeremy, founder of Golden Moments and Long Da Ge to share about his entrepreneurial journey with Golden Moments, his aspirations for Long Da Ge and more. 
Exclusive Interview with Josiah Jeremy, Founder of Golden Moments and Long Da Ge
1. Please share with us more about your background, what inspired you to set up Golden Moments?
Josiah Jeremy: 'What might you miss out on if you have not tested your capacity?' This is my guiding principle in everything I do in my life, which has contributed significantly to my journey as a serial entrepreneur.
Growing up, food has always been at the heart of my relationships with people. And I had a soft spot for durian. But I never really thought about setting up my own business, until I was working in a corporate company for a good 5 years and decided to make a mark of my own doing something that I loved. I finally took a leap of faith out of my comfort zone in 2017 and created my very own durian brand Golden Moments.
2. How did you start up Golden Moments and come up with a range of durian products?
Josiah Jeremy: Golden Moments was founded because of my love for durians. From day one, I had always envisioned a brand that lives and breathes durian. Being a durian lover, I aspire to be part of the durian revolution by creating cutting-edge durian gourmet treats that are fresh from farm to table.
But the thing about durian is that it is not easy to work with and has a higher product cost compared to other fruits and ingredients. Keeping in mind my hope to create a product that gathers families together and celebrates meaningful relationships, I set up an R&D team to delve into how to perfect the durian flavour in different products, using the freshest ingredients.
The very first product we developed was the signature 100% Mao Shan Wang Snow Skin Mooncake, which I'm humbled has become a local crowd favourite. With our consumers' tastes and preferences in mind, we went on to create more durian product variations like our Signature Mao Shan Wang Galaxy Cake, Golden QQ ('mochi'-like durian balls), and Dark Chocolate Mao Shan Wang Durian Macaron, and aim to come up with new products every half a year to keep things fresh.
3. From durians to Mala Xiao Long Xia crackers, what inspired you to come up with Long Da Ge? What's your aspirations for Long Da Ge?
Josiah Jeremy: 3 years back as a prison volunteer for youths, I was inspired by the resilience that I witnessed. How many of them chose to bite the bullet and change for the better ignited something in me and fueled my passion for the everyday person. Food has always been my muse, which I figured would be the best way for me to translate the passion I have for people – through creating food that I love.
As an avid lover of mala and prawn crackers from my childhood, I realised that there was no combination of the two in the market and decided to set up an R&D team to analyse that gap in the market. After a full year of trial and error, we perfected the authentic Sichuan recipe and infused it as a cracker snack with a spin of our own using fresh small lobsters. Through real flavours inspired by real people, my hope is to empower others through Long Da Ge's brand message: "Be Fearless. Be an Overcomer" in the heat of adversities, like a Long Da Ge.
4. Can you share more about the research and development process for the new Mala Xiao Long Xia?
Josiah Jeremy: During the early phases of Covid-19, our business moved online. One of the key benefits of that was the ability to engage with consumers directly, track their impressions, engagements, preferences and buying behaviours. My team noticed a gap in the market for mala crackers and a growing preference for such snacks amongst consumers, which gave us the confidence to embark on a year-long R&D process to perfect the original Sichuan Mala recipe. As I am an avid lover of both Mala and prawn crackers, I decided to combine them both and give them a spin of my own by using small lobsters to bring out the full flavour of the cracker. 
5. What does a 100% authentic Sichuan Mala recipe entails?
Josiah Jeremy: Essentially, it consists of dried Sichuan red chilli pepper and peppercorn from prickly ash trees. We do everything from scratch here at Long Da Ge, which sets us apart from brands that use Mala flavouring or pre-made Mala seasoning as well.
6. What sets Long Da Ge apart from other FMCG snacks in the market?
Josiah Jeremy: Long Da Ge's Mala Xiao Long Xia was created based on the same founding principle as Golden Moments – inspired by authenticity and fueled by passion. We wanted to bring the real authentic Sichuan flavour to our consumers. After a year of R&D, we perfected the 100% Authentic Sichuan Mala recipe.
Aside from the 100% authentic Sichuan Mala recipe dated back from 19th century Sichuan, China, Long Da Ge's Mala Xiao Long Xia comes in crunchy bite-sized crackers, which is easier to eat compared to the traditional large prawn crackers we're accustomed to. Made with real small lobsters, Long Da Ge's Mala Xiao Long Xia promises a full burst of rich umami flavour with a richer,  wholesome flavour of lobsters and spice.
7. What advices would you like to give to aspiring entrepreneurs who would like to start a F&B business?
Josiah Jeremy: Be fearless, be an overcomer. 'What might you miss out on if you have not tested your capacity?' This is the guiding principle of Josiah Jeremy on his journey as an entrepreneur. Everyone has something to bring to the table – we just need to be able to see and believe it when others do not, and take that calculated leap of faith.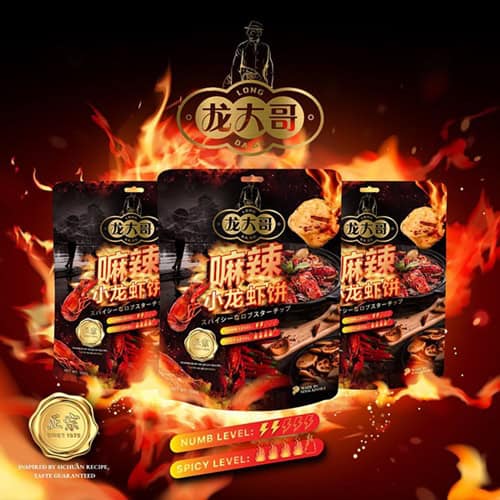 All images credit to Josiah Jeremy, Golden Moments and Long Da Ge
8. Lastly, what would you like to say to our readers who are looking forward to try the new Long Da Ge's Mala Xiao Long Xia crackers? 
Josiah Jeremy: Not to worry, it is not incredibly spicy, so for uninitiated Mala consumers, this is the perfect product to try the flavour for the first time.
Get yours today! Both Long Da Ge and Golden Moments are available at https://goldenmoments.sg/. Long Da Ge is also available at FairPrice Finest Exclusive.