In celebration of National Bubble Tea Day on 30 April, Gong Cha and Grab will launch 200 sets of a limited edition Pandan Pearl-radise bubble tea kit. The Gong Cha x Grab Pandan Pearl-radise kits come on the back of the successful launch of this exclusive flavour earlier in March to celebrate Singaporeans' insatiable love for bubble tea. Pandan Pearl-radise has quickly become a hit on Gong Cha's menu – with thousands of cups already being ordered through GrabFood within just a month.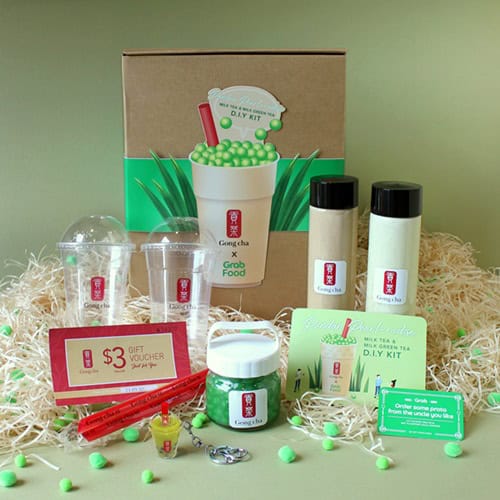 Each Gong Cha x Grab bubble tea kit will comprise one cup of Gong Cha Green Milk Tea, one cup of Gong Cha Milk Tea, one cup of Gong Cha pandan pearls, Gong Cha merchandise, a $3 Gong Cha voucher (no minimum spend required) and a $3 GrabFood voucher (no minimum spend required).
These bubble tea kits are priced at S$15 each and are exclusively available via GrabFood from Gong Cha's Somerset outlet. Consumers can tap on the Food tile in the Grab app and search for Gong Cha x Grab – DIY BBT Starter Kit.
In addition, Gong Cha will also be giving out 1,000 cups of the limited-time Pandan Pearl-radise Milk Tea to Grab's driver- and delivery-partners, in recognition of their dedicated service and hard work.
To redeem the drink, delivery and driver partners simply need to register their interest on a first-come-first-served basis and select a preferred time slot between 7pm to 9pm on 30 April for redemption. They will then be issued with a reward voucher through the Grab Driver app which they need to present to Gong Cha staff at any of the five participating outlets: Nex Mall, SingPost Centre, Toa Payoh Mall, Westgate, and Woodlands MRT. Each rider is entitled to one complimentary drink.
Cifer Ong, Managing Director, Strategy and Partnerships, Grab Singapore said, "Grab constantly looks for ways to delight our consumers and support our partners. With bubble tea being extremely popular among Singaporeans, we knew we wanted to experiment with this well-loved beverage. We are grateful that Gong Cha was so open to collaborating with us and even created a new flavour that has captured the taste buds of many consumers. Innovative partners like Gong Cha allow us to keep bringing a unique and differentiated offering to our consumers. We're excited to further this partnership on National Bubble Tea Day to not only celebrate Singaporeans' love for the beverage, but also recognise our frontline heroes, our driver and delivery partners, who have tirelessly served Singaporeans this past year."
Mr Cheong Zhao Yong, Brand Director, Gong Cha said, "We are extremely appreciative of the tremendous support for the launch of the Gong Cha x Grab Pandan Pearl-radise milk tea. At Gong Cha, we live by our core principles of supplying our consumers with high-quality and innovative bubble tea varieties. We look forward to collaborating with Grab to share the delight of bubble tea with Singaporeans as we strive to experiment and create more exclusive bubble tea blends."
For more information, please visit www.gong-cha-sg.com.