Mummy says:
School has started for about 8 weeks and its time for Gor Gor to have his haircut again as his school, like all the boys school, have stringent rules regarding the students hairstyle.
From his school website, it states what is required for the boys hairstyle:
– Pupils must have a short and neat hairstyle
– Their hair must not touch their ears or the collar of their uniform
– Outlandish hairstyles are not allowed
– No dyeing, tinting or highlighting of hair. Pupils with such hair will be required to dye their hair back to its original colour
– The fringe must not touche the eyebrows when combed down
– No shaved head unless on medical grounds
I believe most boys schools have fairly similar rules on this. It is important to let the hairstylist/barber knows of these requirement when cutting your son's hair, otherwise he may still fail the school rules and have to come back for another haircut again.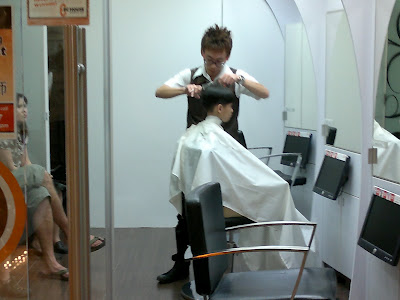 Gor Gor getting his $10 haircut from EC House