Got to Move 2017, Singapore's nationwide dance movement, returns for its third edition from 13 to 29 October 2017 to celebrate the diversity of Singapore's dance scene. An initiative by the National Arts Council (NAC), this edition will see a wider variety of over 220 dance programmes and activities for the public to discover, appreciate and participate in dance. With programmes suitable for families, seniors, youths, working adults and underserved communities, the movement aims to showcase how dance is for everyone, regardless of age or background. 
To further drive dance advocacy, NAC has identified 14 personalities from different dance genres and backgrounds to serve as Got to Move Ambassadors. With first-hand experience and knowledge in the value that dance brings to their lives, NAC hopes that these individuals can reach out to a diverse audiences in Singapore, and encourage them to participate in the various dance experiences that Got to Move has to offer.
Exclusive Interview with Jenny Chien and Valerie Yeo, Got to Move (GTM) Ambassadors
This edition of Got to Move features mothers from the dance community who also serve as GTM Ambassadors, helping to rally the participation of Singaporeans in dance and promote our local dance scene.
Our Parenting World (OPW) is pleased to be able to interview Jenny Chien and Valerie Yeo, a mother and daughter team. Jenny began learning ballet with the Jean M Wong School of Ballet in Hong Kong when she was 14. She then trained in the Hong Kong Academy of Performing Arts and was in the Hong Kong Ballet for a year before joining Singapore Dance Theatre from 1991-1996. After retiring as a professional dancer, she became a ballet teacher. She currently teaches in the Nanyang Academy of Fine Arts, LASALLE College of the Arts, and in community centres. Jenny also groomed her daughter, Valerie Yeo, who is now a ballet trainee in Singapore Dance Theatre. Jenny will be sharing us more about being a mother who started her professional dance journey since young and is now a teacher spreading her love for dancing to our local communities. They will be sharing with us on their life journey as dancers and how dance help them to foster closer ties. We also touch on Jenny's commitment towards dance and family, how she manages to balance it all.
Read on to find out more. 
1. Please share with us more about your background and what made you decide to become a dancer?
Jenny Chien: I started learning ballet at 14 at Jean M Wong school of Ballet in Hong Kong, after my good friend asked me to watch ballet with her because her mom was not free. Under the school's arrangement, I received a travel grant that enabled me to attend intensive training Centre de danse international, Rosella Hightower in France. When I returned I joined Hong Kong Academy for Performing Arts, and continued training with Jean Wong School. Joined Hong Kong Ballet In 1990, and Singapore Dance Theatre In 1991. Retired from performing in 1996, now married and a mother of two, teaching Ballet at Nanyang Academy of Fine Arts and community centres.
Valerie Yeo: My mother made me start ballet when I was young, and I grew up taking classes with her. Eventually when I developed my own interest and motivation for it, she encouraged me to audition for SOTA (School of the Arts). During my two years there I had the chance to perform and experience other genres of dance as well as do more classes daily.
With the help of SOTA I auditioned for the Central School of Ballet in London, where for three years I did a full time training in mainly ballet, as well as other genres.
I was very fortunate to get a National Arts Council Undergraduate Scholarship which helped to fund my school fees overseas.
Altogether I had learnt a lot from the different environments, and the experienced and caring teachers I was lucky to have in both schools including my mom!
Gradually throughout I developed my own interest and motivation and realized how much I was willing to dedicate to this profession. I graduated last year and auditioned for Singapore Dance Theatre, where I have started as a trainee this year.
2. What are some of the joy and challenges that you faced as a dancer?
Jenny Chien: I love to dance, I enjoy feeling the beautiful music and dance with it, even though I am now retired and have a busy teaching schedule, I am very happy to attend classes once a week.
The hardest challenge a dancer would face is injury. We know we have to keep practising to maintain our standard, but for most injuries, in order to heal, we might need to rest fully and it can be frustrating.
Valerie Yeo: The best part of dancing is the moving itself, the feeling of involving every part of my body, controlling or finding ways to control the energy that passes through as I am dancing, finding the meaning and intention behind the movement. The challenges are injuries, the pain that comes with it, the recovery process, and the time spent not being able to move much depending on how serious the injury is. Another big challenge is easily being overly self-critical and frustrated and impatient with your own progress which ends up being counter-productive rather than beneficial to improvement.
3. Can you share with us more about your involvement in Got to Move (GTM)?
Both: We are happy to be part of Got to Move this year as GTM Ambassadors. Together with 12 other dance personalities from different dance genres and backgrounds, we will share our love for dance with more people in Singapore and encourage them to participate in the various dance programmes Got to Move has to offer. Got to Move has also launched its first-ever social media challenge called the Happy Dance Challenge and we hope everyone will participate by uploading a video/boomerang of their own happy dance on social media and tagging their friends to join in the challenge with #GotToMoveSG.
We have submitted our own happy dance and not only was it a good opportunity to show people the accessibility of dance, filming the boomerang together was a great bonding session as well!
4. How does dancing help you to build and foster closer ties with each other?
Jenny Chien: We would share interesting dance videos we discover online with each other, sometimes we would watch performances together, if our schedules allow. There will be endless topics about dance that we could discuss about.
Valerie Yeo: We have a lot of common topics of understanding which we like to discuss about. We share a lot of the same challenges or interesting experiences, so there is a very wide range of things we talk about easily without even thinking twice.
5. Jenny, how did you manage to balance your commitment towards dance and family and manage them all?
Jenny Chien: When Valerie and her little sister Sabrina were young, thanks to my in-laws, I could concentrate on my work without worries, because I knew they were in good hands. Me and my husband did not hire a maid but we will commit our non-working hours to take care of them. As a ballet teacher I actually have lots of free time during the weekdays to bond with them, especially during their earlier years.
Now they have grown into two responsible young ladies, we have less common free time, but we all still enjoy our weekly gathering at granny's house.
6. Do you have any tips to mothers out there who wish to explore their personal interest and at the same time, able to manage their families too?
Jenny Chien: An understanding family should encourage and allow each family member to pursue their own interest. I have a few grown-up students, happily married, became mothers and now return to ballet classes too!
7. What are the benefits of getting children to learn dancing?
Jenny Chien: In ballet classes, the children not only learn about moving the body, but learn to express themselves and be more confident. They have to develop coordination skills and musicality, learn about teamwork, learn about being considerate, such as being on time and showing up for practice. They have to learn how to respect their peers, be nice to each other. They have to learn good discipline.
Valerie Yeo: It is best for parents to send them to a teacher that can provide knowledge with their past experience, that they can trust to let their child grow and explore how much they can push themselves in dance. They must also understand that dancing carries a lot of frustration as much as it gives joy. It is important to be supportive and encouraging to your child while still allowing them space to grow and make mistakes, and mature as independently as possible.
8. What can parents do when their children have an interest in dancing, where can they send their children to learn and further develop their interest?
Jenny Chien: It's very important that the kids are really interested. If they are, parents should send them to try out classes. There are dance classes everywhere, from community centres to private schools. Find a convenient place where you can commit your time to send them for lessons, as the kid may feel scared if they keep missing classes and don't understand what's going on in class.
9. What advice would you give to an individual thinking of pursuing a career as a dancer?
Jenny Chien: Apart from being good in technique, they have to be mentally tough, be humble enough to accept advice and criticism, yet confident enough not to doubt themselves.
Valerie Yeo: Dancing brings a lot of happiness but quite regularly also a lot of frustration or even injuries and pain. If you are willing to work through the difficult times, the good times are going to feel even more well appreciated. Always work yourself not only as a dancer but as an artist because you're not only training how to move, but how to make people feel emotions through the way you move. There will always be difficulties but as long as you keep a determined work ethic and a mature perspective then your difficulties are going to feel less daunting.
10. Lastly, do you have anything else that you would like to add on and share with our readers about Singapore's largest dance movement, Got to Move (GTM)?
Jenny Chien: I believe dance is for everyone and I would strongly encourage the public to be open to trying out the various dance programmes at GTM ISLANDWIDE with their friends and families, to just have fun and enjoy dance together. I would also encourage everyone to attend this year's Got to Move SPOTLIGHT, a one-day only dance carnival held on the 29th October, in conjunction with Car-Free Sunday SG at the Civic District. This interactive and immersive dance carnival will feature the Got to Move Dance-Walk that brings participants on a 30-minute activity that promises a dose of cardio with a twist. There will also dance taster classes, outdoor performances and interactive games that will introduce participants to the versatility of dance and also provide them with an opportunity to bond with their family and friends in new ways. With such a diverse programme, there's definitely something suitable for everyone.
Valerie Yeo: Got to Move was born out of the desire to bring the Singapore dance community and the general public together to celebrate and learn more about dance. The movement provides the public with a free and accessible platform to discover and experience all things dance. Whether you're a first-timer or hobbyist, there is bound to be something suitable for you. More details on the programmes for Got to Move can be found on www.nac.gov.sg/gottomovesg.
Thank you Jenny Chien and Valerie Yeo for taking our interview!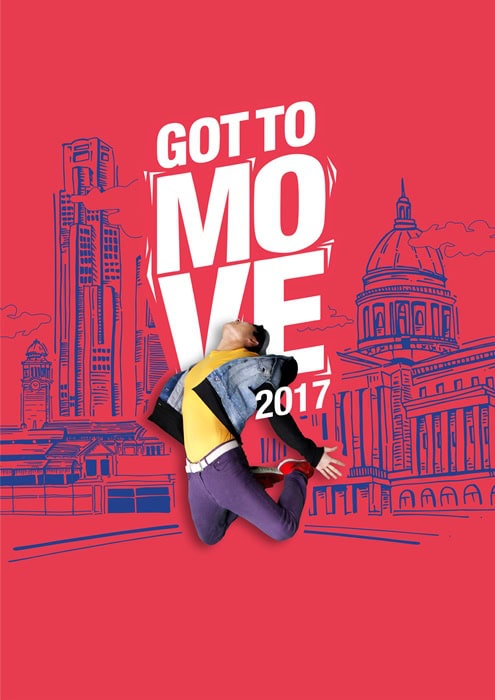 Come and join in Got to Move SPOTLIGHT happening on 29th October from 8am to 12pm, All programmes at GTM SPOTLIGHT are FREE!  This event is held in conjunction with Car-Free Sunday SG for this one-day dance carnival.
During the carnival, one will also get to enjoy dance performances and participate in taster classes, site-specific programmes and parent-child activities by local dance companies and groups. Details as follows:
Got to Move SPOTLIGHT
29 October 2017, 8am-12pm, Civic District
To find out more, please visit https://www.nac.gov.sg/gtm-events/gtm/GTM-SPOTLIGHT.html