Got to Move 2017, Singapore's nationwide dance movement organised by the National Arts Council, is back for its third edition, happening from 13th-29th October 2017 with over 220 dance-related programmes held at various locations islandwide. 
Look out for Got to Move SPOTLIGHT happening on 29th October, in conjunction with Car-Free Sunday SG for this one-day dance carnival. During the carnival, one will also get to enjoy dance performances and participate in taster classes, site-specific programmes and parent-child activities by local dance companies and groups. Details as follows: 
Got to Move SPOTLIGHT
29 October 2017, 8am-12pm, Civic District
GTM SPOTLIGHT is a one-day dance carnival on 29 October 2017. Don't miss out on the opportunity to catch an exclusively-commissioned dance performance on the National Gallery Singapore's City Hall Steps, participate in the one-of-a-kind GTM Dance-walk, meet with the local dance community at the Dance Info Fair, learn a new skill in the Taster Zone and so much more. So gather your friends and family and get your groove on!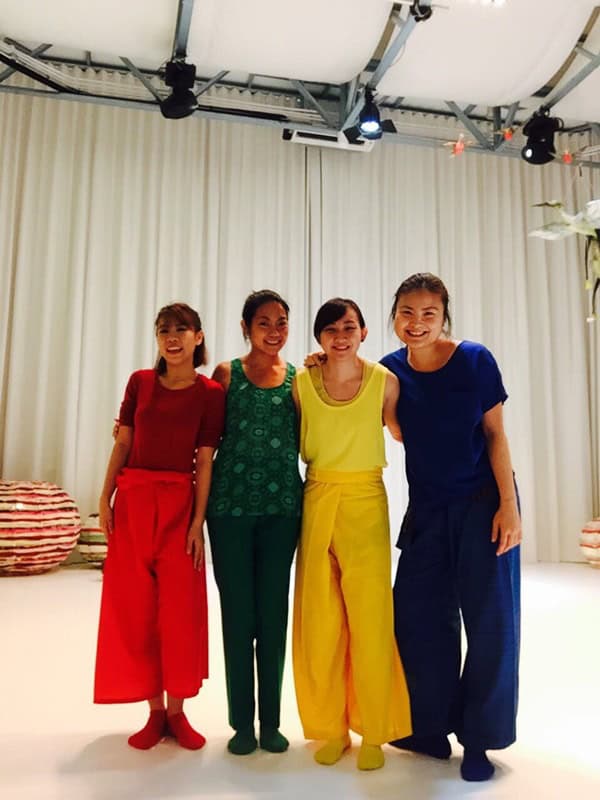 Exclusive Interview with Ms Melissa Quek, Choreographer, Performer and Educator
Got to Move wants to advocate the importance of exposing kids to dance at a young age, encouraging the young ones to pick up this art form as early as they can. It has a DANCE! Family Workshop (13-29 Oct) organised by Le Works which brings dance workshops to various kindergartens in Singapore in the month of October. This children-friendly programme aims to highlight that dance not only facilitates self-expression, but also serves important learning functions which are integral for a child's development. With the abundance of physiological benefits that dance brings, parents should encourage their children to try dancing from a young age.
Our Parenting World (OPW) is pleased to be able to interview Ms Melissa Quek (MQ). She is a choreographer, performer and educator who has been working in the dance industry for the past 15 years. Melissa is the lovely lady in green in the above picture. She recently piloted a new dance project Fold Crinkle Roll as part of Octoburst at the Esplanade. She will be sharing with us about her involvement at GTM SPOTLIGHT and her viewpoints about the benefits of exposing children to dance at an early age.
1. Please share with us more about your background and what made you decide to develop a career in the dance industry?
MQ: I started dancing in nursery with ballet. Then my parents put me in the nearest ballet studio to our home, it was just a Yamaha, but I was really blessed that I had a good ballet teacher. Ms June Lee, and she was very generous with her time and knowledge. I think because of that, many of her students are teachers now. I was also fortunate that my mother was from SCGS and so I went there and was put in the Dance CCA and Dance group from primary school. We had a lot of performance opportunities and studied different styles before that became the norm in Singapore. Mrs Jean Chan, who started the Dance group in SCGS had a lot of foresight and invested a lot of herself into it over these many years. So I think it's because of these people who gave of themselves to me and to my friends, that I thought I could do something to bless others too.
Like so many other young dancers, I think I started with the usual "I just want to dance" and then the fact that I wrapped my identity up in being a dancer brought a lot of the usual pain and difficulty, and then over time I realized its proper place in my life.
Dance is where my creativity is expressed. It's not the only way I express myself, but it is one of the ways. Dancing is when I feel the most together. Teaching dance is when I get to know people. And choreographing is a process where I get to know myself.
Dance deals with us as a whole person, and if we handle it well it can bring so much joy to participants and audience members, but if you are flippant about it, it can hurt.
I think our society has not fully acknowledged that the Arts are essential to our well-being. People need to dance. Maybe not always dance well, but we need dance.
2. What are some of the challenges that you faced in your dancing career?
MQ: Never being good enough. But that's mostly how it is. I think we will never feel good enough, because we can always be better. But maybe one of the hardest things was probably people looking at me and thinking they knew me from my outward appearance, or the fact that I was a dancer, or that they could judge my motivations from an end product. This is probably getting too philosophical, but the "doing" is not really the hardest thing, it's the "being". The learning not to constantly compare or judge. Not getting a role or a job is alright, feels like rejection, but that is actually fine, you just learn that you aren't right for the job, and in the long run it is a good thing you are not picked for something you are not suitable for. And for the other things, you just work harder and keep trying.
3. What do you enjoy most about being a dancer?
MQ: I suppose this answer is connected to my last sentiment from the preceding question. Dancers keep trying. Dancers have resilience. We don't give up and we keep looking for ways around. We look for solutions. I think that is something dancing has taught me.
The other thing that I appreciate about it, is feeling aligned. When my body, mind, emotions and soul are focused on the same thing. And that sense of total focus, that I can let everything else go and just be in the dance; in the moment.
4. Who is your role model in dancing?
MQ: That's difficult. I always loved Margot Fonteyn because she was expressive and she was able to have a second wind to her career at a time when most Ballerina's would have retired. I'm so impressed by Sylvie Guillem because of how she transitioned from classical ballet to more contemporary works. I guess I'm impressed by the people who want to keep learning and want to stay relevant.
5. Can you share with us more about your involvement in Got to Move (GTM)?
MQ: I will be involved in Got to Move SPOTLIGHT, a one-day dance carnival happening on the 29 October in an interactive programme titled Here. There. Where? This programme was conceived in collaboration with the dancers from The Kueh Tutus and is our take on what happens when a video game comes to life. As part of the programme, the dancers act as game figurines or avatars of a game and the participants will have to guide the avatars to complete the game objective.
This game is targeted at children and families and is a great way for children to experience dance in an accessible and fun way. We have really seen parents get quite into it, trying to direct and help their children, and it is a wonderful way to observe your child's problem-solving skills.
6. We understand that you have a new dance project, Fold Crinkle Roll which is part of Octoburst at the Esplanade, can you tell us more about it?
MQ: This work was based on the idea of playing with Paper. We really liked the materiality of it, and we wanted to have children engage their imaginations. To watch the dance and to see how the paper could turn into so many things, just based on how the bodies work with it and interact with it. We wanted to see children play differently from when they are stuck in a video game. To interact with the dancers, to find joy in the material of the paper, to enjoy the simple things, like how a cardboard box used to be enough.
7. How would dancing benefit a child's development?
MQ: Digital media, touch screens and mobile phones have benefits but they have seriously stunted the physical and emotional development of so many of our children.
There are many types of dance classes available for children. For younger ones there are parent and child classes that are effective for bonding. There are creative movement classes and there are technique specific classes. All of these have different objectives but help develop a child in different ways.
Some really important benefits include the development of focus and discipline. Being in a studio without access to a screen and having to complete a single task is important for a child. I believe it also teaches them about delayed gratification. They would be able to see the benefits of working at something.
It forces you away from a digitized world and to interact with other people, in the peer to peer level and with the authority figure of a teacher. In a dance class a child learns to take instructions, to reflect and correct, but if a technique class is approached well with space for decision making, then children have the opportunity to make choices and to have their choices valued. This would be especially clear in the creative movement classes. The important thing with this is that it is not about validating every choice the child makes, but to help the child evaluate and reflect on how effective or successful their choices are as a response to the task or context.
So it is important for parents to choose the programmes and the teachers carefully and wisely, with a thought to the child's temperament and learning style. On the physical side, it improves coordination, rhythm, body and spatial awareness. This helps in terms of timing and spatial intelligence. When working on performances or performing, there is also the added skill of learning to manage stress and stressful situations, as long as they do not over inflate the significance of a performance to themselves, their self-worth and identity.
Performances are a chance to demonstrate something about yourself, but it is not your last or only chance. The performer needs to know it is only one part of them. So children should dance in many contexts and many styles, and it should not be only competition or exam focused.
8. Why is it important to expose children to dance at an early age?
MQ: It's the same as exposing them to anything at an early age. They learn the best when they are young, and a lot of these skills will carry through for the rest of their lives. You want them to become familiar and comfortable with certain concepts. For instance with dance they will also learn about understanding and respecting the body. You will see how much it affects you, how powerful it is, and how you have to take care of it. But it is important that this is taught properly and reinforced at home. Then they can see the body as a part of themselves and not just an instrument to be manipulated.
So many people who are not engaged in clear physical activity when young have obvious coordination issues, lack spatial and body awareness later in life. It does not have to be dance, it could be any sport, but dance usually employs a larger range of motion, it can develop a more balanced engagement of muscles and improves musicality. At least the learning of dance is scaffolded for their physical development and has increasing complexity. And as stated earlier, if the child is dancing in a variety of contexts, there are other soft skills involved.
9. What advice would you give to an individual thinking of pursuing a career as a dancer?
MQ: Take good care of your body, understand what dance means to you and where it fits in your life and always see it as an opportunity to get better to learn more and keep life exciting. Never think you've arrived, never think that you know it all and don't do it only for someone else. Most importantly, make sure you have non-dancer friends.
10. Lastly, do you have anything else that you would like to add on and share with our readers about Singapore's largest dance movement, Got to Move (GTM)?
MQ: I am heartened to see how the dance scene in Singapore has been growing in recent years. Parents can use Got to Move as an opportune platform to engage with their children through the different dance-related programmes offered. With a wider range of programmes that are interactive, multi-disciplinary, inter-generational and even technology-enabled, there is really something for every family.
Other programmes in GTM ISLANDWIDE that are family-friendly and based around games is Dance Charades on 28 October by Flamenco Sin Fronteras. At Dance Charades, audiences will get to watch dance performances in different genres – Kathak, Flamenco and Oriental dance. After the performance, they will participate in 2 dance games – Charades and Broken Telephone where they will get a chance to learn more about these dance forms.
I would also strongly encourage families to attend Got to Move SPOTLIGHT, a one-day carnival happening on 29 October, 8am at the Civic District. A perfect Sunday morning family activity, participants can catch an exclusively-commissioned dance performance on the National Gallery Singapore's City Hall Steps, join in the one-of-a-kind GTM Dance-Walk, and meet with the local dance community at the Dance Info Fair. They can also learn a new skill in the Taster Zone and enjoy outdoor performances by our local dance groups. So gather your kids and get your groove on at GTM SPOTLIGHT on 29 October!
Thank you Melissa Quek for taking our interview!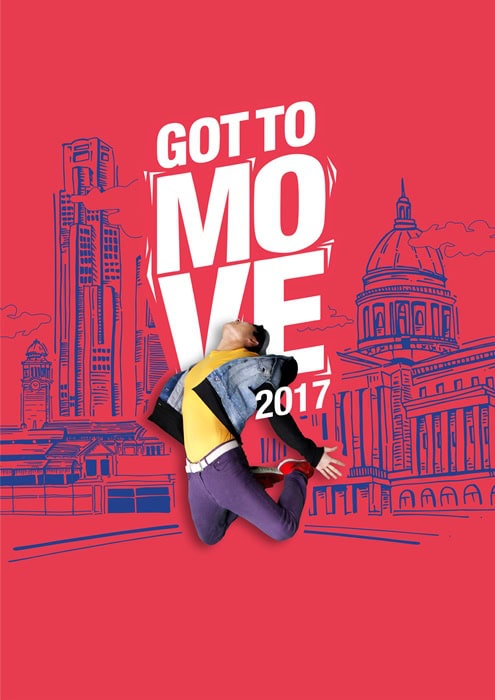 Come and join in Got to Move SPOTLIGHT happening on 29th October from 8am to 12pm, All programmes at GTM SPOTLIGHT are FREE! To find out more, please visit https://www.nac.gov.sg/gtm-events/gtm/GTM-SPOTLIGHT.html