Great Eastern Women's Run, a signature event under its Live Great programme, is dedicated to helping women of all ages live healthier and better.​ This year, the run has over 13,000 runners consisting of women from all race categories came together to participate in this women's run of the year! 
Our Parenting World team is delighted to be able to take part in this all-women run held at The Float @ Marina Bay and it is a good opportunity for us ladies to get together and have an enjoyable time running! 
A warm-up before the start of our race, our team participated in the 5km Live Great! Fun Run which begins at 7.30am in the morning. We are all ready to run when the flag off started.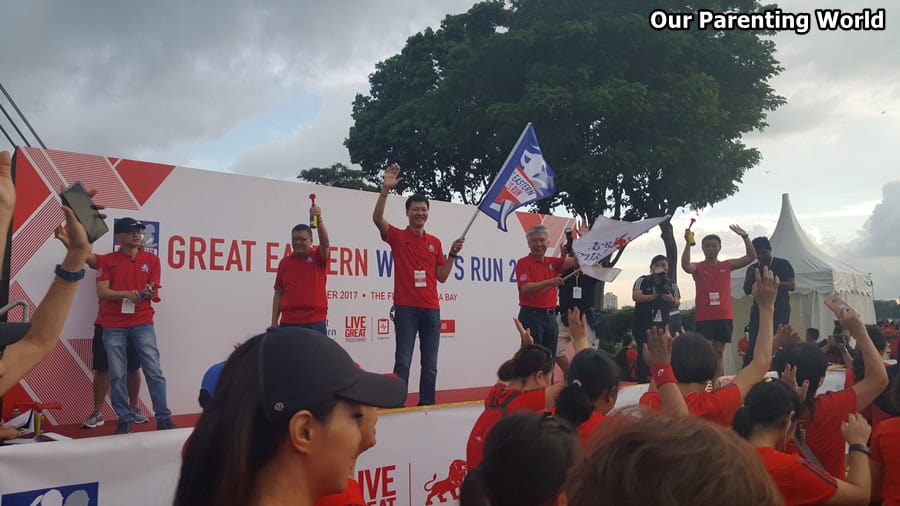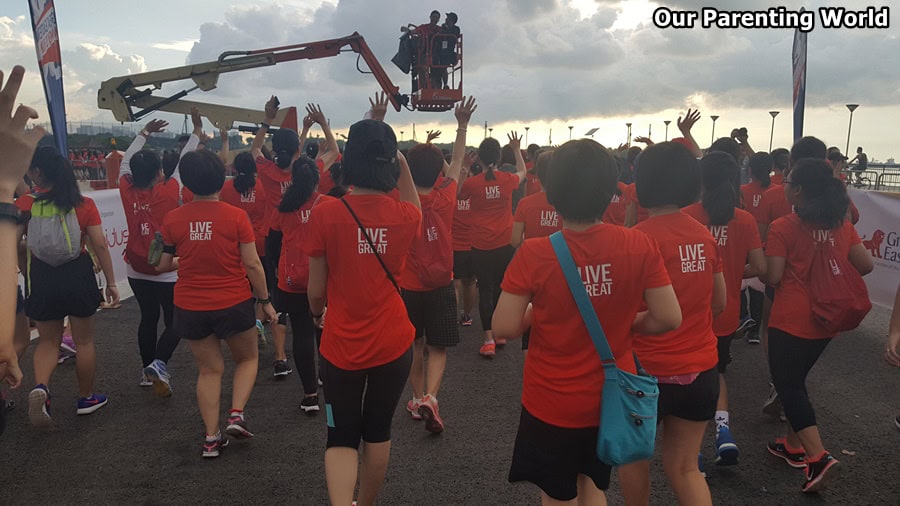 Many ladies were seen taking photos and running together with their friends. This race saw women of all ages, races and from different walks of life. Some even brought their mothers along to participate in the run. The route will cover Singapore Flyer, F1 Pit Building, Nicoll Highway MRT Station, The Golden Mile and we will finish the run at The Float @ Marina Bay.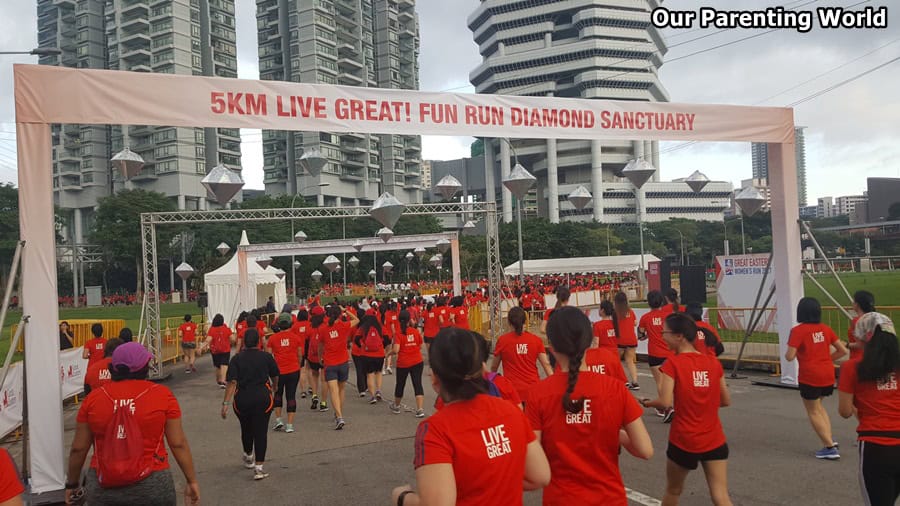 Along the running route, we reached Fun Run Diamond Sanctuary where volunteers will hand out to us a diamond shaped cut out which you can wear on your wrist. There will be lucky draw at the end of the race where all runners will stand a chance to win attractive prizes like one 1-carat diamond solitaire necklace worth $12,000 and more. 
We reached the colourful Ball Pit where runners can have fun jumping into the ball pit and take pictures. However, as we heard thunders and it has started to drizzle, we decided to proceed on.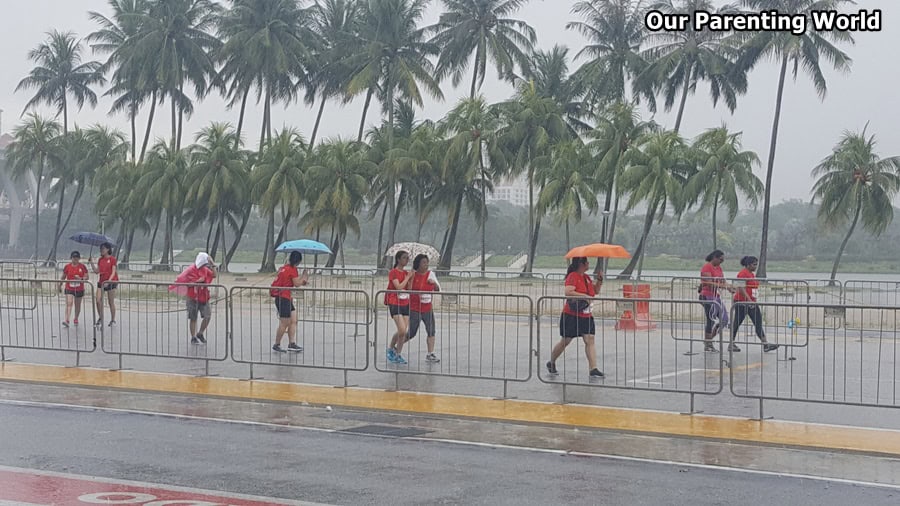 From light drizzle to heavy pouring rain, we were held back as we did not bring an umbrella. We decided to hide under a big bridge together with the rest of the runners seeking shelter. Fortunately, some nice ladies gave us cardboard boxes to use to give us some cover from the rain. With that, we ran as fast as we could to the finish line. Because of the heavy downpour and thunders, we did not manage to take anymore photos. We were all totally soaked in the rain. Upon reaching the finishing line, all participants were given Ice Mountain Sparkling Water, 100 Plus, a banana and the 5km Finisher Medal! Despite the heavy rain, we had an enjoyable run! We look forward to participate in next year run! 🙂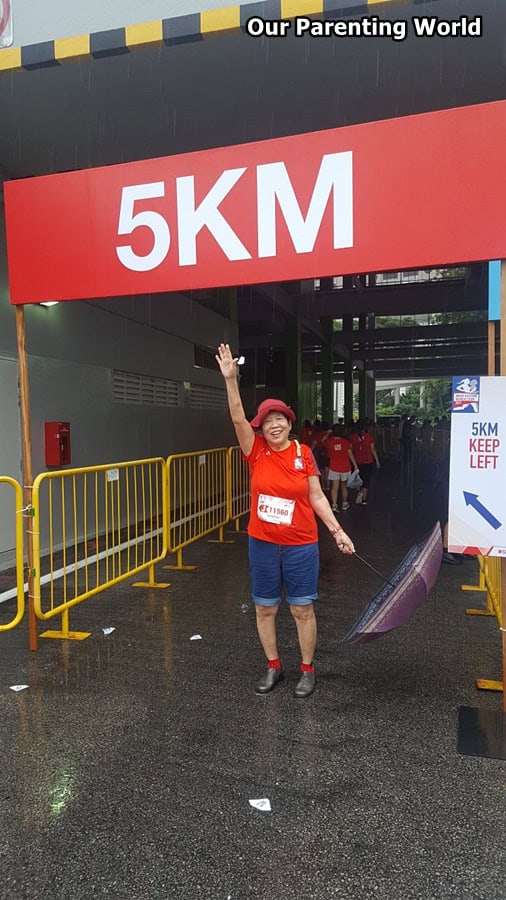 We met up with Mdm Cheng at the finishing line, she is 77 years old this year, probably one of the oldest lady participants at Great Eastern Women's Run 2017. She has completed 5km and her first time taking part in a run. 
We are pleased to interview her and she told us "I have never join a race and this is my first time! I want to encourage all ladies that age is not a barrier and even at my age, I am still active and always trying something new. Even at 77 years old, you can still take part in a race. I am looking forward to participate in next year race!" Thank you Mdm Cheng, you are truly an inspiration!
About Great Eastern, as a LIFE Company, it is committed to helping women live well, stay healthy and be empowered. Its multiple award-winning Great Eastern Women's Run, a signature event under our Live Great programme, is dedicated to helping women of all ages live healthier and better.​
For more details and to find out more about Great Eastern Women's Run 2017, please visit https://www.greateasternlife.com/greateasternwomensrun/index.html