The Ming tombs is situated at 50 kilometers northwest from Beijing City. It is the mausoleums of 13 emperors of the Ming Dynasty (1368 – 1644). It started with
Emperor Zhu Di
,  
朱棣
. He has the most magnificent of the tombs. The succeeding twelve emperors had their tombs built around Changling.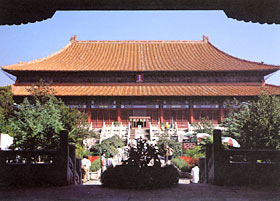 The Hall of Prominent Favor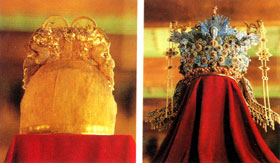 Gold crown and phoenix coronet worn by the Emperor and Empress
Next we proceed to the
Great Wall
, 万里长城. The Great Wall of China, one of the seven wonders of the world, was listed as a World Heritage by UNESCO in 1987. It was first built by the first Emperor of China, Emperor Qin Shihuang,

秦

始

皇

 whose intention is to have the walls joined together to fend off the invasions from the Huns in the North. The view of the magnificent Great Wall from the cable car.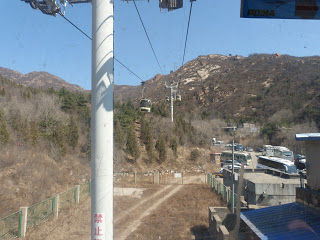 We took the cable car ride that brought us to Tower 6. It was very steep and difficult to walk. That day was so crowded and it was amazing to see some ladies in high heel shoes attempting to climb the Wall. We took pictures of the Wall and scenery when climbing up.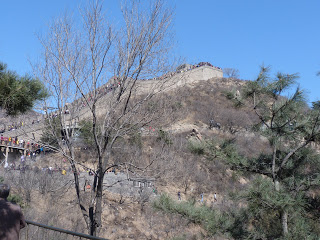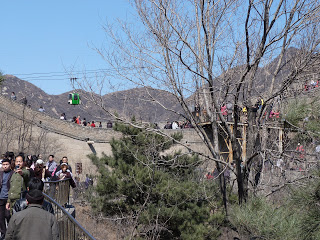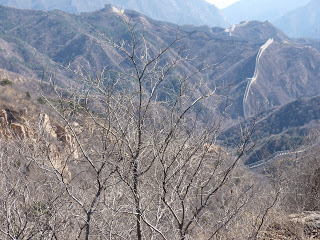 We took a cable car ride back to the starting point and there are many shops selling souvenirs and eating places. You can also try riding on a camel.