Green Living presented by Reed Exhibitions is a Eco Lifestyle Event to meet the needs of eco-conscious consumers and businesses was held from 9 to 11 September 2016 at the Marina Bay Sands Convention Centre.
Green Living is the first sustainable lifestyle event that aims to build a bridge between consumers and companies advocating green products returned for its 2nd year saw a 100% increase of visitors from last year's attendance of over 11,000 people!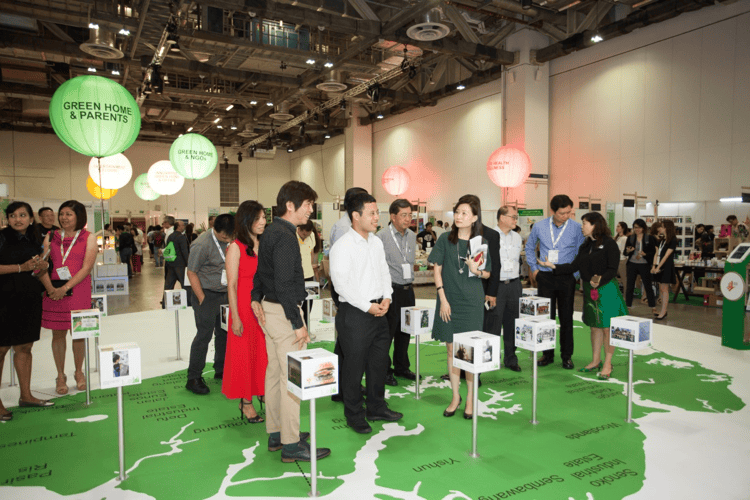 Photo Credit: Green Living 2016 
Green Living 2016 was launched by Mr Desmond Lee, Senior Minister of State, Ministry of Home Affairs and Ministry of National Development. This year exhibition is themed Cities of Love is inspired from the book Cities of Love authored by Mr. Tai Lee Siang and Ms. Valerie Ang. The book, Cities of Love focuses on 12 core ingredients that can make the city a better and sustainable place to live in; such as Family Oriented City, Edible City, Smart Device City, Garden City and more which were represented by the different zones for visitors to explore and experience. Green Living aims to encourage visitors to adopt a greener approach to their lifestyle.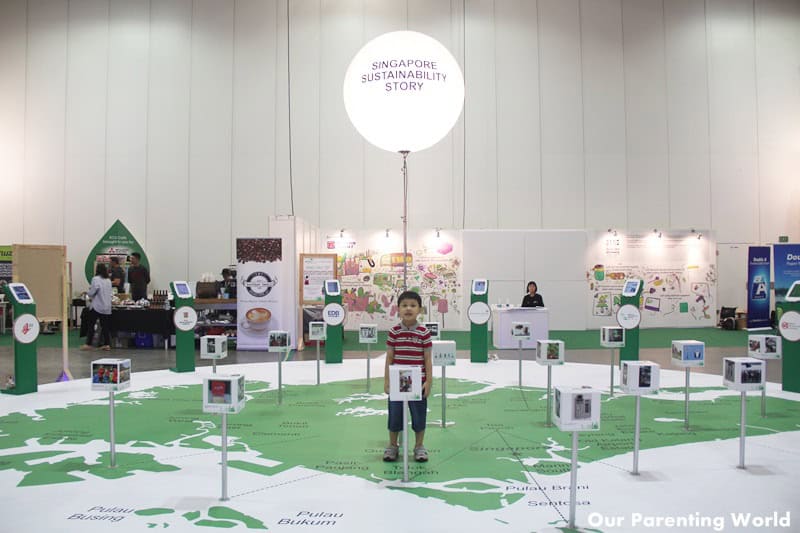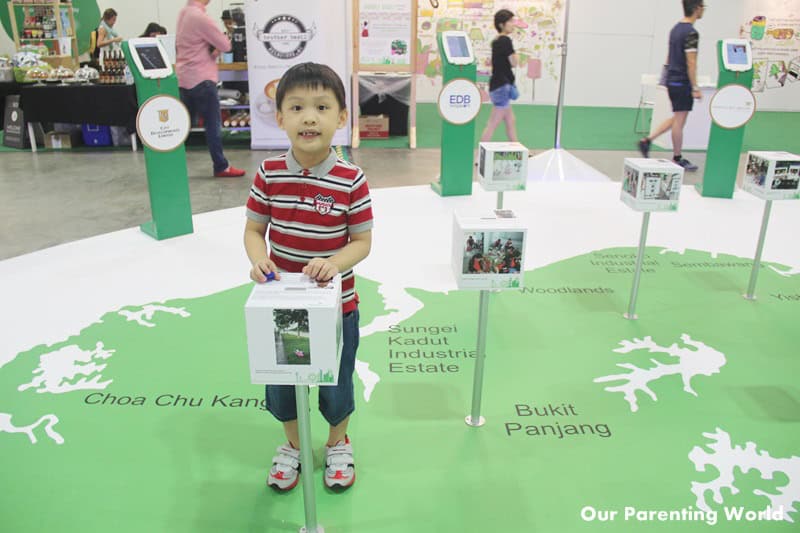 The Singapore Sustainability Story in its second edition featured the key initiatives of government agencies and corporates allowed visitors to understand and learn more about the initiatives through story telling by individuals, groups and corporates. The best 20 shortlisted stories were showcased at Green Living 2016. Visitors were invited to cast their votes for their favourite story and the top three stories will win shopping vouchers. 
This year's top three finalists out of the 20 shortlisted stories were Ong Wee Lee, Lucas Lu and 12-year old Summer Fong. All three were given the highest votes for their efforts in sharing with public on their sustainable tips to achieve a greener living in our daily lives. Voters were given an insight on what they practice as a family in order to contribute to a more sustainable lifestyle.
"We use laundry water to flush the toilets. We also turn down our tap to reduce water waste, and keep our air-conditioner temperature at 25 degrees," mentioned Wee Lee. In addition, she also mentioned on how we could create a more sustainable workplace environment. "In the office we make sure to use double sided on all paper." Summer shared about how her family recycles food waste into compost, creating an edible garden in their home. These stories inspire and encourage others to embrace a greener lifestyle and also engage Singaporeans through interactive activities in reducing their carbon footprint.
At the event, visitors were able to find out more and had the opportunity to purchase about over 100 brands of eco-friendly products covering Sustainable Home, Eco Parents, Health & Wellness, Transportation & Mobility and Smart Technology. There were lots to do at the event and including over 40 interactive workshops and seminars over the 3 days of exhibition for the public to take part in and most of them were free. 
In addition to the above, highlights of some of the eco-lifestyle products, services  and events that were featured at Green Living 2016 as follows:
Beauty and wellness – a variety of organic skincare products and makeup made from natural ingredients, such as Ayelli's pure organic Moroccan Argan Oil, Balm Kitchen's botanical-based skin care and body care line, Flare Wellness' organic beauty treatments as well as The Soap Haven's range of soap bars suitable for all skin types, including for those with skin-conditions.
Children Collection – Twinkle's line of organic essential baby oil, Bebe Bamboo's sustainably sourced bamboo clothes and many other eco-friendly clothes, baby products and toys by Mumpreneurs', a collaboration between Gardenasia and [email protected].
At the Green Café, visitors were able to stock up on organic food products as well as making their own DIY delicious smoothie on a pedal-powered smoothie bicycle.
Interior decorations and furnishings such as Reborn's beautiful table lamps made from upcycled glass bottles, In-Vitro's Botanicaire Air Detoxifier and Coriandoli's soy wax candles.
At Green Living, an alternative mode of transport, Scootastic, made an appearance showcasing their revolutionary e-scooter, K3 Fosjoas, along with a wide selection of Emarco's Personal Mobility Transporter. Visitors had the opportunity to try out the e-scooters to have a first hand feel of how it will offer comfort and safety in getting around while it will help to minimise carbon footprint.
Presentation of schools' Recycling Bin Design Competition 2016 where the public could vote for their favourite creative submission.
Adults and children had the opportunity to try out these Ecoriders for a ride at Green Living. It is so easy to ride and manoeuvre around. Using these Ecoriders will help us to travel to our destination easily without having to use a car and save on petrol. 
One of the main highlights at the exhibition was IKEA's first sustainable living showroom outside of the IKEA Singapore store. This was actually modelled after a typical home in Singapore. We were taken on a tour around the showroom where the host informed us on various initiatives and ideas on how we can save our electricity bills, reduce water and waste usages.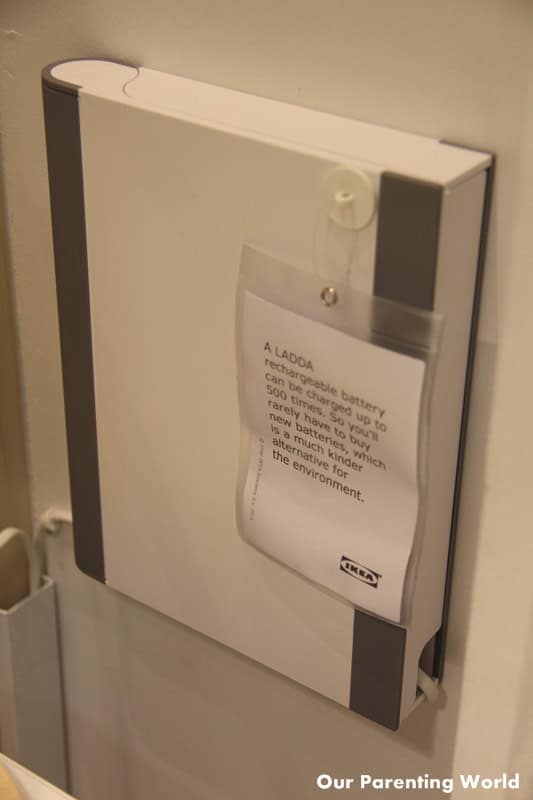 We learnt so many tips and ideas at IKEA, this lovely compact box is IKEA's rechargeable box which can help to charge many batteries at the same time. This helps to reduce batteries wastage to save environment and save money by just recharging our batteries for multiple uses up to 500 times.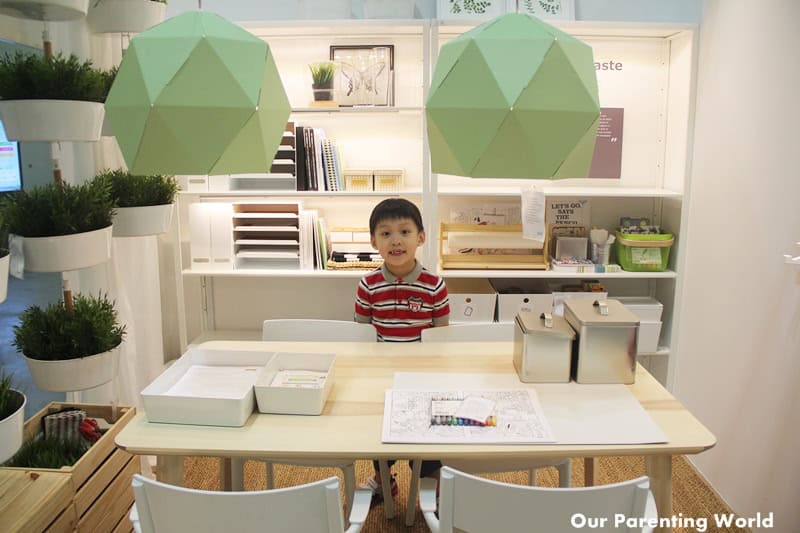 We realised that we can switch to LED bulbs which consume 85% less power than incandescent bulbs. LED bulbs are long lasting, they can last up to 20 years. IKEA's energy efficient LED bulbs has a combination of general, task and mood lighting comes with various shapes and sizes for you to choose from.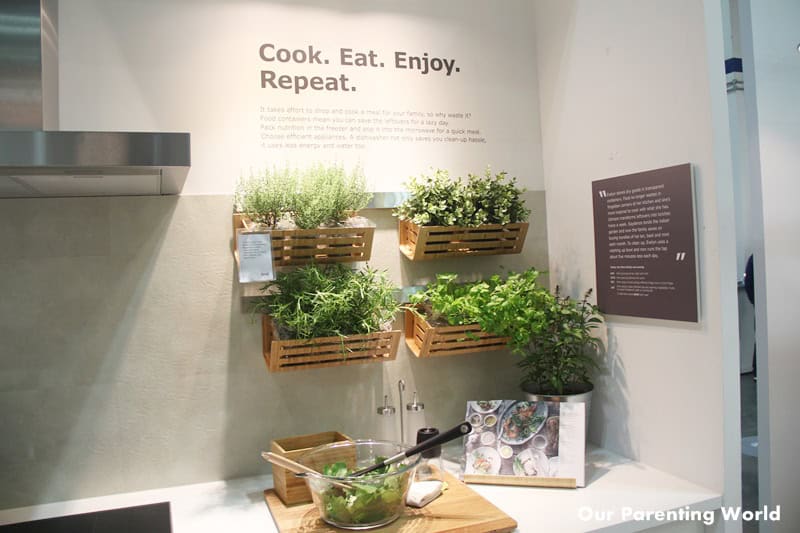 You can even grow vegetables and herbs in your own kitchen.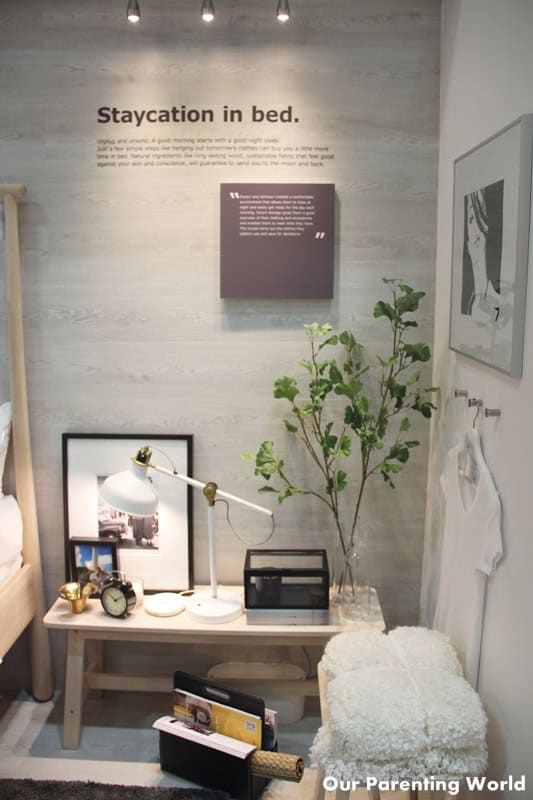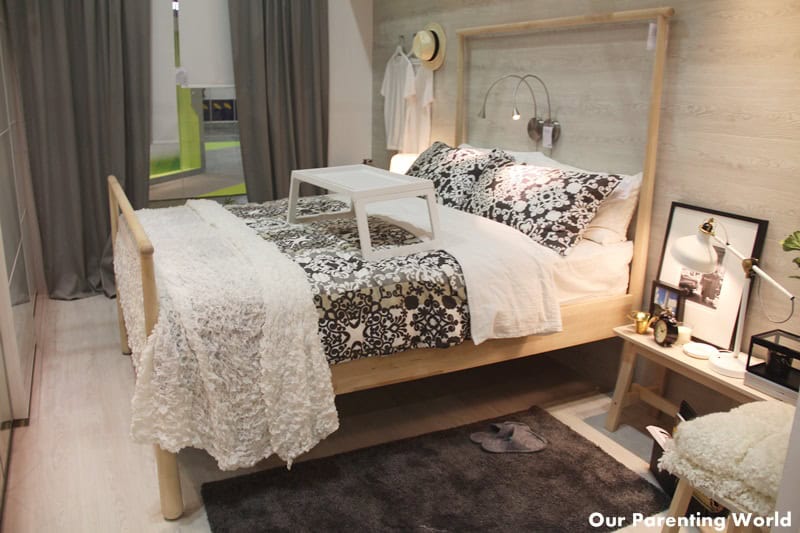 Visitors were able to get useful tips and ideas of organising household items, having more storage places and decorating their house and rooms like creating your own staycation in bed for your bedroom.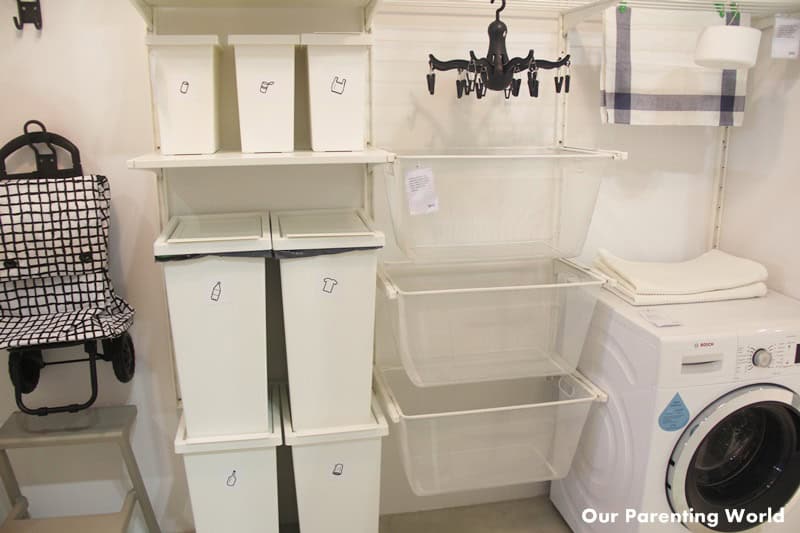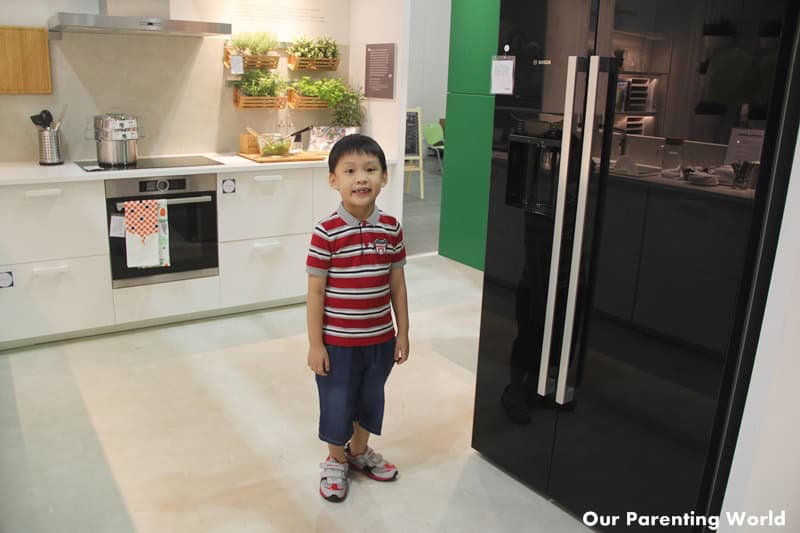 IKEA together with Bosch energy efficient appliances like Bosch washing machine and its refrigerator were featured at the showroom.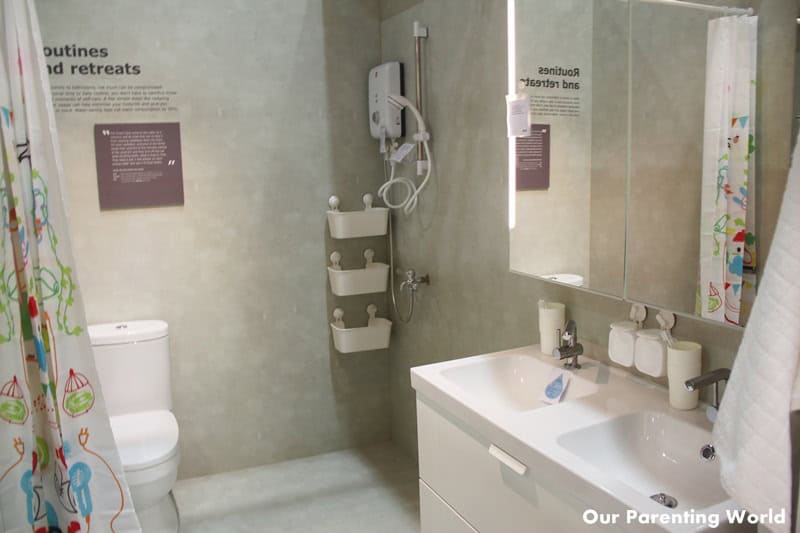 You can use IKEA taps which helps to reduce water consumption. Learn to save your water bills by turning off your shower tap while soaping and reduce your shower time by 5 minutes, run water 1 minute less when brushing your teeth and save water by putting a pail to catch your water when showering, you can reuse the water for other uses like washing clothes, watering your plants etc.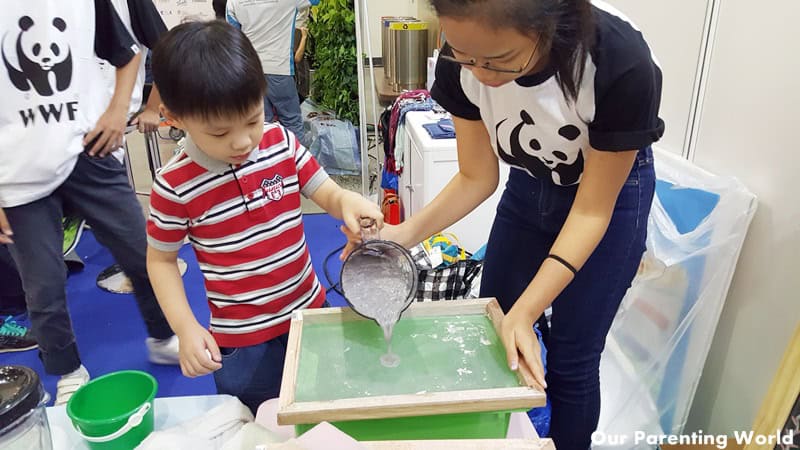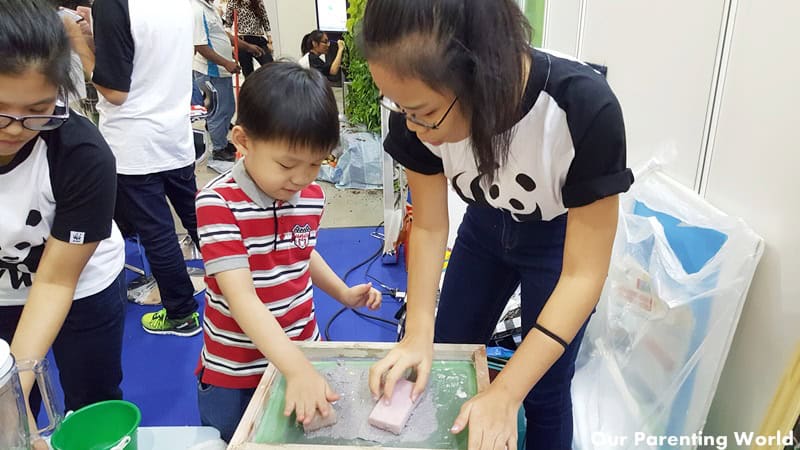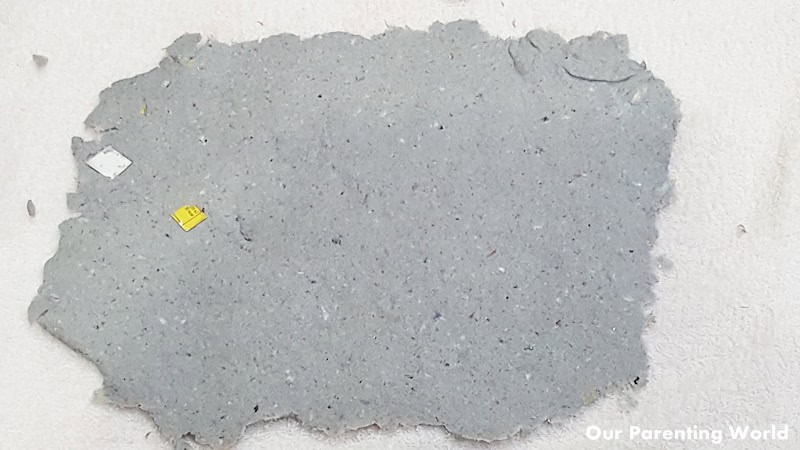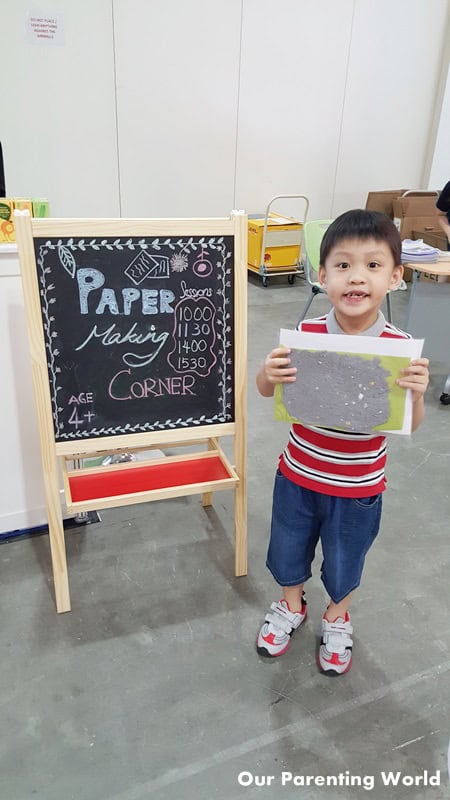 Kids had the opportunity to know and understand how did paper come about at the paper making corner. Students from five WWF Eco Schools joined IKEA Singapore at the exhibition to run a paper recycling activity just outside IKEA showroom. Kids get to work on making their own recycled paper and bring it home.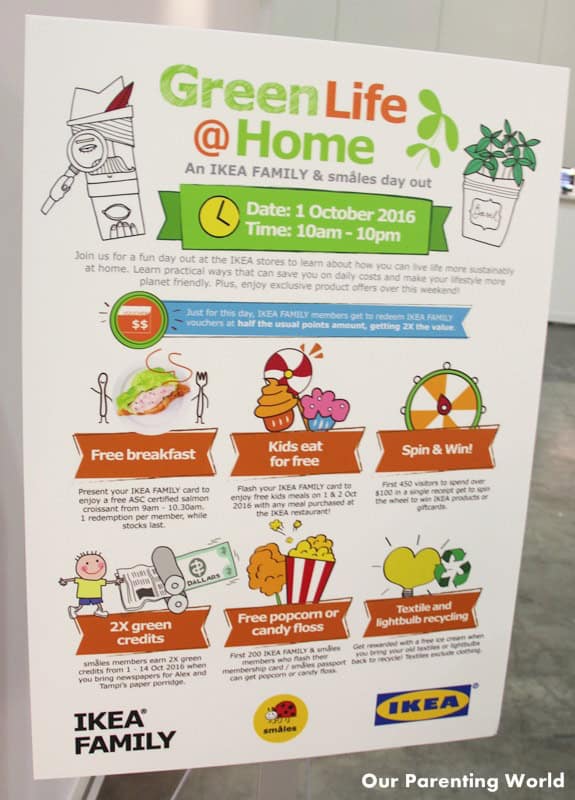 To find out more about having a sustainable life at home and learn how you can take steps to save water, energy and reduce wastage, IKEA is having an IKEA Family and småles day out on 1 October 2016. It will be a day of fun-filled activities for the whole family, to find out more, please click HERE. 
For more information on Green Living 2016 and its activities, please visit www.green-living.com.sg.