Green Monday, the award-winning social venture platform and creators of OmniMeat, the all-purpose plant-based meat analogue, announces partnerships with international brand PizzaExpress and local chain Daily Green to launch new plant-based offerings across outlets in Singapore.
Their mission is to raise awareness around plant-based eating in Singapore, Green Monday partners with key local culinary personalities to create inspiring short cooking docuseries and shares the heart-warming stories on their Facebook and YouTube platforms. 
PizzaExpress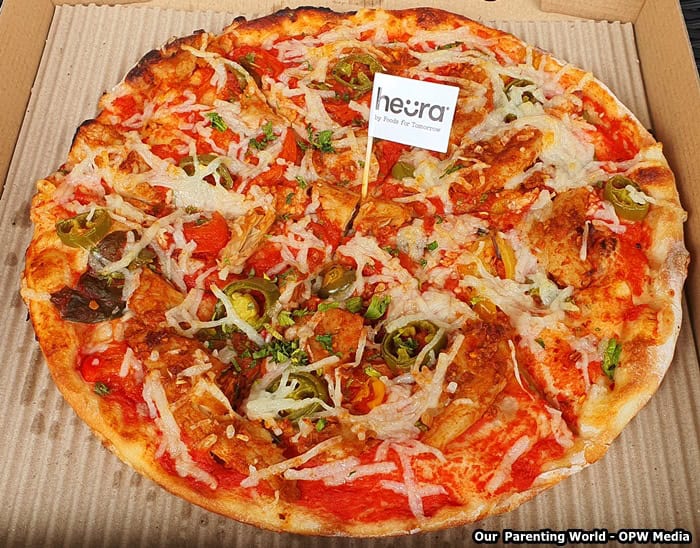 Pizza lovers will be delighted to know that PizzaExpress has launched a deliciously decadent pizza free of guilt known as the new PizzaExpress' Heura Pollo Forza that is now available for dine-in across all outlets and delivery island-wide. 
PizzaExpress' Heura Pollo Forza – Our Review
We tried out the new PizzaExpress' Heura Pollo Forza, this is a re-adaptation version of Pizzeria's signature hot chilli chicken classic. The star of this delectable and unique tomato-based pizza is the smoky chunks of Heura! Using Heura which is a 100% plant-based chicken-substitute makes this a healthier version pizza and it tastes just like the real thing. Meatless does not need to be tasteless, the Heura has a lot of texture, it is tasty and chewy. The pizza is also topped with a spicy medley of roasted peppers, sliced jalapenos, and a light drizzle of chilli oil that gives a lot of flavour. 
The new menu item comes in two versions: a vegetarian mozzarella pizza, priced at S$25.00++, and vegan pizza with Daiya cheese, priced S$28.00++.
Chef Louie Moong of PizzaExpress shared that "At PizzaExpress, we bring a plant-based twist to our classic meat pizza while retaining taste and texture, showing that you don't need to compromise when choosing sustainable options."
In addition, local hawker Daily Green aims to debunk the notion that plant-based eating is inaccessible by rolling out plant-based renditions of their two best-selling dishes in their three key outlets located in 721 Ang Mo Kio, 431 Clementi and 217 Bedok. Substituting traditional Chinese mock meat dishes with all-purpose plant-based meat, OmniMeat, diners can enjoy the new OmniMeat Vegetarian Porridge (S$4.20 per bowl) and OmniMeat Signature Vegetarian Noodles (S$4.80 per bowl).
Green Monday is founded on the mission of cultivating practical transitions to sustainable living to encourage members of the public to adopt plant-based eating at least once a week, on Mondays. Throughout August, the organisation will be releasing a heart-warming content series starring fellow advocates Madam Som Said, Malay dance pioneer, Artistic Director of Sri Warisan Performing Arts and renowned cultural Medallion recipient, Chef Louie Moong, Head Chef of PizzaExpress Singapore, Chef Raymond Khoo, Owner & Executive Chef of The Peranakan, Chef John Lim, Founder of Daily Green, and, as they take audiences through their personal journey of adopting a plant-based lifestyle.
The video series are 'feel good' short stories ranging from three to five minutes that touch various elements when it comes to a plant-based lifestyle. Viewers are introduced to notable personalities incorporating vegetarian options into different cuisines that encompass Singapore's food culture.
A prominent figure in the Malay and artistic community, former dancer Madam Som Said makes her favourite Lontong Goreng with vegan eggs and plant-based chicken – Heura. In her video, she is seen encouraging and highlighting the need to stay healthy; she shares " I am sure the Malay community out there, some of them have already started, and some of them have also known about the importance of plant-based food." Madam Som Said is confident that people will love plant-based ingredients as they are healthier, and there is no compromise in taste.
Chef Raymond Khoo will be cooking Ayam-less Pongteh and talking about taking the Peranakan food culture to the younger generation, Chef John Lim sharing his motivation behind starting Daily Green and Chef Louie Moong encouraging people to go meatless once a week. 
Kelvin Ng, Business Development Director (ASEAN), Green Monday elaborates, "We are thrilled to deliver new plant-based options to the everyday lives of Singaporeans through our recent collaborations with PizzaExpress and Daily Green. Their support has furthered our mission to Make Green Common in Singapore and we look forward to providing diners with more sustainable and delicious food options through similar partnerships in future." The new menu collaborations are the latest in Green Monday's ongoing restaurant programme to make plant-based dining easily accessible to diners and increase accessibility and awareness of the flexitarian lifestyle to local audiences.
Please stay tuned to our coming up interviews with some of the chefs taking part in the Green Monday movement! 
Let's join in the Green Monday movement and in making Green Common!
The docuseries are available for viewing as follows:
1) Green Monday Singapore's Facebook page at https://www.facebook.com/GreenMondaySG/
2) YouTube Channel at https://www.youtube.com/user/GreenMondayHK