Gumazing is a children's gummy supplement brand made in Canada, launched in 2021 with the goal of providing children with enriching nutrients through great fun and taste. 
Gumazing's line of supplements is specially formulated to suit the nutritional needs of children consisting four fun variations, featuring multivitamins such as Vitamin C, Omega 3, Vitamin C + Zinc, and Calcium + Vitamin D3 which are nutrients necessary for the healthy development of children. Each of Gumazing's supplements contains the necessary nutrients needed to help children build stronger immunity and grow healthily.
Gumazing is formed by Krishika Bahirwani and Suraj Bahirwani, the company is led with the single goal of ensuring each growing child gets their share of enriching nutrients. As a mother of two young children, Krishika also understands how many children are averse to vegetables and fruits—important sources of nutrients, offering parents a fun solution to fill this need. 
Our editorial team speaks to Krishika Bahirwani, Co-Founder and Director of Gumazing where she shares about the role of nutrition in children's growth, importance of cultivating healthy lifestyles for children from a young age, her experience managing entrepreneurship and motherhood and more.
Exclusive Interview with Krishika Bahirwani, Co-Founder and Director of Gumazing
1. Can you tell us more about yourself and what motivated you to start Gumazing?
Krishika: I am Krishika Bahirwani, the Co-Founder and Director of the children's gummy vitamin brand, Gumazing. I entered the pharmaceutical industry 18 years ago and have since been involved in the pharmaceutical business by supplying various formulations and medical supplies to hospitals in East and West Africa. Alongside my husband, Suraj Bahirwani, I founded Eternal Mark, the parent company to Gumazing.
Gumazing started from my personal experience. As a mother of two, I found that I disliked consuming vegetables and fruits, which made me worry about whether they were receiving sufficient nutrition. From there, I noticed the recurring phenomenon among my friends with children who shared the same problem. Just like me, they found it difficult to ensure their children consumed a balanced diet due to their dislike for vegetables and fruits, which are the primary sources of nutrients. Unfortunately, a balanced diet comprising the necessary nutrients is extremely important for growing children in their developmental ages. We thus realised the need for them to obtain those nutrients from other sources.
2. How did you start up Gumazing and what are some of the challenges you faced along the way as a mumpreneur? How did you overcome them?
Krishika: Gumazing was conceptualised in 2019 right after the pandemic set in. At that point, we had already begun procuring our gummies and were amidst designing the packaging when the pandemic hit. Initially, due to the pandemic, it was tough for us to set foot. However, we were determined to launch the gummies as planned because at that point in time, with the pandemic gripping the world, health and nutritional needs were at the peak of many parents' concerns. Many parents wanted to provide their children with the required nutrition for stronger immunities against the virus and we wanted Gumazing to provide them with that option. 
For me, my children were being homeschooled at that point in time and it was a struggle to manage working remotely for the launch, especially when there were many things that needed to be coordinated between different parties such as the packaging, research and development and more. Despite the challenge, it took me a lot of determination and focus to manage the odds and strike up a schedule of working in the early morning and late nights to put the launch together, while still taking care of my children in the day.
3. What do you think sets Gumazing's gummies apart from other supplements?
Krishika: The key feature of Gumazing's gummies is its appeal to children. Firstly, they are visually modelled after candy, being adorably shaped like cute animals while being available in a wide array of vivid colours. Gumazing's supplements appeal to children who are likely averse to consuming pills or vegetables and fruits, which makes it easy for parents to help their children cultivate healthy lifestyle habits.
Considering how children are also averse to swallowing tablets and supplements in pill forms, easily chewable gummies also make for a simpler consumption process for children. As such, Gumazing also made sure to closely monitor the texture and chewability of their gummies, such that they are easy to chew and swallow.
Another important feature is also the gummies storage temperature. While many gummies melt at room temperature, considering Singapore's warm heat, and freeze up into stiff blocks when stored in the fridge, Gumazing's gummies can be conveniently stored at room temperature without melting. Additionally, the line of gummies is also gluten-free, artificial sweetener and colouring-free, contains no preservatives, and is also vegetarian. This makes the task of proper nutrient intake easier for both parents and children alike.
4. How do you think Gumazing can appeal to children? As a parent, how do you think Gumazing can bring about larger lifestyle changes for your children?
Krishika: First of all, the gummy form will definitely be the most appealing factor to children. As mentioned, the vivid colours, tasty flavours, and adorable shapes were incorporated with children in mind. However, the most important appeal is that gummies resemble candies and the Gumazing team prioritised children's biological inclination towards sweets when choosing its gummy form. Children in their developmental stages have increasing caloric demands which biologically allow them to be drawn to sweet-tasting food such as candies as an energy source. As such, the Gumazing team found the merging of the concept of candies and vitamins through gummies to be a viable way to appeal to children and encourage them to cultivate the habit of taking their vitamins daily. 
As a parent, I am honestly proud to say that my children enjoy the gummies because of how tasty they are. With their resemblance to actual candy, it is almost like a daily treat for them. I have also noticed that my children take their daily dose of vitamin gummies without needing any reminders from me. Even when it slips my mind, my children head right for their daily gummies on autopilot. It seems that over time, consuming their daily vitamins has become something naturally incorporated into my children's lifestyle. It really puts me at ease, knowing that they responsibly make sure to have their daily intake of nutrients.
Apart from the fun gummy form, the Gumazing team also wanted children to associate being healthy with fun by creating a character that represents good health and encourages children. Our affable mascot Mr. Gumazing fronts all our different supplements and merchandise and has designed this character with the fundamental idea of creating a superhero that encourages children to eat well, be physically active, and to enhance their health with vitamin gummies. 
Gumazing also gifts customers a mascot plushie with each purchase and has a dedicated line of merchandise such as shirts and drawstring bags with images of Mr. Gumazing engaged in various sports, consuming vegetables, studying and more. We want to use this friendly mascot to encourage children to adopt well-balanced and healthy lifestyles where they can learn and have fun healthily.
5. Can you share how the team chooses which vitamins to feature in their products?
Krishika: We prioritise the necessary dietary nutrients and vitamins for proper growth, while keeping in mind the most basic nutritional needs of children and their lifestyle habits. Our research showed a frequent deficiency of vitamins and calcium among children. With the ongoing pandemic, parents are also worried about the immunities of their children. When it comes to lifestyle habits, children are physically active in their developing years and with the ongoing pandemic, many are also predominantly confined indoors for long hours.
Based on these factors, we shortlisted key areas to be targeted by each of our products. For example, Omega 3 supports brain health and is vital for children's growth. Essential for the healthy development of bones, Vitamin D3 is also another important vitamin children may be lacking. As sunlight is essential in providing the energy for vitamin D synthesis to occur, the indoor lifestyle many children have adopted in the age of the pandemic may mean a deficiency of Vitamin D among children.
The age of the pandemic also brings focus on the importance of building stronger immune systems. Thus nutrients such as vitamin C which is important for proper growth, development, and the repairing of body tissues, as well as zinc, which is important for building a stronger immunity, were also chosen to be featured in Gumazing's supplements.
Overall, our line comprises multivitamins, Vitamin C, Omega 3, Vitamin C + Zinc, and Calcium + Vitamin D3 and these vitamins, specifically target areas such as gut health, immunity, proper development and growth, as well as proper healing.
6. What is the role of nutrition in children?
Krishika: Nutrition is especially important when it comes to proper growth and development of children. Many assume that a deficiency in nutrition simply translates to stunted physical growth but beyond that, it can also impede proper brain development and get in the way of your children's cognitive skills and learning. While good nutrition is necessary for people of all ages, more attention has to be dedicated to ensuring your children have all the needed nutrients to stay healthy as they are in their crucial growing years. 
7. What's the importance of cultivating healthy lifestyles for children from a young age?
Krishika: Good habits are best cultivated from young. As adults, many of us are often too preoccupied with work, taking care of our children, and maintaining our social life, to be able to dedicate our time to regular exercise, healthy diets, and healthy lifestyle habits. Thus, I think developing good healthy habits from young can be highly beneficial in the long run. Changes can be easily made to our lifestyles, whether it is getting your nutritional needs through daily supplements, eating healthy, and getting enough physical activity. These are habits which can be developed from young and will benefit us when we are older and might overlook the need for a healthy lifestyle.
Images credit to Krishika Bahirwani and Gumazing
8. Do you have any advices, tips for parents to encourage and instill healthy eating habits for their children?
Krishika: I strongly believe that as parents, we need to practice and demonstrate adopting a healthy lifestyle for our children to emulate, instead of simply preaching it. Just as we instill good etiquette and other core values in our children, it is similarly necessary to be good role models by demonstrating the necessity of healthy eating. This way, eating right will come naturally to them. It's really important to let them learn that healthy food can be delicious too and our little eaters will find it easy to adapt if they are exposed to healthy eating habits from an early age.
9. Can you share with us any upcoming plans and visions for Gumazing?
Krishika: Bettering children's health is always the core goal of Gumazing. At the moment, we are working hard and researching on how we can expand Gumazing's supplement range, so parents looking for a wide range of vitamins can look out for that.
We are also currently focused on establishing partnerships with more manufacturers based in the United States and Canada because we aim to diversify our supplement range with even more healthy options for both children and adults.
10. What kind of advice would you give to aspiring women entrepreneurs looking to start their own business?
Krishika: Once a woman takes to motherhood, her child becomes the center of all her life's decisions, and rightfully so! Having said that, it is very possible for women to strike a balance between work and home with good time management and planning. We do not have to give up on our dreams and aspirations. While it will be tough, we can put in double the effort to make sure we are able to manage both our families and our endeavours. Take the plunge and follow your dreams. Our children will follow in our footsteps, and it is important we show them how brave we as women can be and what their mothers can achieve, even if things are difficult.
11. What are some of your favourite beauty, skincare and fashion tips that you would like to share with our Mummies readers who are busy working women and mothers on looking good and taking care of themselves?
Krishika: You are what you eat. This is something I firmly believe in. Your overall wellness is reflected in your skin and hair. With our busy routines, it can be tough to inculcate a healthy lifestyle. However, that does not mean it is not important. Apart from eating right, I highly recommend regular exercise. Both eating well and exercising make your skin flow. After all, endorphins give your skin the best gleam and healthiest glow! Apart from that, a regular day and night face mask routine and lots of water also always helps me to keep my skin feeling hydrated.
Despite also being an ardent fashion enthusiast, I also believe that fashion is not just about following fads and trends. Always choose clothes that make you feel happy and fit your body type. Develop your very own personal style because clothes can be bought, but style must be created. Each of us is a beauty queen in our own unique way.
12. Lastly, what would you like to say to our readers who are looking forward to try out Gumazing?
Krishika: Helping our children associate staying healthy with something fun and flavourful can really help them develop healthy lifestyles. Leading a healthy lifestyle does not have to be dreary or dreadful. It can also be fun and beneficial in the long run and we hope all readers who try Gumazing will be able to get the full experience of keeping good health with a splash of fun.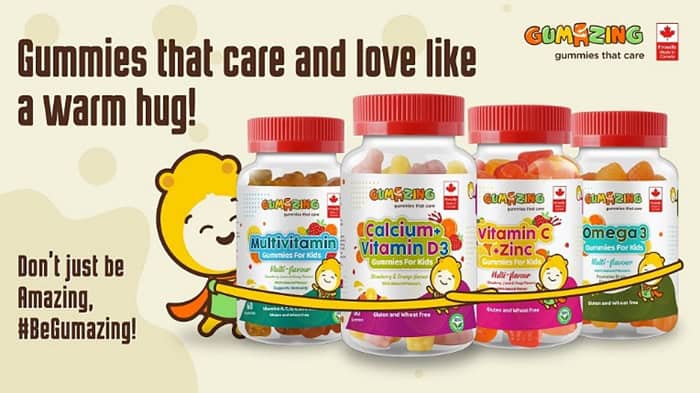 Gumazing's colourful, tasty, and easily chewable gummy form appeals to children who are likely averse to consuming pills or vegetables and fruits. The line of gummies is also gluten-free, artificial sweetener and colouring-free, contains no preservatives, is vegetarian, and can be conveniently stored at room temperature without melting. With better health and lifestyles as the main goal of Gumazing, the brand has plans to diversify their supplement range with even more healthy options for both children and adults in the near future. For more information, please visit https://begumazing.com/.