It was back in 2015 when Our Parenting World (OPW) team was first introduced to the wonderful people of Gunong Sayang Association (GSA). It is heartening to see the effort and dedication of GSA in promoting Peranakan activities through music, drama and dance. GSA also focuses its efforts in carrying on the legacy of this intricately complex culture through activities and courses teaching the Peranakan language, cuisine and art forms such as Dondang Sayang (poetry), beadings, embroidery and even games. It will be hosting its annual "Wayang Peranakan" (Peranakan play) this August! Don't miss it! 
We have many good friends who are Peranakans, they are really excited and looking forward to watch the coming "Kain Chik Dua Mungka" (Double-Faced) presented by GSA with the highlight of legendary Peranakan theatre veteran, GT Lye returning to the stage and entertaining audience with his colourful role of a female impersonator. 
During the press conference, media get to catch a sneak preview of the show and watch the legendary Peranakan theatre veteran, GT Lye who made a special appearance reprising his role as Bibik Bisu. 
"Kain Chik Dua Mungka" is a pronounced and boisterous take on the original version directed by Baba Quek Choon Juan, one of the key individuals responsible for the revival of Wayang Peranakan back in the 1980s. The 2017 version is written and directed by Peranakan theatre veterans, Baba Frederick Soh and Baba Tony Quek tells the tale of an elderly matriarch, Bibik Bisu who gets her family involved in a complex domestic feud after encouraging her son, Chong Guan to marry a second wife, Betty, in the hope of securing descendants for the family. Drama ensues between the family members after the discovery of a betrayal between them. Find out the identity of the double-faced character in this Wayang thriller!Synopsis of the show:
This year's Wayang Peranakan promises to capture the imagination of theatregoers with its gritty plot and suspense-filled scenes. From the antics of the meddling mother-in-laws to the neighbourhood nosey parkers, sit back and be thrilled by the fascinating action and kaleidoscopic colours of the Peranakan theatrics!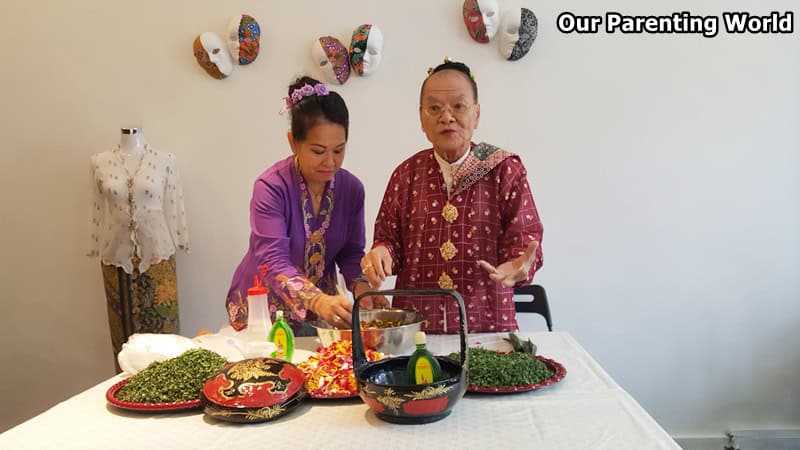 At the press conference, GT Lye did a demonstration on how to make Bunga Rampai, a potpourri of fresh pandan leaves, fresh flowers and mixed with fragrance usually used on special occasions like weddings.  
After mixing all the ingredients together, you can put it in a organza pouch which is convenient for you to place it wherever you want. The Bunga Rampai will give off a lovely scent. 
Little KW is making one for his mummy and his godmother who is a Peranakan. They are so delighted to receive the potpourris. Thanks GSA!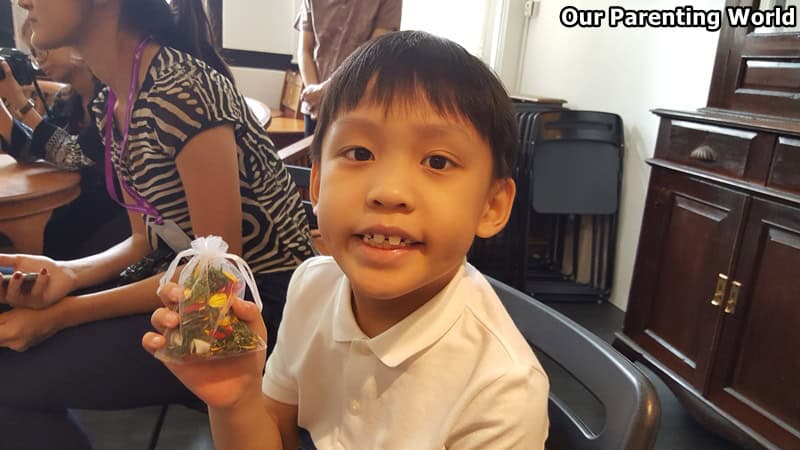 "My Godmother is a Peranakan and Peranakans has a rich heritage, the culture should be preserved and tradition carried on. It is not often we can see the art of Wayang Peranakan in Singapore. It was passed down from early generations of Peranakans since 1900s and become an iconic activity for GSA which it has achieved the position of a foremost guardian of the cherished Peranakan Culture. GSA has worked hard to reassert their identity and interest in the unique Peranakan cultural milieu over the years. Please support GSA in preserving and carrying on the rich Peranakan heritage and watch the coming "Kain Chik Dua Mungka"!"
Alvin Teo, the President of GSA shared that "The Peranakan culture is an amalgamation of two uniquely distinct cultural influences of the Malay and Chinese population. More so, the preservation of the authentic Wayang Peranakan by GSA proves to be an important cultural art form that further accentuates the rich multi-faceted socio-cultural landscape in Singapore."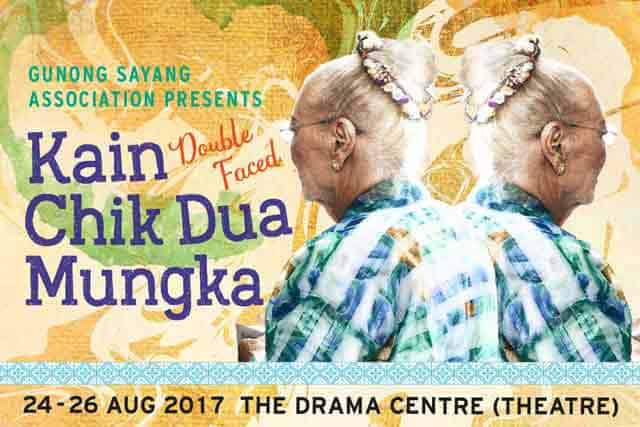 "Kain Chik Dua Mungka" will be showing from Friday, 25 to Saturday, 26 August 2017 and bring your shopping bags along for there will be a selection of Peranakan stalls at the Wayang Peranakan, from the likes of authentic home-cooked Peranakan cuisine, costume accessories to delectable Malaccan desserts and more.
"Kain Chik Dua Mungka" 
Show Dates and Timing:
Friday, 25 – Saturday, 26 August 2017 at 2pm & 8pm
Venue:
Drama Centre Theatre

Ticket Pricing:
(Excludes Booking Fee)
Standard: S$68, S$58, S$48

Tickets are available on SISTIC: https://www.sistic.com.sg/events/cmungka0817

For more information about Gunong Sayang Association, please visit http://www.facebook.com/GunongSayangAssociation