Happy 50th Birthday, Singapore!
As the Nation join together as One People, One Nation, One Singapore to celebrate Singapore's Golden Jubilee. All eyes will be glued on today's National Day Parade, after months of preparation, the day has finally come where the spectacular show will be showcased to all. 
Our Parenting World team celebrates this joyous occasion by bringing together the highlights of today's National Day Parade.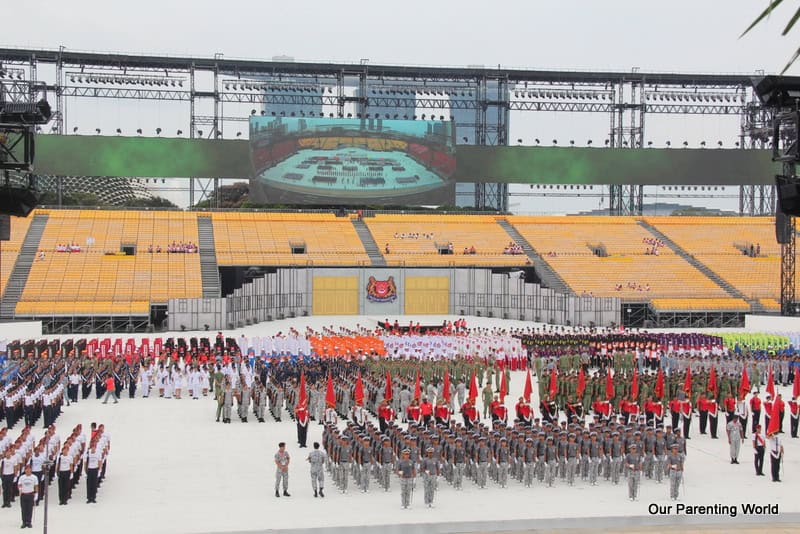 The theme for this year, National Day Parade is "Majulah Singapura" and in celebration of Singapore's Golden Jubilee, this year parade will return to the historic site of Padang where the first National Day Parade was held in 1966.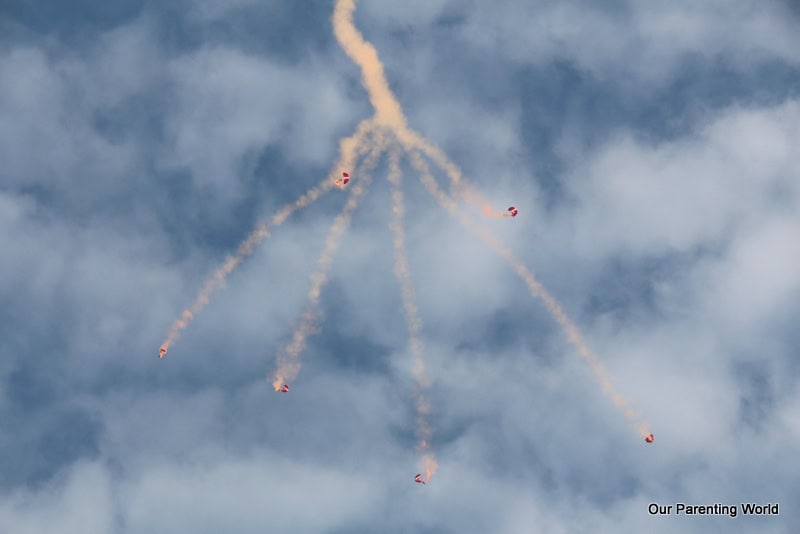 Look out for the 6 Red Lions skydivers' stunning 10 minutes freefall display where they will exit from the helicopter one by one with a bomb burst of trailing smoke.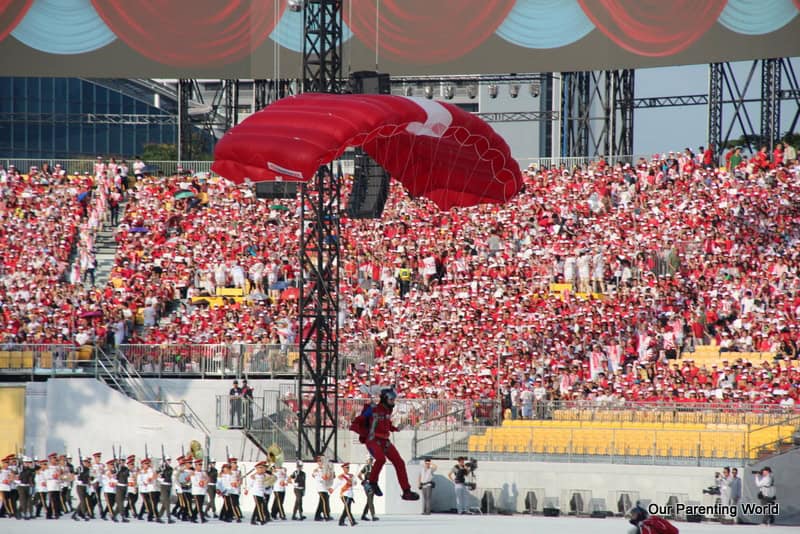 The Red Lions have always been a crowd favourite and this year, National Day Parade is no exception as the Red Lions will perform a spectacular aerial display, executing their jump, using their parachutes to glide downwards and making their grand entrance right into Padang.
Update: Red Lions scheduled jump has been called off due to poor weather condition.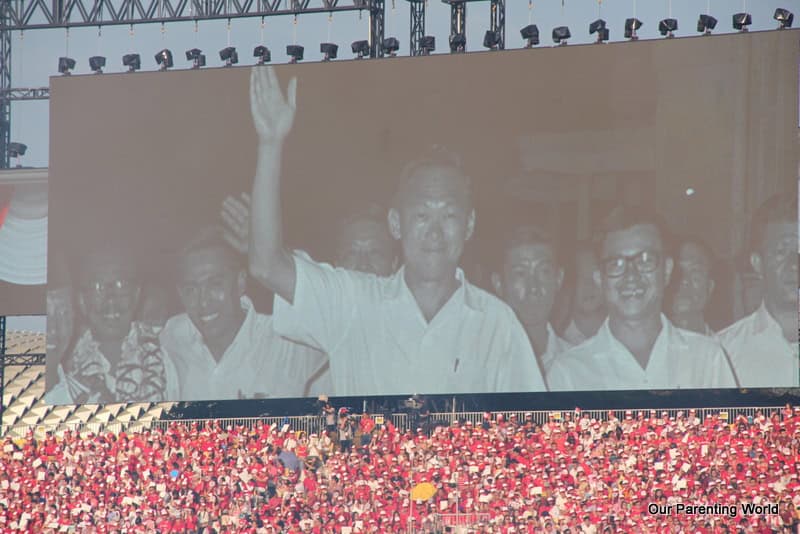 This year National Day Parade, a tribute segment has been set up to remember our Founding Father, Mr Lee Kuan Yew. A bouquet of flowers will be placed on Mr Lee's empty seat as a mark of remembrance that he would be among us as we watch the show at Padang. Mr Lee has attended every National Day Parade since the first one was held in 1966.
This is followed by the "5 Stars" tribute aerial flypast by the Republic of Singapore Air Force's (RSAF) Black Knights in honour of Mr Lee Kuan Yew. The "5 Stars" symbolised Mr Lee's ideals for Democracy, Peace, Progress, Justice and Equality as he watched over the Nation he founded.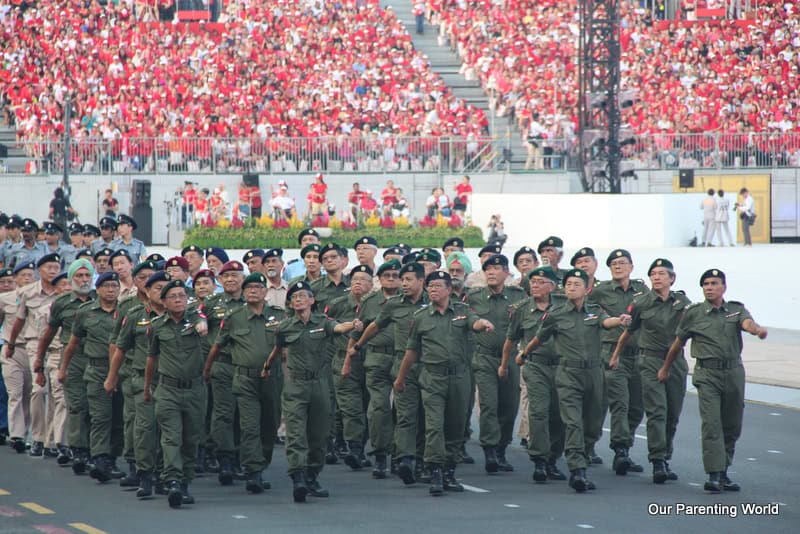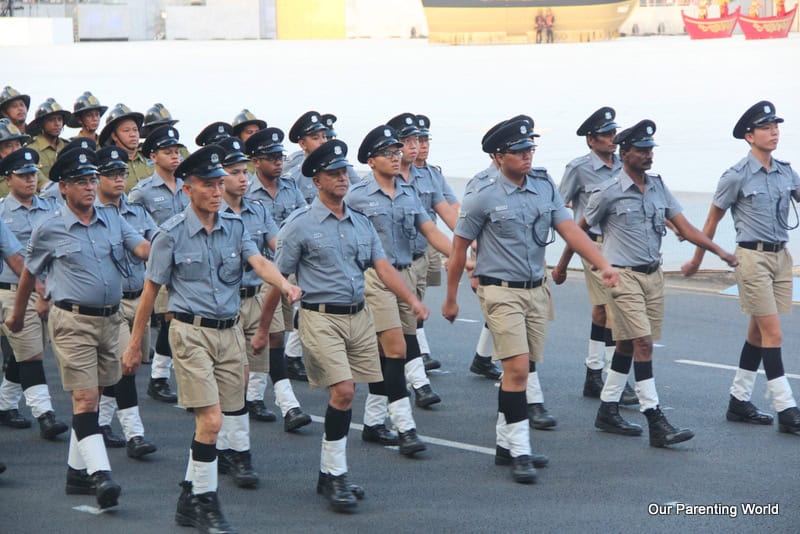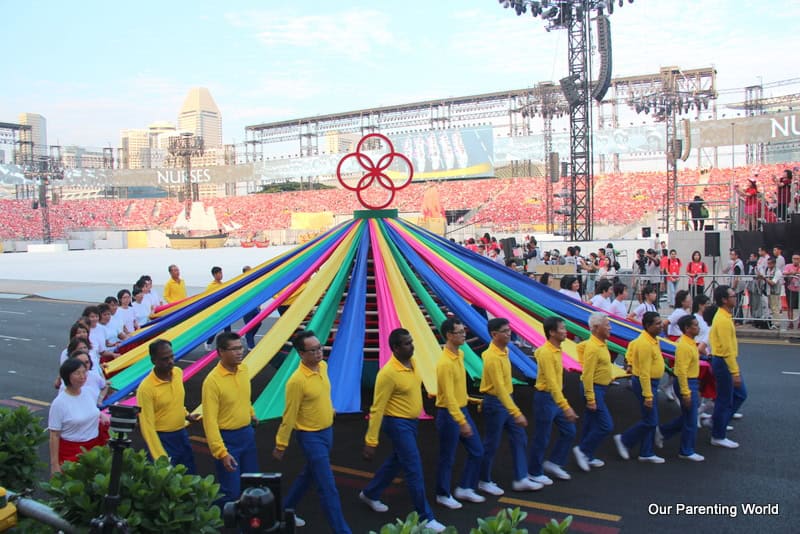 The Vintage Parade, made up of participants from 10 organisations (Singapore Armed Forces, Singapore Police Force, Singapore Civil Defence Force, Public Utilities Board, POSB, SingHealth, People's Association, PSA Corporation Ltd, Singapore Airlines and Housing Development Board). The Parade participants also included pioneers who have participated in the earlier parades from 1960s to 1970s and together they will bring back segments of the street parades during that time. Audience will be reminded of the old uniforms worn by the participants of the Vintage Parade especially the policemen in shorts.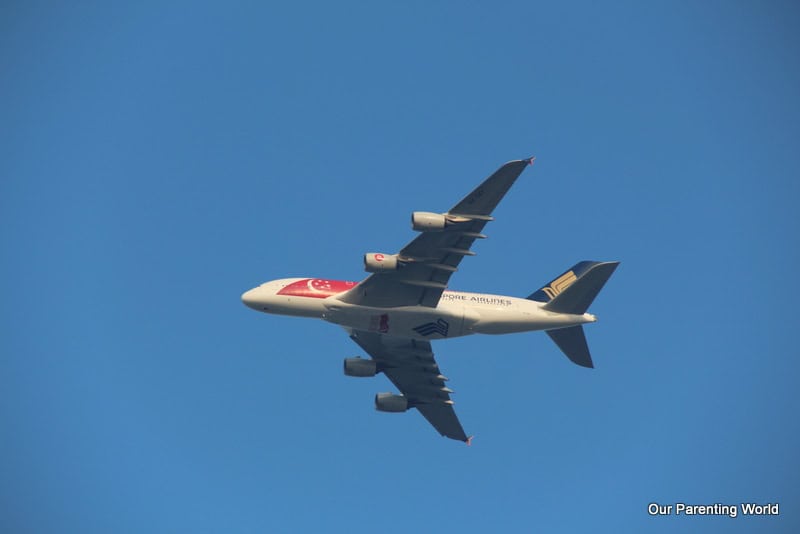 The Vintage Parade will feature 20 Singapore Airlines (SIA) Girls on trishaws which will remind audience of the earlier well-known Singapore Airlines advertisements. Singapore Airline Airbus A380 will flypast the Marina Bay area to take part in this year National Day Parade and this is the first time SIA is taking part together with the 20 SIA girls in the Parade.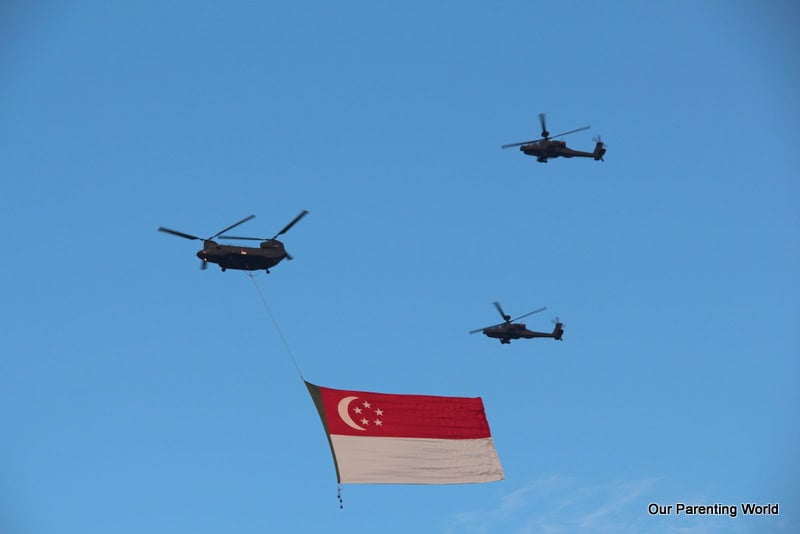 50 Aircrafts, the largest number to date will participate in this year, National Day Parade. The traditional flypast of the State Flag by a CH-47 Chinook helicopter, escorted by two AH-64D Apache helicopters will fly across Padang during the singing of the National Anthem.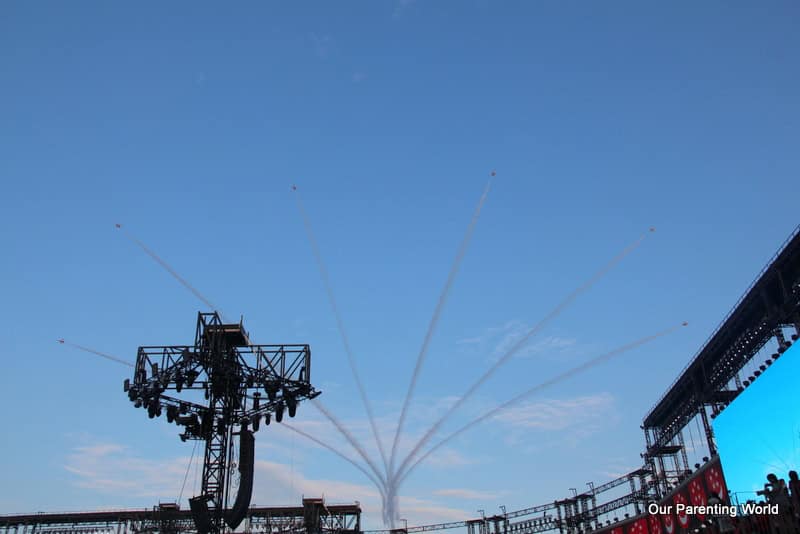 Audience will get to see "50" formation comprising of 20 F-16s for the first time by RSAF. Next to the "50" formation, six Black Knights will perform an aerial bomb-burst where the F-16s will do a fan-out movement which will round off a spectacular Salute-to-Nation segment.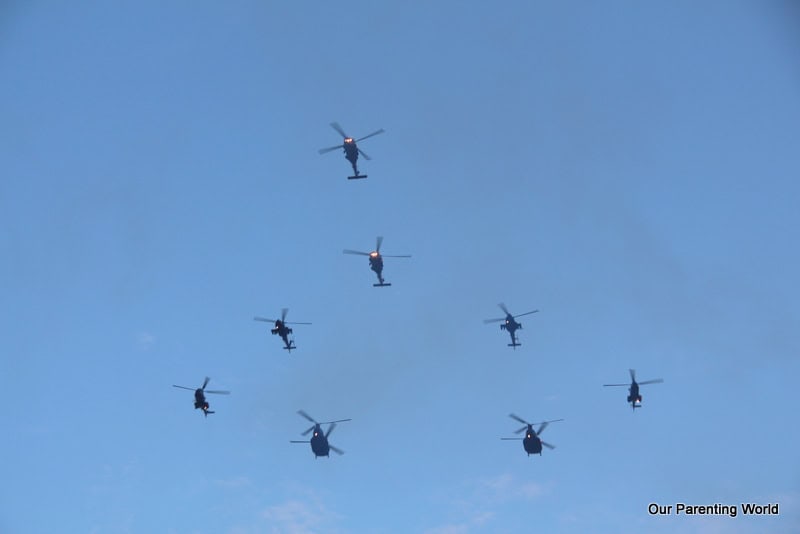 The aerial flypast segment will feature an "Arrowhead" formation. This is a combined helicopter formation, led by two S-70B naval helicopters and featuring two AS-332 Super Pumas, two AH-64D Apaches and two Chinook.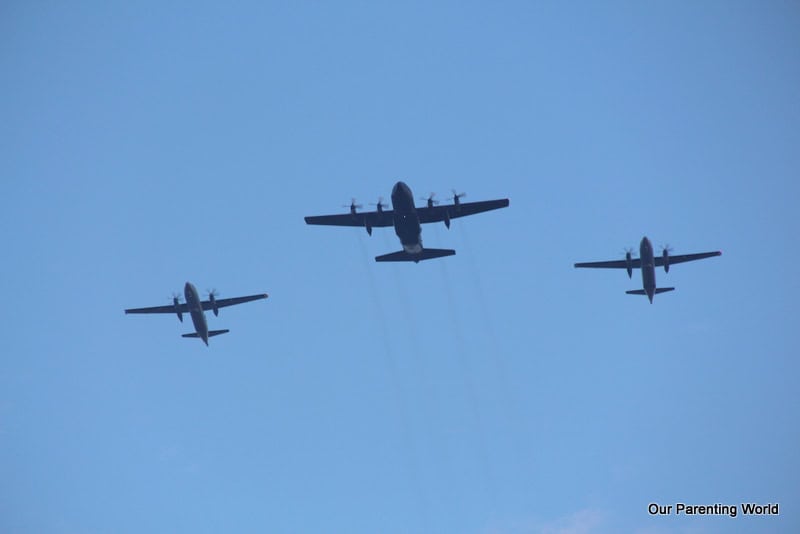 This is immediately followed by the "VIC" formation led by a C-130 transport aircraft and two Fokker 50 (FK-50) Maritime Patrol aircraft.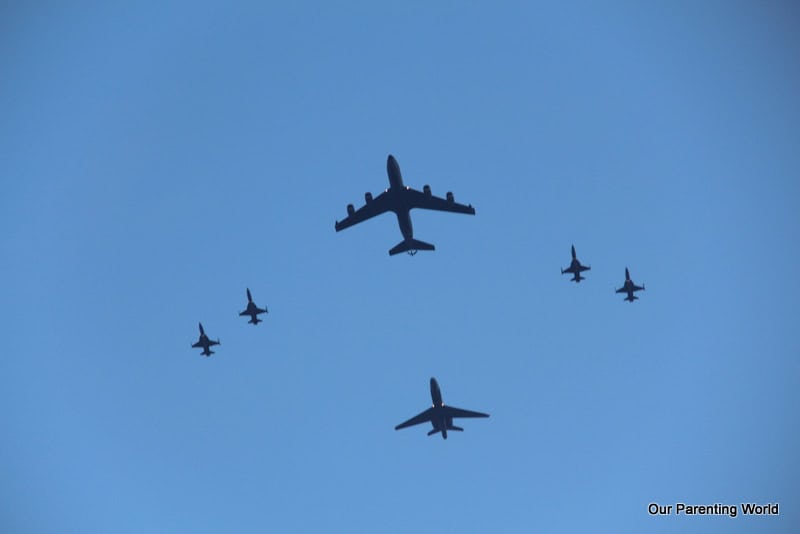 After that, a KC-135 tanker aircraft and G550-Airborne Early Warning (AEW) will be escorted by 4 Fighter jets flying in close formation.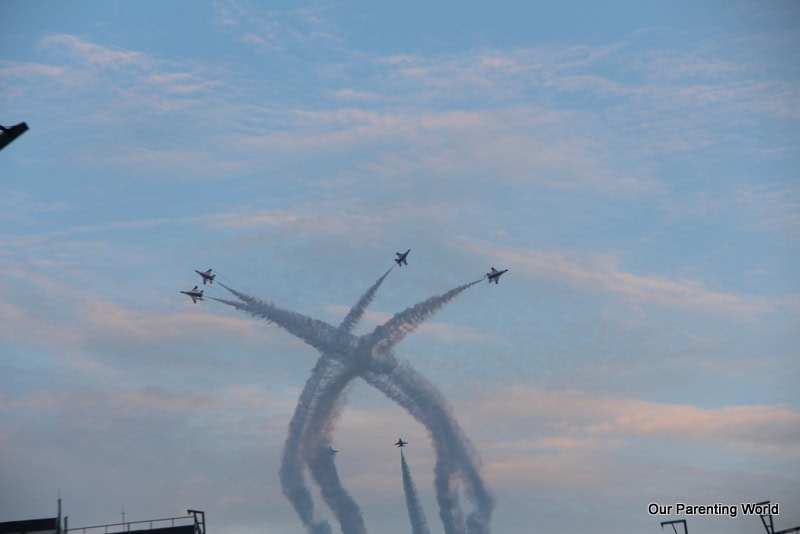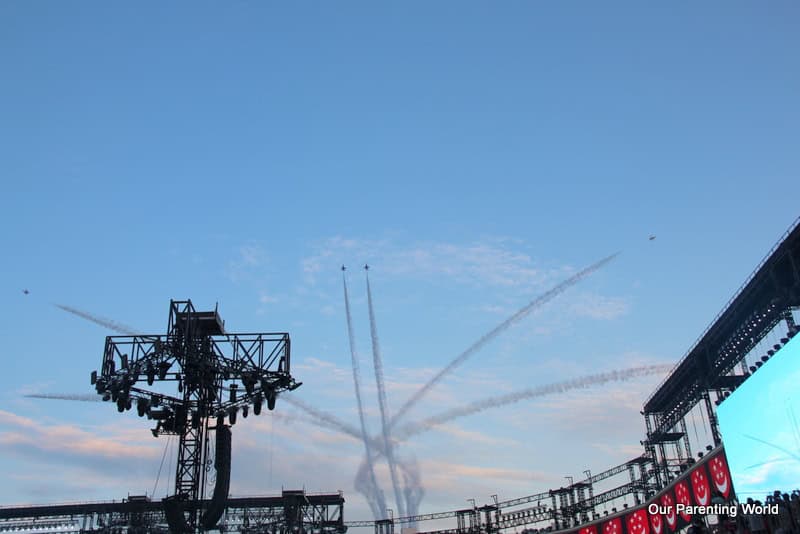 Black Knights will perform a spectacular "Criss Cross" manoeuvre at the Padang and around the Marina Bay area with smoke trails, followed by two Black Knights executing a near-vertical climb.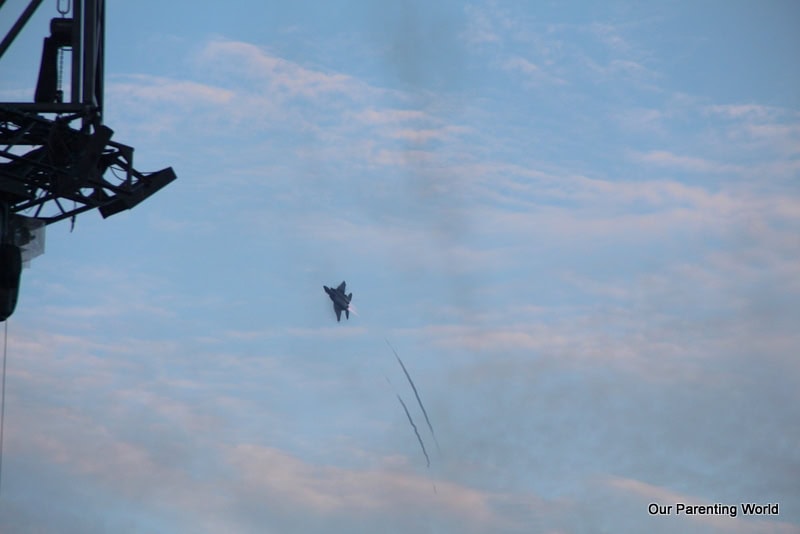 A single F-15SG fighter aircraft will be executing a combat turn showing the aircraft's precision and agility. It will reach a climax by performing a near-vertical climb with afterburners over the Padang that will excite the audience.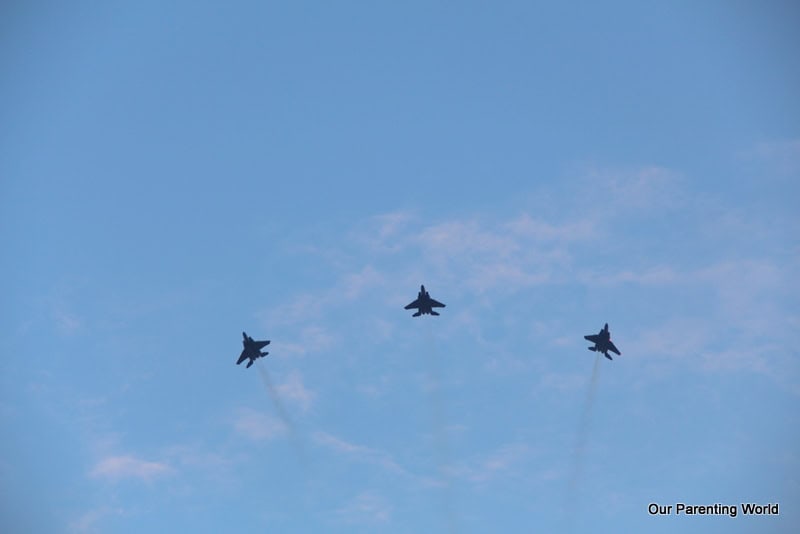 The aerial display will end off with three F-15SGs performing a "Flat Burst" manoeuvre as they make their exit leaving the audience on high!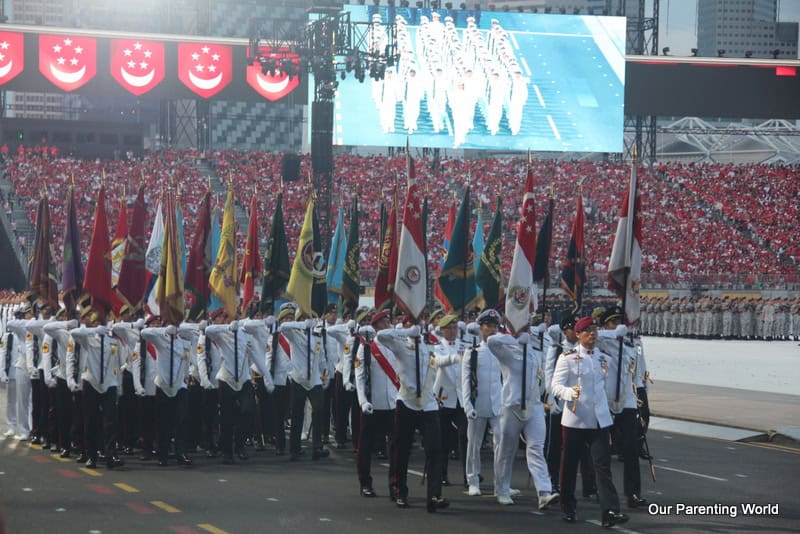 The Parade and Ceremony will feature 37 contingents comprising of four Guard of Honour contingents, the Singapore Armed Forces (SAF) Colours Party, the Combined Band, five military and civil defence contingents, 10 uniformed group contingents, and 16 social and economic contingents.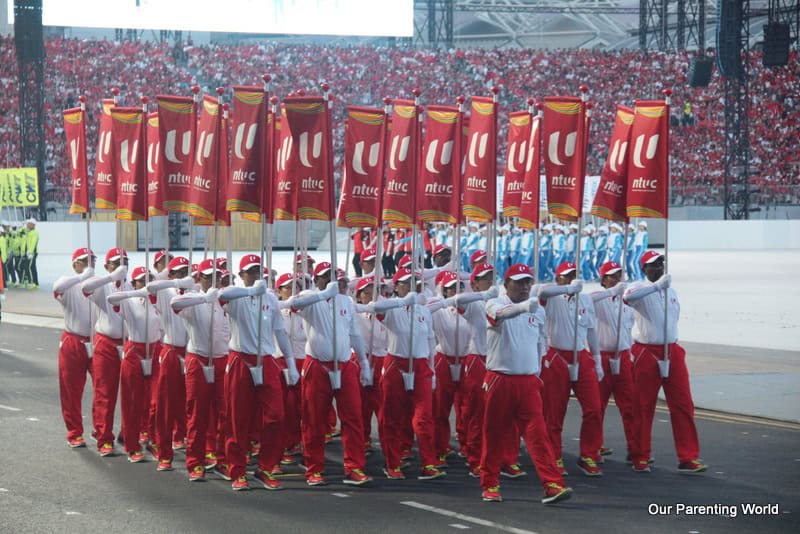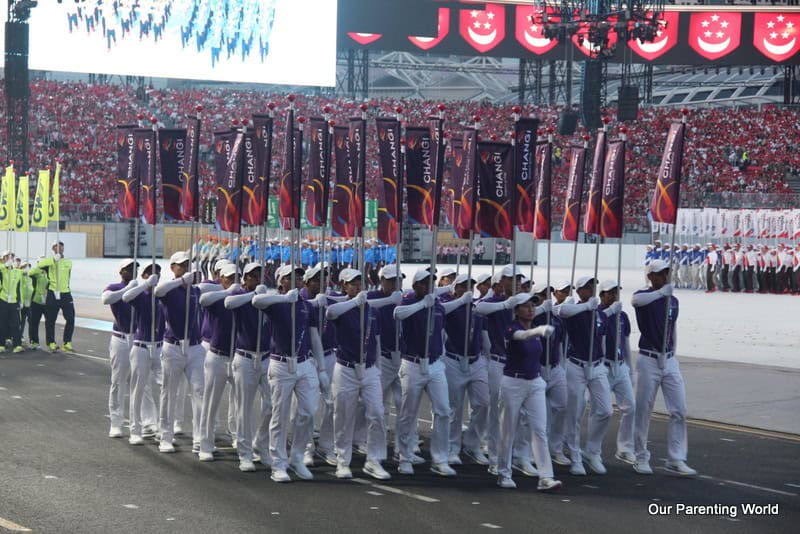 There are 16 civilian companies and organisations taking part in the Parade to showcase how rapidly Singapore has progressed both economically and socially in the past 50 years. Some of these companies taking part in the Parade for the first time are Changi Airport Group Pte Ltd and other companies taking part in the Parade include National Trade Union Congress, Singapore Telecommunications Ltd and etc.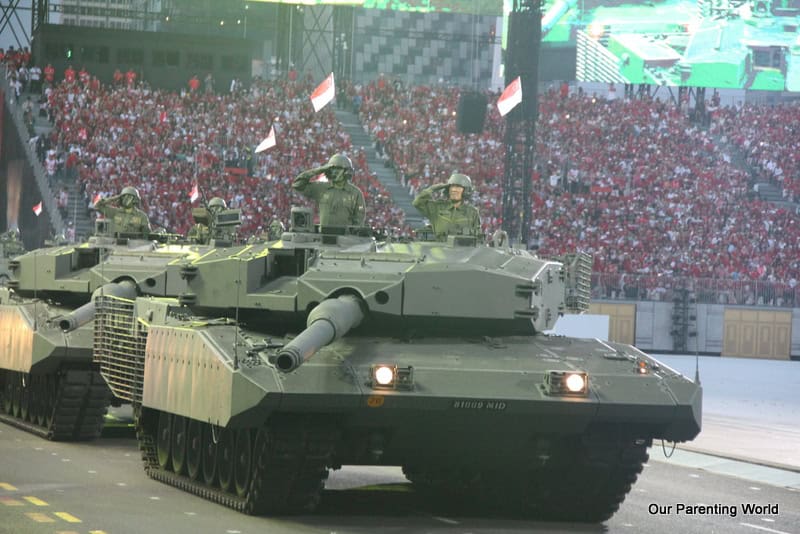 Mobile Column at the Parade will showcase the strength of our Nation with the aim to instill confidence in our Singapore Armed Forces (SAF) and Home Team in a grand, formal and precise display. A total of 179 platforms which is the largest to date will be participating in the Parade.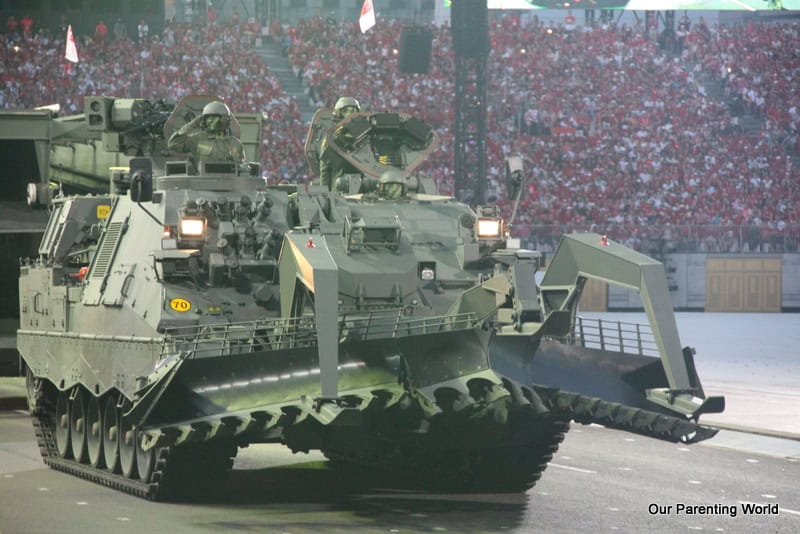 Some of the mobile column in action are The Leopard 2 Armoured Engineer Vehicle (L2-AEV), Singapore Armed Forces K-STER Expendable Mine-Disposal System, Singapore Armed Forces REMUS Autonomous Underwater Vehicle and many more.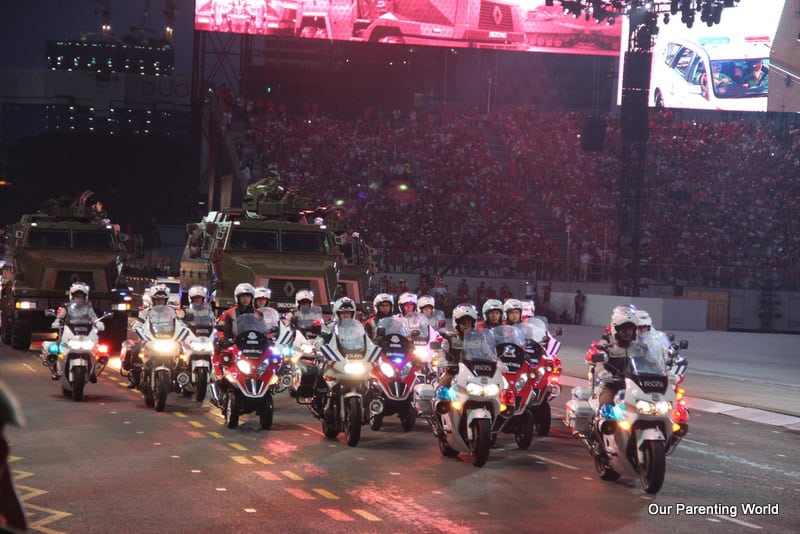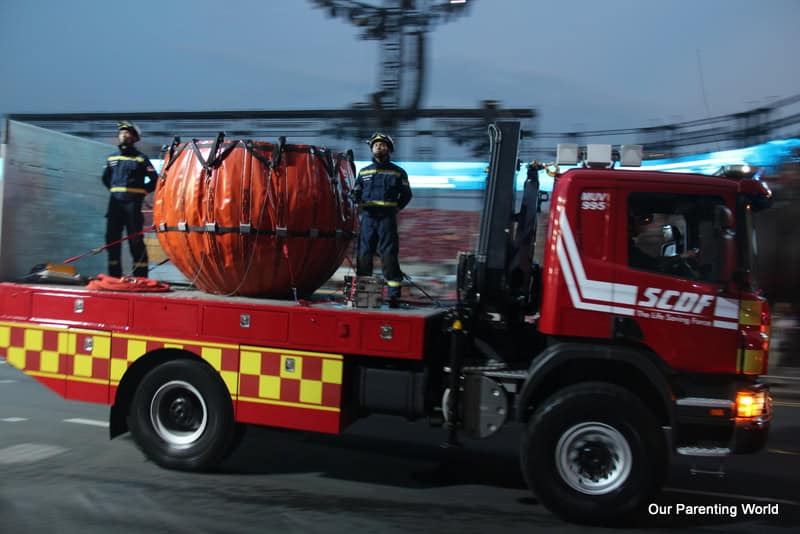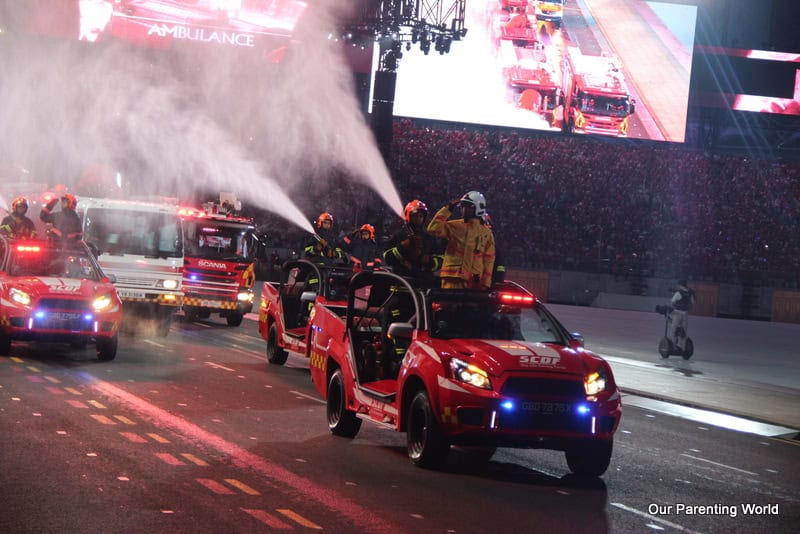 The Mobile Column will also include assets from the Singapore Police Force (SPF) and Singapore Civil Defence Force (SCDF).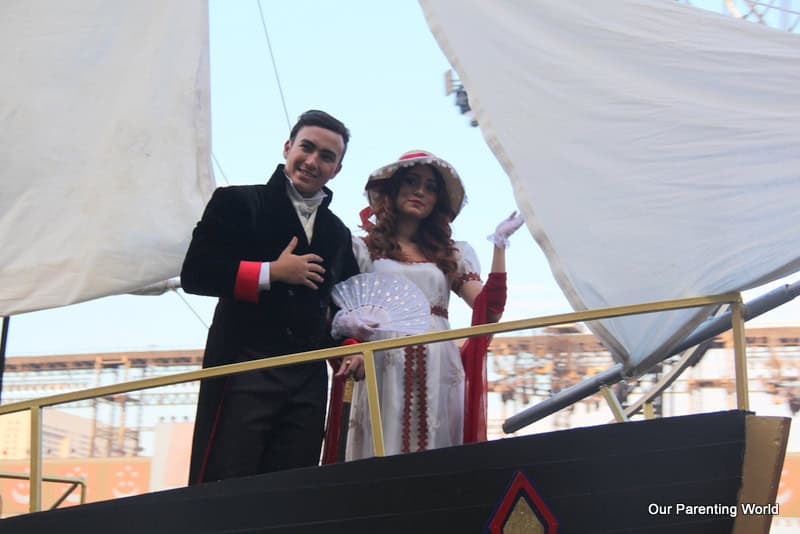 Audience can look forward to a grand and intimate show which tells the stories of our forefathers, many of them come from different lands, decide to settle down in this country, the sacrifices they made, the determination they had put down to build the foundation of this country.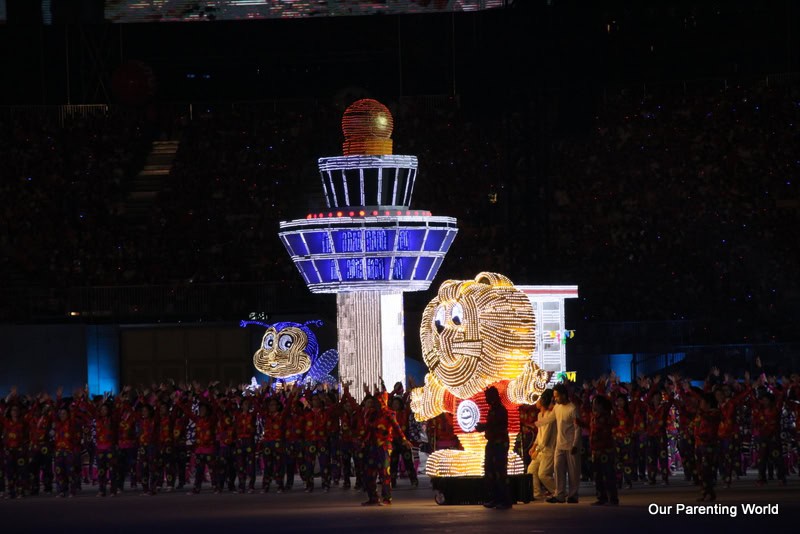 Singaporeans can related the to show on "Identity-Uniquely Singaporean" that portrays and celebrates who we are and what characterize us as Singaporeans.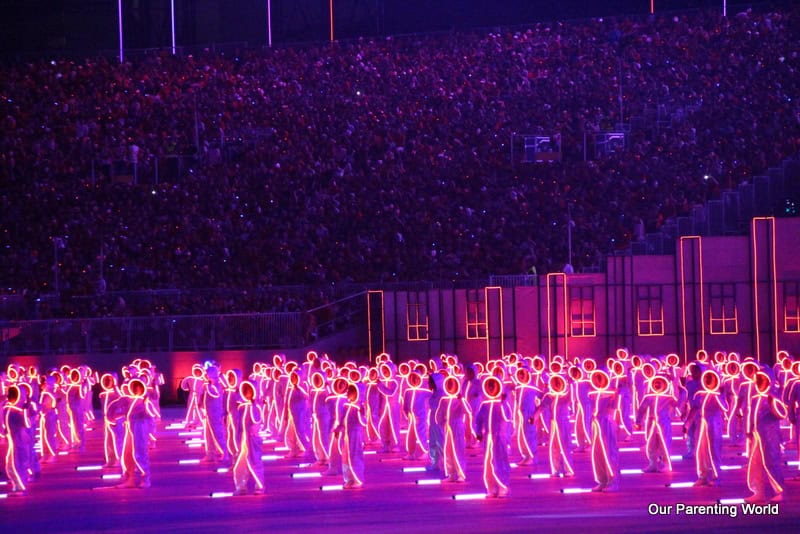 Towards the end of the show will showcase the segment on "Onwards – Bright Future" featuring over 600 young Singaporeans from 6 Primary Schools in a dazzling and heart-warming performances to celebrate the power of our dreams and inspires us to move onwards as a Nation.
Kit Chan (red gown) will be singing the very popular 1998 NDP theme song "Home" and Corrinne May (yellow gown) will be singing 2010 NDP theme song "Song For Singapore".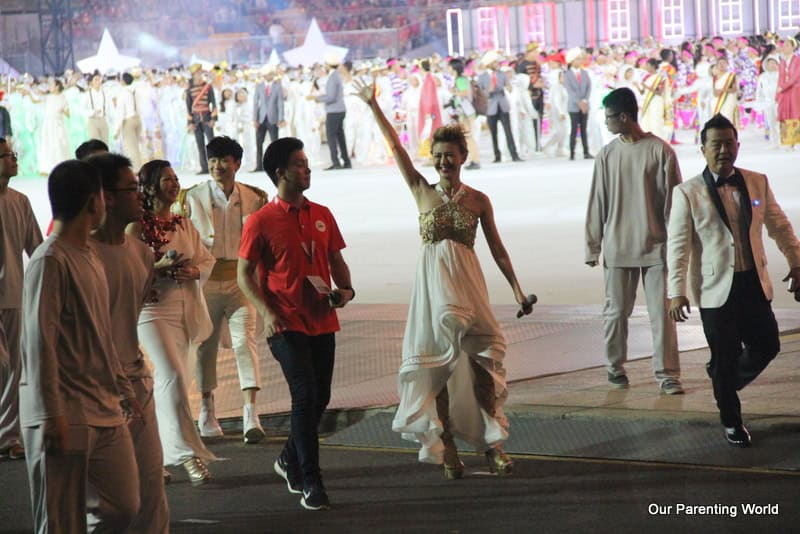 Stephanie Sun (white gown) will be singing the 2002 NDP theme song on "We Will Get There" and 2003 NDP theme song "One United People". 
JJ Lin will be performing the 2015 NDP theme song on "Our Singapore". 
This year National Day will bring together the present and past years National Day Parade theme songs by the original singers. JJ Lin, our Singapore homegrown Mandarin pop star will sing this year National Day Parade theme song 'Our Singapore'. This song is written by Singapore multi-talented songwriter, Dick Lee.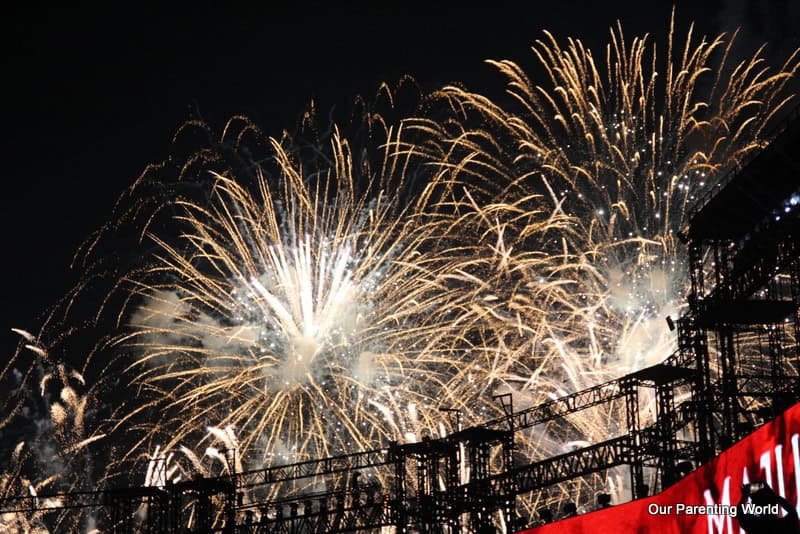 The spectacular firework display will be the biggest for this year NDP and audience can be expected to be in awe with the brilliant displays of fireworks and look out for the fireworks that will shoot out of 7 buildings around the Bay area including the Adelphi and Swissotel which will be participating in the firework display at NDP for the first time. 
The NDP will end off with a Grand Finale which will see the island-wide pledge moment at 20:15hrs, a moment that will touch the hearts of all Singaporeans as we say the pledge and anew as one united people.
Singaporeans both locals and overseas, residents and viewers from all over the world can tune in HERE to watch the live telecast of the National Day Parade today from 5.25pm. 
Happy SG50! Majulah Singapura! 
This article is brought together by the team of Our Parenting World, media for National Day Parade 2015. 
Additional Information
National Day Parade ticket holders, the seating gallery will open at 3.30pm and you are advised to be seated by 5pm. The Parade will start at 5.15pm and there will be no admission to the seating gallery after 6.30pm. Besides watching the National Day Parade at Padang and The Float @ Marina Bay, there are 7 other locations around Marina Bay that will be broadcasting the NDP live on LED screens today. They are, Marina Bay Sands (MBS) Event Plaza, MBS Event Square, The Promontory @ Marina Bay, Merlion Park, Esplanade Theatres by the Bay, Singapore Flyer and Marina Barrage. Happy National Day and have a wonderful celebrations!