July 29 is a hot day!
I don't mean the weather hot although it has been really hot for the past few days. Gor Gor received 3 invitation all on the same day and at same time. It is a pity that we can't go for all three of them, our apologies!
Gor Gor has changed into his swim gear, can't wait to get wet!
Gor Gor playing with the giant water gun
Here comes Di Di who has also changed into his swim suit
Look at all the water splashing everywhere!!
Oh dear, Di Di started crying … Mommy quickly went to carry  him. Di Di may not be used to the idea of water splashing all over him. After a while, he is okay.
In the meantime, Gor Gor is having fun playing with water and with his friends.
The children will all call back to the birthday venue to watch the performance.
Mr Bottle inviting our birthday girl up to perform magic with him.
Look at the children, they enjoyed watching the performance. Even the adults were having fun watching the show. Can you spot Gor Gor and Di Di among the children?
A closer look
There they are! While the children were watching the show, most of the parents were busy watching and taking pictures of their kids.
Cake cutting time, look at the beautiful birthday cake!
All the children gathering around to sing Happy Birthday
The birthday girl smiling sweetly at the camera. Happy Birthday Charisse!
Gor Gor and Di Di dancing happily when they heard music
The children were informed to go for the bubble party.
This is the bubble party also known as foam pool. The children were lining up to go into the pool.
Gor Gor having fun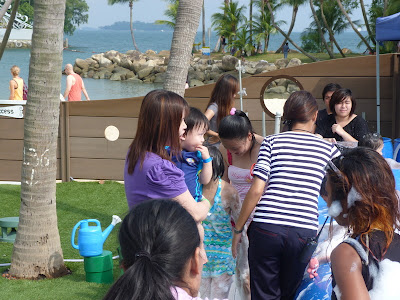 Di Di can't join Gor Gor into the pool as he is too small. He is contended having Mummy to carry him to observe what Gor Gor is doing.