This school holidays, visit Plaza Singapura and celebrate Christmas together! 
Shoppers can look forward to a wide array of activities and promotions while shopping at Plaza Singapura. Kids will be excited to know that Robocar Poli, a popular South Korean animated cartoon has arrived at Plaza and for the first time ever,  the character show will feature fun and interesting adventures where audiences can also expect classic Christmas songs weaved in to celebrate this festive season. 
Sing and dance with the characters and enjoy the show! 
The Robocar Poli themed festivities will be held for a total of 2.5 weeks, from 24 Nov – 10 Dec. Look forward to thematic craft workshops, a meet-and-greet and tea party, all happening at the Main Atrium, Level 1 of Plaza Singapura.

Robocar Poli Showtimes
Mondays to Thursdays: 1 pm and 7pm
(No show on Tuesdays)
Fridays to Sundays: 1pm, 4pm, and 7pm
Meet-and-greet
Spend a minimum of $30 in a single same day, same-mall receipt, at Plaza Singapura and score a chance to mingle with Robocar Poli characters (Poli, Roy, Helly and Amber) at a meet-and-greet session after the show. Capture these memories for keepsake as you'll get to redeem a photo pass for a family of 4! *Limited to 40 redemptions per session.
Tea Party Pass
Shoppers will be able to redeem an entry pass for 30th Nov and 7th Dec at 4pm, with min. $80 spend in a single same-day, receipt per redemption.
Mascot appearance:
30 Nov – Poli & Roy
7 Dec – Helly & Amber
While stocks last, limited to 20 redemption per session.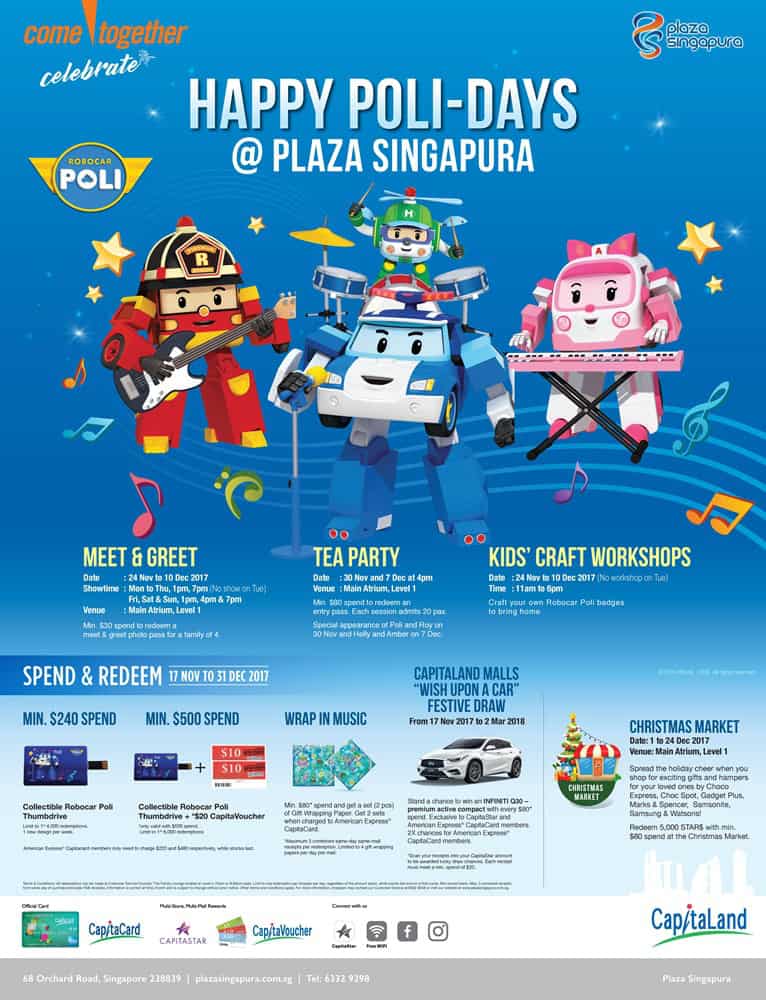 Plaza Singapura's Festive Giveaways
What's New at Plaza Singapura (PS)
Plan your year-end Christmas shopping and enjoy quality time with family and friends at PS. From the trendiest food, fashion and gift offerings, they are all conveniently located under one roof.
Delicate Confectionery from Morozoff (#01-61)
Leading luxury confectioner from Japan, Morozoff returns to Singapore shores after more than a decade with its one and only standalone store in Plaza Singapura. The brand aims to bring Japan quality products to Singapore, featuring a wide showcase of high quality chocolates, cookies, and baked cakes. Be sure to pick up freshly-made cheesecakes and puddings for your next family gathering or choose from a selection of premium chocolates ideal for gift exchange among colleagues.
Fresh, Handmade Gelato from aROMA Gelato (#B1-32)
Sink your sweet tooth in a cup or cone of aROMA Gelato at the brand's first full-fledged outlet in Singapore. From production room to when it is being served, every batch of aROMA Gelato is a result of meticulously crafted recipes, hardworking and happy staff, and sourcing of the best quality ingredients from around the world.
Get Party Ready with Runway Bandits (#B1-31/32B/33)
Pick out the perfect outfit for the party season as Runway Bandits opens its first and only retail store. Founded in 2008, the label inspires individuals with a shared, common appreciation for fashion has since grown to have timeless, understated wardrobe essentials at accessible prices. With a refreshed collection launched every month, you can reinvent everyday staples and wear a variety of looks depending on the occasion.
Office to Holiday Party Accessories at N.CAT (#02-02/03)
Accessories are a must have this time of the year and N.CAT offers the latest range of fashion accessories for the ladies. The brand is widely popular in Korea with over 120 outlets worldwide. Mix and match quality accessories priced between $3.90 and $25.90.
Plaza Singapura
Address: 68 Orchard Road, Singapore 238839
Operating hours: 10am to 10pm
Tel: 6332 9248
Website: https://www.capitaland.com/sg/malls/plazasingapura/