Happyganics is a fully-Singapore made brand that sells a range of baby care and cleaning products consisting of liquid laundry detergent, bottle cleanser, floor and surface cleanser, body wash, shampoo and hair conditioner across 8 markets (China, Hong Kong, Indonesia, Malaysia, Philippines, Singapore, Taiwan and Thailand). The products are not only 100% natural and biodegradable but also specially formulated to work well on cloth diapers and baby clothes – it's great for adults too!
Our team speaks to the Co-founders of Happyganics, Dawn Teh and Leslie Wou to find out more about their products and their inspiring entrepreneurship journey. Read on to find out more.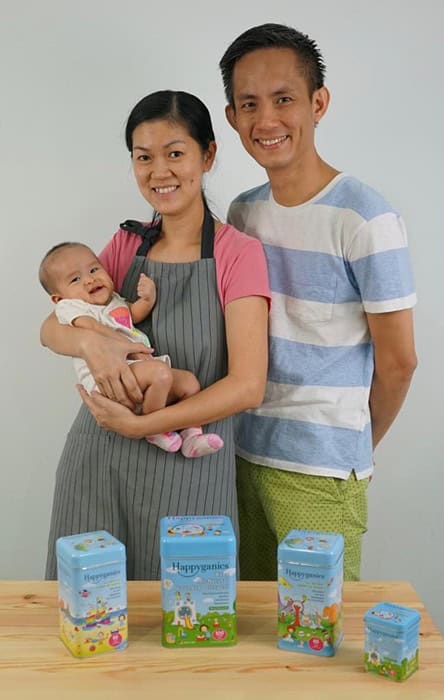 Exclusive Interview with Dawn Teh and Leslie Wou, Co-founders, Happyganics
1. Please share with us more about your background? What made you decide to become an entrepreneur?
Dawn and Leslie: Happyganics was founded when our baby daughter was suffering from skin allergies. We started to research into organic products and realized that there is a market need for more than just body care products. We discovered that besides shampoo and body wash, laundry detergents are also a key source of skin irritations.
Joined by other co-founders Karen, You Meng, You Suan and Elaine, we successfully designed a series of natural products, and found an established factory to manufacture them in USA in 2015. After a few years of successful sales in more than 8 countries, production was shifted back to Singapore in 2019, making Happyganics a fully made-in-Singapore brand.
2. What inspired you to set up Happyganics, how did you start up your business and come up with the name, Happyganics?
Dawn and Leslie: We wanted to create products and services that impact the world and bring happiness to everyone. That led us to the word 'Happy'. We then combined it with Organics, because we want our products to be natural and safe for our users.
3. What are the challenges you faced when setting up Happyganics and how did you manage to overcome them?
Dawn and Leslie: We faced several challenges when setting up the business. Having worked in the IT sector earlier, we were new to product manufacturing. As such, we found ourselves having excess inventory due to a lack of planning in the procurement process and overspending by having our own warehouse. We managed to lower our costs while improving efficiency by engaging in e-commerce logistics service provider, such as Amazon. In the early stages, while we did not sell online, we started attending e-commerce training sessions offered by Amazon and learnt how to market and sell better through services such as Fulfilment by Amazon (FBA).
Over the years, Amazon has continued to support us in reaching out to a wider base of customers online and helped us with the rapid fulfillment of orders through their FBA service.
This has empowered us to learn rapidly. For example, we evolved our promotional packages in line with our customers' responses to address their needs better. We also tweaked our products' scents based on customers' preferences.
Not to mention, we also learned by observing industry leaders of baby care products to unpack their marketing and promotional strategies. For instance, how they use online reviews by influencers, offer product bundles, design their packaging, diversify sales channels, etc.
4. Can you share more about Happyganics' range of products and how they can help children and those who have sensitive skin and/or allergies?
Dawn and Leslie: Our range of products include: Liquid Laundry Detergent, Laundry Detergent Powder, Baby Bottle Cleanser, Disinfectant Spray, Hand Sanitizer.
All our products use plant-based ingredients that do not contain toxic chemicals, SLS, parabens, chlorine bleach and artificial colours. Additionally, our products are hypo-allergenic and help prevent skin irritations to protect the sensitive skin of babies.
5. How did you come up with the formulation and ingredients for Happyganics' products and who are behind the formulations?
Dawn and Leslie: We researched extensively on the requirements to develop our products and worked closely with chemists in Singapore to customize new formulation and select the ingredients for our offerings.
6. What is your advice for those who want to start their own business in Singapore? What preparation work and mindset do they need to have?
Dawn and Leslie: Our advice would be to just start and keep trying and adapting until you succeed. The trial and error process may take years – it is normal so it is important to start first. Perseverance, adaptability, and optimism are very important in starting and growing your business, regardless of the products or services you offer.
7. Any tips on how one can be a successful entrepreneur and succeed in the competitive market?
Dawn and Leslie: Evolve constantly and adapt to the market's needs by creating new and unique products, services, and experiences for your customers.
8. How do you create and increase your brand awareness and promote your products to the market?
Dawn and Leslie: We use a variety of tools to increase our brand awareness, including social media marketing engaging key opinion leaders to share their experience of using our products and participating in Baby & Mother fairs during pre-covid season. We also offer customers the chance to sample our products by producing small-sized packages. These are offered as free gifts to potential customers so that they can try our products and purchase the full-sized versions if they suit them.
9. Can you share some success stories of how Happyganics has helped your customers?
Dawn and Leslie: One of our customers has sensitive skin and purchased her first tin of Happyganics to avoid skin irritations. As a mother, she has been particular about the products she uses to clean her baby's soft toys and pillows, and trusts that our products are safe and natural for her family.
Additional testimonials from our users are also visible in the 'Our Happy Customers' section on our website: https://www.happyganics.com/
10. Lastly, what do you see for your business in the next 5 years and does it include any plans for expansion and new products offerings?
Dawn and Leslie: We are excited to launch new products in 2021. They include: Dishwashing Liquid, Floor Cleaner, Bathroom Cleaner, Baby Wash, Kids Shampoo, among others.
We also aim to learn more tricks of the trade with Amazon's growing resources to support local sellers and expand our customer base by tapping on FBA to sell in new countries globally. This will widen our distribution network to more countries such as South Korea, China, US etc.
Thank you Dawn Teh and Leslie Wou for taking our interview!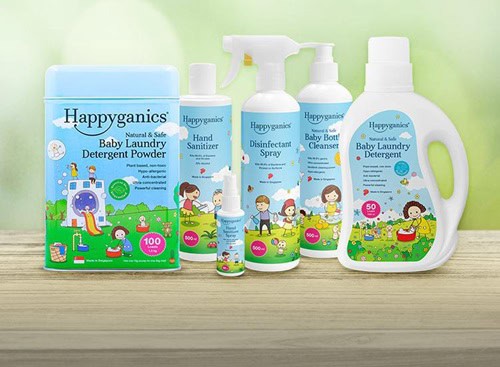 All images credit to Dawn Teh, Leslie Wou and Happyganics
Happyganics is a parent-founded, homegrown business that sells products on Amazon in Singapore to help fellow parents whose children have sensitive skin and/or allergies. To find out more and to purchase their products, check them out here.
In addition, Amazon is gearing up to host its first-ever Amazon Southeast Asia Online Seller Summit 2021 for SMBs such as Happyganics to start selling locally and expand globally with Amazon's support. The Summit will be fully virtual and run from 28-29 Jan, 10am to 5pm SGT. Details as follows: 
Amazon Southeast Asia Online Seller Summit 2021
Event website: https://services.amazon.sg/events/sgoss-2021.html
Register here: http://amzn.to/SOSS2021-Signup
Date/Time: 28-29 Jan 2021, 10am-5pm SGT
Key Guest Speakers:
Minister for Trade and Industry, Chan Chun Sing

Amazon Singapore Country Manager, Henry Low

Amazon Singapore Marketplace and Global Selling Southeast Asia Country Leader, Bernard Tay
What to expect?
Strategic announcements & customer insights

Professional Training Courses

1:1 Consultation Opportunities

Programs for new sellers interested to start selling with Amazon & existing sellers looking to grow your business