The Harmony in Diversity Gallery (HDG) was developed by the Ministry of Home Affairs in collaboration with community partners and organisations and it was officially launched by President Tony Tan on 2 September 2016.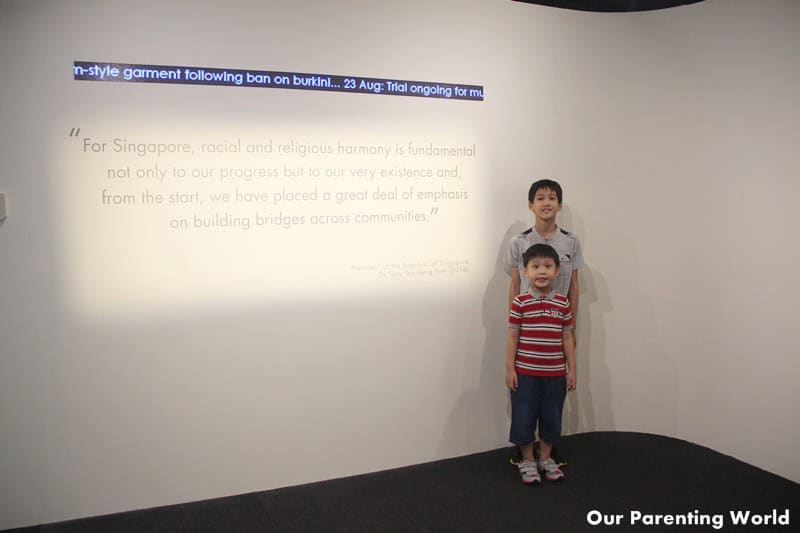 Singapore is a multiracial and multicultural country consisting of Chinese, Malays, Indians and Eurasians. It is important that we learn and understand one another culture, beliefs and way of living to promote peace and harmony. We must also learn to respect one another, appreciate and to foster stronger and deeper relationships. As with our own experiences, we have good friends who are Malays, Indians and Eurasians. 
It is a good initiative by the Ministry of Home Affairs to set up a new centre for Harmony in Diversity Gallery to enable us to know more about our friends from other races, their lifestyles and religions.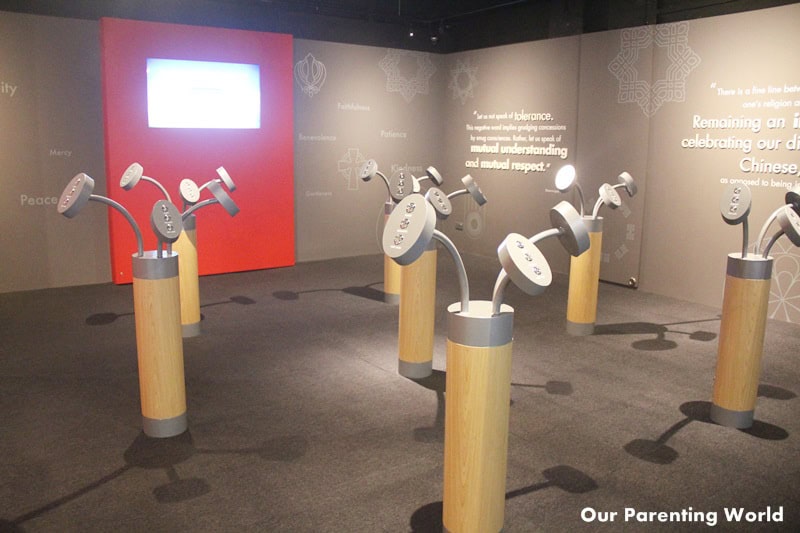 Our Parenting World visited Harmony in Diversity Gallery (HDG) recently to find out more! The HDG comprises four galleries of exhibits, artefacts and interactive features.
Gallery 1: Journey of Faith features an interesting and interactive quiz to spark an interest in visitors with a series of questions and to find out their opinions on the country's religious diversity and harmony.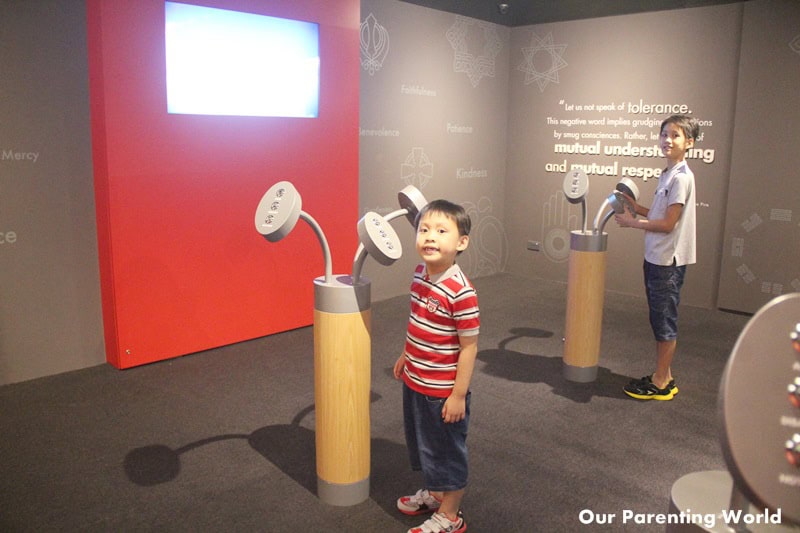 Visitors can have fun engaging in a friendly competition with the interactive quiz and in the process also enhance their learning and understanding on Singapore's multiracial and the diversity of religious belief systems co-existing in society. Find out how much you know about Singapore's faith communities and you will be able to discover more about your thoughts on religious harmony and diversity at this interactive quiz station.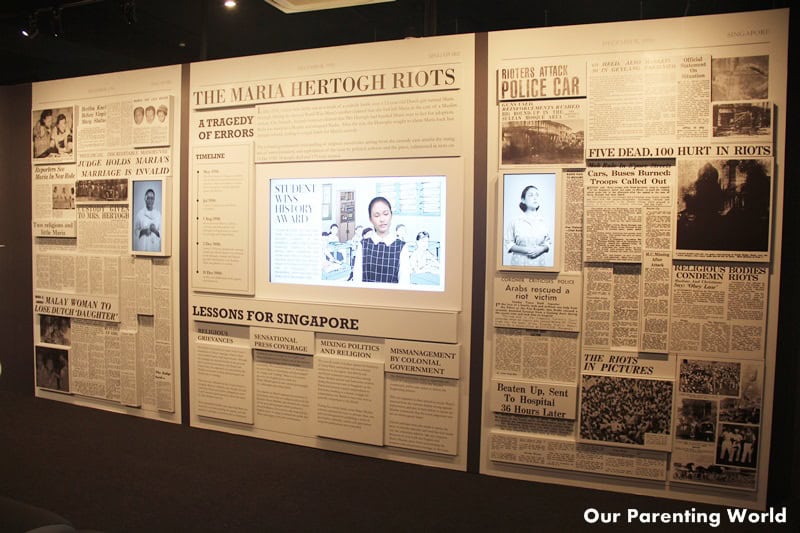 Singapore was not spared from religious tension and the "The Maria Hertogh Riots" is featured at the gallery to enable the younger generations to find out more about what happened in the 1950s. The riot happened on 11 December 1950 when the court decided that a child who had been raised by Muslims should be returned to her Catholic biological parents. A protest broke out as the Muslims were outraged and the riot lasted till noon on 13 December 1950 resulting in 18 people were killed and 173 injured and many properties were damaged. Through this incident, it is crucial to understand why it is important to build close relationship and to live in harmony among different races. 
This is a multimedia exhibit on the Maria Hertogh Riots showcasing newspapers features, video re-enactments and interviews on the riots.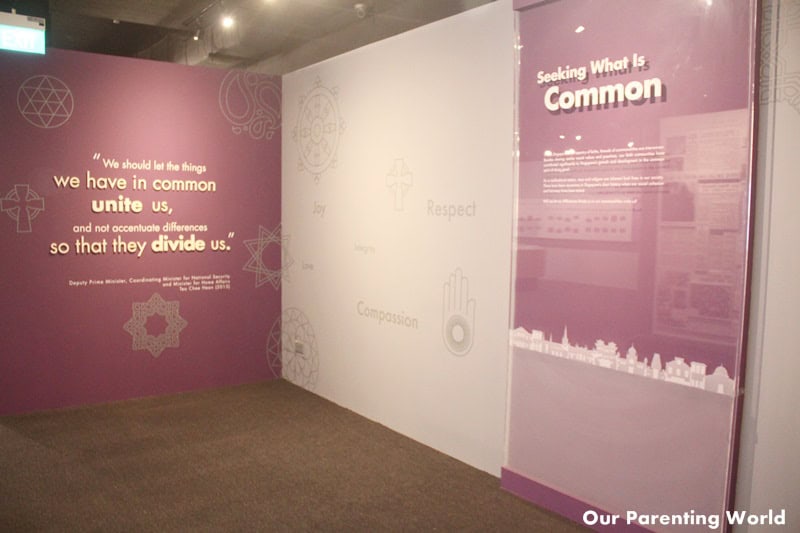 Gallery 2: Seeking What Is Common features and explores the threads of commonality across different religions. Seeking what is common that unite us. 
Before visiting HDG, we didn't know that Singapore has such a rich diversity in religion groups with 10 religions! Besides the Buddhism/Taoism, Islam, Hinduism and Christianity as its principal religions. It also has Sikhism, Judaism, Zoroastrianism, Baha'I, Jainism and the non-religious form the minority cluster.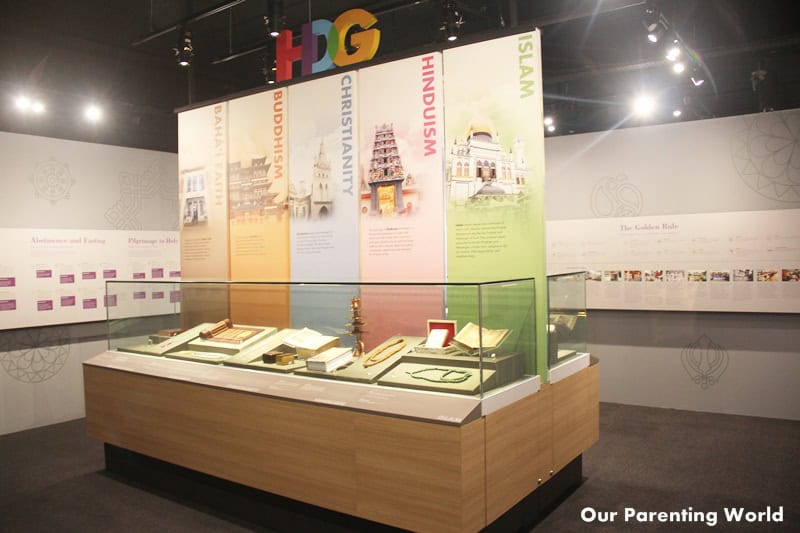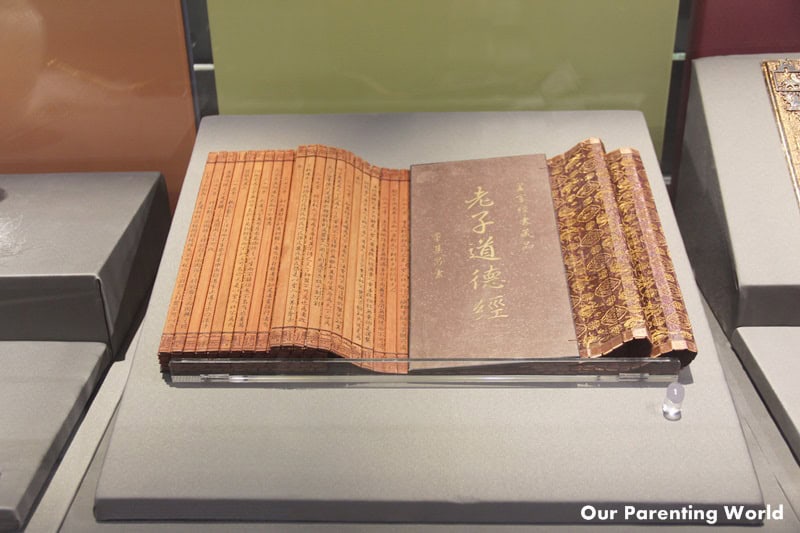 Now you have the opportunity to find out more about the various religions in Singapore all in one roof at HDG.
You will even have the chance to take a closer look at and admire the various artefacts from the different religions in Singapore. By reading and viewing the displays, you will have a better understanding on the different religion and in turn find out what they have in common.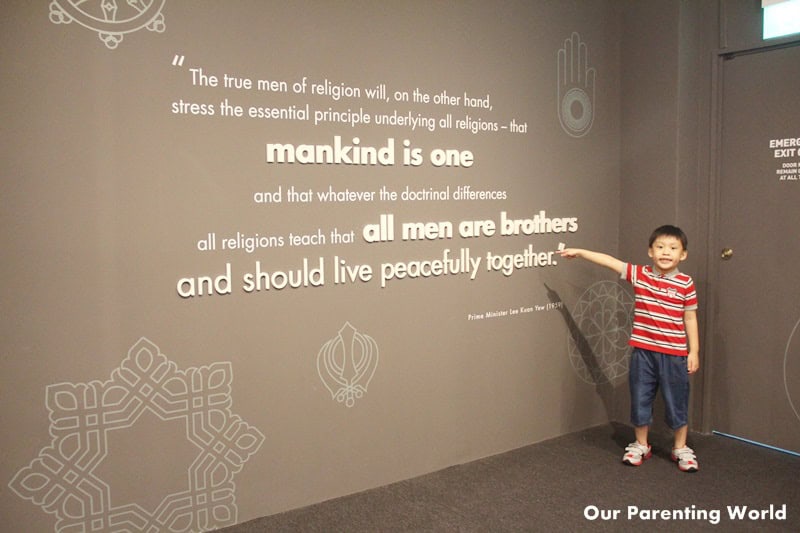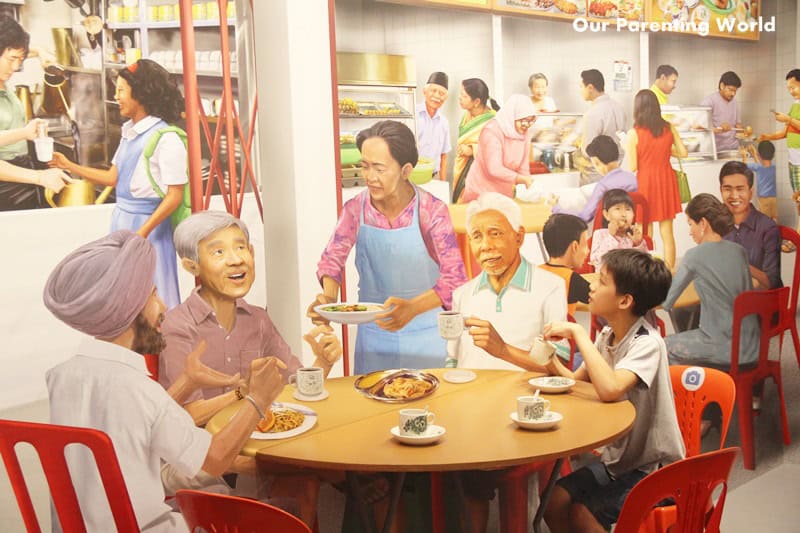 Gallery 3: Many Faiths, One People features Singapore's common spaces and "streets of harmony". Common spaces like in the coffee shop which is a symbol of Singapore's heartland. Visitors can have fun taking pictures with the trick eye mural of a local coffee shop. At coffee shop, we will meet all kind of people and our friends from various races where we can sit down to chit chat and bond over kopi and food.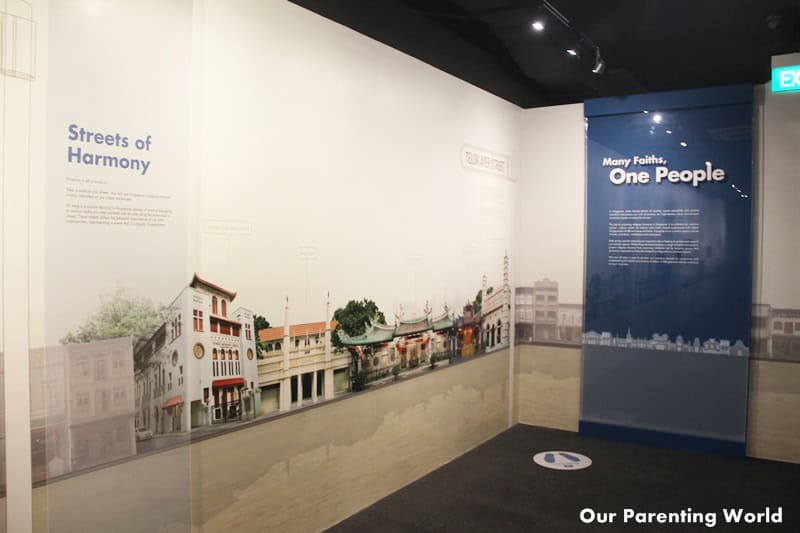 In Singapore, there are "Streets of Harmony" where you can find places of worship for each of the major religion residing on the same street. One such well-known "Street of Harmony" is Telok Ayer Street, you will be able to see Al-Abrar Mosque, Nagore Dargah Indian Muslim Heritage Centre, Thian Hock Keng Temple and Telok Ayer Chinese Methodist Church co-exist in harmony on the same street. Visit the HDG to find out more!
We will look at some of our common spaces and have a deeper understanding of our common spaces and reflect on what the state, community and individuals; you and me can do to protect them.
At this section, there is an interactive station in the form of our daily lives at the void decks and letter boxes, visitors can play a scenario-based game and find out what's our responses to everyday situation whether you will build bridges that will connect with your neighbours or walls that will divide. Learn your responses and in the process you will be able to have a better understanding on how you are going to connect with your neighbours and friends of other races around you. The choices that you make will result in the consequences that follow and through this station, we will learn how we can build and promote harmonious relationships with people around us.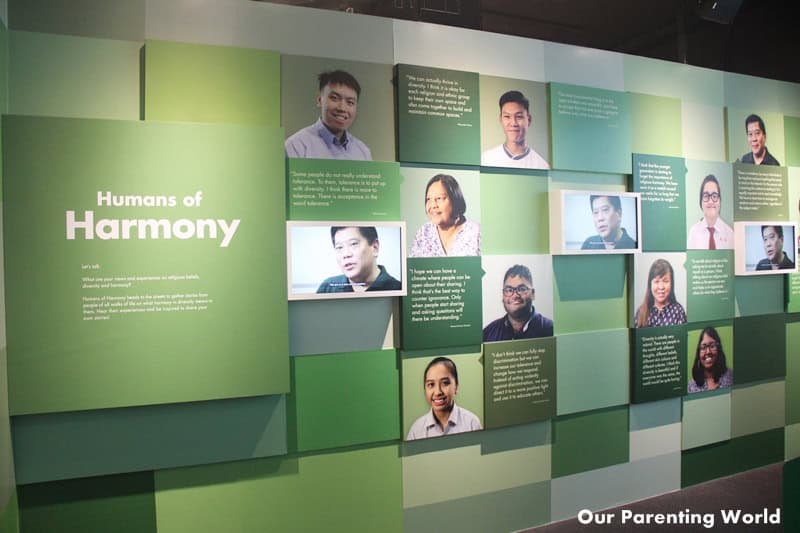 Gallery 4: We, The People of Singapore where visitors are able to reflect on what they can do to protect and do our part for Singapore's religious harmony. 
Visitors are encouraged to share and make a personal commitment by writing a pledge to preserve Singapore's religious harmony.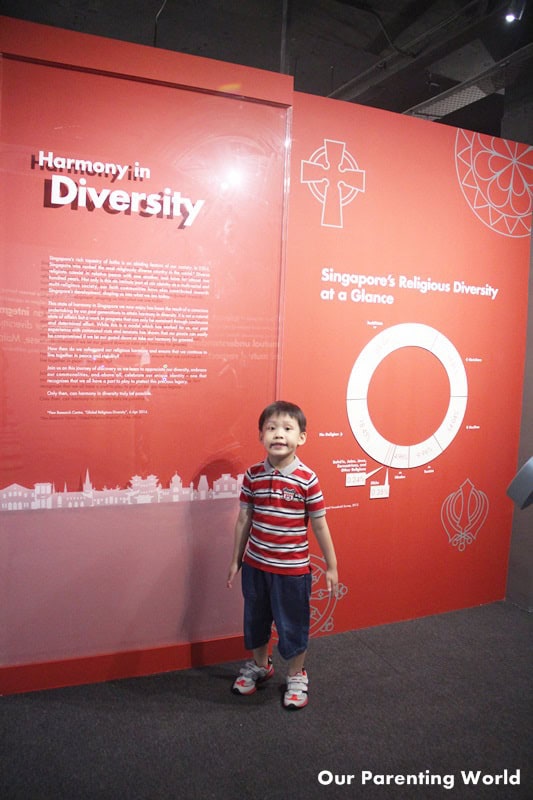 Together, we will stand as One People, One Nation and One Singapore regardless of our race and religion together for our beloved country, Singapore!
The kids enjoyed their visit to the gallery and engaging in the interactive quizzes. There are so much to see and learn at the gallery and we will be visiting HDG again. 
Bring your family and friends to visit Harmony in Diversity Gallery and spend an educating and meaningful time together. It is a good opportunity to find out more about your neighbours and friends, their cultures, values, practices and religions. Learn more about Singapore's history and how we come this far to preserve and promote racial harmony in our country. 
Harmony in Diversity Gallery
Ministry of National Development (MND) Building Annexe B
7 Maxwell Road, #04-05/06, Singapore 069111
Gallery Opening Hours:
Mondays to Saturdays
10.00am – 5.00pm
Closed on Sundays and Public Holidays
Admission:
Admission is free
Prior booking is required for all group or school visits with more than 20 people. Guided tours are available by appointment only and subject to availability.
The Gallery may be closed for events.
Please click HERE for updates and more information.