Calling all Hasbro Fans!
Our Parenting World is pleased to announce that this Christmas, Hasbro Singapore has put together an e-Catalogue that includes a toy recommender, a customized search tool, and a listing of all its weekly best sellers to help you especially parents to choose that perfect toy for your children and loved ones. 
Hasbro Christmas Toyland allows you to pick out toys according to your intended recipient's profile and sorts out presents according to gender, age, price and brands using its customized search tool. It also features a "Recommend A Toy" section where a toy will be picked out for you at random. In addition, its "Top Sellers of the Week" highlight the week's most popular toys at their retail outlets. After making your decision, head over to "Where To Buy" that will show you where to go to get your hands on these toys. 
With this gift of convenience and ease wrapped into one, Hasbro's Christmas Toyland promises to be a user-friendly and time-saving tool, giving you more special moments with your loved ones this festive season. 
Give it a try at http://www.hasbroxmastoyland.com and share the gift of play with the little ones come Boxing Day!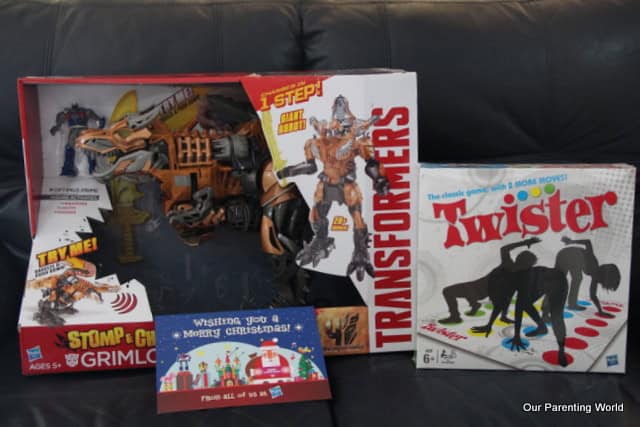 In addition, Hasbro Singapore is so sweet to send Christmas surprises to Our Parenting World boys and comes with a beautiful hand-written Christmas card. Aww …. we are very touched. Many thanks to Hasbro Singapore for your loving gifts 🙂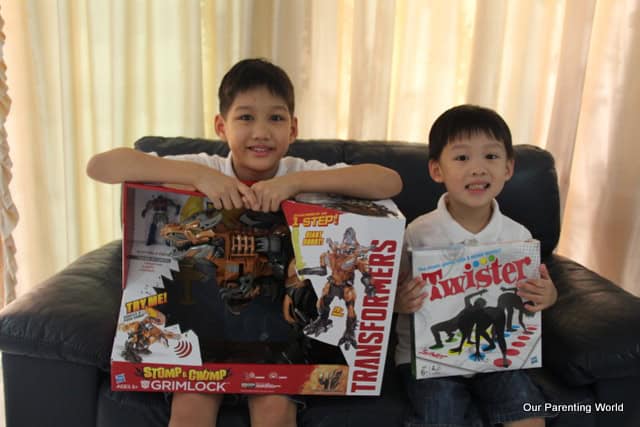 We are gifted with a Transformers Age of Extinction Stomp and Chomp Grimlock Figure and Twister (game). 
Grimlock is the biggest, baddest beast in the Transformers universe and this toy brings home the power of the mighty Dinobot warrior! You are able to create awesome Transformers battle action with this giant T-Rex figure that converts from robot to dino and back in just one awesome step! Please click HERE to find out more about this dynamic Grimlock. 
Twister (game) will bring a twist of fun into any party or family night with the game that ties you up in knots! It is the classic game with 2 more moves. Give the spinner a whirl and see what's next as you try to keep your hands and feet on the mat! Right foot red! Can you do it? Left foot green… you got it! If your knee or elbow touches the mat, or you fall over, you're out. Be the last player standing to win! Please click HERE to find out more about this fun game suitable for the whole family.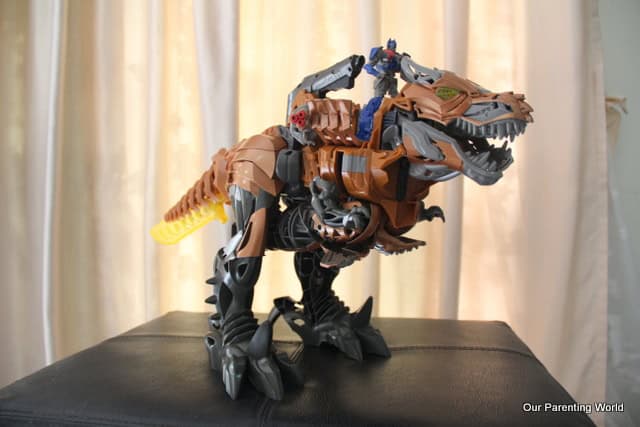 Transformers Age of Extinction Stomp and Chomp Grimlock figure also included Optimus Prime figure and a sword. You can place Optimus Prime on the Dino's back and activate lights, sounds, pop-out weapons for all the action-packed fun.
It's so cool to have 2 Transformers figures riding into a battle together to save mankind on Earth!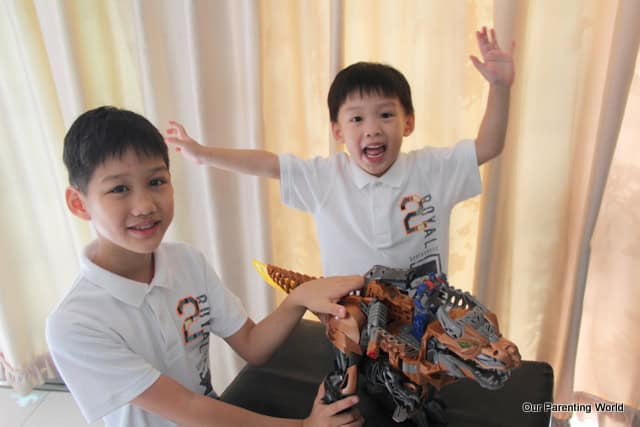 Gor Gor and Di Di are so happy with their Grimlock, look at Di Di's ecstatic expressions!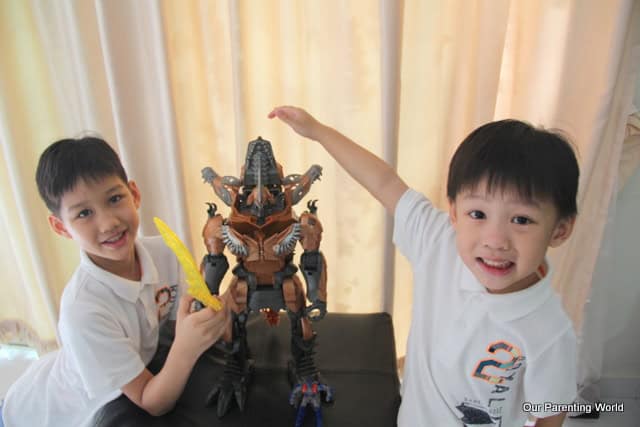 It is very easy to transform, just grab the handle, squeeze the button, and pull to change to Robot mode. Do the same to change back to Dino mode. 
Look how tall this mighty Grimlock is, it stands at 20 inches tall and it's the largest Dinobot toy!
You can also get this awesome toy and many Hasbro fabulous toys at Hasbro Christmas Toyland. Please go to this link and try it out at http://www.hasbroxmastoyland.com. 
Merry Christmas and Happy Christmas Shopping!