Our Parenting World team joined the media tour to Resorts World Genting recently to embark on an adventure to find out more about what Resorts World Genting has to offer. Our first day, we arrived at First World Hotel which has earned Guinness World Records distinction as the world's biggest hotel with its record of 7,351 rooms last year!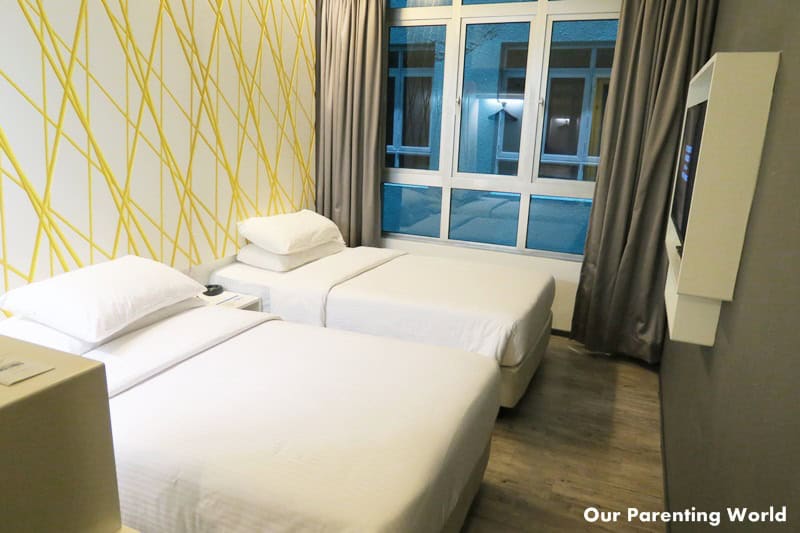 We are received warmly by the PR team and checked into our hotel room at the new wing of First World Hotel, Tower 3 to have a break before we embarked on the program for Day 1. 
Our room is comfortably furnished with 2 single beds and comes with all the necessary amenities that you would need to have a good rest.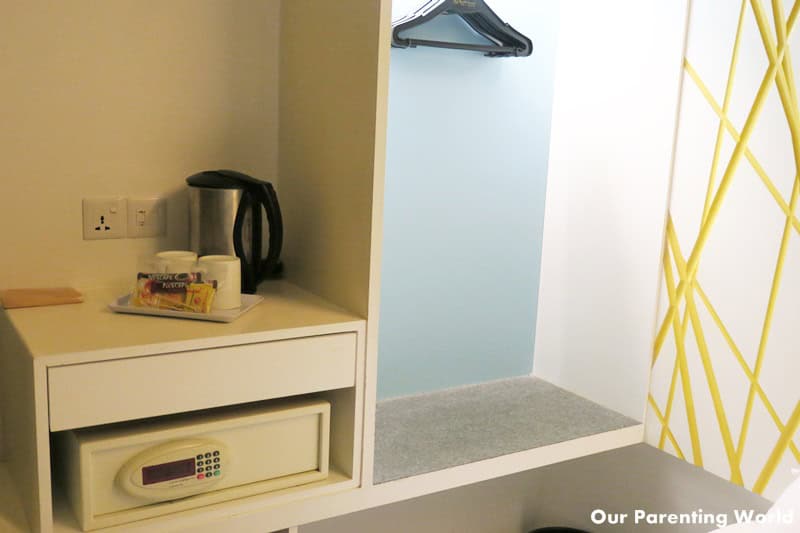 The room's interior is modern, clean and bright. The toilet and shower are housed at 2 different side so you don't have to wait for your room mate to finish up and please bring your own toiletries as toothbrush is not provided however you can purchase one at the hotel. 
It is basically a no-frills room that comes with a TV, mini fridge, hair dryer, safe and if you need a hot drink to chill out, instant tea and coffee making facilities are available. 
The bed is very comfortable with soft pillows and clean white linen. Although the room is not very big but most people would not stay in their hotel room too long when they visit Genting. It is good enough for us to recharge our energy before we venture and explore around Genting Highland.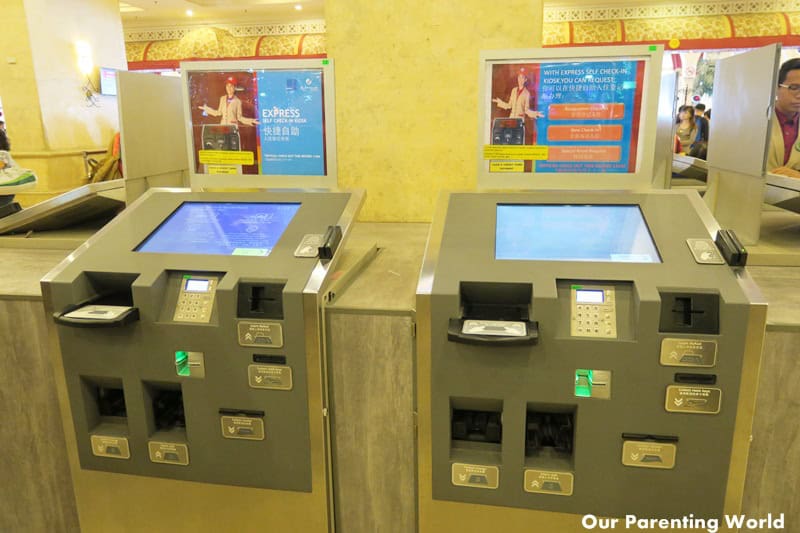 We are introduced to First World Hotel's self-service kiosk, it makes checking in and out a breeze and the best thing is there is no need to join the queue at the counter.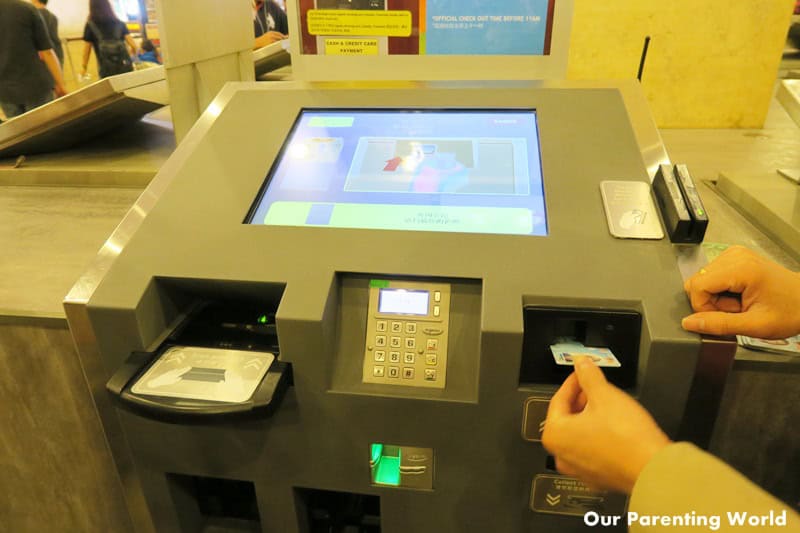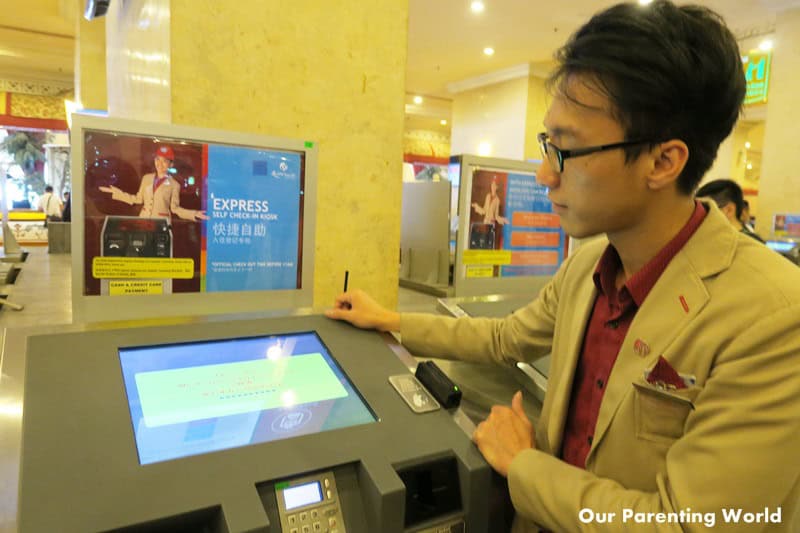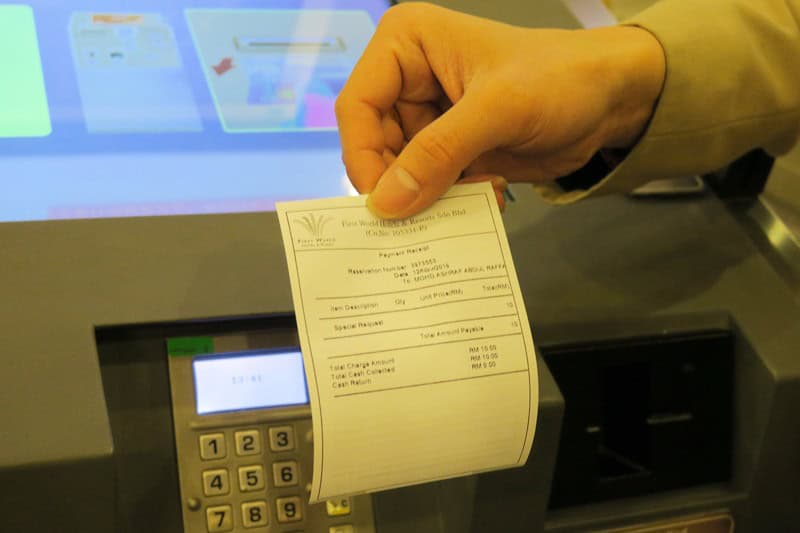 Simply scan your NRIC or Passport for foreigners, proceed to confirm your booking, choose the number of room keys (1 or 2) and collect your keys with your receipt.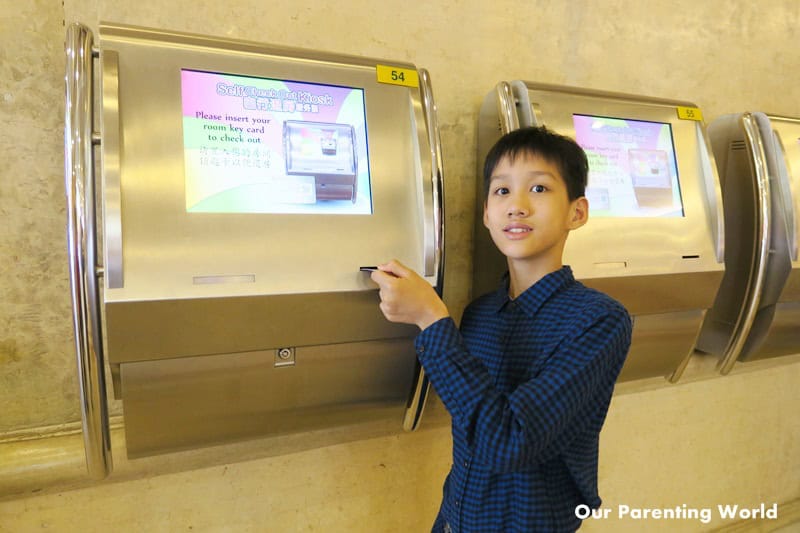 Using the self-service kiosk is so convenient with many stations available at the hotel, it is easy to use, fast and you can complete your self check in or check out in less than 5 minutes.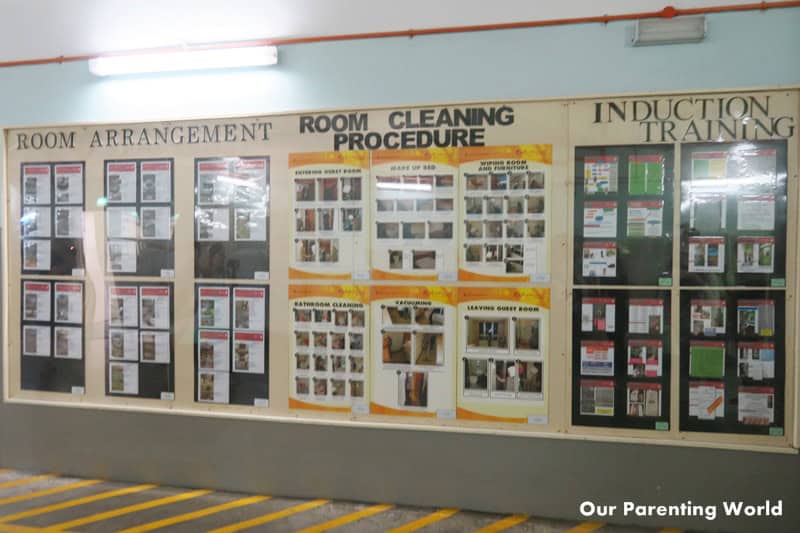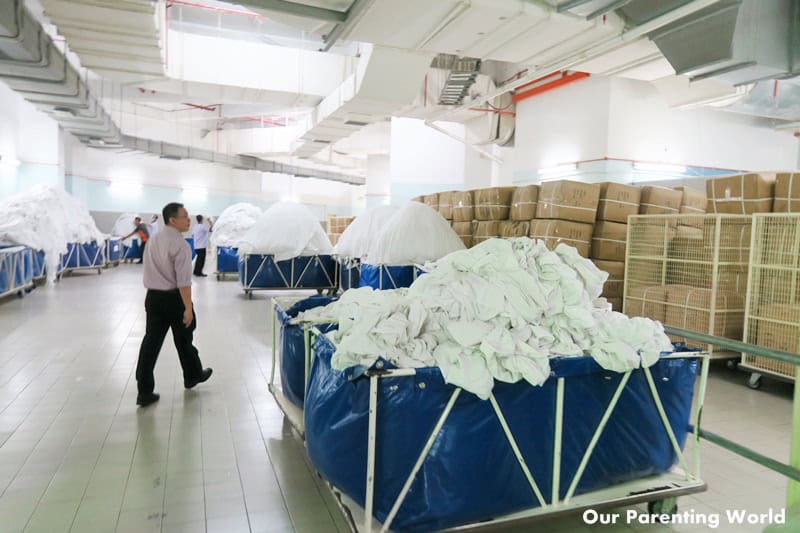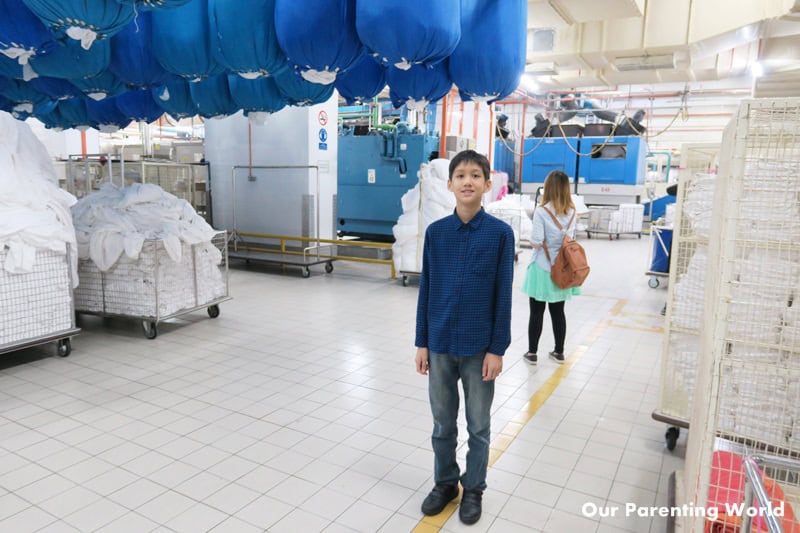 This is the largest laundry plant in Malaysia at First World Hotel and this is the first time we have visited a hotel's laundry and are amazed with the size covering a total of 26,000 square feet.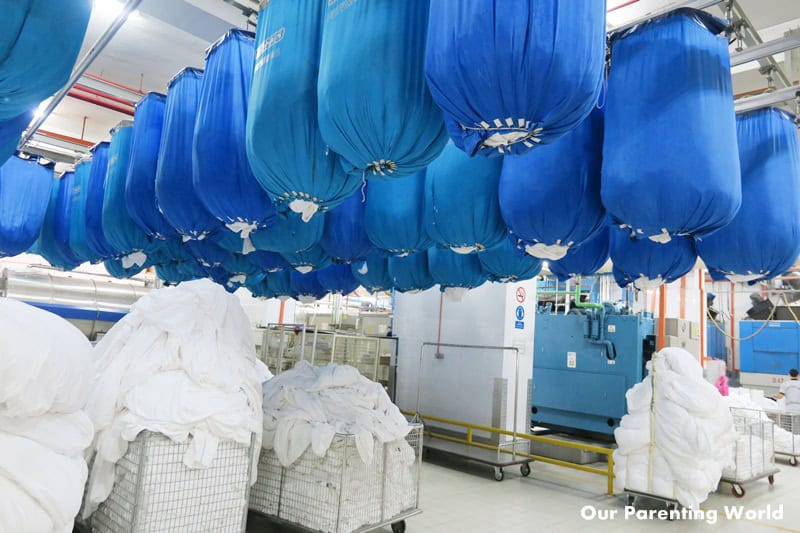 The plant boasts the Milnor Continuous Batch Washer (CBW) that is highly sophisticated to be able to take an average of 30 to 35 tonnes daily.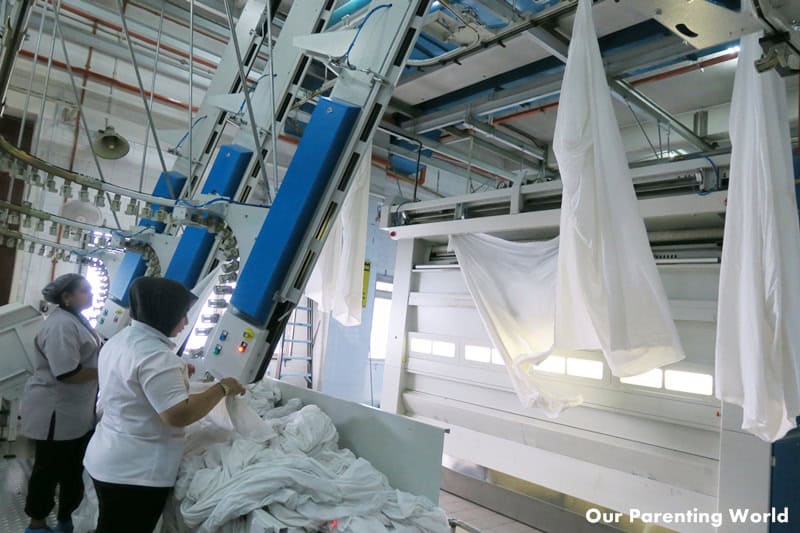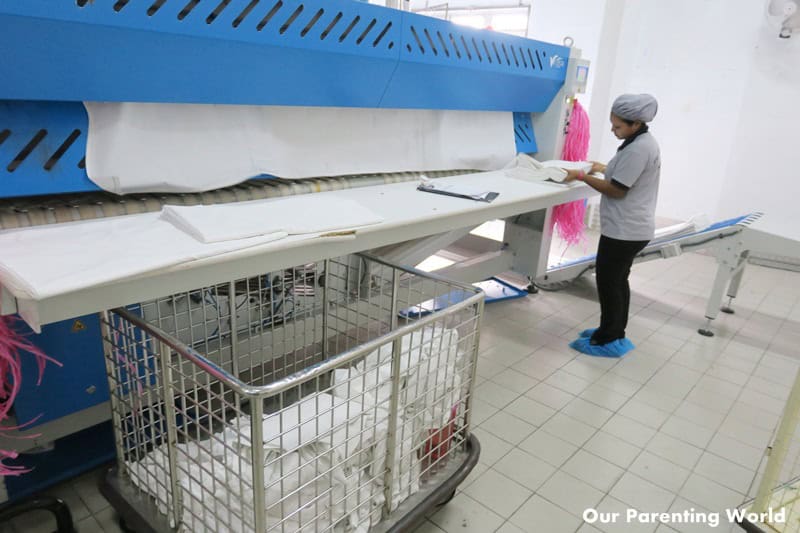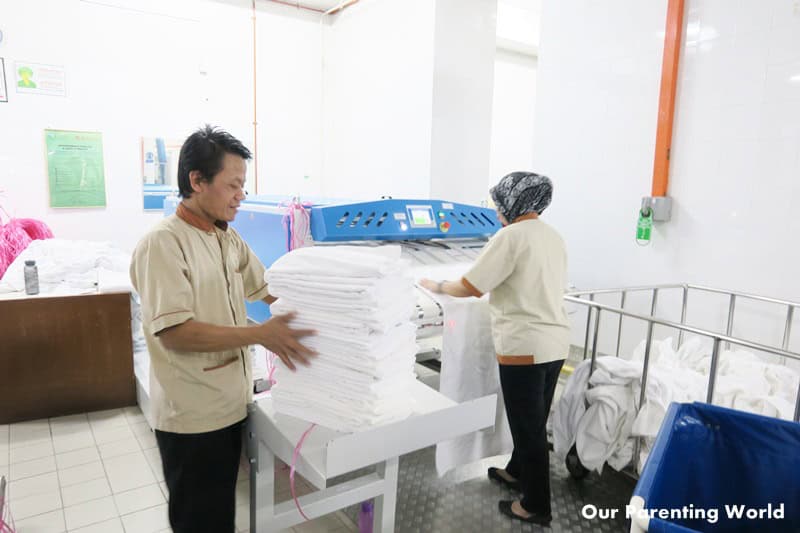 After all the washing, cleaning and drying towards the end of the process, the staff will take the clean laundry and fold them neatly with the help of sophisticated machines. All the clean laundry are monitored and recorded before being placed at a designated area to be picked up by the Housekeeping staff ready to be used by the hotel guests. 
First World Hotel being the world's biggest hotel, you can imagine how much laundry the hotel has to handle each day! The huge 76 units laundry plant costs RM18 million to set up and it used the best quality and most advanced machinery from the US and Europe to take care of the laundry for the resort.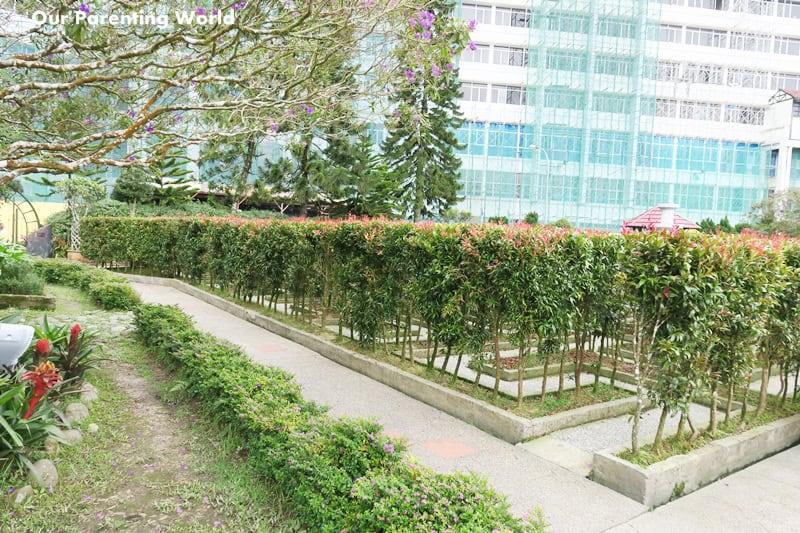 We are now at the beautiful English Garden Genting and to learn more about its Pitcher Plants Conservation Program. 
Resorts World Genting in collaboration with Treks Enterprise strive to work on protecting and spreading awareness on forest conservation. Treks Enterprise is a third party company that provides eco-related packages for Resorts World Genting's guests.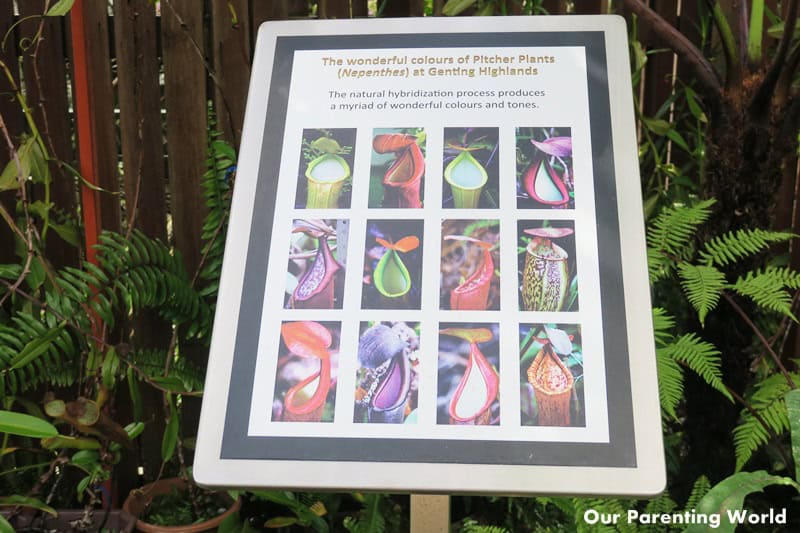 We met the lovely couple Pat and Eddie the main persons behind Treks Enterprise. They are passionate about forest conservation and have been working hard on rescuing pitcher plants that are at risk of being destroyed by private land owners at Genting Highlands because of massive land clearing.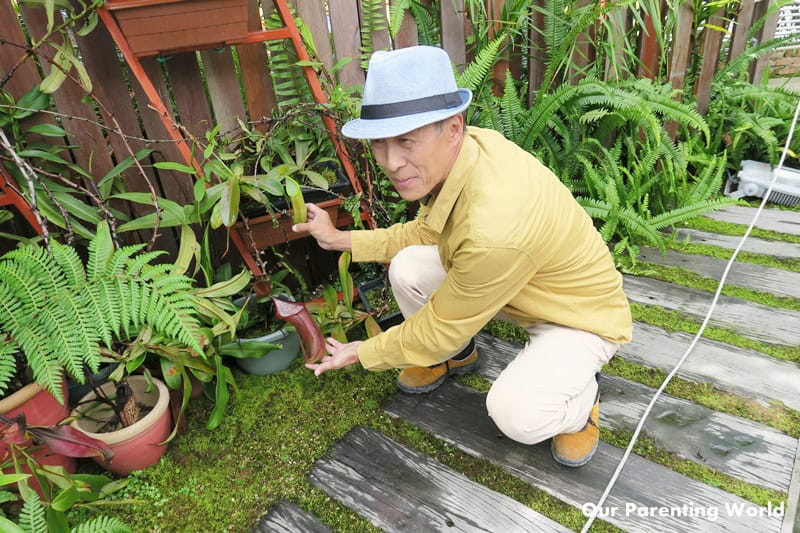 Eddie explained to us about their work and effort in rescuing the pitcher plants and relocate them to designated conservatories in various locations at Resorts World Genting so that all can enjoy and learn more about these beautiful and colourful pitcher plants.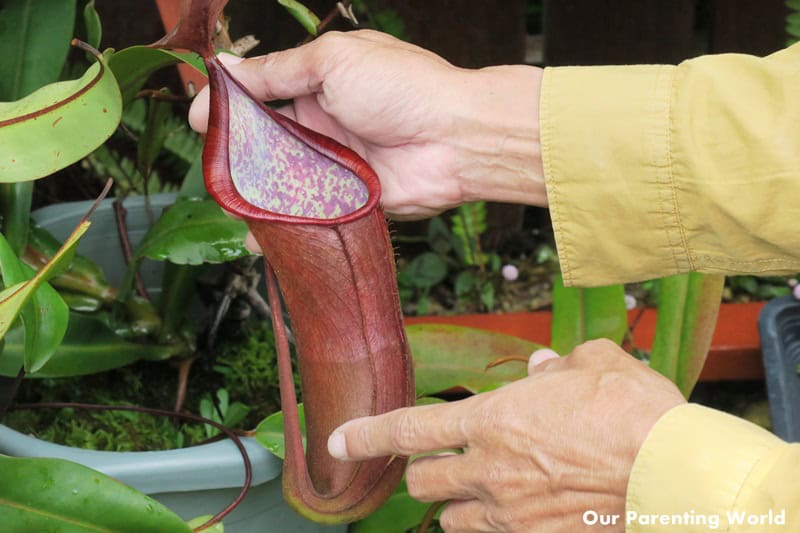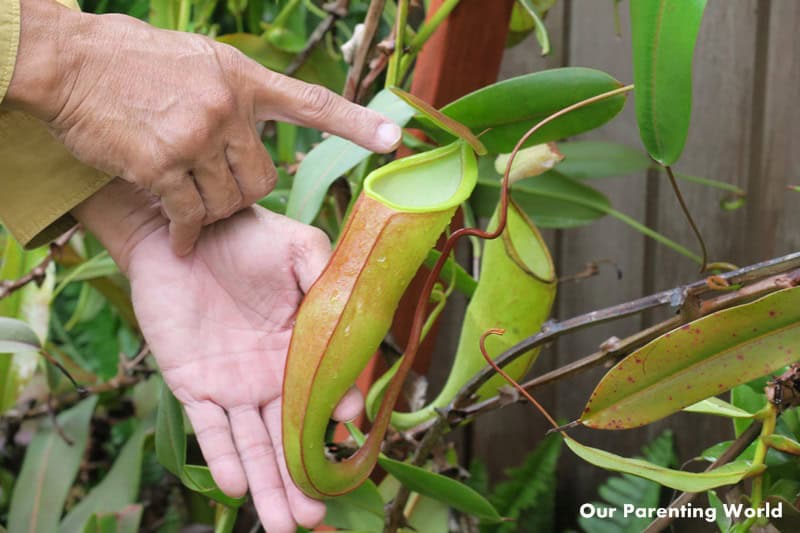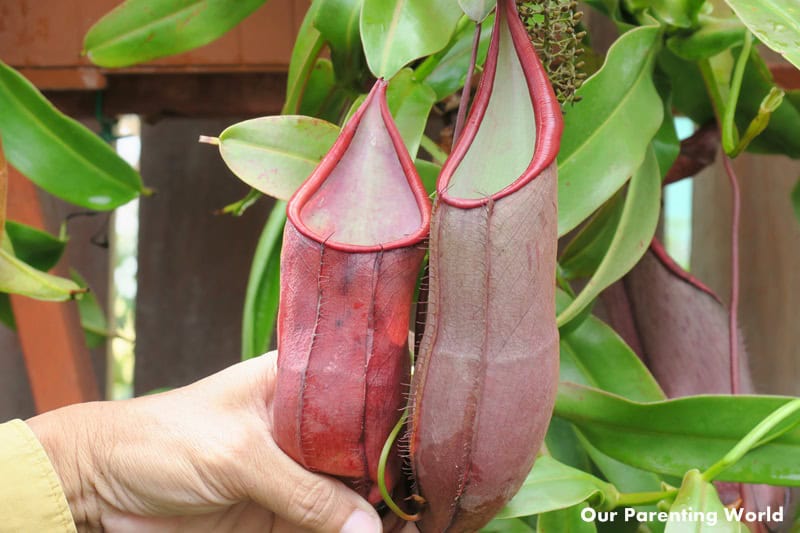 We have a better understanding of what pitcher plants are and they are carnivorous plants. There are several different types of pitcher plants and their modified leaves are known as pitfall traps which are used to trap its prey (insects).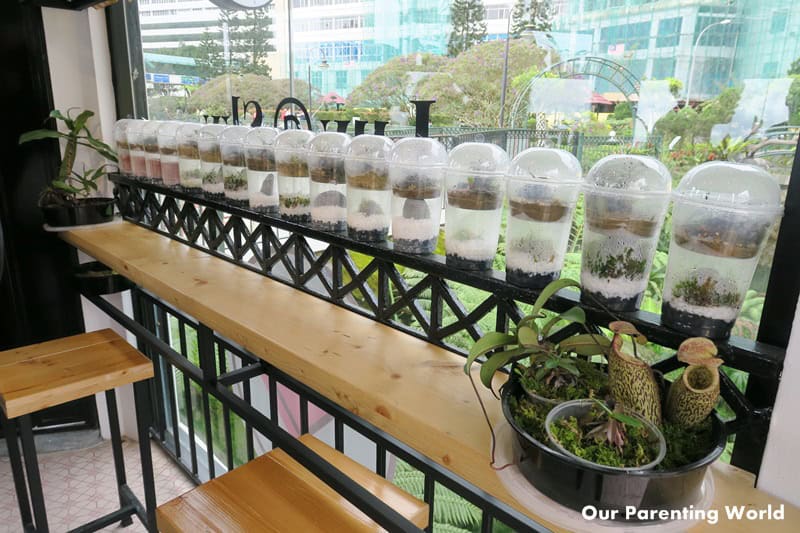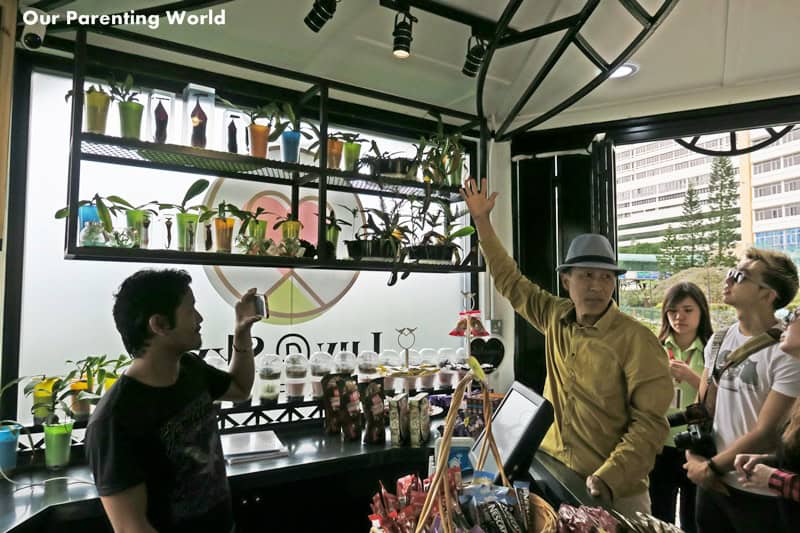 Pat and Eddie have a nice, cosy cafe cum shop at the English Garden. At this place, visitors are able to view and admire the pitcher plants nicely potted in containers. Eddie shared with us how he replant these plants and nursed them back to health after rescuing them. 
Pitcher plants are some of the most fascinating plants in the world and through this tour, we have learnt so much about these impressive and stunning carnivorous plants. Resorts World Genting in partnerships with Treks Enterprise have been hosting eco-related programs so that visitors and younger generation can understand how important it is to conserve nature for a better future. It has been a meaningful and educating trip for all of us! 
Don't forget to visit English Garden, it is a public garden that is located in front of the Theme Park Hotel. You can admire the nice scenery, enjoy the fresh air and most importantly, you can see the various variation of pitcher plants that have been rescued and relocated at Resorts World Genting.
I can't wait to see Ultraman and catch hold of my favourites Ultraman Zero and Ultraman X! 
Another highlight of our trip to catch Ultraman Live in Genting 2016! We usually watch Ultraman in drama series and this is the first time we are able to watch these superheroes live on stage.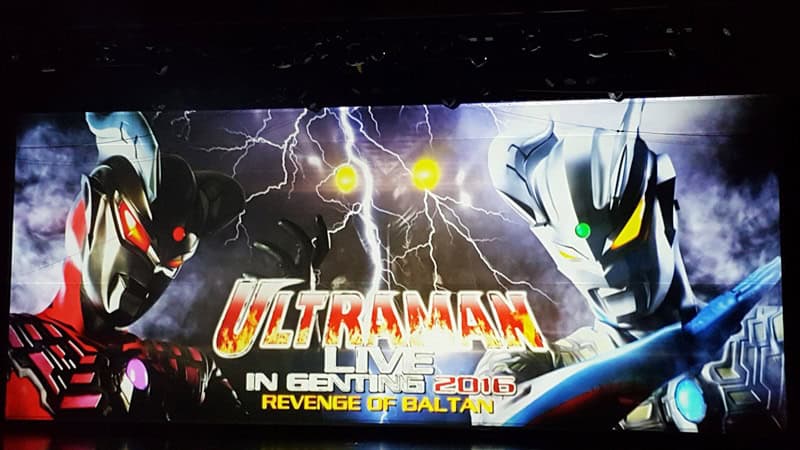 The show will feature 10 Ultraman, 6 Evil Dark Heroes and 20 Monsters. The Ultraman will have to battle against the aliens from planet Baltan and to save Kuala Lumpur from falling into the hands of the villains.
Image seeing 10 Ultraman live and we can't wait to watch the show!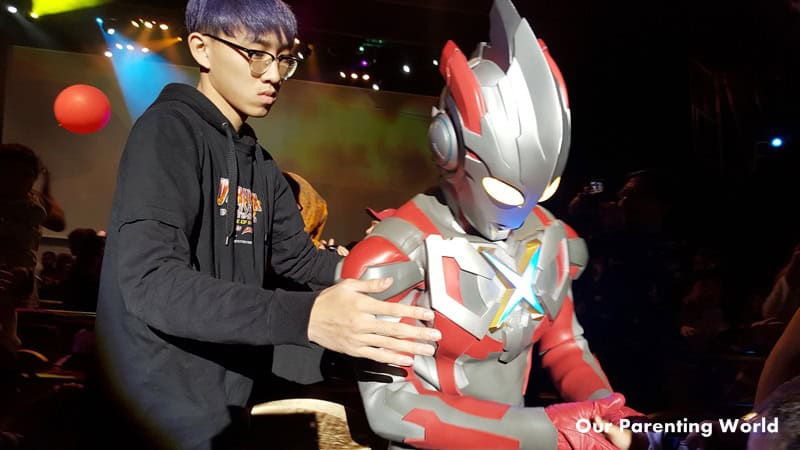 Audience are excited when they see Ultraman coming up close to them!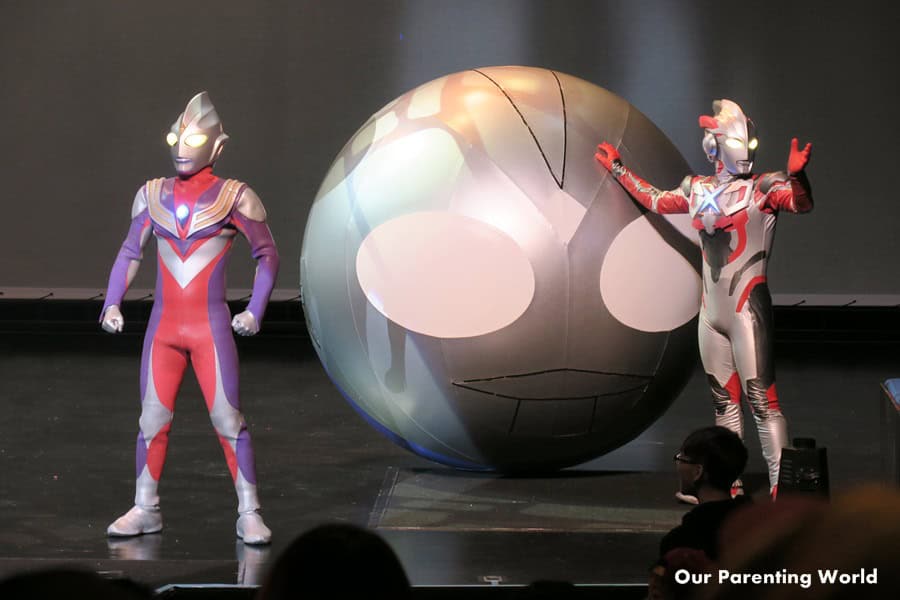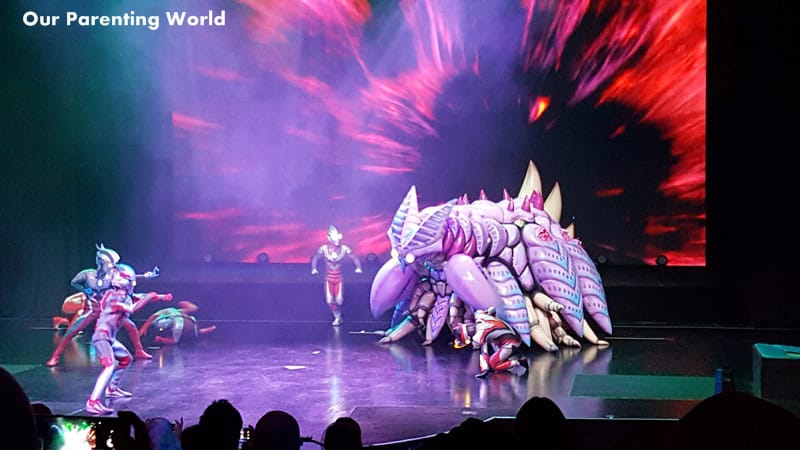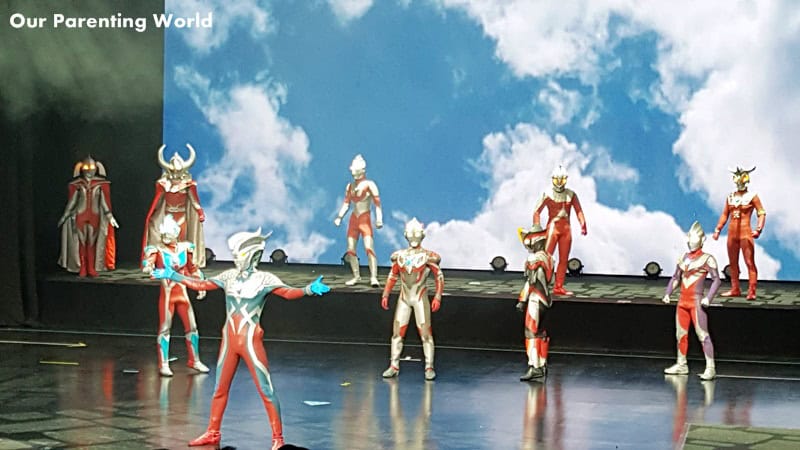 Audience will enjoy this electrifying live action where Ultraman Zero & Ultraman X and his comrades gather at Genting Highlands to battle against the dark warriors and Baltan.
Don't miss this all-new exclusive show – 'The Ultraman Live in Genting 2016 – Revenge of Baltan'. Ultraman and his comrades will face off Baltan and the dark warriors, Chaos Ultraman Calamity.  All crew members are from Japan and the high-tech stagecraft and thrilling action scenes promises to deliver an energetic show. Ultraman Live is part of Resorts World Genting's family-oriented events as it promotes positive values, such as togetherness and heroism. The show is also entirely storyboarded and produced by Tsuburaya Productions Japan uniquely for Resorts World Genting.
Additional Information: 
Ultraman Live in Genting 2016 – Revenge of Baltan
Ticket prices: RM108 (VIP), RM88 (PS1) and RM68 (PS2). Those who take advantage of the Early Bird promotion will enjoy either 30% discount (Genting Rewards Card members) or 20% (non-members).
Dates: 5 November 2016 to 2 January 2017 and room packages are available from now till 2 January 2017. 
Stay at the First World Hotel from RM184 nett in an XYZ deluxe room that comes with two show tickets, and if you're coming in a group or family of four, you can also opt for the XYZ Triple room package that comes with four show tickets ranging from RM288 nett.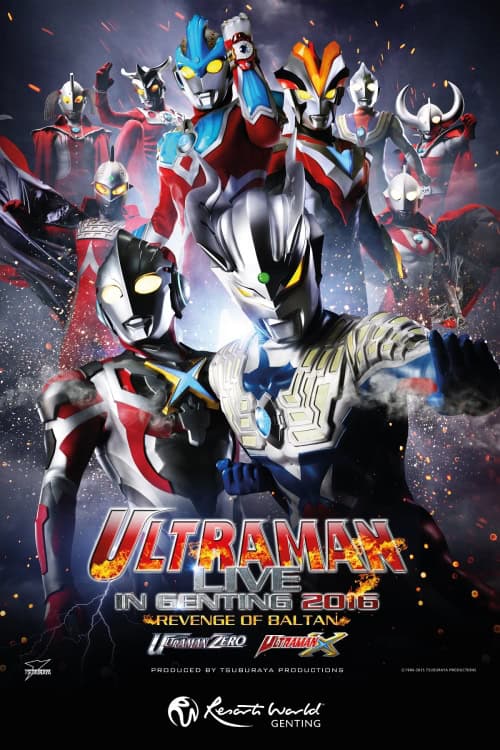 Latest Update on 1st December 2016:
If you are thinking of where to bring your children to spend a meaningful holidays?
One good place will be a quick getaway trip to Resorts World Genting, where action meets entertainment to watch the very popular and highly entertaining, all-new exclusive show "The Ultraman Live in Genting 2016 – Revenge of Baltan'. 
All crew members are from Japan and the high-tech stagecraft and thrilling action scenes promises to deliver an energetic show. Ultraman Live is part of Resorts World Genting's family-oriented events as it promotes positive values, such as togetherness and heroism. The show is also entirely storyboarded and produced by Tsuburaya Productions Japan uniquely for Resorts World Genting.
Show Dates:
7 December 2016 to 2 January 2017 (no show on 12, 19, 26 December)            
Timing:
4pm, 8pm
Venue:
Genting International Showroom
Prices (with limited edition merchandise, before discount)*:
VIP: SGD 35
PS1: SGD 28
PS2: SGD 22
*Enjoy an additional 20% off online flash deal when you purchase your tickets from Monday to Friday, 12noon – 3pm (Subject to ticket availability) 
To find out more, please go to:
http://www.rwgenting.com/shows/events/Ultraman_Overview/
Night Herping at Genting Highlands
After watching Ultraman show and dinner, we look forward to a night of adventure as we embarked on night herping led by Herpetofauna expert, Steven Wong.
This is our first time going for night herping and we have not ventured in the darkness searching for various species of frogs, lizards and other creatures before and we are so excited!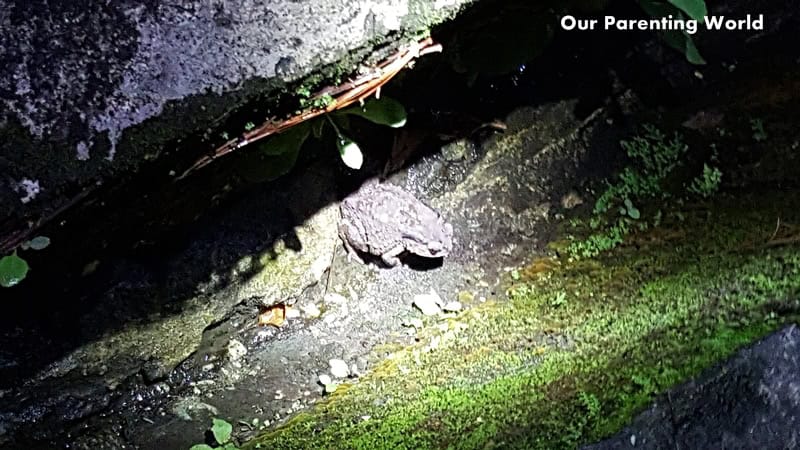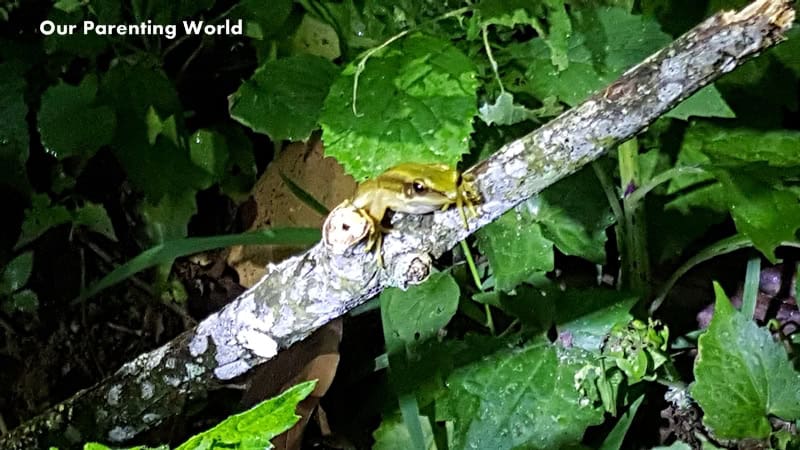 Armed with torchlights and lots of insect repellent, we were prepared to start our activity. Along the way, we were amazed with Steven's sharp senses and speed in picking up the various wild creatures.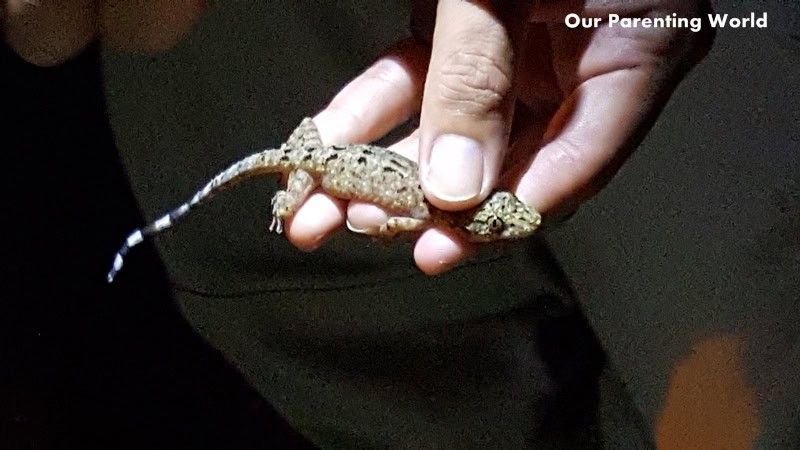 Steven will explain to us, the various creatures, its characteristics, what types of species and show us how do we tell whether it is a male or female. We are very impressed with his vast knowledge!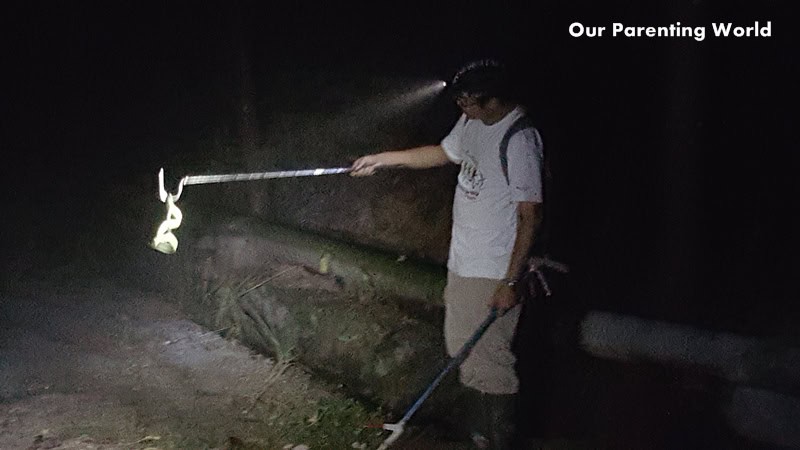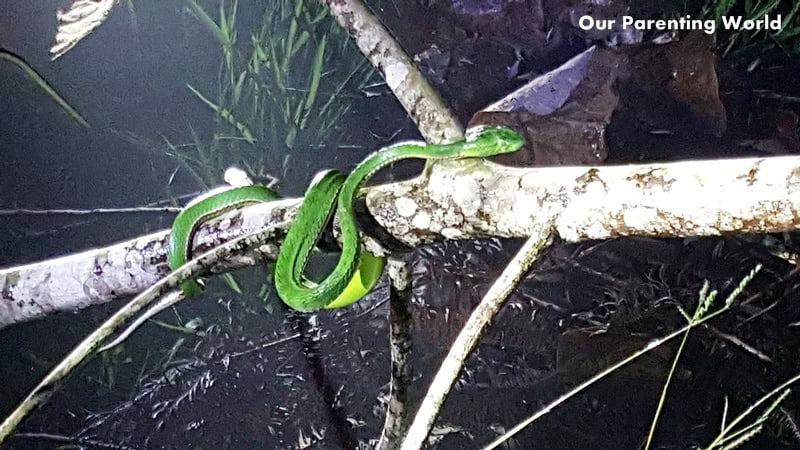 We even spotted a snake! It is so beautiful but be careful, it is poisonous. Steven placed the snake away from us at a safe distance for us to take pictures and admire its beauty. After that, he will return the snake back to its habitat. 
The whole night herping adventure was an eye opener for all of us and our boy loves it! Throughout the forest trip, he stayed close to Steven, listening to his explanations and observing the various wild creatures. 
This is a good opportunity for all of us to come up close to Nature and to understand the various creatures in their natural habitat, admire and appreciate what Mother Nature has given to us. All the more, we should do our part to protect our environment!
To find out more about Night Herping at Genting Highlands by TREKS Fashion Forest, please click HERE.
We will conclude the final part of our Resorts World Genting trip in our next post 🙂