We have heard of the many benefits of learning Abacus like it helps to increase concentration, build up analytical skills, improve retention, increase speed in solving mathematical calculation and build up confidence. To see the best results, it is advisable to start learning abacus at an early age. Abacus is also known as one of the greatest inventions of the ancient times. This amazing invention can be used as a calculator to count quickly with accuracy even with large number of digits. 
Knowing all these benefits of learning Abacus, we wanted to send our kid to start learning. We visited Crestar recently for its Abacus class. The Abacus and Mental Arithmetic Course at Crestar is a proven curriculum that was exclusively developed by the abacus experts from Taiwan.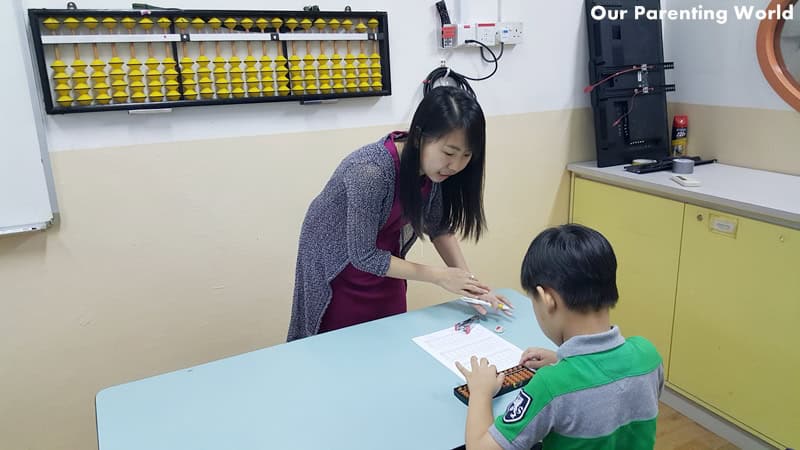 This is the first time our boy is using the abacus. He was very excited because we explained to him abacus is a form of calculator which can help him do his mathematics questions.
Teacher Ng Hui Chin taught our boy how to use the abacus and under her guidance, our boy picked up very quickly. The abacus course at Crestar, all the teachers are specially trained to provide the best guidance to promote your child's mental agility. It focuses on techniques for complicated mental calculation, this course helps to sharpen memory and concentration abilities.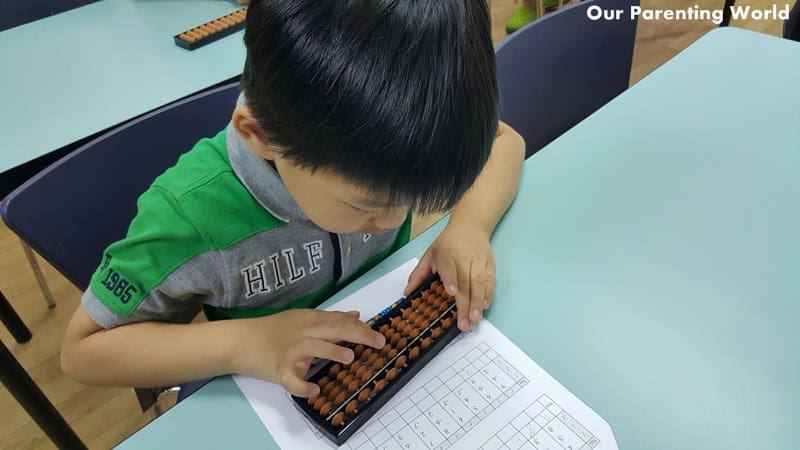 Under the Teacher Ng's guidance, our boy is taught techniques that helped him to master the abacus. He is able to work on the series of Mathematical questions on his own using the abacus.
Teacher Ng will constantly check on our boy to ensure that he was on the right track and able to work on the questions correctly. She will give pointers and guide him on the correct way of using the abacus to solve the mathematical questions.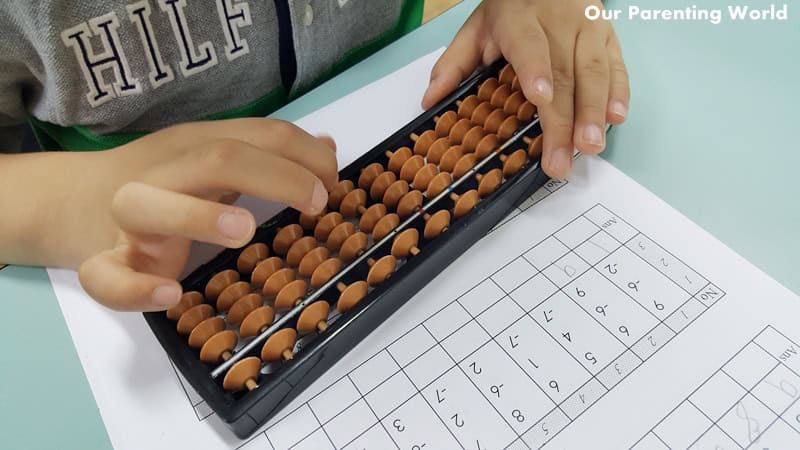 Abacus involves the co-ordination of using hands, eyes and brains to solve the question. This helps to promote the development of the left and right brain, sharpens memory and improve concentration.
Hearing the Click-clack, click-clack sound of the moving beads from the abacus. We can see that our boy was focusing and concentrating on moving his fingers on the abacus to calculate and solve the questions. Abacus helps him to concentrate and focus on working on the questions.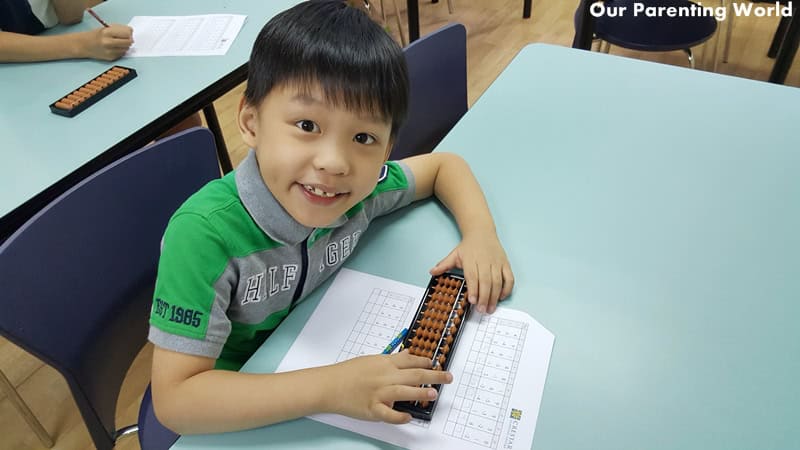 "I enjoyed using the abacus to find answers to the questions. It is quite easy after learning the techniques and I feel great I can complete the questions quickly and all correct! Abacus is fun!" said our boy.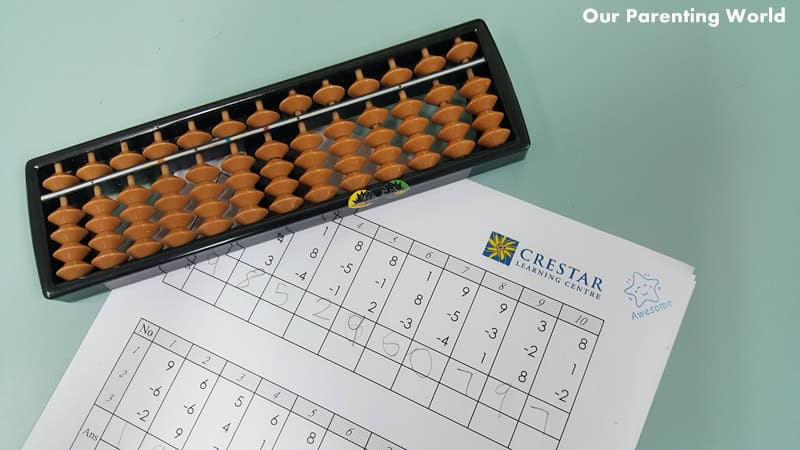 Awesome! All his answers are correct! Our boy enjoyed using the abacus and this builds up his confidence in Mathematics and he has the motivation to continue to learn more and attempt more questions.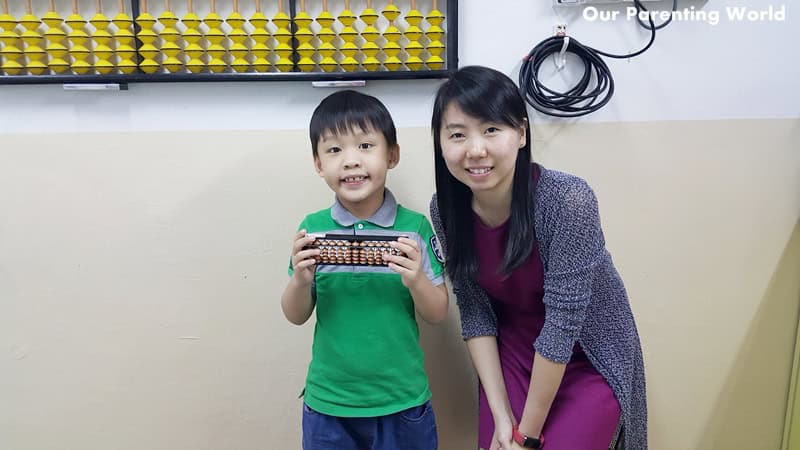 It has been an interesting, enriching and enjoyable experiences learning Abacus. Thank you Teacher Ng Hui Chin from Crestar for teaching me!
Want to reap the benefits of learning Abacus for your child, visit or call Crestar for its Abacus and Mental course and more details as follows:
Crestar as an examination centre for the IAMA (International Abacus & Mental Arithmetic) in Singapore has maintained a high standard for its curriculum and teaching staff. It has developed a unique Development Assessment (DA) System to help teachers to customise effective coaching strategies to suit different needs and abilities for its students to deliver better and more sustained learning results. 
Crestar Learning Centre
Blk 87 #04-302, Marine Parade Central, Singapore 440087
Tel: 6344 4588
To find out more about the program and other programs and Crestar's locations, please go to www.crestar.com.sg