Our Parenting World, Gor Gor and Di Di were at 2Degree Ice Art which showcases Singapore's largest world landmarks on ice.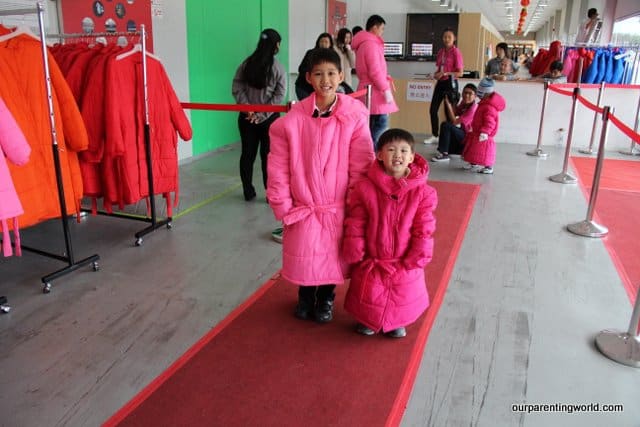 Gor Gor and Di Di were so excited and they can't wait to see the spectacular display of ice sculptures. It can be pretty cold inside the exhibition as the temperature is around -15°C, you can rent the jackets at $5 and gloves are given complimentary to ticket-holders. Gor Gor and Di Di looked very adorable in their over sized jackets.
After wearing the jackets and putting on their gloves, Gor Gor and Di Di were all ready to go into the exhibition and let them shown you around.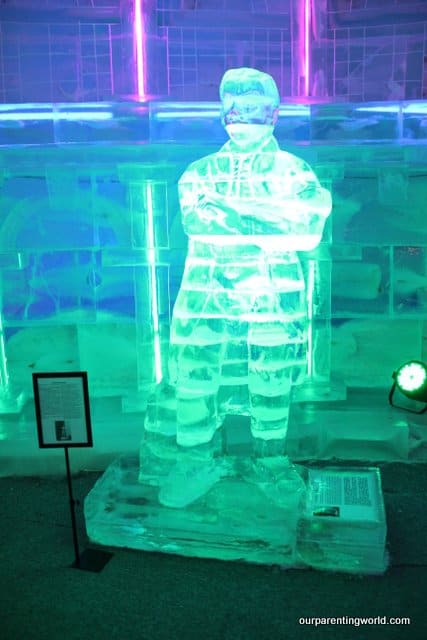 This is Singapore's founder, Sir Stamford Raffles and majority of the ice displays have detailed write up for the visitors to learn more about the sculptures. That is so thoughtful!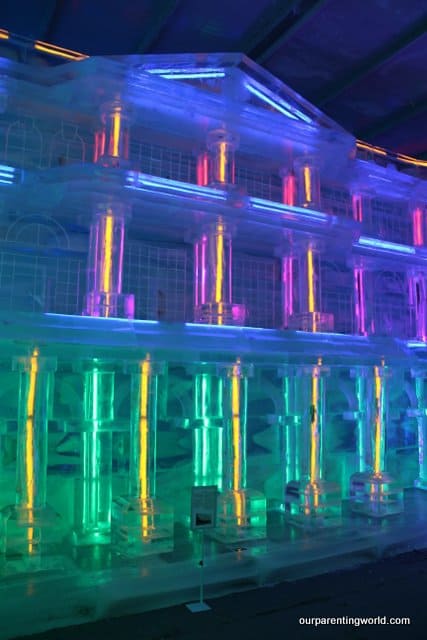 Singapore's iconic hotel, Raffles Hotel.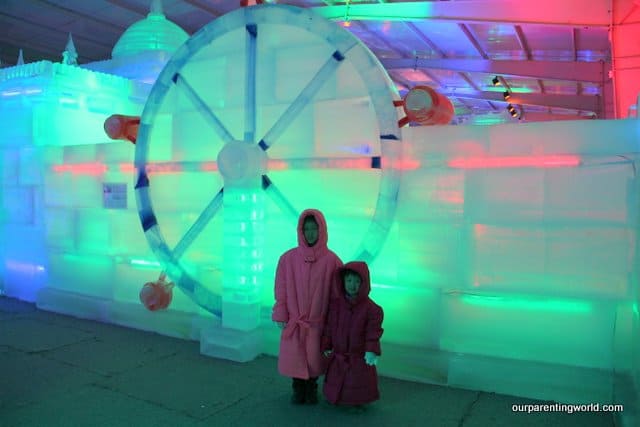 This is Singapore's Flyer which is the world's largest Giant Observation Wheel.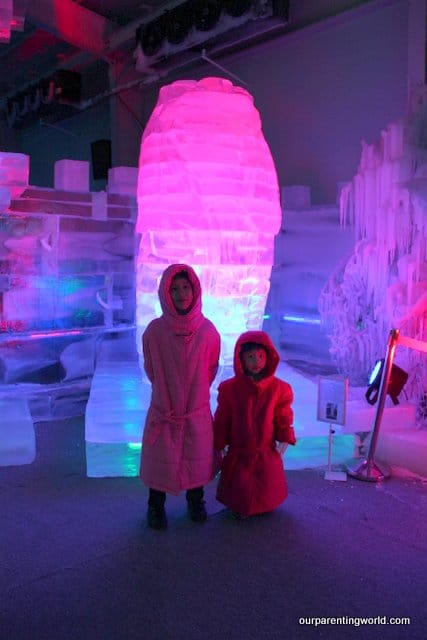 Merlion is a mythical creature with the head of a lion and the body of the fish. It is a well known Singapore's mascot.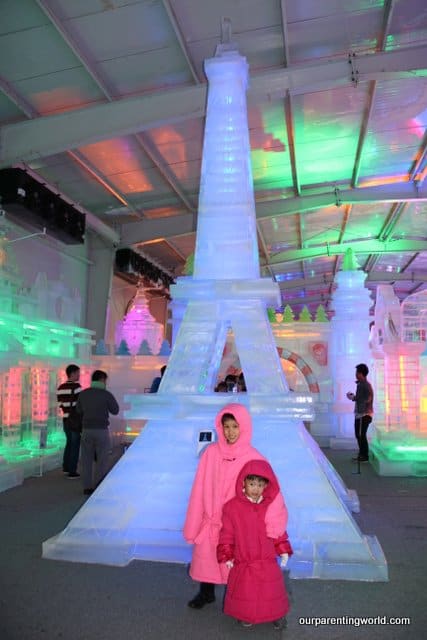 Moving out of Singapore landmarks, we were treated to a visual stunning display of some of the world's famous landmarks like the Eiffel Tower of Paris, France.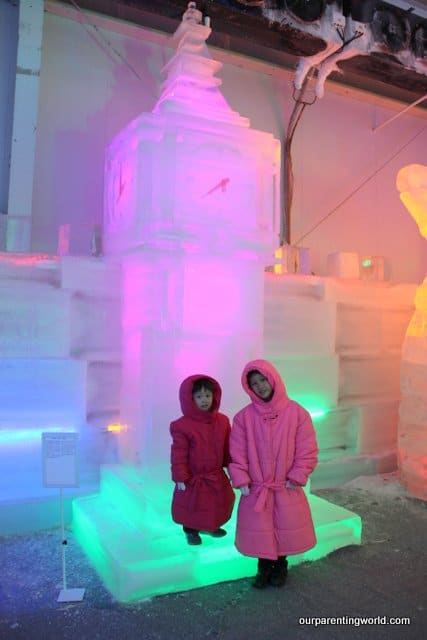 This is Big Ben, the clock tower of the Palace of Westminster at London, England. It is one of London's most famous landmarks.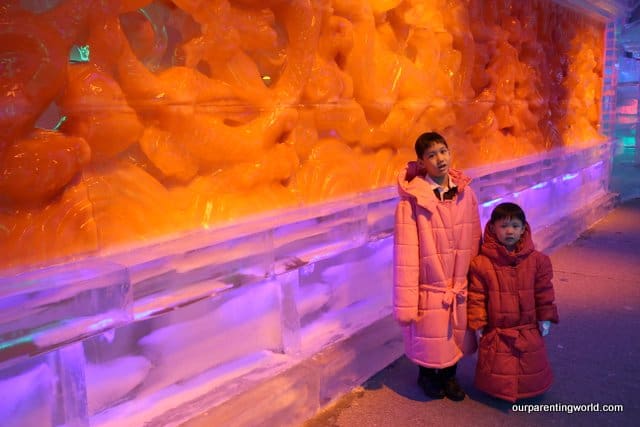 This is the famous nine dragon wall in Beijing, China. This wall was built as part of the renovation section of the palace to create a retirement villa for Emperor Qianlong.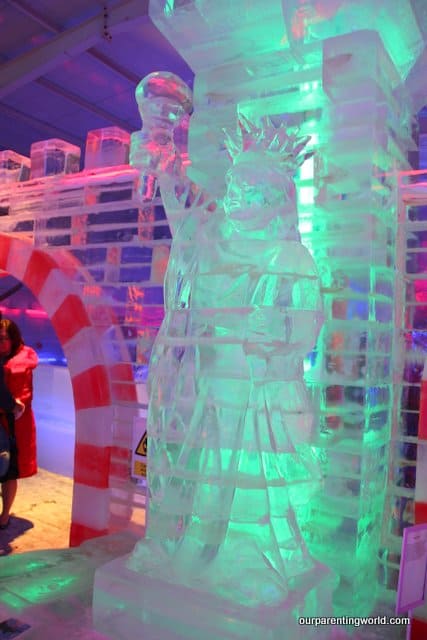 Statue of Liberty, the famous landmark of New York City of United States.
At 2Degree Ice Art, there are so many things to do besides looking at the spectacular ice displays. Visitors can play with snow, you can build snow man or have snow ball fight. Gor Gor and Di Di love to play with the snow. There is even a snow machine where snow will flutter at 11.30am, 4.30pm and 7pm. 
You can also spend time having fun sliding down on the long slopes. This is one of the most popular activities at the exhibition.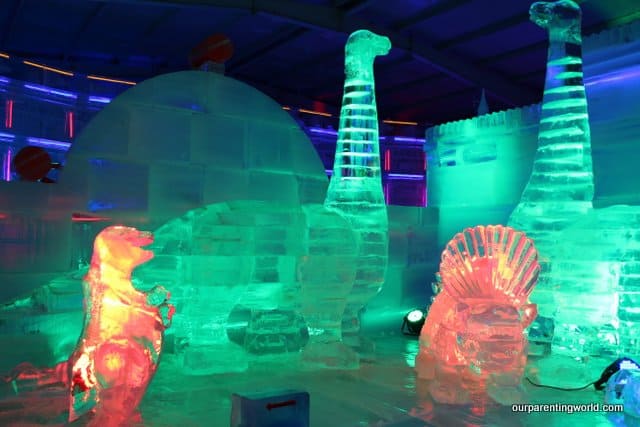 One of the kids' all time favourites, Dinosaurs!
Come and visit 2Degree Ice Art, the largest ice art exhibition in Singapore. There are 30 pieces of ice art that features the world's famous landmarks created by famous ice sculpture masters. We were told that some of the ice sculptures are carved from coloured ice blocks and with LED lighting to make it even more vibrant and colourful.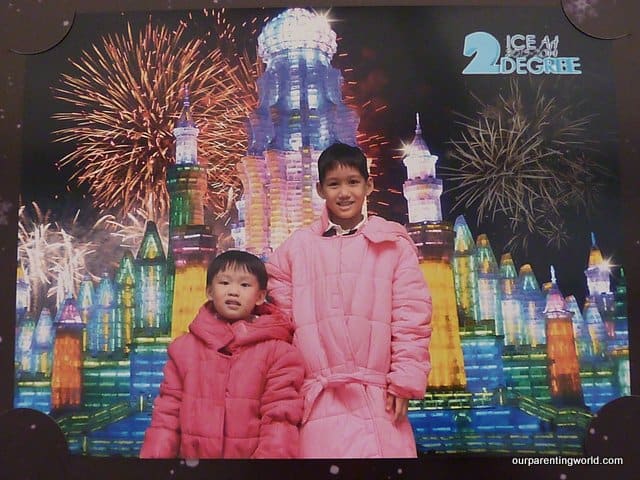 Our Parenting World would like to thank the kind and lovely organisers of 2Degree Ice Art for inviting us. The exhibition opens from November 20 and runs until May 15, 2014.
Gor Gor and Di Di enjoyed themselves tremendously. It is an amazing experience of seeing so many different world landmarks in winter. 
Come and experience the ice bar where drinks are served in specially carved authentic ice mugs and once you have finished your drink, you can throw your ice mug against a 'Smash Wall'. That's fun!
Additional information:
Date; 20 November 2013 to 15 May 2014
Time: 10am to 10pm daily
Venue: Sheares Link (Besides Marina Bay Sands Hotel)
Tel: (65) 6288 6656
Ice Bar Timing: 3pm to 3am daily
For more details, visit http://www.2degree.biz/.