Our Parenting World, Di Di has received a box of surprise, look at his happy face!
Introducing iNbox, an award winning monthly educational subscription box jointly developed by Smart Alley and early childhood development experts. iNbox is also exclusively distributed by Smart Alley which will deliver the box full of meaningful and fun activities fresh, right to your doorstep for you and your children.
iNbox is very thoughtful to personalise the box by putting the child's name on the box and this gesture makes Di Di feels he is very special! He is so excited to receive the box under his very own name.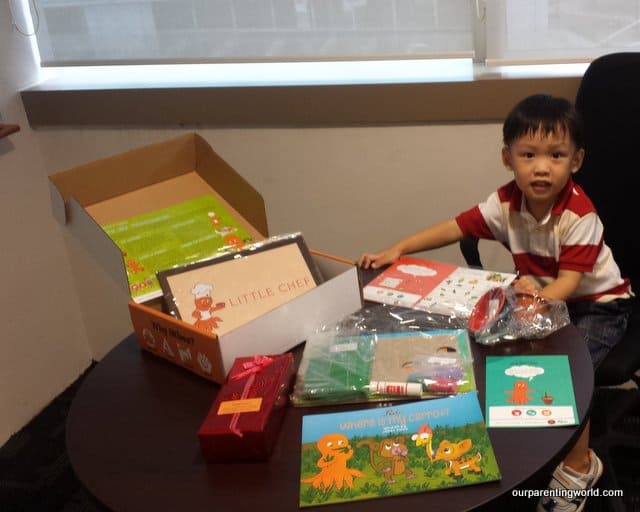 Mummy who is an educator is always on a lookout for activities/games that are educating and interesting for both Gor Gor and Di Di. She is happy to find out about iNbox.
What is so good about iNbox?
Each box will contain 4 to 5 different fun filled activities. Some of the activities include a board game and activity book that will require both parents and child to play and do together, an artwork which the child is able to complete on his/her own with some parental guidance if your child is much younger and a well illustrated interesting story book based on the month's theme whereby parents and child can read together. 
These activities focus to enhance the child's abilities in creating, exploring, enriching and improving the child's story telling skills. These skills are essential to help the child in his/her development stages.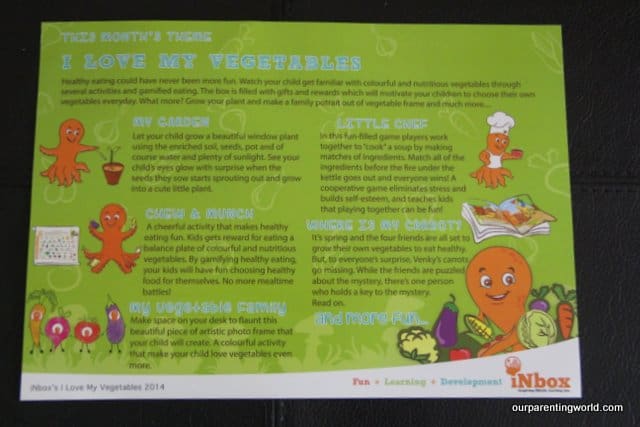 Every month, there will be a different theme and our box which is on the month of May, the theme is on "I love my vegetables".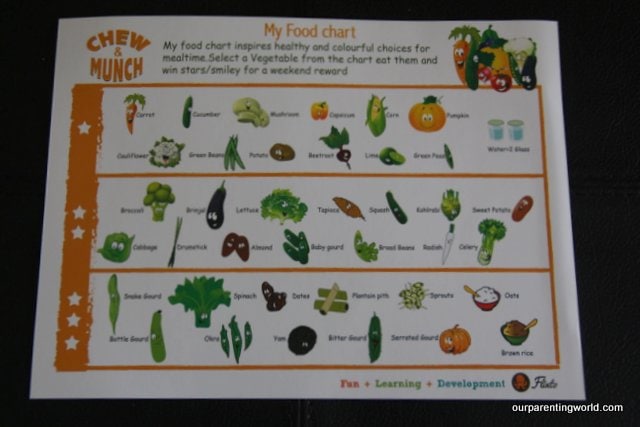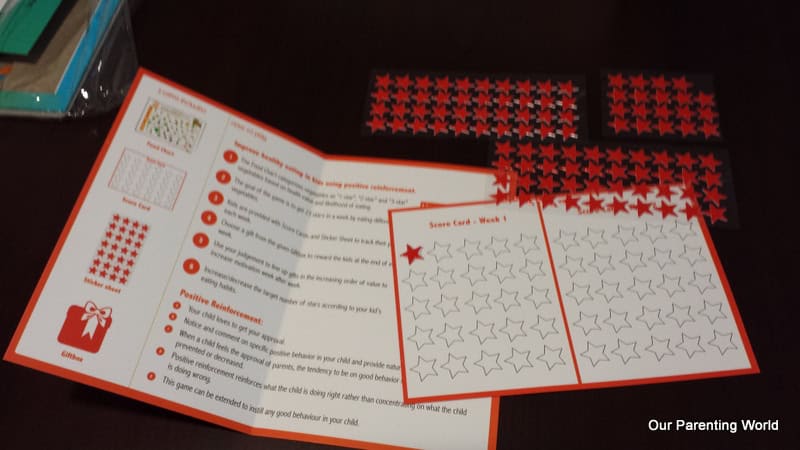 iNbox contains some activities that will involve parental involvement and it is also a good way to bond with your child and spend a meaningful time together. 
In this activity on explore is on Chew & Munch. It is a cheerful activity that makes healthy eating fun. Kids get rewards for eating a balanced palate of colourful and nutritious vegetables.
Most children don't like to eat vegetables and iNbox realises that, one of the meaningful activities is to encourage kids to eat more vegetables. My Food Chart activity as above inspires healthy and colourful choices for mealtime. Kids get to select a vegetable from My Food Chart, eat it to win stars to collect a weekend reward.
Di Di is very motivated to get the reward which is also included in the box and he will attempt to eat the vegetables to collect the stars to get his prize. Through this activity, Di Di learns about the different types of vegetables and the importance of having enough vegetables in his diet.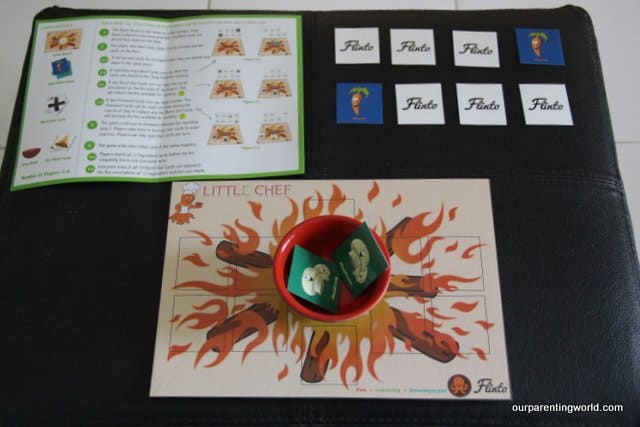 In this activity on the play section, iNbox comes with a fun cooperative game titled "Little Chef". In this fun-filled game, players work together to "cook" a soup by making matches of ingredients. This game is suitable for the whole family where parents and child can play together, try matching the items and work together for an outcome with either everyone wins or loses.
This game helps the child to improve on his/her memory by matching the correct items, helps to develop the nature of caring and shouldering responsibility towards a common goal and learn more about the theme of the game, Vegetables.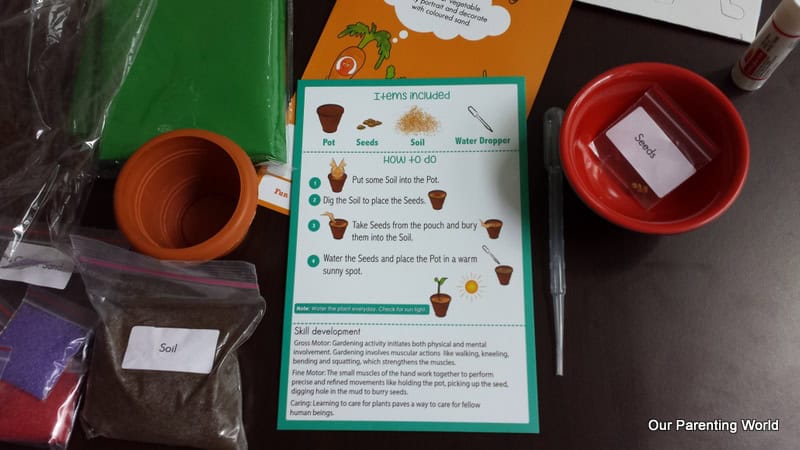 Another interesting hands on learning activity is to plant your own plant, all the items are provided including pot, seeds, soil and water dropper. It is a good way to teach your kid how to care for fellow living things.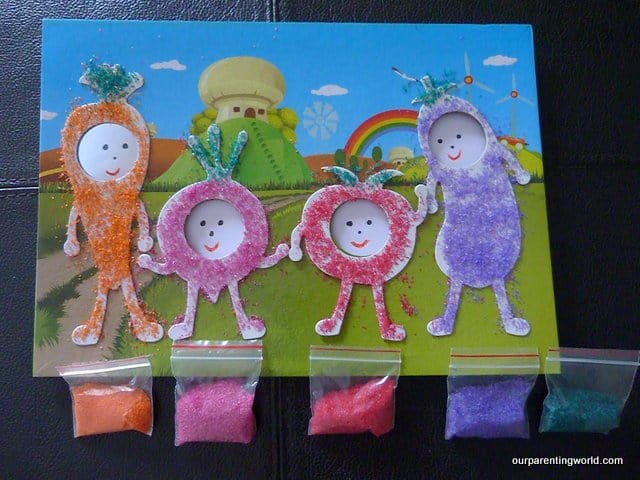 This activity on create is on My Vegetable Family. Children get to create their own artistic photo frame. Di Di is very cheeky, he decides to be creative and draw our faces instead of putting photos. He is so proud of his masterpiece!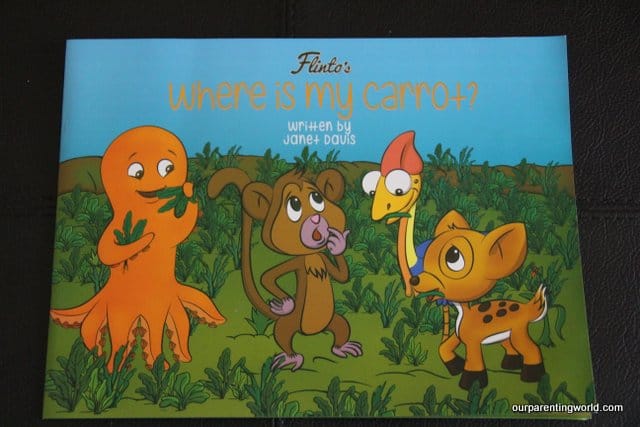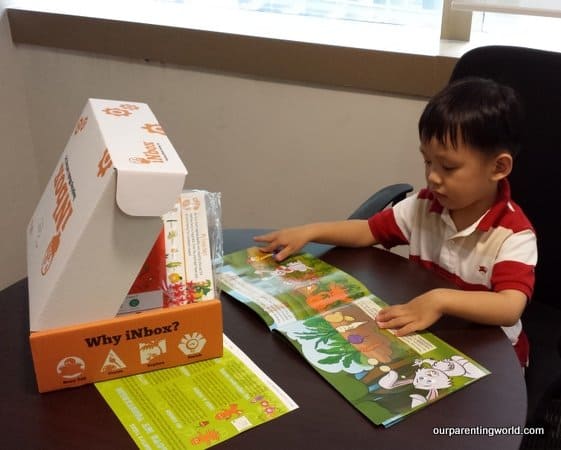 This activity on read and the title is "Where is my Carrot?" about four friends all set to grow their own vegetables for healthy eating. Venky's carrots go missing. One person holds the key to mystery.  The colourful illustrated book quickly becomes Di Di's favourite and he keeps reading it.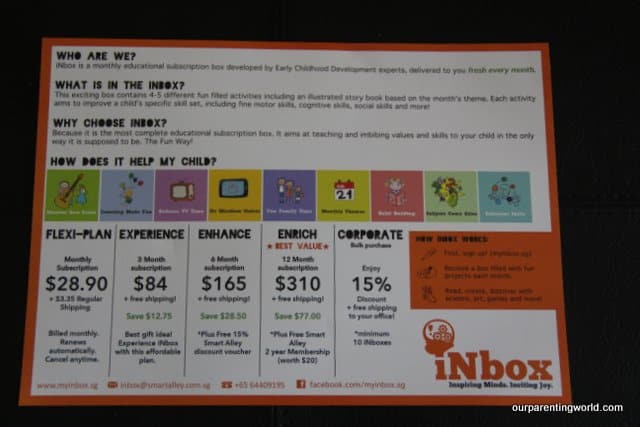 Why Choose iNbox?
iNbox follows a curriculum that develops a child's holistic learning which includes parental involvement and hands on learning. Every month your child will receive the box with a new theme and that is delivered right to your door step or choice location. It is suitable for children age 3 to 7 years old and your children can do this on their own with some supervision from the parents.
It is the most complete educational subscription box aims to teach and impart values and skills to your child in the way that he/she can learn in the fun way at an affordable monthly subscription. 
Di Di first did this box in the office with us and he is able to keep himself occupied throughout after we have gone through the instructions with him. Once he understands the instructions, he is able to do it by himself. We are so surprise that he is able to sit still and work on some of the activities on his own. Di Di enjoys the activities and is looking forward to the next box.
Please stay tuned to our website where we will continue to review the next month iNbox and why it is good to have a monthly subscription of this educational fun filled box of surprises for your child. We wish we have something like this for our older boy, Gor Gor. He is so envious of Di Di having iNbox that is tailored for his age group. Thank you to iNbox for sending us the box and making Di Di a very happy boy!
Goodnews!
iNbox has kindly offer our readers the following fabulous promotion deals. The promotion details are as follows:
Promotion for 3 months iNbox subscription, enjoy $10 off by using the coupon code.
Coupon Code: inbox$10off
Promotion Ends 30th June 2014
Please go to iNbox website at www.myinbox.sg or facebook at www.facebook.com/myinbox.sg to find out more. 
Full Disclosure: We were given a iNbox for review, all opinion and happy experiences are ours.