Herbalife Nutrition, premier global nutrition company has launched Relaxation Tea in Singapore, designed to help consumers relax and unwind from daily stress. Specially formulated with an herbal blend of lemon balm, chamomile, lavender, and passionflower, the Relaxation Tea aims to support consumers in reducing stress and achieving better overall wellbeing
With a majority of Singaporean consumers finding their mental health to be less than ideal, Relaxation Tea is the perfect go-to beverage to help calm the mind and body any time of the day in a safe and healthy way.
"The Singapore workforce has the most de-energized employees across Asia due to stress over their work life. As a result, people are starting to look for solutions that can help them unwind from
the stressors in their lives," said Jilson Ang, General Manager, Herbalife Nutrition Singapore. "Our Relaxation Tea aims to help stressed-out consumers unwind at any time of the day in a safe and healthy way. With its caffeine-free formula, Relaxation Tea is a refreshing remedy specially formulated with an herbal blend that calms the body and mind."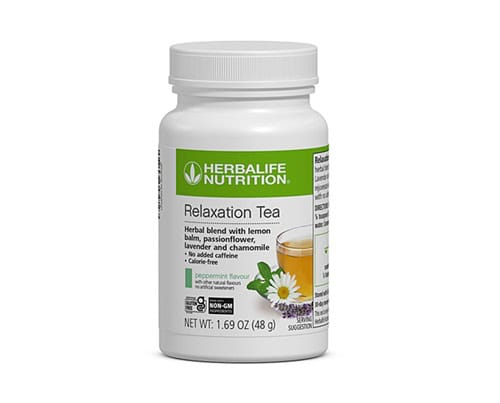 Designed to support stress reduction and overall wellbeing, the key ingredient of Relaxation Tea, lemon balm, has been used traditionally to help people cope with occasional stress, maintain a healthy mood, and support restful sleep.
As a healthy product to support consumers on their wellness journey, the refreshing peppermint flavored Relaxation Tea is easy to make in seconds and is:
Low in calories

Made with non-GM ingredients

Free from artificial flavors or colors

Gluten free
About Herbalife Nutrition Ltd.
Herbalife Nutrition (NYSE: HLF) is a global nutrition company that has been changing people's lives with great nutrition products and a business opportunity for its independent distributors since 1980. The Company offers science-backed products to consumers in 95 markets by entrepreneurial distributors who provide one-on-one coaching and a supportive community that inspires their customers to embrace a healthier, more active lifestyle. Through the Company's commitment to nourish people, communities and our planet, Herbalife Nutrition pledges to achieve 50 million positive impacts – tangible acts of good – by 2030, its 50th anniversary.
For more information, please visit IAmHerbalifeNutrition.com.