Chinese New Year (CNY) is the most important Chinese tradition celebrated and practiced by Chinese all over the world! Chinese New Year is about family getting together and keeping the traditions! 
Our Parenting World team recently embarked on "Home for CNY" project #Yangyanghomeforcny. The aim of the project is to encourage families to prepare their homes for Chinese New Year and use CNY as a time for the creation of shared memories as a family.
Chinese New Year is a festival for family where we get together and enjoy family time. As a family, you can exercise your creativity and imagination to work on your decoration pieces. It is a very good bonding session for parents and children to get together to work on making your own CNY decorations. We are given a CNY Yang Yang Pack consisting of empty red packets (ang baos) and stationary where we sat down to work on the CNY decorations together. 
As we look forward to celebrate the coming Year of the Rooster, let's get together and make our own CNY decorations where we can spend a meaningful and enjoyable time putting the decorations together as a family!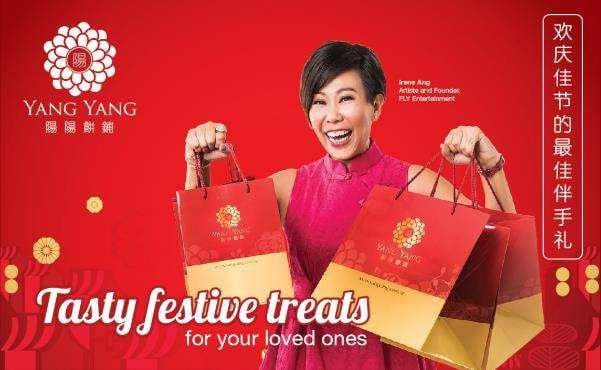 In addition, if you are looking for CNY cookies, Yang Yang Cookies (陽陽饼铺)is the gathering of a collection of traditional Chinese cookies and pastries recipes from the Yang family passed down through the generations. All baked by Auntie Yeo! 
Fire your way into the year of the 'Fire Rooster' this Chinese New Year with the bright red packaging of Yang Yang! Yang Yang is a home-grown private bakery that produces quality Chinese New Year pastries most well-known for their PINEAPPLE TARTS, GREEN PEA COOKIES, ALMOND COOKIES and KUEH LAPIS!
A long-time fan of Yang Yang cookies and Kueh Lapis, popular local artiste and FLY founder Ms Irene Ang comes on board this year to recommend Yang Yang for your Chinese New Year goodies and gifts.
Irene Ang shared: "After I tried their Green Pea Cookies many years ago, I fell in love with their cookies. I like it that they are not too sweet and very flavourful. The beautiful packaging makes Yang Yang cookies a great gift choice for the festive season! Last year, I tried their Kueh Lapis and it is a clear winner! The texture is just right, melts in your mouth, and the flavours – clearly they use only the freshest and best ingredients. A must have for every Chinese New Year gathering!"
Top 3 reasons why you should pick Yang Yang for your CNY treats & gifts:
i) Tested, proven, authentic: Made from family recipes passed down for more than 50 years, each pastry has come a long way. To ensure that you get an authentic, traditional goodness and taste.
ii) Good on the inside, and outside too: The best of both worlds! The attractive packaging makes it more presentable when your loved ones receive or display it in their homes. And the joy continues when they open it, as Yang Yang pastries parallel the home-made versions in terms of quality and taste. Less sweet is the way to go!
iii) Quality ingredients used: The products are made with all natural ingredients, and no preservatives are included.
Signature all-time Favourites:
– Premium Pineapple Tarts $28.80
– Premium Oat Raisin Cookies $18.20
– Premium Green Pea Cookies $19.60
– Coffee Cookies $16.60
– Premium Almond Cookies $19.60
– Prawn Rolls $12
– Premium Dark Chocolate Cookies $18.20
– Kueh Lapis Original $54 / $32
Available at:
• TANGS Orchard CNY Fair (Basement 1) 27 December – 26 January
• Takashimaya CNY Fair (B2 Atrium) 30 December – 26 January
• TANGS VivoCity CNY Fair (Level 1 outside Tangs) 4 January – 26 January
• Online at www.yangyang.com.sg
To find out more about Yang Yang Cookies, please go to http://yangyang.com.sg/