Pearlie White®,

Singapore's only homegrown oral care brand is the first brand to offer locally made halal certified toothpastes and mouthrinses, effective June 2022 and also the first local Halal certified oral care manufacturing facility.

In a process that took over 18 months, the homegrown oral care brand embarked on obtaining halal certification to build a reputation of trust and integrity for its products to the Muslim community in its key Asian and Middle Eastern marketplaces where halal certified oral care products are highly valued (and at times, a regulatory requirement).
Today, Pearlie White® is synonymous with high quality and effective oral health solutions, boasting a wide range of oral care products that address a variety of oral health needs. The brand is marketed globally but it remains fully Singapore-owned, maintaining its headquarters, research and development (R&D), and manufacturing facilities in our country.
Our editorial team speaks to Andy Ong – Managing Director and Founder of Pearlie White® where he shares more about the brands's journey, read on to find out more.
1. What inspired you to set up a business and focus on oral care?
Andy Ong: The first dentist in Singapore (Dr. Cheong Chun Tin) was my great great grandfather. Our business has always been involved in either dentistry or trade in dental supplies so we know what products consumers and dental professionals want, and we also knew how to make better products than the competitiors. In 2001, we took the plunge and decided to create something uniquely Singapore/Singaporean and that is how Pearlie White came about. (For reference, Pearlie White is not just a Singapore headquartered brand with manufacturing facilities in Singapore; it is also still 100% Singaporean owned).
2. How did you come up with the brand name, Pearlie White®?
Andy Ong: Everyone expects and wishes to have spotlessly white teeth for their oral health. "Pearly whites" are commonly used when referring to the white, healthy teeth and so we put a unique spin on one of the words.  And that is how Pearlie White came about. Easy to remember and unique enough so that we could trademark across the world (and it is trademarked across the world.).
3. What are the challenges you faced when setting up your business and how did you manage to overcome them?
Andy Ong: The single biggest challenge was that we had to set up everything (from R&D to Manufacturing to Marketing/Operations) from scratch. There was no other oral care R&D and manufacturing operation in the country to learn from; no equipment suppliers locally that had ready mixing/filling/etc machines to purchase and none with any experience in setting this up. This remains true today as well; we still operate the only GMP certified oral care manufacturing/R&D facility in the country. And for reference, the recent halal certification we acquired for our facility mirrors the above too. Ask around and find out how many halal certified personal care (not just oral care) finished product manufacturing facilities there are in Singapore  at present. Yup, hear that silence. Exactly.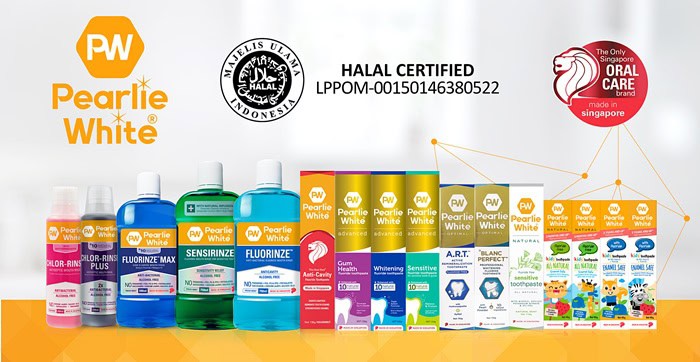 4. Can you share with us more about Pearlie White® and the range of products available?
Andy Ong: Our products range from toothpastes, toothbrushes, mouth rinses, flosses, flosspicks, interdental brushes, breathsprays, stain & plaque removers, orthodonic care products, denture care products etc. And cater to as diverse oral health needs such as tooth stain removal, tooth sensitivity protection, orthodontic care, denture care; and for adults and children.
The most important thing to note is that for every product we develop; we always do so with a view of better meeting the needs of consumer than that from competing oral care brands. And we are constantly innovating and improving our products to keep ahead of the pack.
5. How did you come up with the formulation and ingredients for the toothpastes and mouthrinses?
Andy Ong: We always start off with understanding what consumers expect in an oral health product (and for reference, it's usually related to having whiter teeth, healthier  and plaque-free teeth and gums, or relief of tooth sensitivity). Then we research what other leading products are available in the market and ensure that we develop a product that outperforms that (and we are constantly improving our products to keep ahead of the competition as well)
But we also look at overall consumer trends. Like it's becoming more prevalent that consumers want more natural ingredients in their personal care products so you will see a lot of our products being formulated with a higher proportion of natural ingredients than the competition (we even have 100% natural formulations like our all natural adult/kids toothpastes).
6. How do you differentiate your products from other oral care brands in the market?
Andy Ong: In a nutshell. The products either have to function better than the competition or it has to function as well but provide better value. Our aim is always to try and achieve both at the same time.
As an example, when we were developing a mouth rinse, we knew consumers wanted a gentler alcohol free product but they were not willing to give up that intense freshness you get after rinsing with an alcohol based mouth rinse. That is how we came up with our Fluorinze alcohol free fluoride mouth rinse, which obviously does not contain alcohol (and by the way, it's now halal certified) but we maxed up on the mint and added other natural ingredients that would allow us to replicate that same intense freshness that consumers expect. We also priced it below the main competing brands.  That's how we do. If we cannot make a better functioning product or better value product than the competition = we won't do.
7. Can you share some tips on how we can maintain good oral health?
Andy Ong: Let's do a tip that doesn't require you to buy an oral care product. So after every meal (or even during the meal), when you are taking a sip of water, instead of just swallowing that, swirl (and vigorously if possible) it inside your mouth and make the water go around and in-between teeth. Yes pretty rude if there are friends/family around you; but it goes a long way to keep food getting stuck and resultant plaque/stains from accumulating on teeth. Tell your family/friends you are having a meal with about this tip as well and I am sure they will all start doing it too and so = no longer rude.
8. What kind of advice would you give to aspiring entrepreneurs looking to start their own business?
Andy Ong: Make sure whatever product/service you are offering is unique in the country you are marketing it in and where there is no single identifiable large dominant competitor. An easy exercise to do is to choose a product/service that you want, and ask 10 friends/family to name a brand that they know of that provides such a product/service. If 10 of them come up with the same one or two brands = don't start the business. If 10 of them come up with 10 different brands or can't even name a brand = start the business as there is no one identifiable large dominant competitor to go against; chances of success will be higher.
9. What's your future plan for Pearlie White®?
Andy Ong: We are trying to achieve the equivalent of the Olympic bronze medal in business for a 100% Singapore owned brand. And that will be to have at least 1% of people across the world using one of our made in Singapore toothpaste or mouth rinses every day. We believe we would have done our country proud then, as that would mean that 1% of people across the world would be interacting daily with something uniquely from  Singapore (just as many people in the world use Swiss made watches to tell the time daily, drive Japanese made cars, drink Sri Lankan tea, spray on French made perfumes, carry Italian made bags, use USA  made software//apps etc)
The next generation of Singapore businesses can go for the global market share leader gold.
10. Lastly, what would you like to say to our readers who are looking forward to try out Pearlie White®'s products?
Andy Ong: Don't wait. Get 20% Off your first time purchase using code "PW20FIRST" at www.pearliewhite.com.
All images credit to Pearlie White®