This coming Lunar New Year, Chopsuey Cafe has released its new thoughtfully curated menus to welcome the Year of the Rabbit!
Chopsuey Cafe presents two bountiful Lunar New Year menus this year. The Joyous Reunion Menu is available from 9th January to 5th February 2023, featuring an array of well-loved favourites, as well as some delicious twists on spring season classics. From 22nd to 24th January 2023, ramp up your celebrations and feast like an emperor with the Abounding Abundance Menu, a special limited-edition spread designed to usher in the most prosperous of new years'! 
LUNAR NEW YEAR SET MENUS
Chopsuey Cafe is nestled in the lush surroundings of Dempsey Hill, featuring a stunning colonial garden aesthetic, with both indoor and outdoor spaces perfect for big and small group celebrations. This Lunar New Year sees a vast selection of comfort dishes featuring contemporary Anglo-Chinese and Southeast Asian influences.
Diners can look forward to enjoy bold flavours and inspired combinations spread across the two menus which have been specially curated for your Chinese New Year celebrations with your family and friends. 
Here's the key highlights of Chopsuey Cafe's Chinese New Year's offerings as follows: 
JOYOUS REUNION MENU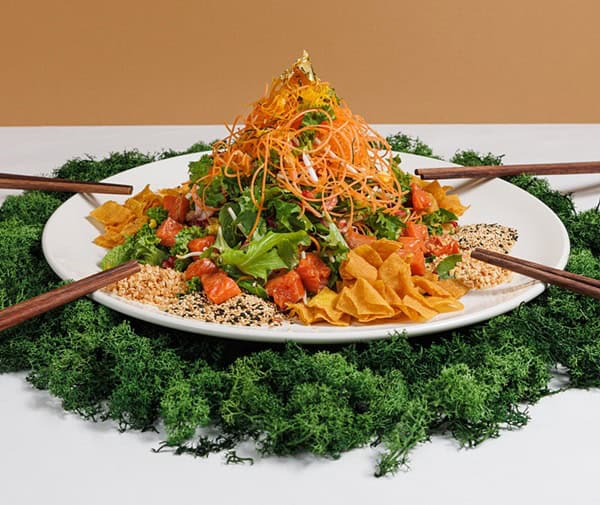 The Joyous Reunion set menu begins with a thirst-quenching Orange Basil Crush to whet the appetite ahead of the main event. Add on a prosperity toss of the Chopsuey Lucky Lunar 'Lo Hei' $18++ for a regular portion and $38++ for a large portion. 
This wholesome variation of the lohei adds a deliciously healthy take on the traditional, which features a scrumptious symphony of flavours such as trout, kale, celeriac, sprouts, red radish, blueberries, wild rice and is topped with real gold leaf.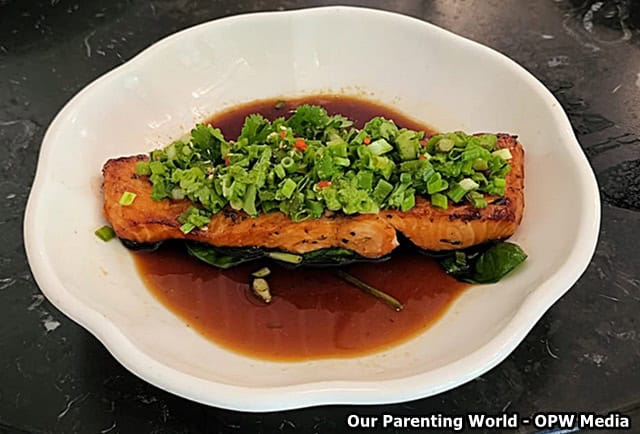 Jade Ocean Trout
Enjoy a choice of starters after the lohei, ranging from sumptuous options like Salt Pepper & Caramelised Garlic Calamari and Sticky Kurobuta Belly Sticks. For their main course, guests can choose from an abundance of seafood-based delights such as the Jade Ocean Trout, Giant Lobster & Prawn Cakes, Sweet Chilli King Prawns and the refreshing Young Coconut Seafood Soup.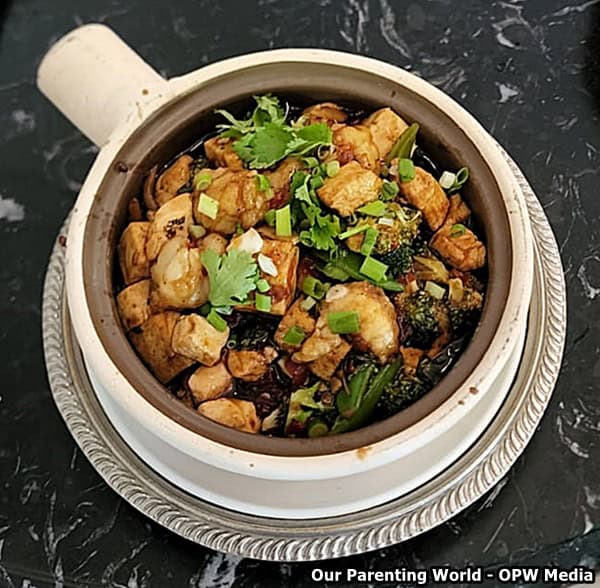 Lobster & Silver Needle Ma Po
For the meat lovers, there's the sumptuous Melt Away Tamarind Beef Ribs, Charred Iberico Riblets and Numbing Roast Chicken. This abundant selection of dishes is accompanied with a choice of either House Smoked Spicy Salmon Fried Rice or Lobster & Silver Needle Ma Po.
ABOUNDING ABUNDANCE MENU
The Abounding Abundance set menu also begins with a festive welcome in the form of a refreshing
glass of Orange Basil Crush just before the brand's signature Chopsuey Lucky Lunar 'Lo Hei' included as part of the set, is served.
Fresh Prawn Cakes
Diners can choose from a delicious selection of starters after the joyous prosperity toss such as Crispy Golden Crab Cakes, Wok Seared Lobster & Prawn Sliders, Crispy Sweet & Sour Squid Wraps, Fresh Prawn Cakes and Crispy Smoked Duck Egg.
Following the starters, guests will be presented with a soup course which comprises a choice of Seafood Pillow Tofu Soup or Treasure in The Bowl.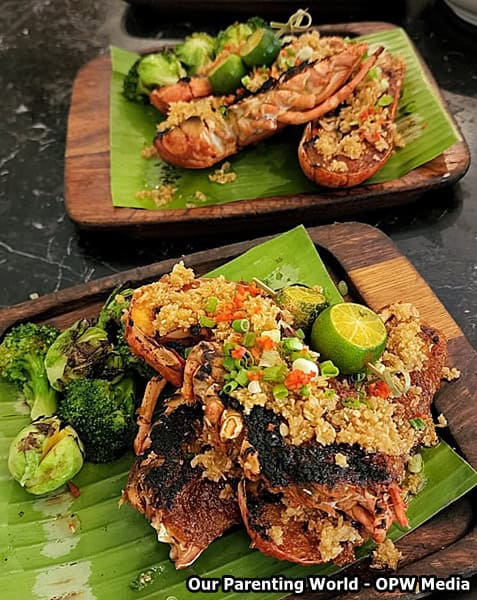 Garlicky Chilli Jam Lobster
After a lavish array of starting dishes, the feast continues with a huge choice of premium mains comprising both surf and turf based dishes. Seafood lovers can get their festive fix with a bountiful
selection of Lightly Curried Red Drum Snapper, Chargrilled King Prawns with Glass Noodles, Typhoon Shelter Soft Shell Crabs, Garlicky Chilli Jam Lobster.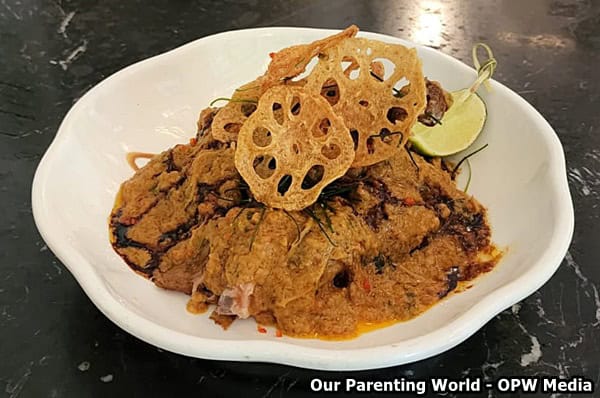 Fall Off The Bone Satay Duck Leg
Luxurious meat options include Fall Off The Bone Satay Duck Leg, Charcoal Roasted Lemongrass Chicken, Crackle Skin Pork Hock, Spicy Tangy Korean Riblets, Balsamic Sweet & Sour Beef Cheek and Mala Lamb Ribs.
STAPLE DISHES
Accompanying the line-up of deliciousness above is a choice of either House Smoked Spicy Salmon
Fried Rice or Wok Fried Noodles with Crunchy Torn Prawns.
DECADENT DESSERTS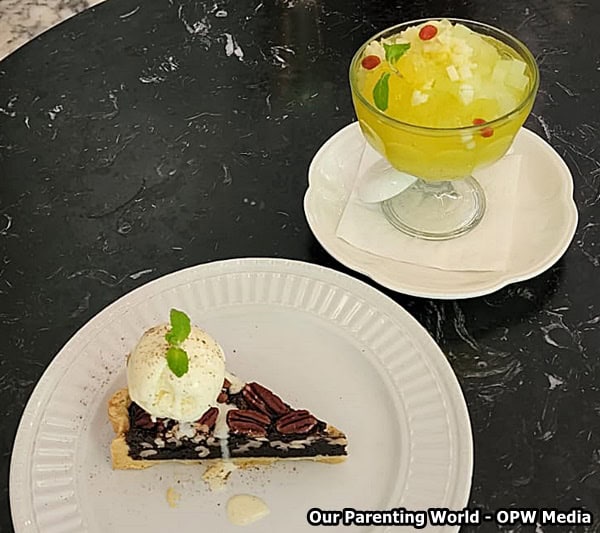 Lemongrass Granita (Top) and Chocolate Orange Pecan Pie (Bottom)
Every year, Chopsuey Cafe famously debuts a deliciously indulgent new dessert, however this year guests are treated to a choice of two sweet treats, both of which were developed by Chopsuey Cafe's dessert chefs. Available on both the Joyous Reunion and Abounding Abundance menus, the Chocolate Orange Pecan Pie adds a touch of festive flavour to a classic homely dessert, or for those preferring something with a refreshing twist, the zesty sweet and sour flavours of the Lemongrass Granita will not disappoint.
YOU MIGHT EVEN GET LUCKY!
Start your celebrations with a bounce by enjoying a delicious cocktail along with your festive feast of choice. Luck Like Rabbits $22++ is the latest cocktail developed by the Chopsuey Cafe mixologists especially for LNY. A yummy mix of vodka, triple sec, lemon, lime and red grape juice this is a cocktail sure to add a spring to your step!
HOP IN EARLY – Early bird promotions have been extended till 8 January!
Make a booking to dine-in on the Joyous Reunion Set Menu and get the Chopsuey Lucky Lunar 'Lo Hei' added to your set for free!
Book the Abounding Abundance Set Menu and enjoy a special price of $88++pp for the 2-4 pax set menu (UP $108++pp) and $108++pp for the 5-8 pax set (UP $138++pp). Bookings can be made through pscafe.com or by calling 6708 9288.
MENU AVAILABILITY
Both the Lunar New Year Set Menus are available at the Chopsuey Cafe outlet at 10 Dempsey Road, #01-23, Singapore 247700. For those who feel like celebrating at home, the Lunar New Year Menus are available for order via pscafe.com and all major food delivery platforms.
LOHEI AVAILABILITY
The Chopsuey Lucky Lunar 'Lohei' is also available to order ala carte via pscafe.com and all major food delivery platforms.
Chopsuey Cafe
Venue: 10 Dempsey Road, #01-23, Singapore 247700 
Operating Hours: 11.30am – 11pm daily
Featured image credit to Chopsuey Cafe