Hoshino Coffee with a chain of 200 stores in Japan and have been in Singapore since 2012 is well-known for its retro Japanese-Western cafe experience of hand-dripped coffee using premium roasted Arabica beans and fluffy pancakes has opened its 6th outlet in Singapore!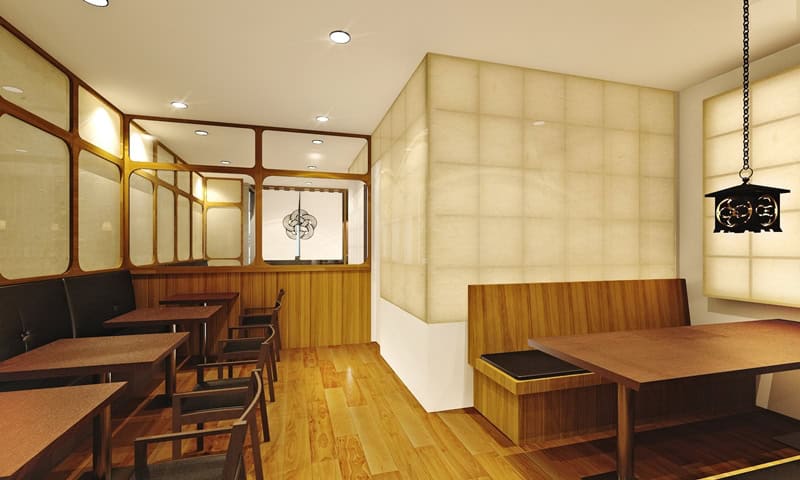 Image credit to Hoshino Coffee
Hoshino Coffee's latest outlet at the kids-friendly United Square Shopping mall has come up with interesting concept that sets apart from the rest of its chain stores in Singapore and Japan. 
"Hoshino Coffee has been operating in Singapore for four and a half years. After we opened our outlet in Raffles Holland Village, we realized that our cafes are also drawing in the family crowd. It is with this in mind that we decided to open an outlet in United Square, where the whole family can come and enjoy our Hoshino delights and discover Japanese culture at the same time" said Mr Kengo Sakai, the director of D&N Singapore Pte Ltd for Hoshino Coffee Singapore.
Diners at the United Square branch can look forward to the introduction of Japanese-style elements into the interior decor. The outlet has a more Japanese Zen ambience with the Hoshino retro European atmosphere of dark woody interiors and leather chairs to service staff's butler-like uniforms. It is decorated with the  Shoji screens that adorn the walls, the Irori (which is the Japanese hearth in a traditional home) and the eye-catching "floating" Bonsai, as a reminder of the Japanese garden. 
Here are the Child-friendly Elements that families can expect when dining at Hoshino Coffee at United Square:
– Wider aisles to facilitate the movement of strollers and baby chairs;
– More space in between tables and fewer tables compared with other outlets (dining here is 154 square metres with 84 seats);
– More tables for four (than tables for 2);
– Setting up a book shelf at the entrance with Japanese children books;
– Introduction of a Kid's Menu, a first for Hoshino Coffee Singapore, which comes with a colouring sheet and a toy.
Let Our Parenting World (OPW) team brings you on a delightful culinary journey to Hoshino Coffee's new menus that are set to excite your taste buds: 
Kid's Sets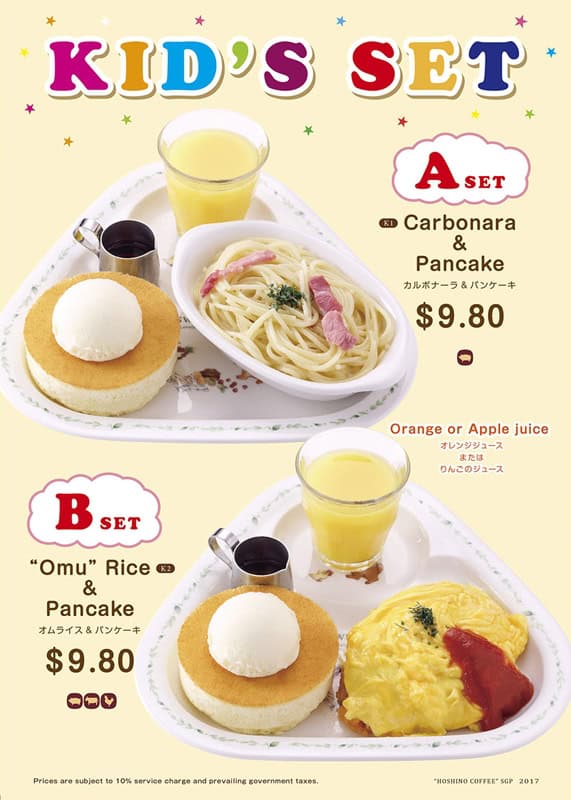 Kids will be happy to know that Hoshino Coffee has introduced Kid's Sets which has smaller portions of Hoshino favourites such as the fluffy pancakes, omu rice and pasta for them to enjoy! The 2 options, Set A and B are priced at $9.80++ each.  
New Menu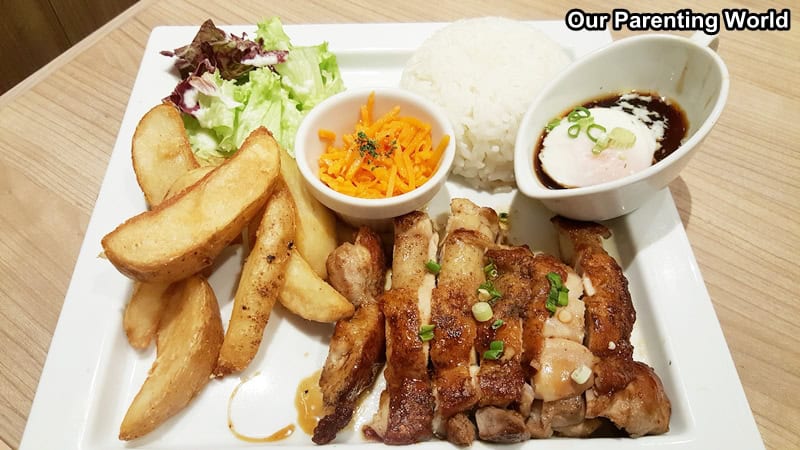 Teriyaki Chicken Steak Plate with Onsen Egg at $17.80++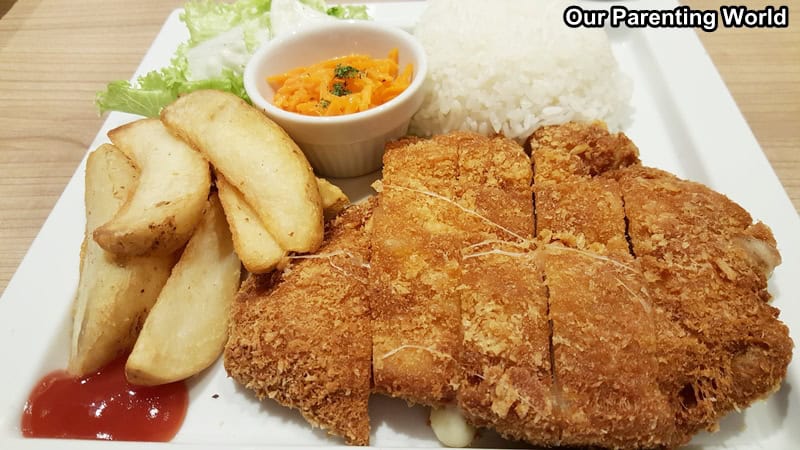 Chicken and Mozzarella Cutlet Plate at $17.80++
While the kids enjoy dining the Kid's Set, parents can look forward to Hoshino Coffee's new menu. Chicken items are being introduced for the first time such as Teriyaki Chicken Steak Plate with Onsen Egg and Chicken and Mozzarella Cutlet Plate. Both Chicken dishes are set to please diners, the taste of the tender and tasty Teriyaki Chicken Steak is further enhanced by dipping the succulent chicken pieces with Onsen Egg. If you like to eat fried chicken meat, opt for the Chicken and Mozzarella Cutlet where the chicken skin has been deep fried till crispy golden brown and the meat inside remains soft and moist with melted mozzarella cheese. Hmmmm …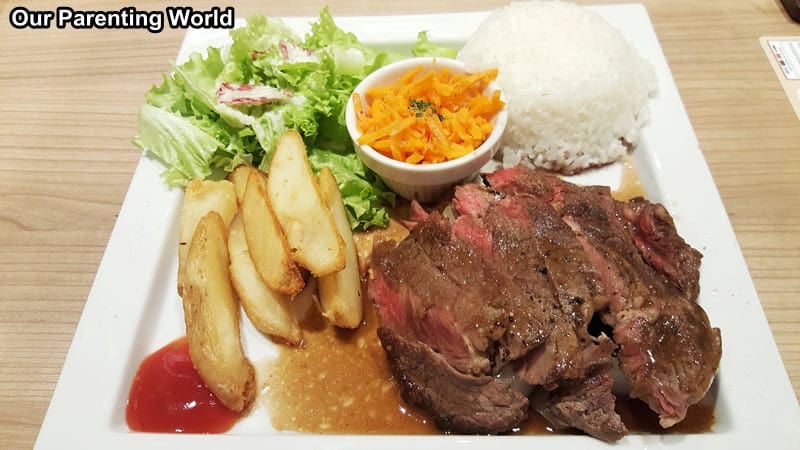 Angus Beef Steak Plate at $21.80++
For steak lover, you can choose the Angus Beef Steak Plate, you won't be disappointed with the beef that is so amazingly tender and juicy that melts in your mouth. A must-try!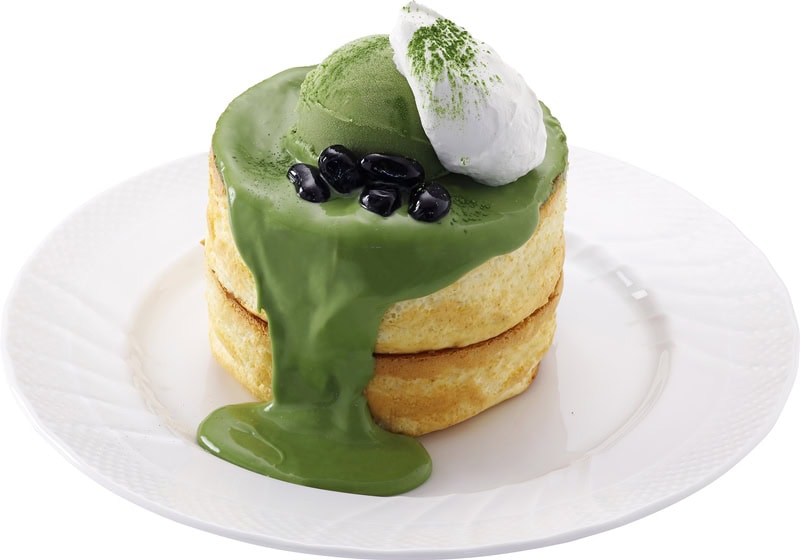 Image credit to Hoshino Coffee
Matcha Pancake Souffle (Single $13.50++ and Double $16.80++)
Hoshino Coffee is famous for its fluffy pancakes and now you can indulge in the Matcha Pancake Souffle previously a seasonal specialty. We are pleased to know that it is now a permanent item in response to customers' requests.
In addition to the above, there are other new menus which include Lasagna with Mini Souffle Pancake Plate ($18.80++) and Mini Souffle Omulet and Mini Souffle Pancake with Sausage and Bacon ($18.80++).
Hoshino Coffee in United Square
Address:
United Square, 101 Thomson Road, #02-06/07, Singapore 307591
Opening Hours:
10:00AM to 9.30PM (Monday-Friday)
9:00AM to 9.30PM (Saturday-Sunday, PH)
Last Orders: 9:00PM
Telephone: 6264 5878
To find out more and for more information, please go to the following:
Facebook : www.facebook.com/hoshinocoffee
Instagram (Singapore) : www.instagram.com/hoshinocoffeesg
Hashtags : #hoshinocoffeesg