Huggs has launched their flagship store – Huggs Collective at 30 Maxwell Road located at AIBI Maxwell. Spanning close to 3000 square feet and set against the CBD concrete jungle, Huggs Collective seeks to provide a haven for the weary and uplift customers' experience through an extensive and curated range of offerings, partnerships and interactive social spaces such as a dedicated members' lounge, an amphitheatre nestled within the outlet and a pet-friendly outdoor seating area. 
The flagship store features a series of exciting offerings through key partnerships with Denzy Gelato, Fitmeal, Samsung, Commune, TC Acoustics, Mandai Wildlife Group, TC Acoustics and many more!
Our editorial team speaks to Lee Haoming, Managing Director of Huggs Coffee to find out more about his journey with Huggs Coffee, the first flagship store at 30 Maxwell Road as well as his vision and future plans for Huggs Coffee.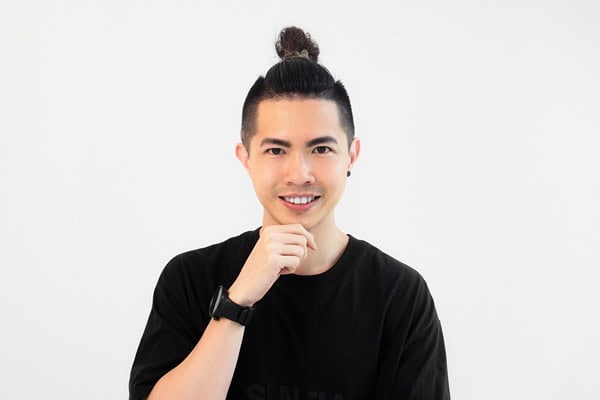 Exclusive Interview with Lee Haoming, Managing Director of Huggs Coffee
1) Please share with us more about your background, what inspired you to go into the F&B industry?
Lee Haoming: Prior to joining Huggs, I was from the lifestyle events industry and co-founded the wildly popular Artbox Singapore which garnered over 700,000 visitors during the 6-day event. As the Regional Head of Strategy for Invade, I brought Artbox to Kuala Lumpur and brought Taiwan's Shilin Night Market to Singapore as well.
What inspired me to go into the F&B industry or rather into Huggs was simply to help my childhood friend, Ben, Huggs' second-generation leader. I am a coffee lover and have always been a great supporter of Huggs and our offerings. Huggs is Ben's family business and when covid hit, Huggs alongside many other F&B establishments was greatly impacted. Initially, I came into Huggs, with the pure intention to help a friend in need and to be a consultant to helping Huggs tide through the pandemic. End up, I just never left!
2) How did the name "Huggs" come about? What's your concept and vision for the company?
Lee Haoming: Just like the word suggests, the word 'Huggs' comes from the word hug/embrace. For the first decade or so, all of Huggs outlets have been situated in the CBD and business parks, serving mainly the office workers. To us, a good cup of coffee is just like a warm embrace in the heart of CBD, serving as an escape and uplifting the lives of the office workers at any time of the day. Till date, as a simple direct representation of how a hug would be able to uplift one's day, Huggs is set to enliven everyone's day and spirits through our wide range of offerings and brand experience.

Just like how I have always told my team and everyone, I believe strongly that Huggs is not just a business of F&B. We are in a business of social activities, where Huggs seeks to be a medium of connectivity. Huggs is where different walks of life come together to connect and have intimate conversations over good quality yet affordable cups of coffee, creating memories through experiences. We constantly strive to uplift and inspire cultures and people – one cup, one experience, one community at a time.
3) How do you manage to grow Huggs to its current scale, what are the challenges that you have faced in running the company and how do you overcome them?
Lee Haoming: Amidst the uncertainties that the pandemic has created, all of us at Huggs have come to accept that the world is revolving and transforming continuously with new norms and continuing doing what we have been doing is simply not enough. Despite it being a challenging phase for all of us, change is definitely inevitable and we took the leap of faith to rediscover how we can enliven, grow and support communities through such trying times. To unlearn what we know and how we do things for the last 12 years was just painful. 
Generally, the F&B industry, being a highly competitive space, is never easy. This is coupled by various challenges such as rising costs, uncertainties, and limited resources fuelled by Covid-19 alongside being an SME competing with global coffee brands. To overcome these, we would have to constantly think out of the box, strategically picking out the gaps in the market and being bold enough to make the move. One example would be adapting to the new normal, rediscovering new opportunities and venture into new territories/markets to bring elevated experiences to our customers. With the introduction of our Huggs Collective concept and new store layouts and features, we strive to stay relevant in the current situation. In times of crisis and uncertainties, we
believe that we should not be thinking from a standpoint of being afraid to share resources but in fact we strategically partner with various brands, collectively think out of the box and leverage on one another.
4) What implementation and or changes have you made to Huggs to make the stores safe for staff and customers and at the same time, create a better experience for customers during the pandemic?
Lee Haoming: After a year of working on our brand transformation, we not only managed to brew the essence of our core values and redesign our mindset for the future but also made changes and implementations to create a better experience for our crew as well as our customers. It's a lot about innovation for us, about enhancing productivity as well as customer service and experience because consumer behavior has changed drastically since Covid-19.
Implementation and/or Changes
1. Introduction of Huggs Collective Concept
○ Huggs Collective is a unique collaborative concept of an elevated Huggs that uplifts customers' experience through extensive offerings, partnerships and interactive social spaces such as a dedicated members' lounge and an amphitheater nestled within the various outlets! Huggs continuously strives to uplift and inspire cultures and people – one cup, one experience, one community at a time.
2. Digitalization
○ When Covid-19 first hit, we saw the need to digitize and make various implementations to create a safe environment for our customers such as –
■ Contactless payment at all outlets (Reduce physical contact and transmission of virus; ordering & payment is now more seamless)
■ QR Menu (to reduce overcrowding at the counter & facilitate ordering process)
In addition, we comply fully with all Safe Management Measures and ensure that the customers are properly segregated.
○ Internally, we integrated a couple of softwares to help us with the following, reduce any forms of contact and create a safer environment for our crew:
■ A functional software (app & web) that helps to create clear communications and good workflow. This helps to facilitate ease of information passed from HQ to the staff on-ground. The crew would
be able to receive information seamlessly and be notified at real-time on their phones as well.
■ An all-in-one system that integrates Point of Sale (POS), inventory and customer relationship management. This allows Huggs to track sales in real-time, improve performance and potentially eliminate waste in supplies and manpower.
3. Introduction of Cafe Management
○ Automate Booking – Allows customers to book and reserve a table in advance on Google from anywhere at any time.
○ Facilitate Table Management – Allows the crew on ground to manage tables at the palm of their hand.
○ Facilitate Queue Management – Allow customers to take a queue number and walk around while they wait for their table to be ready. Minimize overcrowding outside the outlet as well.
4. Dine-In Limit
○ With social restrictions and reduced seating, implementation of dine-in timing gives more customers more opportunity to enjoy dining-in at Huggs.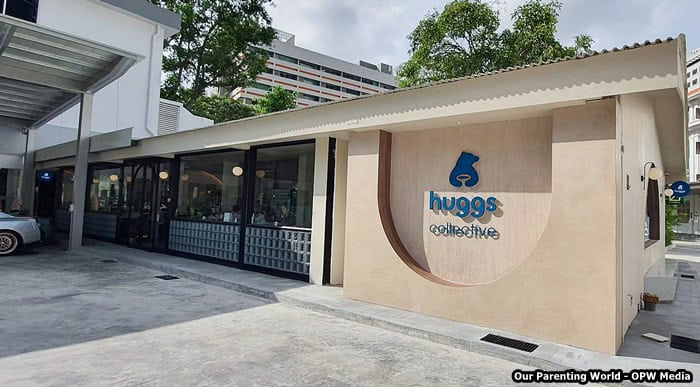 5) What are some of the highlights and unique F&B and other offerings at Huggs Collective that you would like to share with our readers?
Lee Haoming: Collective is a unique collaborative concept of Huggs that seeks to uplift customers' experience through an extensive and curated range of offerings, partnerships and interactive social spaces such as a dedicated members' lounge and an amphitheater nestled within the outlet! Huggs Collective will indeed be your home away from home as we look to bring dynamic and wholesome experiences to everyone with every visit to Huggs! Huggs Collective at 30 Maxwell Road brings to everyone a series of exciting offerings through key partnerships with Denzy Gelato, Fitmeal, Samsung, Commune, TC Acoustics, Mandai Wildlife Group, TC Acoustics and many more!
At all outlets, Huggs offers a curated selection of 'East meets West' beverages, ranging from local Sumatra Kopi to specialty espresso coffee and even non-caffeine drinks. Daily fresh bakes along with a range of food selection are part of our menu too. In addition, revolving around the brand's mission to uplift local businesses, you can also look forward to a series of unique collaborated offerings with respective partners – Fitmeal, Denzy Gelato and many more, which will be available at selected Huggs Collective or Huggs Coffee outlets.
6) What do you do in your free time to recharge yourself from your busy and heavy responsibility as a Managing Director?
Lee Haoming: Aside from my role as the MD of Huggs, I have a strong passion in youth development and have pledged my time to be a mentor for youths with the Mentoring Alliance of SINGAPORE. As the strategic advisor for Event Midas which is the organizer of the Esports events, I am heavily involved in esports events for youths as well.
Personally, I play soccer with my childhood friends on a weekly basis and find comfort and solace in outdoor activities such as trekking. In addition, I enjoy cafe-hopping to appreciate and support fellow local businesses as well as cook for my family and friends. In my own time, I specially dedicate time to not only play mobile games (mobile legends) but also catch-up on documentaries on Netflix.
7) What advice would you like to give to aspiring entrepreneurs who would like to start a F&B business?
Lee Haoming: Starting a F&B business or any business is never easy. It is important to do thorough research, study the market well and ensure that whatever you are going to dabble into, you are prepared and have the passion for it. While there are good days running a business, there will definitely be many bad days as well. Therefore, having the perseverance to push on when times are tough is exceptionally important. Always go in with an open-mind and whatever you do, just turn up!
8) Lastly, what would you like to say to our readers who are looking forward to visiting Huggs Collective and what's your next plan/project for Huggs if any?
Lee Haoming: Huggs is for everyone!
We welcome everyone, no matter what your preferences are. It is our duty to serve nothing but greatness in every cup and ensure every drink that crosses our counter guarantees a smile. Every gesture and move flows with great purpose and that is to deliver great quality to you. We have been serving greatness for over 13 years and we will continue to do so. We have exciting plans in-store in the coming future and we are excited to bring you guys on this journey together – new spaces, new offerings and new experiences but the same good ol' Huggs.
Moving forward, with Huggs HQ and Roastery coming up really soon, Huggs will be focusing on the following:
● Coffee subscription for offices and direct consumers
● Corporate bulk orders and catering
● Huggs Academy
In addition, Huggs' appetite for growth does not stop here. We have our sights set on various overseas markets and are working towards regional expansion and the potential possibility of directly working with farmers for fair trade. Locally, we are aiming to have 50-60 stores.
Huggs Collective
Venue: 30 Maxwell Road, #01-03/04/05, Singapore 069114
Operating Hours: Monday to Thursday: 9am to 8pm
Friday to Sunday: 9am to 9pm
To find out more about Huggs Collective, please go to https://www.huggscoffee.com/