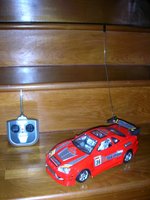 Gor Gor says:
How time flies, I have reached my 7th month already 🙂 My parents bought me a remote control car just to see how excited I will be, hee hee … the most excited one is Puffy, he kept chasing the car to and fro.
Right now, I am like a bouncing machine. I like to explore the environment with my fingers. When I see something interesting, I will crawl towards that thing, scoop it up, play with it, change it to the other hand and continue to play with it. It is so fun! Many times I will shriek and laugh 🙂
Mummy says such action will encourage my motor skill and promote new skill. I am fond of stimulating myself by reaching out, grabbing anything that I am interested it and examining them. I will turn the thing round, flip it upside down and see how they look like in different angle. I can even tear papers, after Mummy discovered my new skill, she often give me unwanted papers to tear. Guess what I like to taste them too. Hee hee …
I am taking solids now with all kinds of vegetables, my parents want to let me get used to the taste and I can finished everything up. I will get a bowl of brown rice cereals every day and my main diet is still milk.
Mummy and Daddy miss my hair, they can't wait for them to grow back. In case you forget how I look like before I shave my hair now, here are some of the pictures.