From 1 to 25 June 2023, i Light Singapore is set to make a comeback with an array of 14 enchanting light art installations. These mesmerising exhibits will completely metamorphose Marina Bay into a breathtaking visual playground, seamlessly blending art, technology, and sustainability. The event, organised by the Urban Redevelopment Authority (URA) and proudly presented by DBS, Asia's prominent advocate for sustainability, promises not only an unforgettable experience but also a diverse range of programmes that will engage the senses and initiate meaningful discussions on sustainable practices.
Mr Jason Chen, Festival Director and Director (Place Management) of URA shared that "We are thrilled to present the ninth edition of i Light Singapore, featuring a delightful array of artworks and programmes that will captivate and inspire festival goers. We look forward to welcoming everyone once again at Marina Bay, as we illuminate the cityscape and ignite conversations about our collective responsibility and actions to build a more sustainable future."
Discover the Splendor and Fragility of nature's blue spaces
The upcoming edition will see the collaboration of 22 artists hailing from eight countries, uniting to present an exuberant exhibition thoughtfully curated around the festival's theme of A New Wave. Drawing inspiration from the serene hue of blue, a multitude of artworks featured in the showcase employ sustainable materials and interactive techniques, purposefully shining a spotlight on nature's magnificent blue realms, including oceans and rivers. These captivating installations beckon visitors to embark on a profound voyage of exploration and introspection, inviting contemplation of their intricate bond with the natural world.
An illustrative example is Blumiwave, crafted by talented local artists from DP Design, featuring 'crashing' sculptural waves made with common building materials such as scaffolding and safety nets that were salvaged from construction sites. This artistic creation serves as a means to raise consciousness regarding blue energy—an alternative and renewable energy resource harnessed from the abundant sea and river waters. Another noteworthy artwork, "things left unsaid," conceived by student artist Brigette Teo from Nanyang Technological University's School of Art, Design, and Media, welcomes visitors to admire intricately woven sheets ingeniously fashioned from upcycled plastic bags that emit intermittent bursts of light. Teo drew inspiration from the captivating phenomenon of bioluminescent algal bloom witnessed in Singapore last year, aiming to evoke a sense of both solace and disquietude arising from encounters with these fascinating and extraordinary phenomena in the waters that surround us.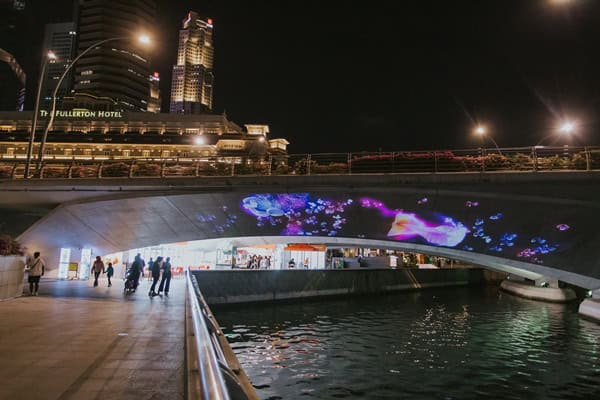 Another engaging artwork is Aquatics, created by Berlin-based multidisciplinary artist Philipp Artus. In this interactive installation, visitors are invited to design their very own sea creatures using a tablet, witnessing the magical transformation as their creations spring to life through a captivating animation projected right before their eyes. This artwork not only celebrates the splendor of biodiversity but also serves as a poignant reminder of the critical significance of safeguarding our precious marine ecosystems.
Immerse in Artworks Harmonizing Creative Expression and Sustainable Design
Visitors can indulge in a multitude of artworks that encapsulate sustainable and innovative design while addressing significant social issues. One example is Tree Man, created by ENESS, an acclaimed Australian art and technology studio. This remarkable installation showcases a whimsical duo of light sculptures, each embracing a sapling in its arm and radiating an array of vibrant colours. Symbolically, the artwork represents the delicate equilibrium that humans strive to achieve between forging connections with the environment and our digital devices.
In addition to utilizing energy-efficient LED lights, the artist ingeniously integrated all technical components of the artwork, including speakers and sensors, into a single physical unit. This thoughtful approach ensures convenient transportation and assembly while minimizing the artwork's carbon footprint. Furthermore, the inflatable fabric employed will be subsequently recycled and transformed back into raw plastic and textiles for future reuse, embodying a commitment to sustainable practices.
Moooooootion, created by XD49, is a design studio from Thailand. This unconventional and sustainable masterpiece cleverly utilizes readily reusable scaffolding and a vinyl projection screen, serving a dual purpose as a stage at GastroBeats, the Festival Village of i Light Singapore 2023. Conceived as a lively juxtaposition to the stillness and isolation experienced during the previous COVID-19 pandemic lockdowns, this installation joyfully celebrates the essence of social connections and interactions through the vibrant interplay of colors and music.
Be in Awe of the Ingenuity of Local and International Artists
In addition to the exceptional local artists, i Light Singapore 2023 will proudly showcase the extraordinary works of renowned international creatives. One remarkable example is the Turkish-American media artist, Refik Anadol, who will present the awe-inspiring Glacier Dreams—an expansive projection illuminating the façade of the ArtScience Museum at Marina Bay Sands. Widely recognized as a trailblazer in the realm of data aesthetics and machine intelligence, Anadol's artworks have captivated audiences across the globe, exhibited in 50 cities across six continents. His groundbreaking artificial intelligence data paintings were even featured in the set design of the 65th Grammy Awards, mesmerizing viewers with visuals sourced from a staggering collection of 300 million nature photographs and extensive research on the photographic history of space exploration.
Closer to home, award-nominated Malaysian artist Jun Ong, renowned for his impactful and minimalist approach, will proudly unveil his latest masterpiece, Prism, a mesmerizing light sculpture showcased at Millenia Walk. 
Dive into Engaging and Immersive Programs at i Light Singapore
Besides indulging in the visual splendor of the artworks, visitors are in for a tantalizing culinary and musical experience at GastroBeats, the Festival Village located at Bayfront Event Space, which showcases the vibrant tapestry of local culture. Here, they can satiate their appetites with delectable cuisines from 50 homegrown food and beverage vendors, revel in live performances by  talented local musicians, and immerse in the joyful atmosphere of carnival games and bouncy castles. The DBS zone will also offer interactive experiences and visually captivating installations designed around themes like self-care, sustainable living, and future readiness, creating perfect opportunities for Instagram-worthy moments.
Enthusiasts seeking to enrich their festival journey can engage in the enlightening Light Forum, a collection of talks and workshops held during the first weekend of i Light Singapore 2023. Led by esteemed lighting designers and participating artists, these sessions will explore a diverse range of topics, including the evolution of nightscapes, sustainable lighting design, and strategies for illuminating spaces that enhance well-being and foster human connections. Additionally, visitors have the opportunity to join guided tours organized by Let's Go Tour Singapore, unveiling captivating narratives, innovative concepts, and intriguing anecdotes that lie behind the captivating artworks.
During their exploration of the Marina Bay area, visitors can immerse themselves in the serene atmosphere created by the soothing blue hues emanating from prominent landmarks as part of Light Wash, a collective illumination that beautifully complements the light art installations.
i Light Singapore 2023, presented by DBS, will be held from 1 to 25 June 2023, 7.30pm to 11.00pm daily with extended hours to 12.00am on Fridays and Saturdays. Admission is free, while charges apply for certain programmes.
Please visit https://www.ilightsingapore.gov.sg for more information.