Our Parenting World recently attended Immunity-Boosting Kids Cooking Class at CulinaryOn with Blackmores. We are looking forward to learn and whip up a number of healthy and delicious dishes led by former Junior Masterchef Russia judge, Chef Giuseppe D'Angelo.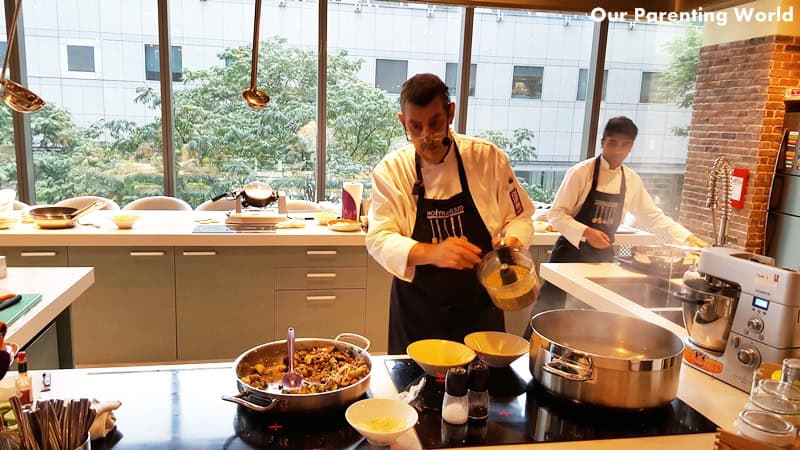 This coming March school holidays, Blackmores Singapore partners CulinaryOn, Asia's largest cooking studio to conduct a special, immunity-boosting cooking class for parents and children, 4 years old and above held in the comfort of CulinaryOn's child-friendly studio in the heart of the city. 
The cooking class provides a wonderful opportunity for parents and children to bond and learn to cook healthy dishes. It is a meaningful way to spend time together. 
This special class is led by former Junior Masterchef Russia judge, and Brand Chef of CulinaryOn Chef Giuseppe D'Angelo and held in conjunction with the island-wide launch of Blackmores Kids Immunities™
Many of us have heard of Blackmores, the well-known brand for health supplements and Australia's No.1 Vitamin Brand! Blackmores launched its Blackmores Kids Immunities™, this great tasting children's nutritional supplement contains five essential ingredients for building strong immune systems: Vitamins A, C, D, E and Zinc. At the event, Blackmores' in-house naturopath, Ms. Chua Kay Tse delivered a talk on how parents can help their kids build strong immune systems and grow up healthy. 
We pick up useful tips on how to cultivate and develop good eating habits for kids, to build up their immune system and to protect them from germs and diseases. 
Useful information about Blackmores Kids Immunities™
Blackmores Kids Immunities™ contains vitamin C and four other immune ingredients including vitamin A, D, E and Zinc to support the growth of a healthy immune system. It is recommended for children aged two to twelve who are often exposed to germs at school, on the playground or at daycare. It is part of the Blackmores Kids Health Range which also includes Kids Probiotic Powder, Kids Fruity Fishies™ and Kids Multi. Blackmores Kids Immunities™ is available at leading pharmacies island-wide from 23 February onwards and is priced at SGD$22.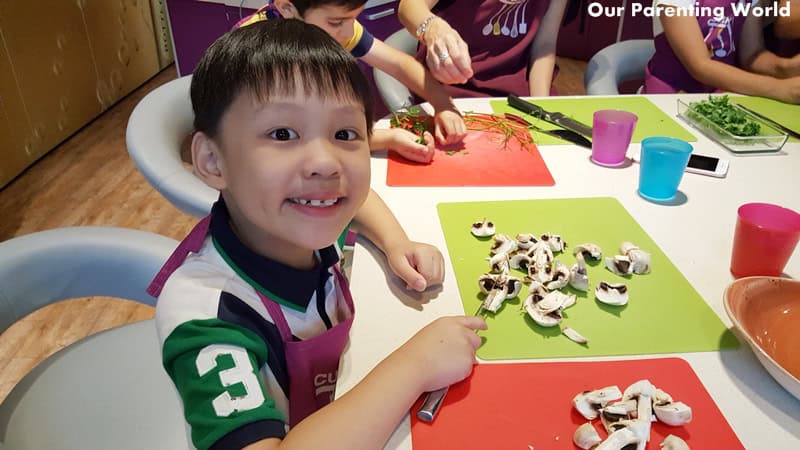 Parents and children get together to start working on the dishes. The menu is a collaboration between Chef D'Angelo and Blackmores' in-house naturopath, Ms. Chua Kay Tse, featuring a range of yummy, immunity-boosting dishes that kids will love!
How nice, we can't wait to start preparing the dishes!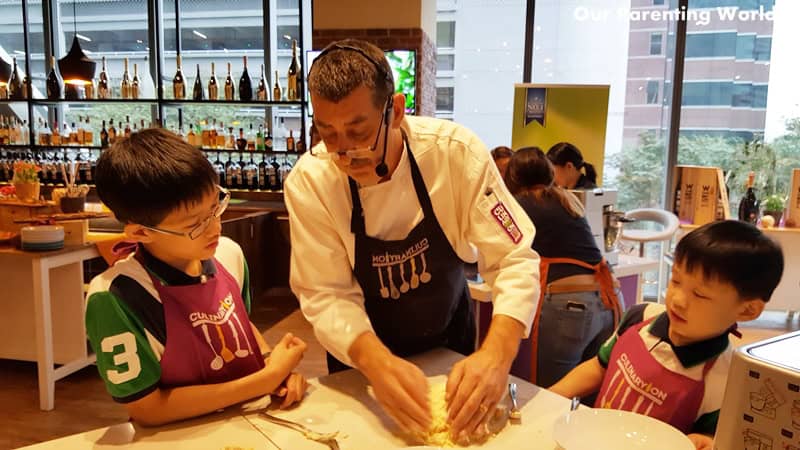 Chef taught us how to make our dough for the ravioli.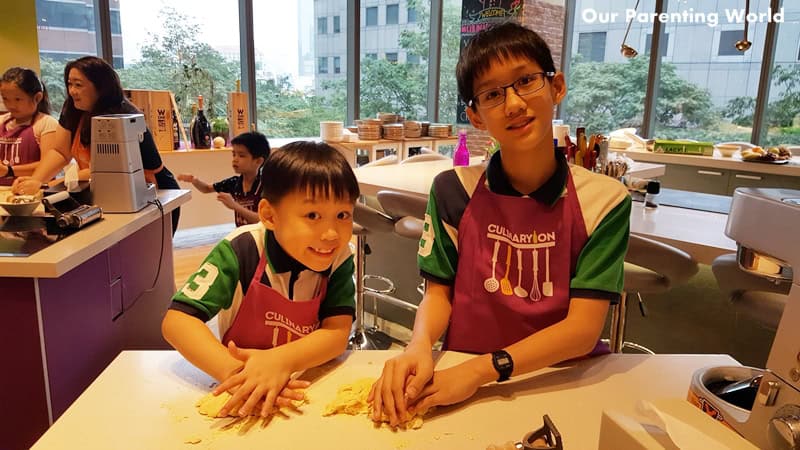 Ravioli is a traditional food in Italian cuisine, it is a type of dumpling consisting of a filling sealed between two layers of thin dough.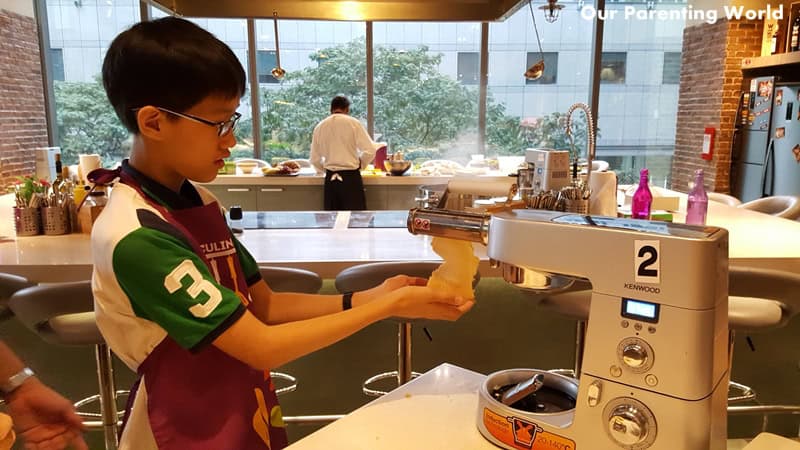 Using the pasta machine to flatten and stretch the dough, to get thin layer of pasta dough to wrap around your filling to make Ravioli.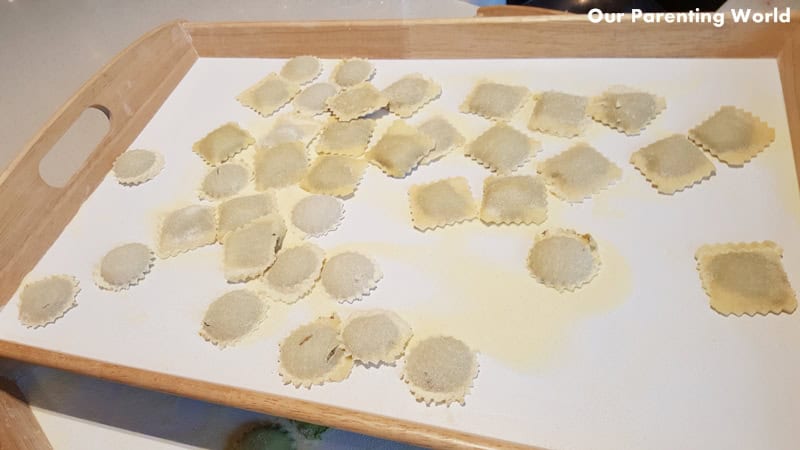 The Ravioli is now ready to be cooked
First dish – Chicken fillet salad with quinoa and yoghurt sauce
This is a light dish with juicy chicken fillet, fresh salad mixed with healthy yoghurt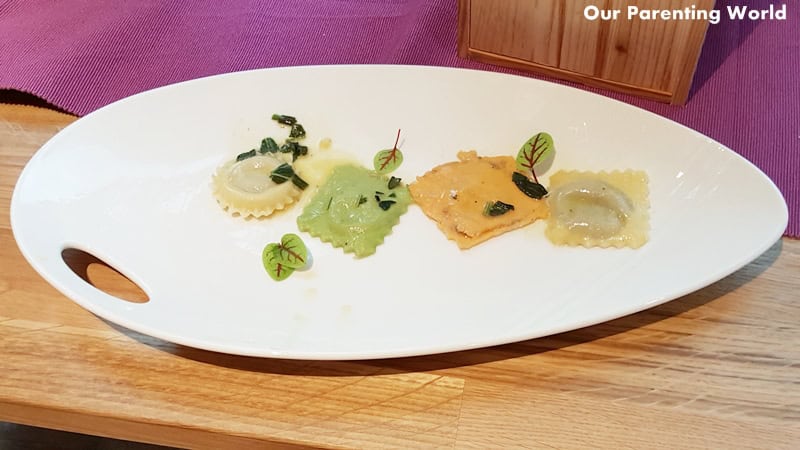 Second Dish – Colourful Ravioli with Porcini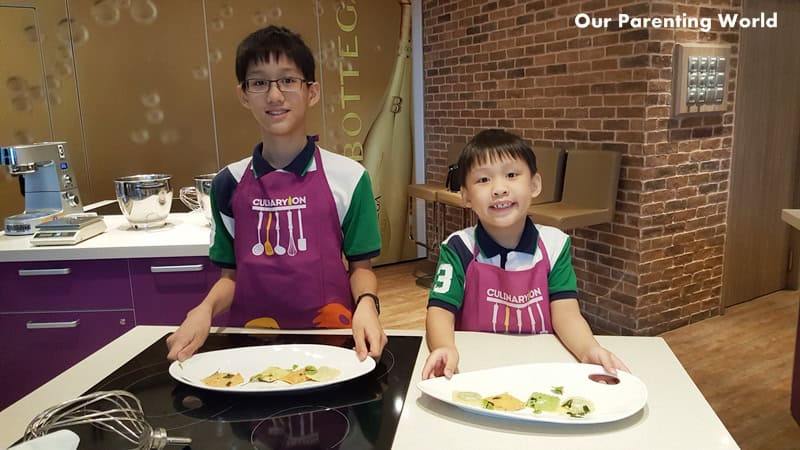 We absolutely love the tasty Ravioli with mushroom filling and it is very appetising with different colours and shapes!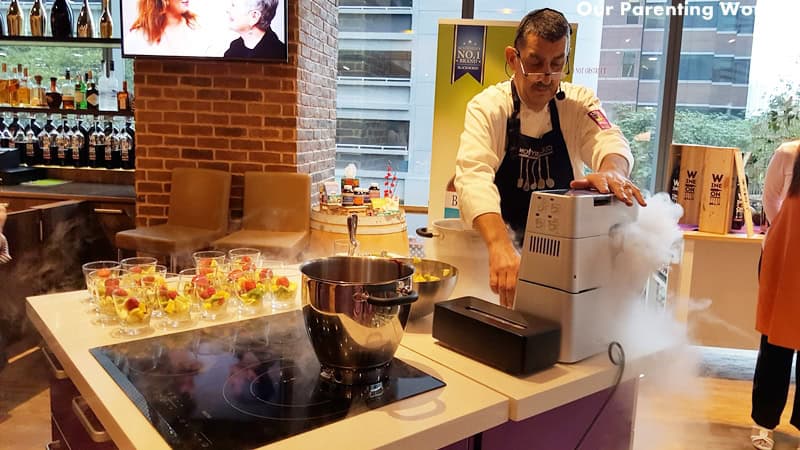 Final dish is the dessert! Chef prepared Berry sorbet with fruit salad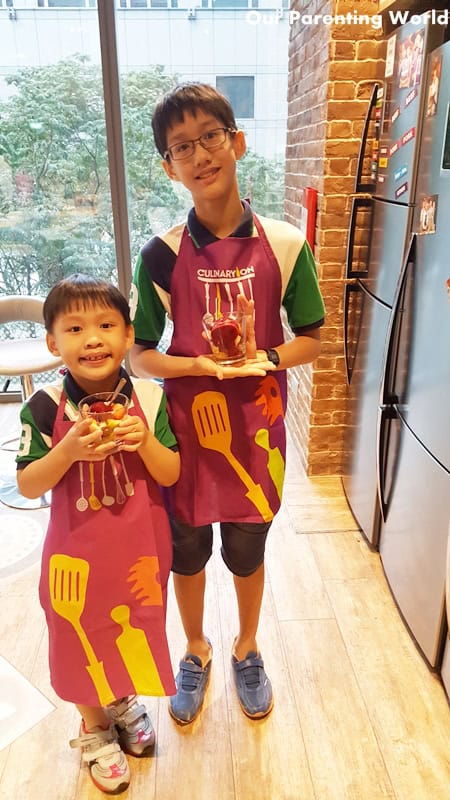 The sorbet is yummy, sweet and healthy filled with fruits.
Thank you to Blackmores and CulinaryOn for the wonderful and fun experiences! We have a wonderful time with our parents. It is a good bonding session for family, to learn and cook immunity-boosting and healthy dishes together. 
To find out more about Blackmores Singapore, please go to: www.blackmores.com.sg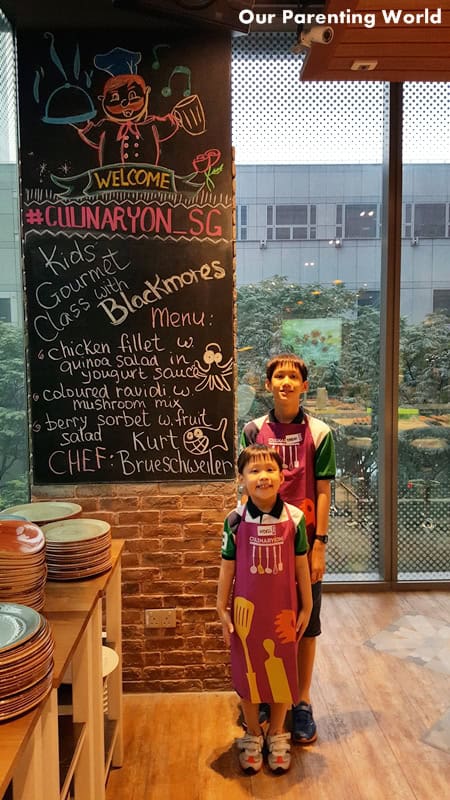 Please note that the Blackmores-CulinaryOn Kids' Immunity-Boosting cooking class for Sunday, 12 March 2017 has been fully booked. Do keep a lookout for other kids' cooking classes at CulinaryOn Website. To find out more about CulinaryOn, please go to: www.culinaryon.sg