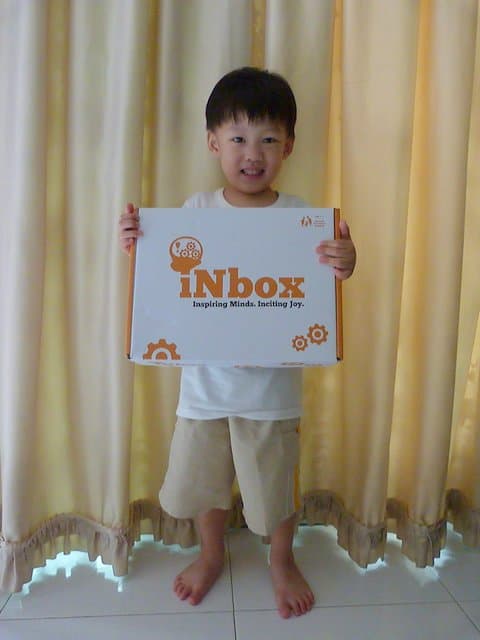 Our Parenting World, Di Di has been looking forward to the next iNbox by Smart Alley after starting on his first activity box last month and he is very excited when it arrived!  He has been so curious on what the next iNbox theme will be on and he can't wait to start working on his new iNbox. Please click HERE to read about his experiences working on the previous month iNbox. 
Yay! Di Di felt that this month is even more interesting and the theme is on Ice Age Adventures.

In this activity about read is on Snowfall in Jollyville. It's winter in Jollyville and the contest is to build the largest snowman. Someone destroyed their giant snowman. Can they win contest? Read on to find out.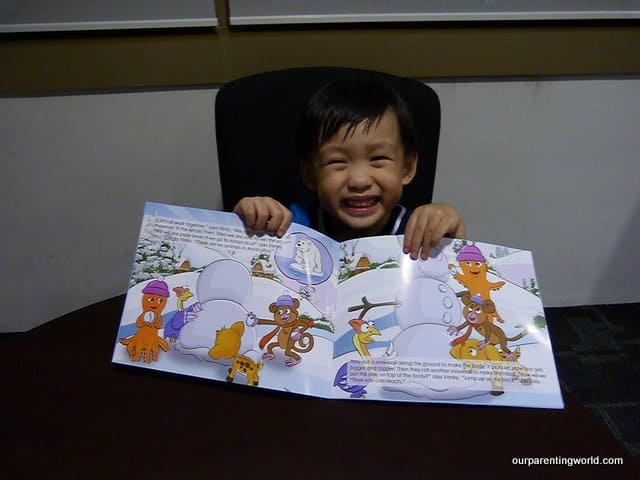 "I love to read and the illustrative book is always one of my favourite activities."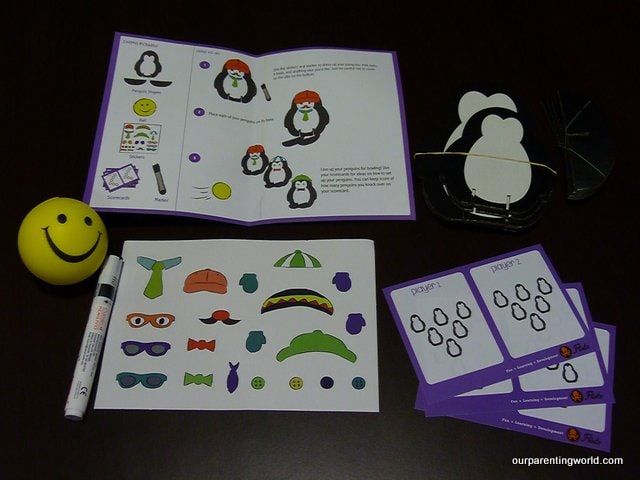 In this hands-on activity on play called Snow Bowling, Di Di exercised his creativity to decorate his very own penguins using the penguin shapes, stickers and marker that are given.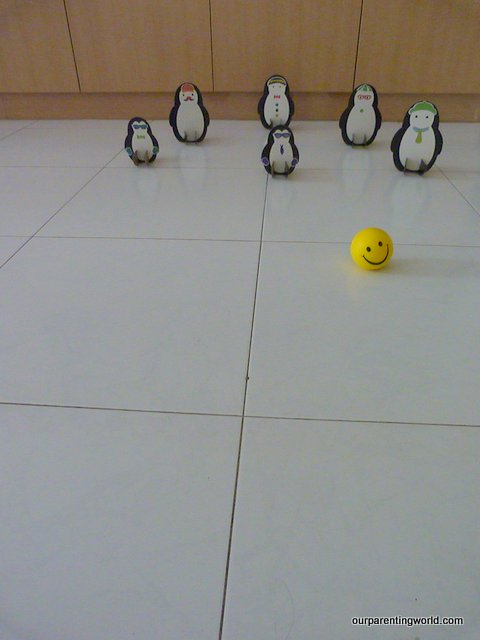 After he has finished working on his penguins, he asked us to join him in this competitive bowling game. All of us have so much fun hitting the target. We will arrange the penguins by lining them up for bowling. What you need to do is to use the ball to bowl out the penguin pins and keep track of your score by using the scorecards.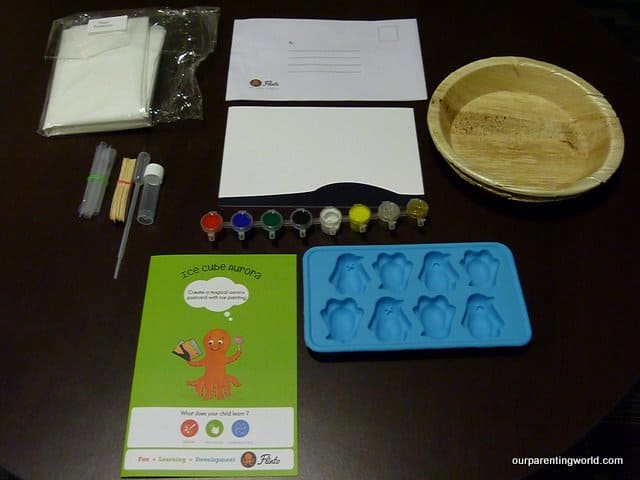 This hands-on activity on create known as Ice Cube Aurora. Di Di can create a magical aurora postcard with ice painting. How interesting as Di Di has not done ice painting before and he can't wait to do it. All the materials are provided. 
First spread the floor protector to avoid any colour spill, fill water and colour based on the recommended ratio, shake, pour the mixture in the penguin ice tray and put it in the refrigerator.
Once it is frozen, remove it from the penguin ice tray and paint all over the postcard. Di Di told us that once his completed postcard is dried, he wants to put a stamp and send it to his friend using the post cover provided to give him a surprise!
"This is my completed postcard and I am going to send it to my favourite friend."
This activity is on explore called Exploretica where you can do various interesting experiments with ice!
Di Di roped in his Gor Gor to do the hands-on experiments together with him as Gor Gor is a science frantic.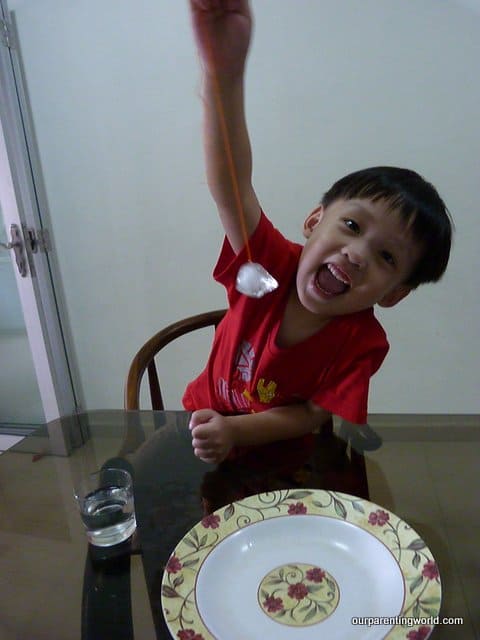 "Look, I can lift up a ice cube!"
This experiment is about lifting the ice cube, how do you do it?
All you need to do is to dip one end of the string in water, lay the wet end of the string over the cube, sprinkle some salt on the top and wait for 15 seconds. Viola! You can pull up the string to lift the cube. Isn't that amazing!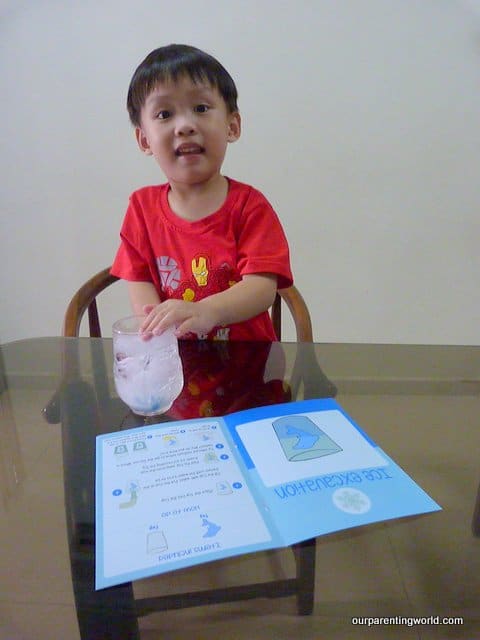 "I put the toy in the cup and freeze it."
"I have to think of a faster way to get my toy out of the cup, any suggestions?"
This experiment is about ice excavation and finding various ways of getting the toy out. The boys tried various methods to find out which one is the fastest?
Do you let the ice melt on its own or put the ice in warm water or is there an even better way? Hmm …
There is another activity about melting race, put 2 identical ice cubes and place them in separate tray. Leave one ice cube as it is and the other one wrap it in aluminium foil to see which way the ice will melt faster.
All these activities help to enhance fine motor, sensory, discovery and imagination skills, it helps to build closer and stronger bond among family members. Each activity also comes with a guide for parents on how to teach your child and enhance your child's learning. 
Both brothers, Gor Gor and Di Di do the experiments together, during the process, they learn, help each other and have fun in conducting the experiments. We, parents, also join in the activities with them and it is good for bonding over the weekends as some of the activities encourage family participation like Snow Bowling. We spend hours playing the game together. We have so much fun!
Additional Information about iNbox:

Each box is thoughtfully designed to fulfill at least 12 children developmental benchmarks as above so that you can be assured that your child's development skills are met. It also aim to make it interesting and fun for your child to complete the activities. 
iNbox promises value for money. Each box contains 4 – 5 activities, 20% more than most learning boxes in the market. iNBox is so confident that it is offering an ironclad 30 days money back guarantee on it's subscription plans!
Please click HERE to find out about its affordable monthly subscription and promotion.
Full Disclosure: We were given a iNbox for review, all opinion and happy experiences are ours.