This coming Chinese New Year (CNY), you can look forward to celebrate this joyous festive season with a healthier alternative with Lotus Vegetarian Restaurant. The famed vegetarian restaurant at Quality Hotel has a specially created line-up of exquisite CNY Set Menus, as well as prosperous Pen Cai and Yu Sheng for a sumptuous festive feast!
We highlight some of the delicious CNY dishes offered by Lotus Vegetarian Restaurant as follows: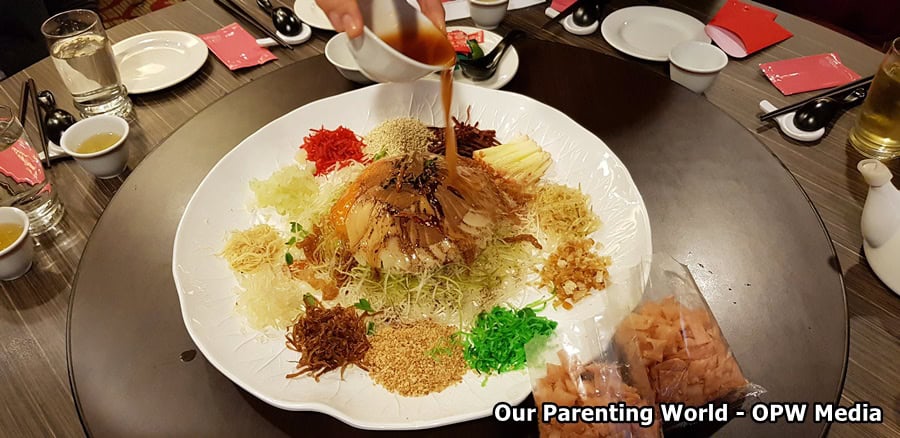 Prosperity Vegetarian Salmon Yu Sheng (8-10pax $48)
During the media tasting, we were told that the Lotus Vegetarian Prosperity Yu Sheng has over 30 ingredients consisting of premium vegetarian salmon and fish slices made from konnyaku, as well as vegetarian ba kwa, lotus root slices, julienned apple and more. This Yu Sheng is colourful, pleasing and absolutely tasty!
The Prosperity Vegetarian Salmon Yu Sheng and Prosperity Vegetarian Abalone starts from S$28++ and S$38++ for 2 – 4 pax respectively.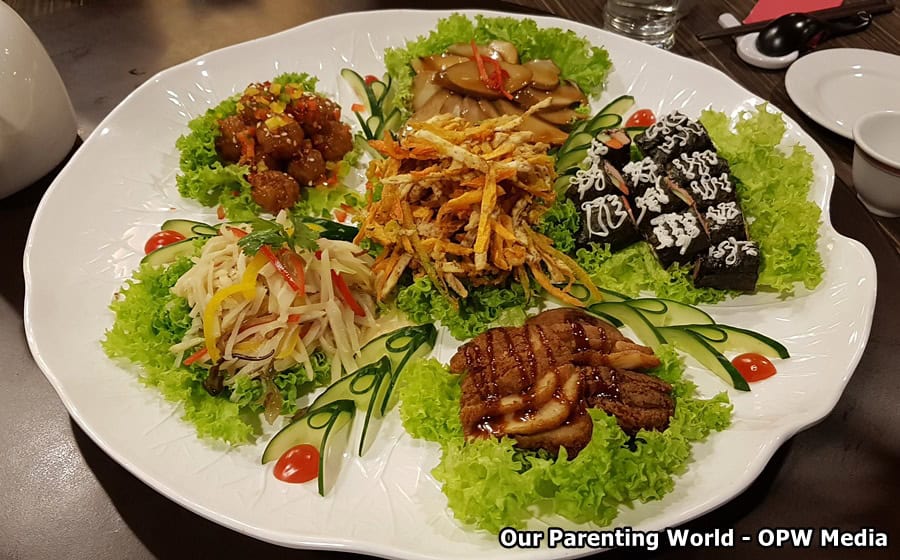 Lotus Classic Combination
This is a delightful platter consisting of seaweed rolls, lotus ball, braised oyster mushroom, fried lion mane's mushroom and crunchy, fresh vegetables.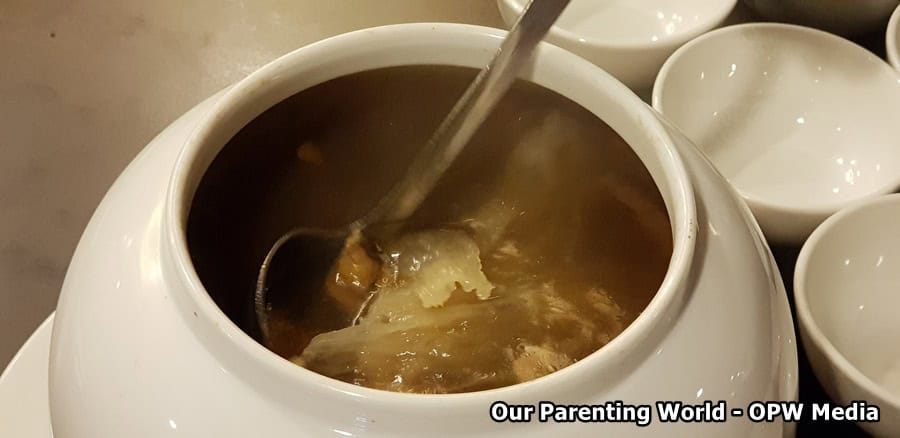 Double boiled 'Tian Ma' soup
This is a nourishing soup that has been brewed for 8 hours with 10 herbs and consisting of ingredients like Dang Gui, Fresh Shiitake Mushrooms and Tian Ma which is well-known to help calm and nourish the liver and reduces wind. The soup is so good that we finished every drop of it.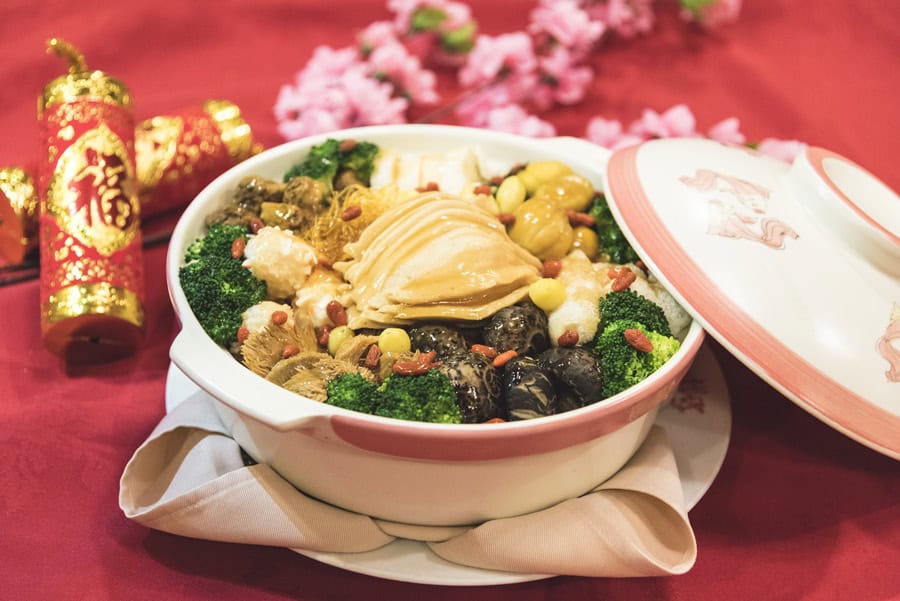 Golden Bowl of Fortune 'Pen Cai' (8pax $148)
One of the must-have dishes during CNY has to be Pen Cai as this is an auspicious and luxurious one-pot meal that is usually filled with premium ingredients like abalone, chicken, roast pork, sea cucumber, prawns, scallops, fish maw, variety of stewed vegetable and many more.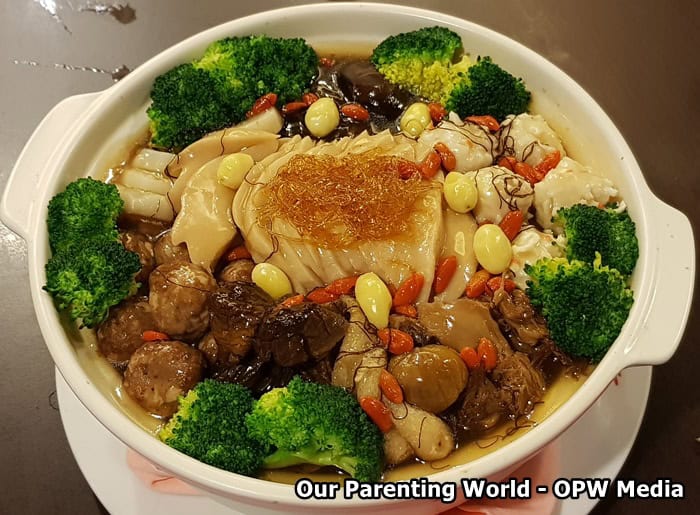 This deluxe Pen Cai consists of more than 22 wholesome ingredients with various textures and flavours to carefully resemble the taste of abalone, meat, sharkfins, scallops, etc. All the ingredients have been prepared lovingly with many different cooking processes! This is one healthy and mouth-watering pen cai that the whole family will enjoy!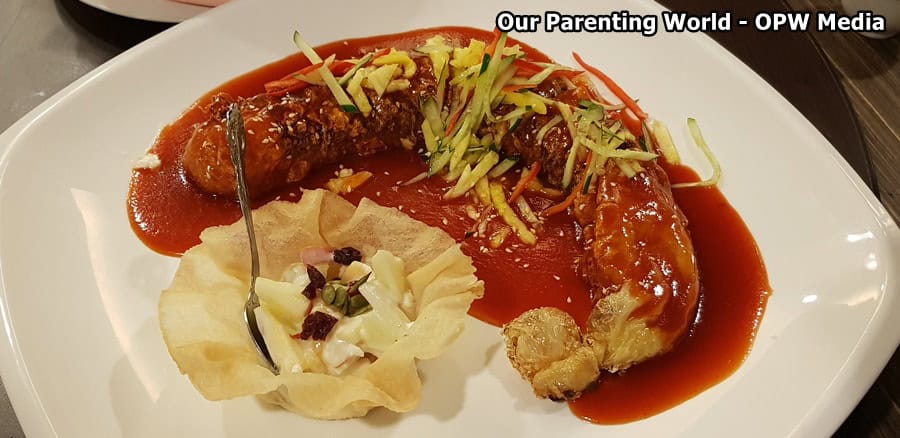 Homemade Traditional Fish with Fruit Salad
This is an interesting dish that is made to look like an actual fish. The fish is made from soya and soya beans is good for health as it has high protein content, vitamins, minerals and insoluble fibre. This dish is made even more tasty and appetizing with the sweet and sour sauce drizzled over the fish.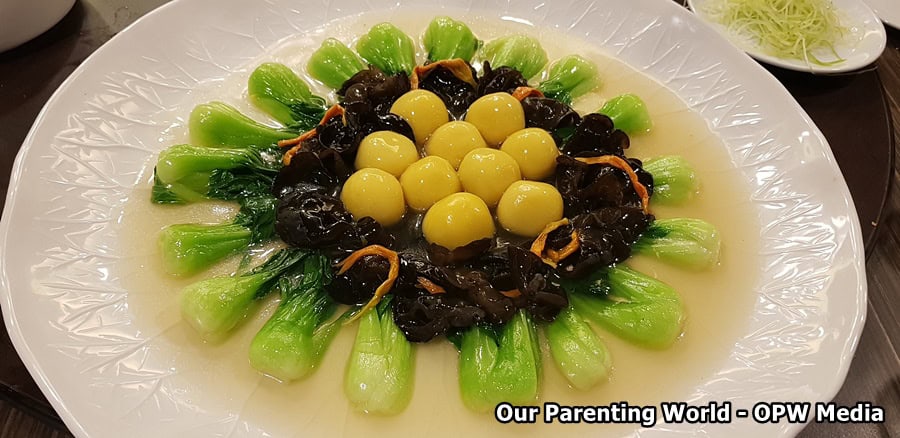 Pumpkin Balls with Lily Flowers and Greens
This is a pleasing dish with round pumpkin balls that look like golden balls. Upon biting into this round pumpkin balls, it is so chewy and feel just like eating tang yuan that is stuffed with fragrant mixed mushroom fillings.
Additional Information: 
Mark an auspicious beginning to the year with a family reunion at Lotus Kitchen. Choose from the beautiful set menus, which cater to 4 to 10 persons. Every year, Lotus restaurants puts great efforts into creating brand-new set menus to welcome the brand-new year. Diners may enjoy healthy specially-curated creations, such as:
Homemade Veg Fish with Fruit Salad – One of the most important dishes of the CNY dinner, as the auspicious fish symbolises a year of abundance (年年有余) This Lotus Vegetarian exclusive was the result of conquering the culinary challenge to create a delicious vegetarian fish without eggs. The healthy creation is served with a homemade sweet and sour sauce for an added zest to the dish.
Longevity Noodles – Silky smooth mian xian specially imported from Taiwan, with premium top-grade black sesame oil vegetarian chicken and sauce. An accompanying herbal soup is fragrant with a mixture of Chinese herbs, as well as the health-promoting ginger.
Pumpkin Balls with Lily Flowers & Greens – Homemade fresh pumpkin balls are filled with mixed mushrooms, and paired with healthy black fungus. Prized mountain lily flowers grown in the mountainous areas of Taiwan adds a finishing touch to the dish.
The CNY menu will be available both outlets Lotus Vegetarian & Lotus Kitchen:
Lotus Vegetarian Quality Hotel – 
9 February to 2 March 2018
Lotus Kitchen Chinatown Point- 
14 February to 2 March
 2018
The restaurants will be open all days during CNY and the CNY items are also available for takeaways.
Lotus Vegetarian Restaurant
Quality Hotel Marlow ( 2nd Level), 201 Balestier Road
Singapore 329926
LUNCH from 11:30am to 2:30pm
DINNER from 5:30pm to 9:30pm
Reservation Hotline: 65 6254 0090
To find out more, please visit: http://lotusvegetarian.sg/lotus-buffet/
Lotus Kitchen
133 New Bridge Road, #01-01/02 Chinatown Point,
Singapore 059413
LUNCH from 11:30am to 2:30pm
DINNER from 5:30pm to 9:30pm
Contact: +65 6538 1068 (Reservation Not Available) 
To find out more, please visit: http://lotusvegetarian.sg/lotus-kitchen/