The beautiful and luxurious Shangri-La Hotel, Singapore has finally revealed the new look of the iconic Tower Wing on 16 May 2017 after 8 months of renovation. Our Parenting World (OPW) team is excited to visit the newly-renovated The Lobby Lounge located at the heart of the Tower Wing.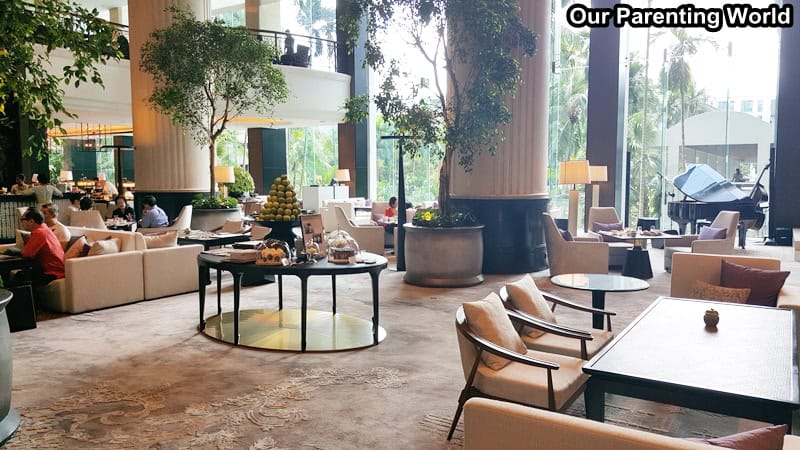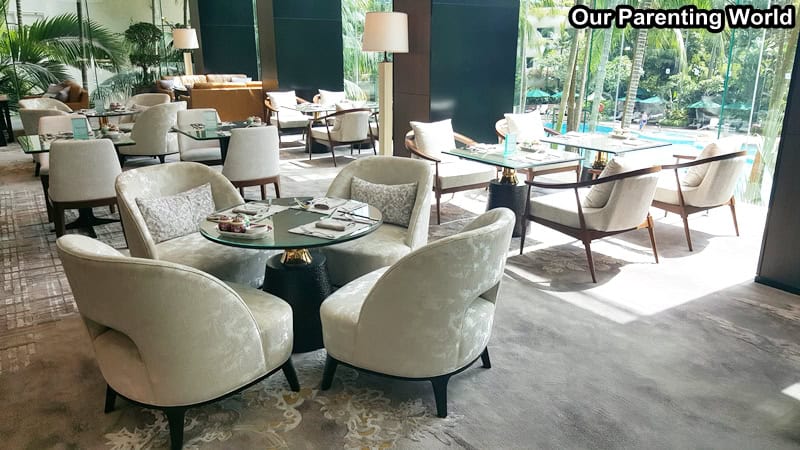 Upon arriving at The Lobby Lounge, we are certainly impressed with the beautiful, elegant and stylish setting of the place. It is bright, spacious, grand decoration with impressive high ceilings and pillars, floor to ceiling glass panels overlooking the swimming pool and lush greenery outside. The whole place is furnished with luxurious and elegant furniture. It is a good place to chill out in comfort with your family and friends!
The Lobby Lounge celebrates Singapore's Hawker Heritage and offers an extensive range of dining options which showcases the best of Singapore favourites. Diners will be spoilt for choice with its menu featuring six signature dishes of Fish Head Bee Hoon Soup, Prawn Noodle Soup, Bak Chor Mee, Hainanese Chicken Rice, Katong Laksa, and Chili Crab with Mantou. These are available daily from 11:30am to 10pm.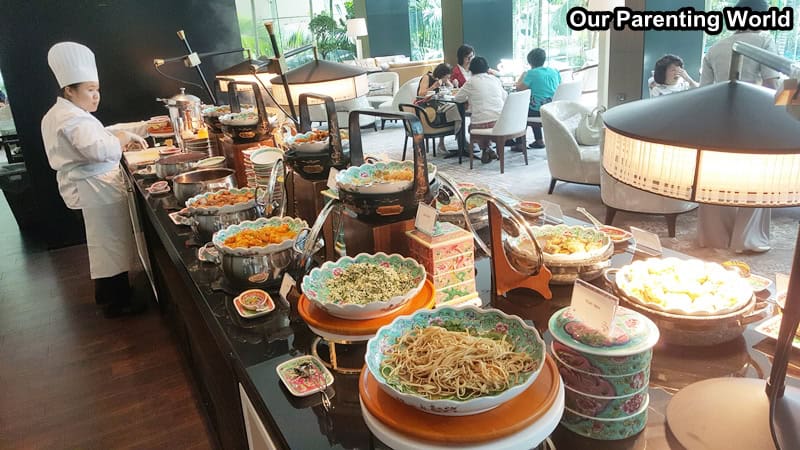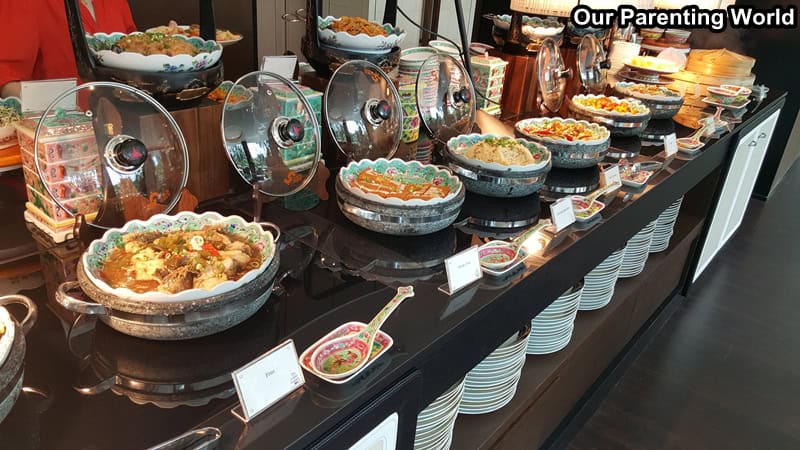 You can opt for the local semi-buffet lunch which you can indulge in a wide selection of local appetisers and desserts from the buffet in addition to a choice of one of the 6 signature dishes per person. Local semi-buffet lunch includes delectable dishes like otak otak, chinese fried rice, yong tau foo, nyonya chap chye, kueh pie tee and many more!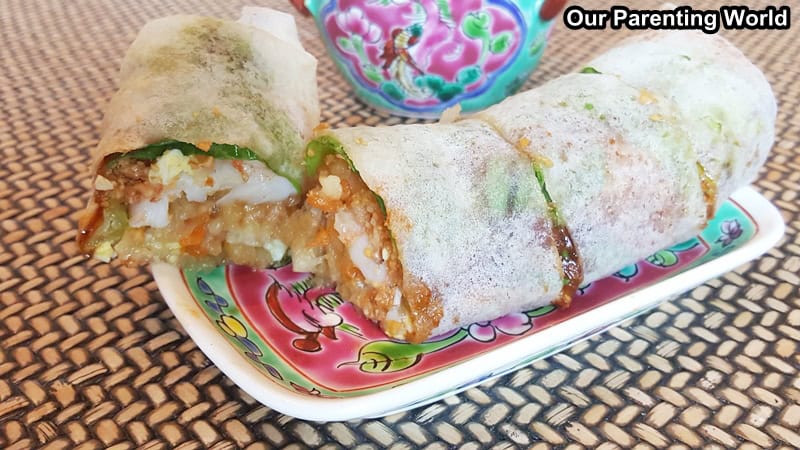 Do try out the popiah filled with savoury fillings at the semi-buffet which is very popular with diners. The popiah is freshly prepared by the chef on the spot when you order.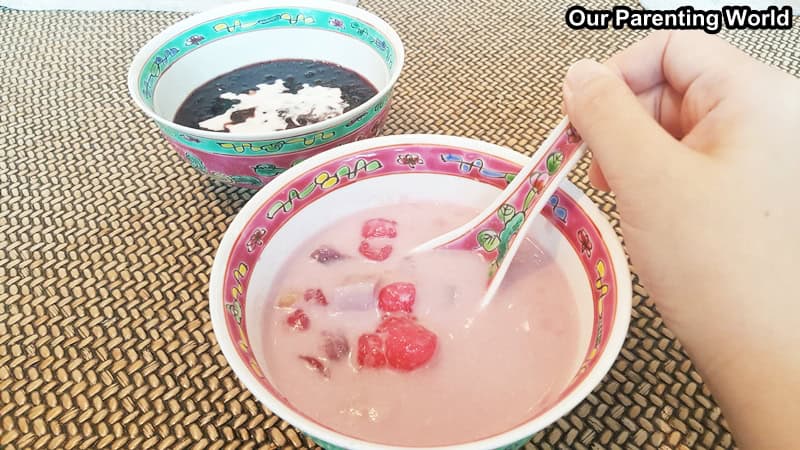 Not to be missed are the sweets such as bubur cha cha and bubur hitam that are available on the day of our visit. Diners will be pleased to know that the items at the buffet counter will change daily at The Lobby Lounge there is always something exciting and new for you to enjoy!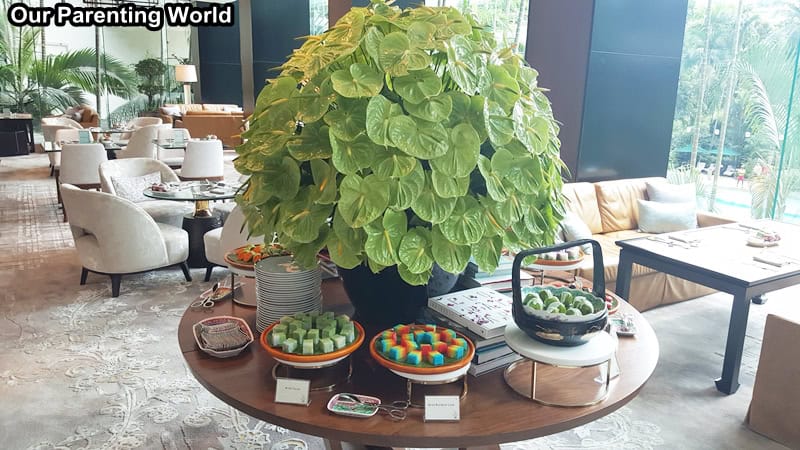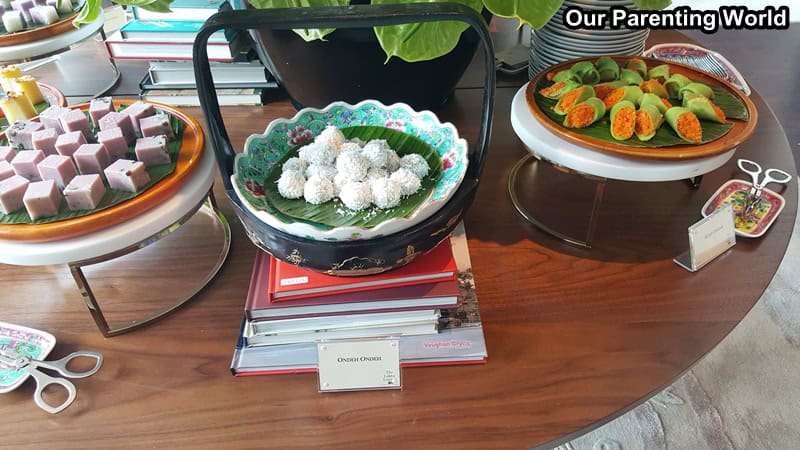 Diners will be spoilt for choice with the wide range of beautiful and delicious desserts from the buffet. Desserts include local favourites like ondeh ondeh, kueh talam, kueh rainbow lapis, kueh dadar, ang ku kueh and more!
The Lobby Lounge Signature Dishes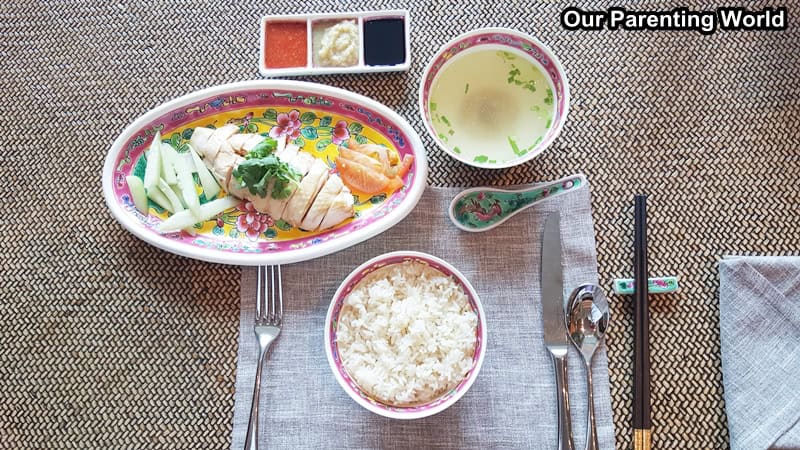 Now comes the exciting part, The Lobby Lounge Signature Dishes, of the 6 dishes, our team tried out 4 of them. 
Hainanese Chicken Rice $20
Singapore is famous for its Hainanese Chicken Rice and it is a national delicacy, over here at The Lobby Lounge, diners can enjoy this dish which is inspired by the old school style of Chef Jimmy Teng's tender poached chicken. The chicken is very fresh, tender and succulent goes very well with the soft and fragrant rice cooked in flavoursome chicken stock and spices, it is best eaten with the appetizing garlic chilli sauce.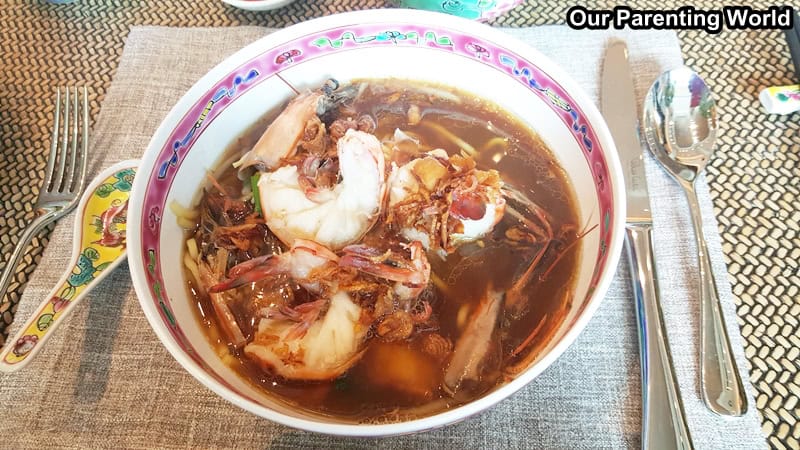 Prawn Noodle Soup – $26
The background of this delicacy started with Mr Lee Pi Duan who arrived from Nan'an in 1928 and started selling the prawn noodles which become so successful that almost all the most popular prawn noodle shops in Singapore are run by his family.
At The Lobby Lounge, diners will be delighted to know that this version is very similar to Mr Lee's eldest son, John who is managing the Beach Road Prawn Mee.
This is a much loved dish that is enjoyed by many and we are glad to say that you will enjoy slurping every goodness of this rich and flavourful noodles soup especially the big fresh prawns.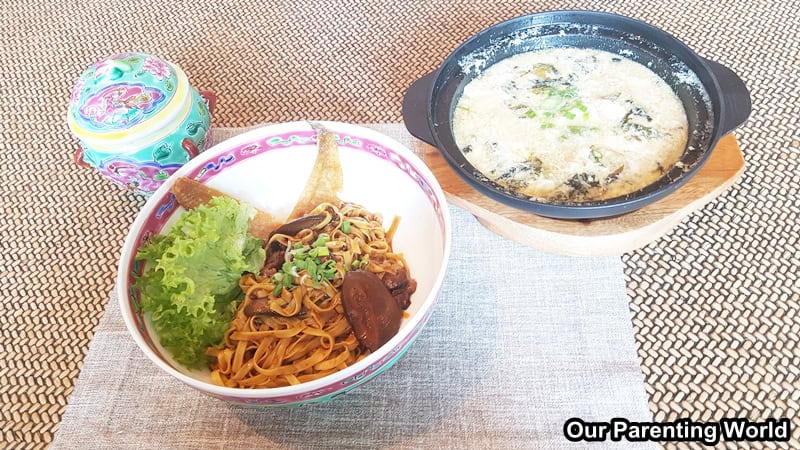 Bak Chor Mee with Fish Maw Soup $24
This Bak Chor Mee must be the most luxurious version we have seen, the umami soup broth is brewed using high quality ingredients like pork bones, dried sole, filled with quality threadfin, fish maw and served alongside ingredients of minced pork, pork slices, egg, seaweed, and stewed mushroom slices.
The delicious dish followed the recipe from the signature fish maw soup at Seng Kee Mushroom Minced Meat Noodle. The soup served in a heated claypot is a must try and you won't stop drinking once you start on this tasty soup.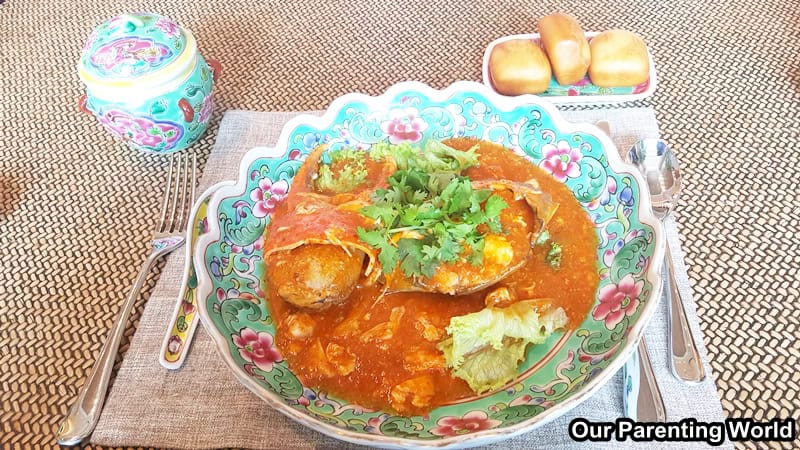 Chilli Crab and Mantou $26
The origins of this very famous local dish started at a pushcart along East Coast Road in 1956. The chilli version of this dish that is well-loved by many came from Chef Hooi of Dragon Phoenix Restaurant who added sambal and eggs to make this savoury gravy.
At The Lobby Lounge, diners can enjoy this delectable dish without dirtying your fingers as the meat will literally fall off the shell. We enjoy this fresh, juicy, sweet, savoury and spicy crab dish. Absolutely our favourite! 
The six signatures anchor the menu, each inspired by the flavours and culinary techniques of those who know this best in the nation: Bak Chor Mee with Fish Maw Soup ($24), Hainanese Chicken Rice ($20), Fish Bee Hoon ($24), Prawn Noodle Soup ($26), Katong Laksa ($18), and Chilli Crab and Mantou ($26).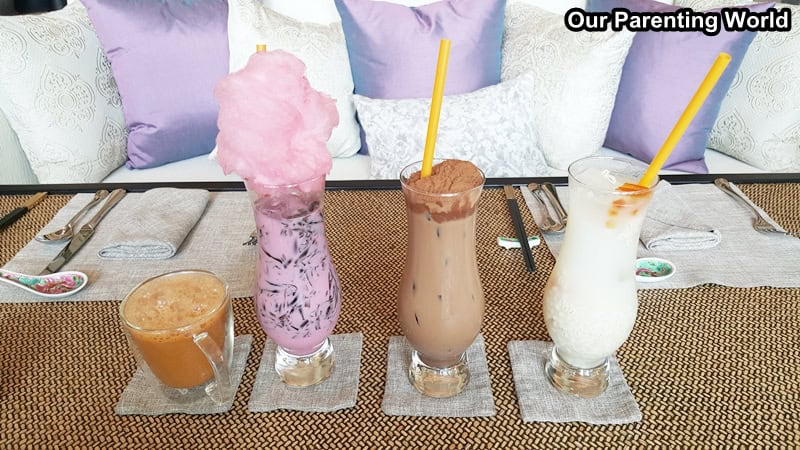 Teh Tarik $8, Bandung $8, Milo Dinosaur $8 and Barley $8
The drinks menu are also to look out for! We are certainly impressed with the presentation of local favourite drinks especially the Bandung which is a rosy, milky drink that is chilled to perfection and it comes with candy floss on top. The teh tarik, is milky and creamy, a comfort drink that you will enjoy!
Bring your family and friends to The Lobby Lounge, at the newly renovated Tower Wing of Shangri-La Hotel, Singapore for a delightful time over sumptuous food, relax and enjoy your meal in a comfortable and luxurious setting environment! 
Additional Information: 
The Lobby Lounge Celebrates Singapore's Hawker Heritage
All six signature dishes are available on the à la carte menu daily from 11:30am to 10pm or as part of the local semi-buffet lunch priced at $38++ during weekdays or $45++ during weekends. The semi-buffet lunch encompasses a wide selection of local appetisers and desserts, and a choice of one of the six signature dishes. Be spoilt with options such as Kueh Pie Tee and Popiah that are prepared à la minute, and sweets such as assorted Nonya Kueh, Cheng Tng (a local dessert soup) and Tau Suan (split green bean soup). The items change daily so dining every day at the Lobby Lounge will always excite the taste buds.
All the food is served on Peranakan crockery – think colourful motifs of nature that lend an authentic touch to the dining experience. Touch and taste aside, in between courses, pause for a moment to enjoy the elegant and relaxing atmosphere, complemented by impressive soaring columns that heighten the double volume space, floor-to-ceiling glass windows that let in natural light, and plush sofas in leather and fabric.
But the best seats in the house must surely go to those facing the dramatic feature wall, with its cutting-edge design by Australian award-wining and celebrity landscape designer Charlie Albone. Measuring 9m by 6m, it took a team of three botanists and six specialists over 700 man-hours to install. Growing into the basalt rock are nine different types of living plants as well as some artificial ones. Spot the distinctive Rabbit's Foot fern, the delicate Baby's Tears and the pretty purple flowers from the Spanish sprawl.
With its mix of heritage and modernity, the new Lobby Lounge is the ideal space for an informal catch-up with a foreign visitor, or a gathering of friends and colleagues to savour the best of what Singapore's hawker fare has to offer.
The Lobby Lounge
Address:
Lobby Level, Tower Wing, Shangri-La Hotel, Singapore,
22 Orange Grove Road,
Singapore 258350
Opening hours:
Opens daily, from 7:30am to 1am
À la carte menu:
Local Semi-buffet Lunch:
Monday to Sunday, from 11:30am to 10pm
Monday to Friday 11:30am to 2.30pm at $38++
Saturday, Sunday and Public Holidays 11.30am to
5pm at $45++
50% off for Children under 12-years-old
3-Tier Local Signature Afternoon Tea Set: Monday to Friday 3pm to 5.30pm at $30++
The Lobby Lounge Celebrates Singapore's Hawker Heritage Page 5 of 6
Dress code: Smart casual
Seating Capacity: 150 persons
Reservations: Tel: (65) 6213 4398
Email: [email protected]
Website:
http://www.shangri-la.com/singapore/shangrila/dining/bars-lounges/lobby-lounge/