For those of you who live in the central region of Singapore like Ang Mo Kio, Thomson and Bishan area, you will be familiar with Bishan Park. This is a well-known park where many especially residents and families would come for exercises, strolling or simply enjoy the tranquility of the beautiful green park. 
There are actually two parts of Bishan Park, Bishan Park 1 which is between Thomson Road and Ang Mo Kio Ave 6 and Bishan Park II which is between Ang Mo Kio Ave 6 and Bishan Road. Those of you who frequent the parks will know that there are some dining places and a spa at Bishan Park II.
Our Parenting World was invited to the "Canopy Garden Dining" at Bishan Park II recently. This revamped restaurant with indoor and outdoor dining has just been reopened after a four-month overhaul.
When we walked into the restaurant, we were impressed with the full glass panels of the indoor dining area that brings in soft natural sunlight. It uses wooden flooring and furniture that blends in with its natural park setting. Diners sitting in the indoor air-conditioned area get to enjoy the beautiful green view outside the restaurant with the cool comfort of the indoor air-conditioning. In the evening, diners can also enjoy the alfresco dining area outdoor when the weather is no longer hot. Good news for pet owners, this beautiful restaurant is one place where you can bring your pet along to have a good meal.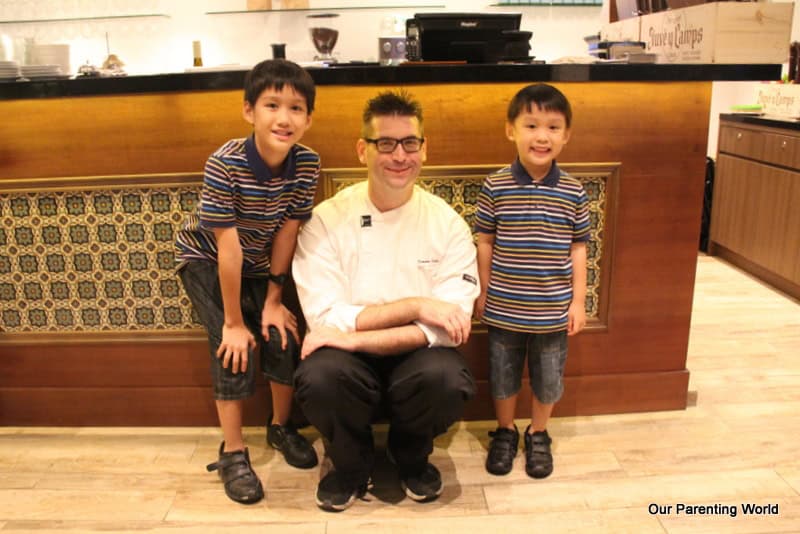 Our host for the evening was Mr Kameron Kurtz, Canopy's General Manager and Directing Chef of the restaurant. He is a charming and friendly gentleman originated from USA. He introduced the various delicious dishes and its ingredients to us.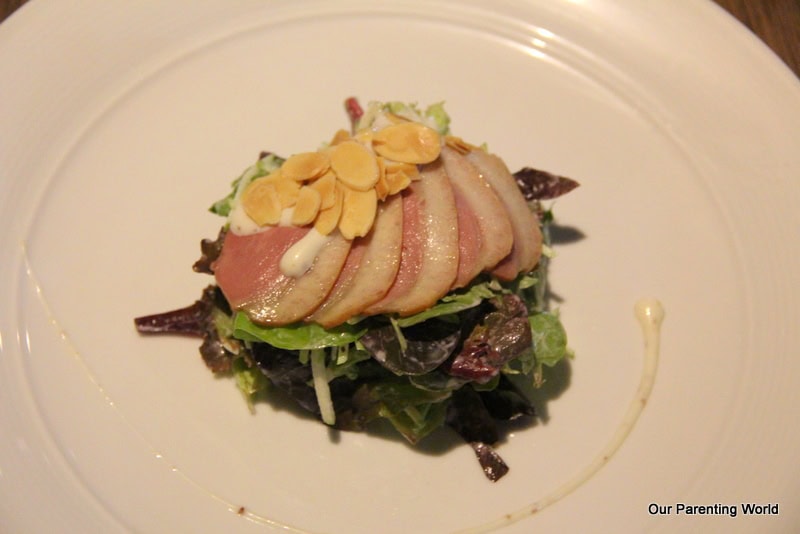 First, we tried the Smoked Duck Salad ($14). This dish contained a mixture of green vegetables, smoked duck, almonds, apple julienne and honey pommery mustard. The smoked duck was tender and flavourful filled with fresh green vegetables.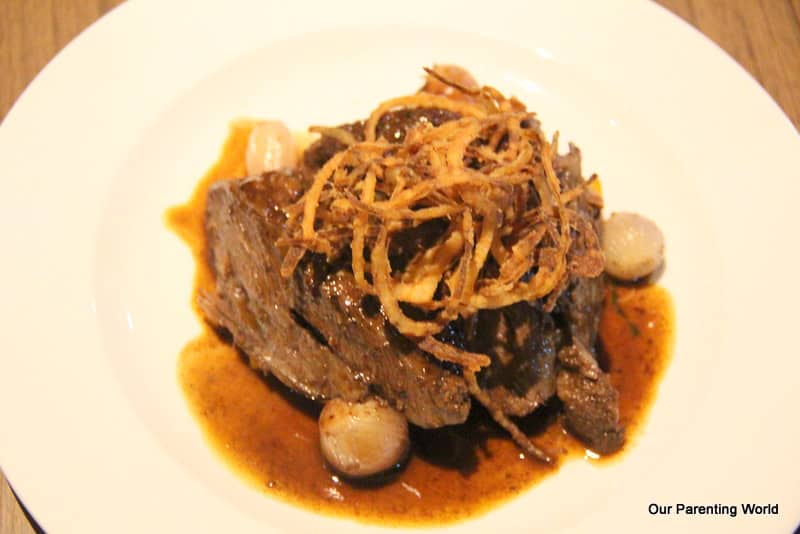 Some of the main courses that we tried out are Beef Cheek Bourguignon ($27), Crab Aglio Olio ($19) and Pan Seared Salmon ($24). Beef Cheek Bourguignon is actually one of the restaurant's signature mains. The beef cheek we tasted was very soft and juicy. It was braised in red wine, served with sweet potato hash, tobacco onion and sweet & sour shallot. This is one of the best beef cheeks we ever tasted.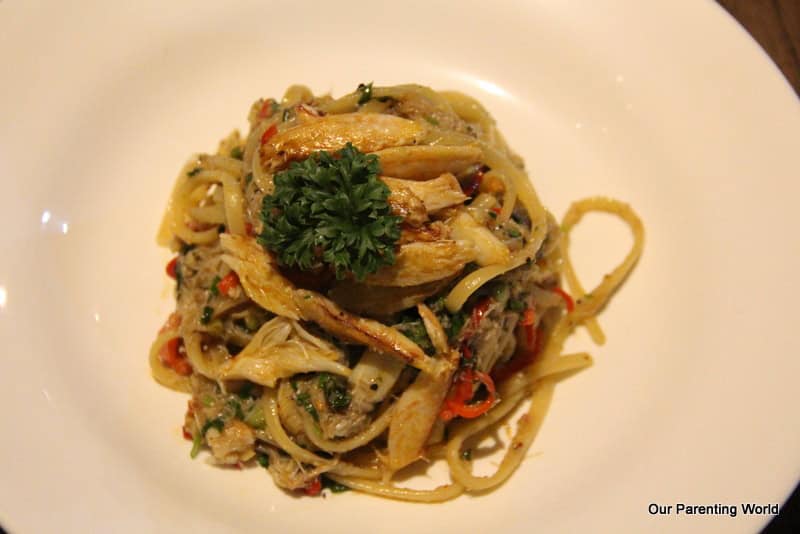 For those who are fans of pasta like us, the Crab Aglio Olio is highly recommended!
This is Canopy's popular dish and we enjoy it especially we love to eat pasta. It has crab meat served with linguine, garlic and fresh herbs. The pasta was cooked well with the right texture accompanied by generous chunks of succulent crab meat.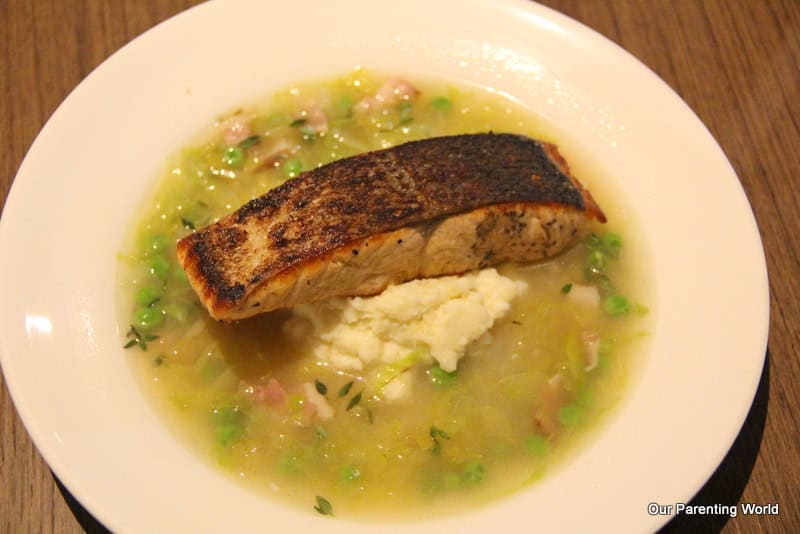 Pan Seared Salmon is also Canopy's popular dish that is so full of flavour, the meat remained tender and moist on the inside accompanied by mashed potatoes, leek, lettuce, green peas, vegetables broth and bacon.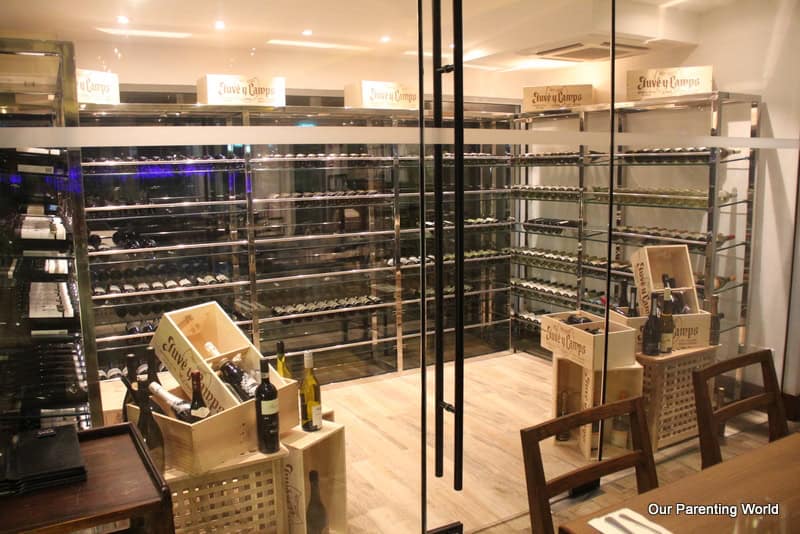 If you like to drink wine, at Canopy, it has a wide selections of wine of more than 30 labels that are not found in commercial outlets available for you to complement your meal.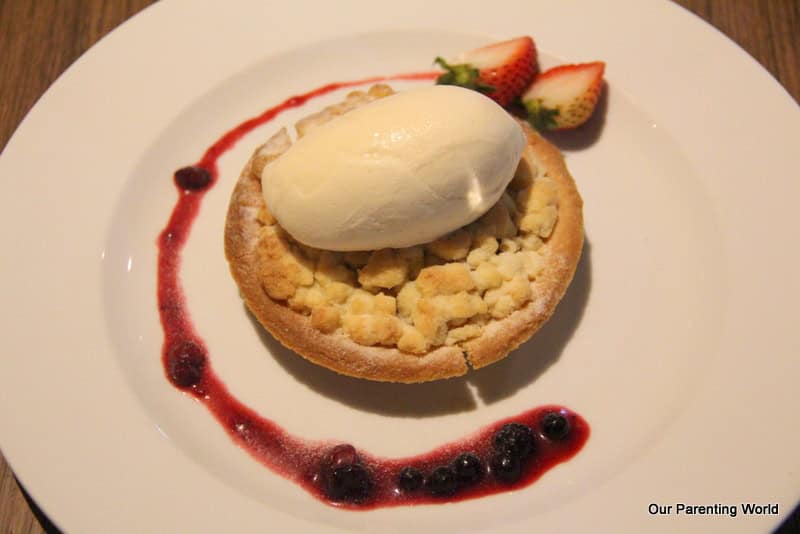 A perfect way to end any meal is to have desserts, we tried out 2 desserts. First is Apple Crumble ($14). The almond flavoured crust is crispy and filled with warm sweet apples top up with vanilla ice cream. 
Second dessert that we tried is Sticky Date Pudding ($14). It has gula melaka butterscotch, the dessert is yummy and not to worry, it is not overly sweet and comes with a scoop of vanilla ice cream.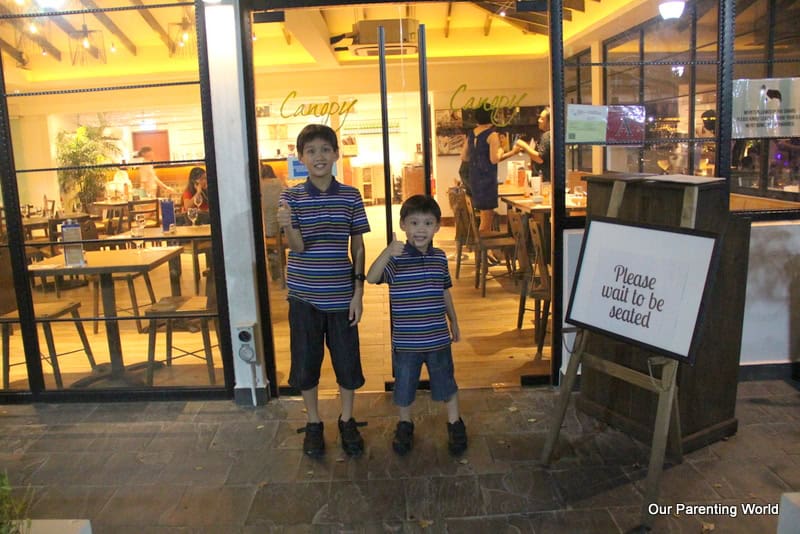 The boys are so happy with Canopy, they also like Chef Kameron Kurtz very much that they give thumbs up without hesitation, it is a satisfying dining experiences and we will be back! 
Overall, this newly opened and revamped casual garden theme restaurant based in one of the most popular public parks in Singapore is a great place to go for a decent family meal and or for casual dining. For those who come with children, there is also a Kid's menu that will satisfy our little ones. 
Canopy Garden Dining 
1382 Ang Mo Kio Ave 1
Bishan Park 2
Singapore 569931
Tel: +65 91134666
Opening Hours (Last order 30 minutes before closing):
Monday – Thursday: 9am to 10:30pm
Friday: 9am to 11pm 
Saturday: 8am to 11pm
Sunday and Public Holidays: 8am to 10:30pm
Facebook: https://www.facebook.com/canopydining
Website: http://www.canopygardendining.com.sg/