Embark on a delightful gastronomic journey through the vibrant streets of Singapore at Permata Singapore's 1 FOR 1 buffet feast. This tantalising offer invites you to experience a harmonious blend of flavours from various ethnic cuisines, creating a melting pot of culinary delights.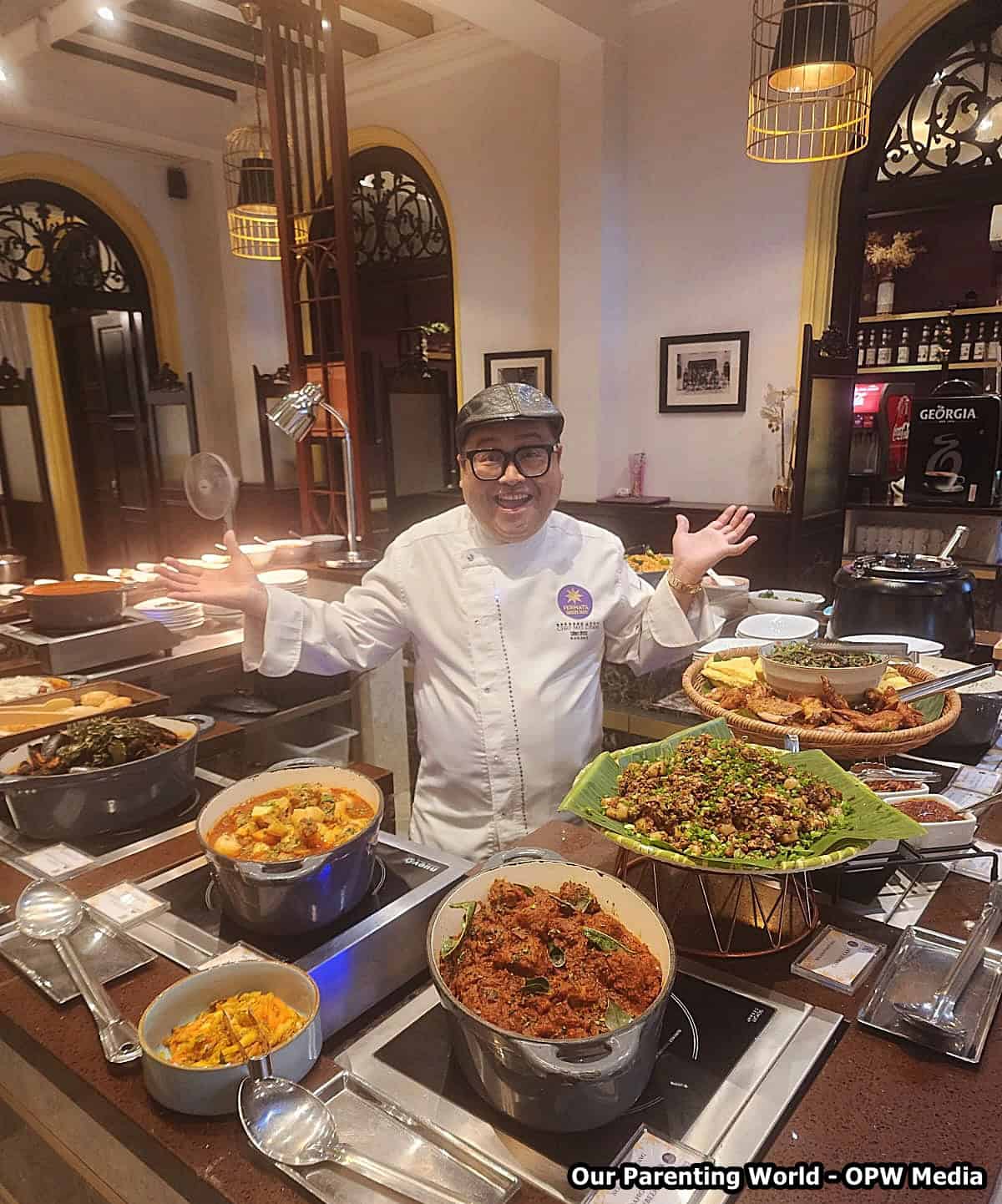 In celebration of Singapore National Day, the buffet promotion will be available throughout the entire month of August showcasing the richness and diversity of our city's food culture. Enjoy an array of vibrant multi-ethnic dishes and street food, each meticulously curated by Chef Mel Dean, who has masterfully captured the essence of Singapore's culinary landscape. Get ready to indulge in a remarkable celebration of taste and tradition at the restaurant, where every bite will transport you to the heart of Singapore's unique food heritage.
Begin the buffet feast with the delightful "Kota Laksmana: Seafood on Ice & Salad Station." This exquisite spread of oceanic delights is complemented by an array of sambal and dips, including Torch Ginger Dressing, Sambal Hijau, Sambal Belacan, Sambal Balado, as well as the invigorating flavours of Kerabu Raden Ayu, Rojak, and Ulam Ulaman, adding a vibrant and refreshing twist to your culinary journey.
The next stop on your culinary journey is the "Pembuka Selera: Appetiser Station." Indulge in a delightful selection of flavors, from the enticing Laksa Kesum Cakerawala to the mouthwatering Pakora and Jemput Jemput Bawang, all of which will undoubtedly leave you craving for more.
Make your way to the enticing "DIY Station: Soup & Noodles" and unleash your creativity by crafting your very own Kuih Pie Tee. This station offers an array of comforting classics, including Mee Siam Mamak, Sop Kambing, Roti Kirai, and Potato Curry, ensuring a delightful experience of comfort food at its finest.
Get ready to be enthralled by their "Medan Bakar Sang Nila Utama: Grill Outdoor Live Station" (available for dinner buffet only). Delight in the sight of sizzling delicacies, including Botok Botok Barramundi, Chargrilled Striploin with Lemak Cili Padi Sauce, BBQ Prawns, Hawker BBQ Wings, and Satay. Immerse yourself in the alluring smoky aromas and succulent flavours that will transport your senses to the vibrant streets of Singapore.
Extend your gastronomic journey to the "Sri Paduka: Hearty Dishes Station," featuring their signature attraction, Ayam Buah Keluak Risotto, takes centre stage. Chef Mel's innovative interpretation of the classic Peranakan favourite elevates it to new heights by transforming it into a delectable risotto rendition.
Immerse yourself in the true essence of Singapore as you savour a wide array of iconic dishes, each representing the rich culinary heritage of the nation. Indulge in the famous Tulang Merah, Chili Crab, Nasi Lemak, Kangkung Sambal Belacan, Chicken Rice, Nyonya Fried Chicken, Achar Nyonya, Rendang Temasek, Eurasian Devil Curry, Asam Pedas Kupang, Dim Sum, Carrot Cake, Fried Laksa, and Roti John. Every bite brings forth a celebration of Singapore's diverse culinary traditions, presented beautifully on a plate.
Finally, quench your sweet cravings at the "Manisan: Dessert Station." Treat yourself to a delectable array of delights, including Ais Kacang, Pengat Durian, Pulut Hitam, Mango Sago Pudding, Kole Kole Temasek, Baweanese Palak Bacha, assorted Kuih and Cakes, and a selection of tropical fruits. This dessert haven promises a delightful conclusion to your culinary journey, offering a taste of tropical paradise with each luscious bite.
Come and join us in paying tribute to Singapore's vibrant cultural heritage. Let your taste buds embark on a delightful adventure through the diverse and delicious culinary traditions that define our nation's unique food culture at Permata Singapore!
1-FOR-1 BUFFET LUNCH & DINNER
Lunch $78++ for 2 persons (12 – 3pm Daily)
Dinner $88++ for 2 persons (6-10pm Daily)
Children 8YO & below dine for free
Permata Singapore 
Location: 73 Sultan Gate, Singapore, 198497
Opening Hours: 12.00 to 10.00pm Daily
Tel: +65 90829941
View the menu HERE and book your table now at Permata Reservations (sevenrooms.com)