KFC, the globally acclaimed fast-food chain celebrated for its delectable finger-lickin' good chicken has launched its latest Comfort-A-Bowl series. This extraordinary collection encompasses beloved favourites of teenagers, including Mac N Cheese Bowl and Famous Bowl, along with an all-new, irresistible creation—the Loaded Fries Bowl. Available exclusively from September 27th to October 24th, 2023, these delectable bowls promise a limited-time taste sensation like no other.
Delightfully scrumptious and effortlessly convenient, these three delectable bowls harmoniously combine KFC's signature items, including velvety whipped potato, crispy popcorn chicken, luscious cheese sauce, rich Original Recipe gravy, and crispy fries. This enticing ensemble promises a gratifying feast that will entice KFC enthusiasts for more. Available from only $4.65 each, these bowls not only tantalise the taste buds but also offer exceptional value for money, delivering complete satisfaction with every hearty and budget-friendly meal. KFC's Comfort-A-Bowl serves as the ideal indulgence for those seeking comfort and relaxation, whether it's a much-needed respite from the stress of exams or a brief escape from an endless to-do list.
Highlights of the three bowls as follows: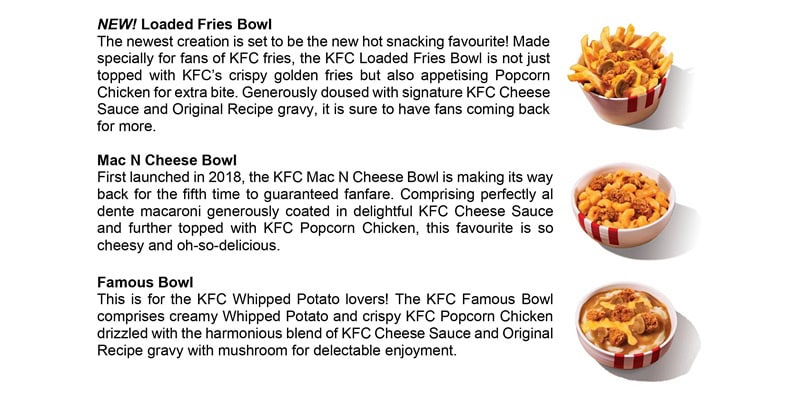 The limited-time Comfort-A-Bowl series is available for dine in or takeaway across all KFC outlets islandwide and via KFC Delivery, Grab, Foodpanda or Deliveroo.
Follow KFC's social media and online platforms for the latest information:
Website: www.kfc.com.sg
Instagram: @kfc_sg
Facebook: www.facebook.com/KFC.SG/
Official Hashtags: #KFCSG, #KFCSingapore, #KFCComfortABowl