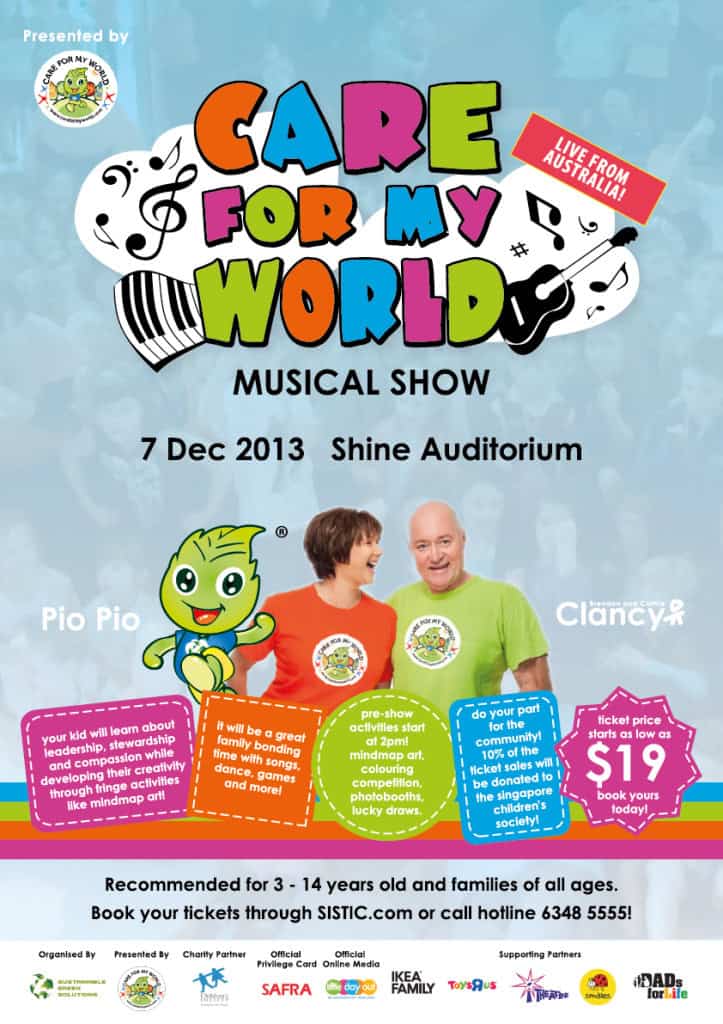 Our Parenting World team is happy to introduce Care For My World which is a new and innovative green education programme that aims to teach the young and old how to care for their environment, their habitat and the people around them.
Care for My World will be working with the lovely couple Brendon and his wife, Cathie who have more than 30 years experience in child education, professional entertainment and music publishing. They have worked in Australia and a further 21 nations with some of the world's largest and most successful children organisations and community groups. Written over 200 songs and produced 11 albums, their songs have touched many lives across the world and have people dancing, singing and celebrating life.
We are pleased to be able to interview this lovely couple when they are here to promote the musical which will be happening on 7 December 2013 at Shine Auditorium.
Exclusive Interview with Brendon and Cathie
1) What makes you (Brendon & Cathie) decide to the musical? 
We have a heart to help children see the positive in all situations and that there is hope for the world if we all do something to help. It's an important message that needs reinforcing and constant reminding. The musical makes the lesson fun as well as impactful. 
2) What are the most enjoyable and touching experiences that you had doing the musical?
Writing songs like "I Care" and seeing the heartfelt response in children's lives is a great encouragement to them both. Also songs like "Hug a tree" are so enjoyable for the children.  Knowing that the music and the message are inexorably connected, and seeing children catch the vision to carr for the planet and for one another gives us so much joy.
3) What can parents do to encourage children to like music? 
Number 1, make music fun; singing and playing music should be a response of the heart. 
Number 2, expose the children to different forms of music and performance. Help their children understand the value of seeing, hearing, playing and performing all sorts of music in all sorts of ways.
Number 3, encourage children in the gift they have,  from a young age. Music will be with them for their whole lives. 
4) Any advises for parents to teach and encourage their children to love and care for the environment?
Children learn more by what their parents DO than by what they say. If it's truly important for the parents, then the children will catch their passion and do the same thing. Because they will believe it. 
5) What are your impressions of Singapore and Singapore Children?
Singapore is a remarkable place and Singapore children are exceptional in so many ways. This nation and the children are united and gifted and passionate about seeing Singapore succeed. 
After more than 60 visits since 1999 I would say that the pressure to do well ALL the time, can sometimes override the true value of family, the value of caring, and the value of simply enjoying life. Learning can be fun, and learning with music and a great message is a positive, uplifting and potentially inspirational way to remember to Care For My World and to care for one another. 
Thank you Care for My World, Brendon and Cathie for taking our interview!
Care for My World together with Brendon and Cathie Clancy will be working in a musical happening on 7 December 2013 at Shine Auditorium, 10% of the proceeds will be donated to the Singapore Children's Society to help the needy. It will be a meaningful and fun-filled educational show for children and families to laugh, sing and learn together.
Please support them in this meaningful cause. Here are the details:
You can purchase the tickets through HERE or call ticketing hotline 6348 5555.
You can find them on Facebook HERE 
Thank you for your kind support!