Human Nature: Beauty with Compassion and Exclusive Interview with the founder, Dylan Wilk 
Human Nature also known as Gandang Kalikasan, Inc is a cosmetics, personal and home care brand that started with the sisters, Anna Meloto Wilk, Camille Meloto, and Anna's husband, Dylan Wilk. They wanted to produce natural, high quality, eco-friendly and ethically-made products that are affordable and at the same time, burning with the desire to help uplift the Philippines and its people from poverty by providing them job opportunities and job securities with dignified wages to its workers to improve their quality of life. 
In celebration of Human Nature's 5th  anniversary this year, Dylan Wilk, the founder of Human Nature stopped by Singapore for a one day visit. Dylan Wilk is a devoted Christian where he also shared with us his faith in God. Our Parenting World (OPW) team is honoured to meet up and interview Dylan to find out more about him and Human Nature. 
Dylan Wilk is a British man who was once the 9th richest man in England under the age of 25. He came from a poor family but through the assistance of Prince Charles' foundation, his company became number 1 in Europe selling software games.
The most interesting bit (and very inspirational!) is that at the peak of his career, he decided to give up all his fast cars, helicopters and luxury lifestyle to instead live a simple life in the Philippines to set up a social enterprise (Human Nature) to help the poor. He now travels the world to give his inspirational talk. Dylan just gave a talk to leaders at Suntec Singapore recently in October.
He employs out-of-school-youths, or scavengers for employees, he has a no firing policy, amongst so many other unconventional ways that businesses would find unbelievable! Human Nature is now distributed all over the world, including Singapore.
Dylan Wilk (DW) is such a fascinating and inspiring person to talk to, read on to find out more!
1. Please share with us more your background.
DW: I grew up in England and was born to a poor family and raised by a single parent. I was fortunate to secure a scholarship in a good school for my education. At the age of 20, I received money from The Prince's Trust, a charity in the United Kingdom founded by Charles, Prince of Wales, to start a business selling computer games. The business was very successful and at the age of 25, my company was the first dot.com company to be listed in the London Stock Exchange. I became very successful, had everything I could possibility imagine at 25. I had a rich lifestyle owning branded cars like Ferrari 355 Spider, a Porsche 911, a BMW M3 and BMW M5 and travelled to work by helicopter because I don't like to be caught in a traffic jam.
However, I soon felt that life was empty, and I spent time pondering on life as well as pleasure in comparison with happiness. I realised there was a big difference between pleasure and happiness. Pleasure, always has a price tag whether it's a new car or nice clothes. Happiness comes from your relationships and knowing there is a purpose to your life.
For me, I had this realization one night to know and fulfill God purpose in my life. I prayed to the Lord and asked why I am rich? It seems wrong because I was not doing anything good just computer games. I felt guilty as my family was poor, I decided to leave my business. Through Divine Grace, I found my realization when I decided to seek something more meaningful and travelled the world in search of purpose.
At that time, a Filipino friend spoke to me on Philippines including about a slum redevelopment program. He informed me that the flight expenses from Philippines to England was equivalent to building two houses in Philippines. I was curious as I did not know much about Philippines and decided to explore the country. I was fascinated to see how places which were once slums, have been transformed beautifully. I was impressed and sold one of my cars for $100,000 which I provided to an organization for building houses. The founder of the organization responded and encouraged me to personally see to the building of houses which I accepted. That was 14 years ago, and I fell in love with Philippines, the founder's daughter Anna Meloto and we are married with 6 children. A lot of us get confused with pleasure and happiness but its really the relationships we nurture and the faith we uphold.
In the year 2008, I started Human Nature, a social enterprise, with my wife Anna and sister-in-law Camille Meloto who are the brainchild of the business. My wife and I visited the United States and saw how affordable the natural products were to the ordinary Americans and how it was not so easily available to those outside of the United States. My wife wanted natural products to be available in Asia as well. That is how Human Nature began and it produces natural personal care products with many branches as well as distribution in the USA, Malaysia, Singapore and the UAE. In an exception to many beauty products which may cause side effects due to the non-natural ingredients used, Human Nature's products are purely natural, affordable for usage on a long-term basis by ordinary people. You can protect yourself and your family by using natural products. We want to try to be the first company to make the products affordable for people to use them on a day to day basis not just from time to time.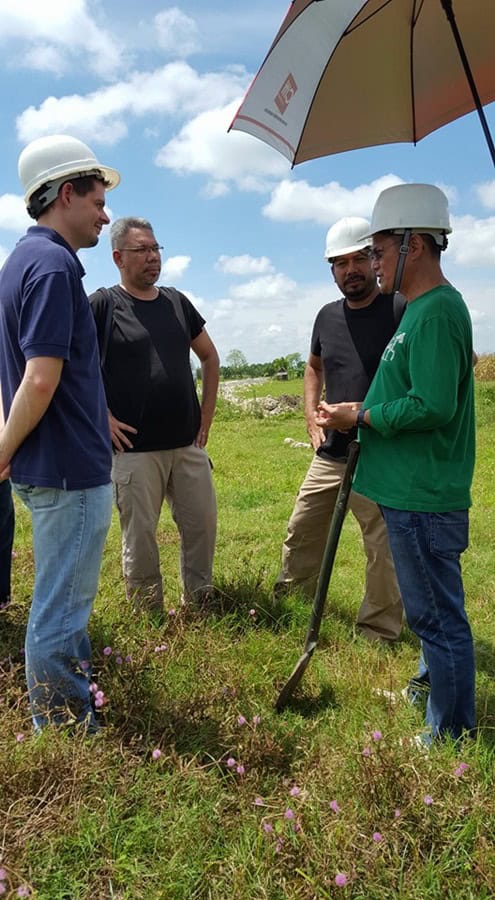 2. What are some of the challenges you faced setting up Human Nature?
DW: Initially, it was challenging to work with third party scientists to produce formulas for natural products. We also did not have the knowledge and none of us are scientists or chemists. We decided to have our own team of scientists and also to build our knowledge which took a few years to develop. Our team of scientists grew to 20 and it includes formulators, researchers and quality controllers. We have undertaken many projects with some products being formulated in a few months and some taking years. Products such as toothpaste took four years to be formulated. We also have the overnight elixir, which required years to formulate. 
As an example, detergents or dish washing liquids flows to the sewerage after use and some can be environmentally damaging with the effects not being identified easily and quickly. We wanted to ensure that all aspects are considered and that the products used can protect oneself, the family as well as the environment. Products such as natural toothpaste, moisturizers are not easy to produce but we wanted to ensure that everyone gets the opportunity to have access and benefit from them, with affordability. We travel on budget to ensure that such expenses are not included when making product price decisions. To date, we have the most number of products in the world, certified natural.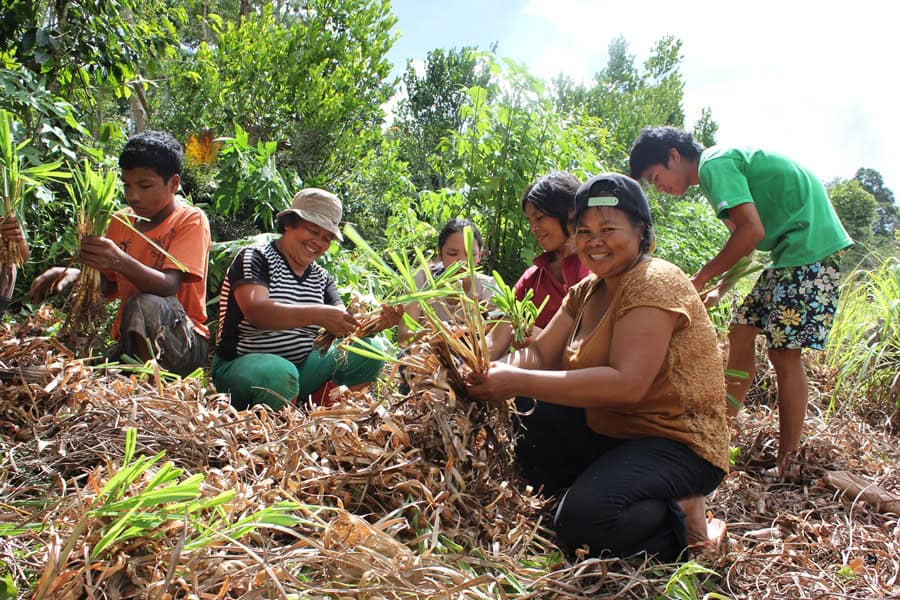 I also volunteered with Gawad Kalinga and worked with farmers to provide them with livelihood opportunities and reduce poverty. As an example, where we identified that lemongrass could be grown best in the conditions of a particular province, we would teach them how to grow the lemongrass, invest in equipment to improve their working conditions and standards as well as to invest in the lemongrass, not at market price but for the planting, weeding and harvesting efforts. The price we paid is based on the work they put in so that they get properly rewarded. This enable many to come out their poverty. The effort saw 80,000 houses being built in over 2,000 communities.
3. Please share with us on your favorite natural product?
DW: My wife uses them and it's her love. She convinced me to try some of the products and with good effects. I started off by trying the hair strengthening shampoo* and after 2-3 weeks, I began to notice that my hair was falling less. I uses most of the men products and facial wash as well. I am able to convince my family members and friends to use and benefit from the products. My kids are so used to the products now that they won't touch anything that are not from Human Products.
We know that most people are not familiar with products made in Philippines, we want people to know that the products made are just as good as those made in Singapore, France etc. We want our products to be certified around the world and we have been certified in US by the Natural Products Association. 
Last year, we won a Sustainable Beauty Awards organized by specialist consulting, research and training company Organic Monitor, honoring Human Nature for its social entrepreneurship and for its role in creating employment for impoverished communities by locally sourcing the ingredients for its natural cosmetics. This award is a big affirmation as it's an award from Paris, the heart of the beauty industry and we are the first Asian country to receive the award.
*Human Nature Natural Strengthening Shampoo is infused with hydrolyzed protein to fortify and protect your hair from breakage, and Philippine coco nectar, a revolutionary ingredient that bursts with amino acids, vitamins and minerals. Human Nature is the first beauty company worldwide to use coco nectar in its products.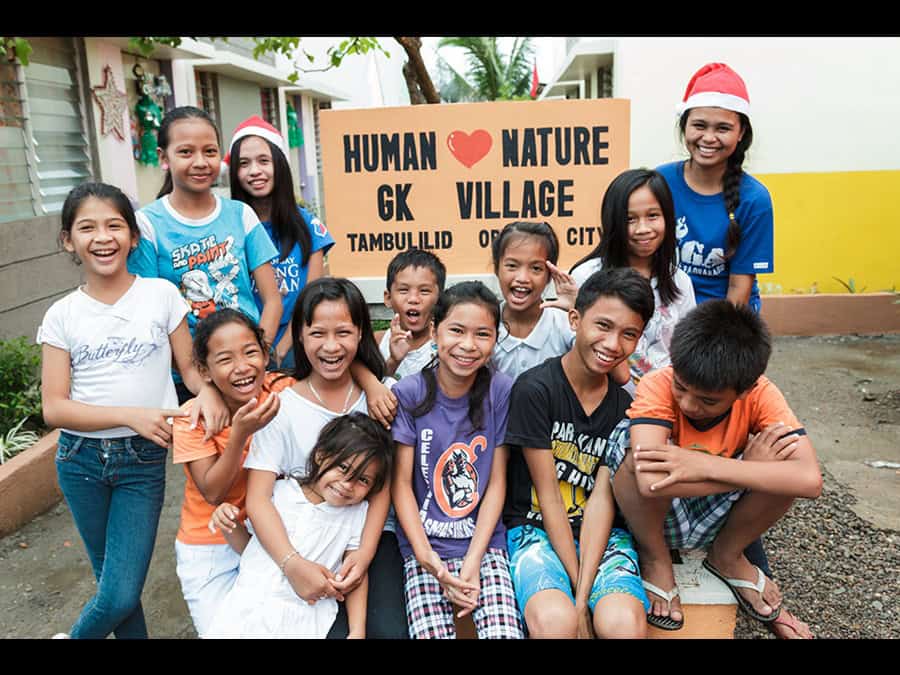 4. You are such an inspiration. Please share with us some personal tips of success and to the younger generation who aspired to be like you? 
DW: My school has the motto "Hoc Age" in latin which means "Just Do It", although it is similar to Nike, this motto was established in my school over 300 years ago. My school taught us never to quit, always to keep going, we could do anything we wanted and to be personally successful. In England I learnt to succeed and in Philippines I learnt the secret of happiness, and this is where I learnt the difference between pleasure and happiness. The happiness also including others apart from your family and loved ones in your dreams, plans and to help people. I thank God everyday! 
5.  As parents, how do you nurture your kids in a Godly Way?
DW: Firstly, don't be afraid to have kids. I hope to share with your readers to have more kids, I have six. Having one, is most challenging. As you have more, you will see them nurturing and helping one another apart from being playmates and I have witnessed that in my six kids.
Secondly, in my childhood, I went to the church but I was never really involved in helping others. In my family's case, my kids are involved in a handful of activities and programs annually with other kids in the community where they are involved in helping and bonding with others.
Three years back, there was a huge typhoon disaster in Philippines and my daughter at 6 years old wanted to help. She created a cartwheel for donation program and raised 3000 pesos. My eldest daughter drew pictures for family and friends to raise money. They felt like they were involved and helping out. It is important to let kids know that even though they are kids, they have something to offer even if it is something small. 
Also, try not to be too rigid and let things happen naturally when it comes to religion. My two years old, he sometimes leads the prayers when we were eating. He will raise up his hands and said "Amen" to thank God, that is his way of praying, we tried to let our kids do it in a way that they feel the most comfortable. 
6. You are very successful in what you do, please share with us what's your advice for aspiring entrepreneur? 
DW: For me, personally it was always built on faith and starting my first business in computer games, I really prayed. I asked God what should I do? It was the time that I prayed, I started to form ideas and I talked to God all the time. For Human Nature, at first, I didn't want to do it but I prayed about it at my wife's insistence. When I started to pray about it, I feel like I should help. It is very important to pray with an open heart, there will be times when you are tempted to pray for what you want, if you are able to go beyond what you wanted, you will be able to feel what God wants you to do.
It is a good practice to devote quiet time with God, pray everyday and allow God to show what is right for you. You should not just listen to others on what is best for you. God will lead you to be the best that you can be, not what you feel, you should be. 
I am happy with what I am doing now, serving God and helping hundreds of people out of poverty. In future, I would like to pursue Theology and become a Pastor one day. 
At Human Nature, it's a collective effort and I would like to take this opportunity to thank every member of my team for their hard work and effort. Many companies use non-natural ingredients and chemicals along the way as its acceptable and in view of the costs and challenges involved in formulating a product. My team perseveres to use only natural ingredients all the way.
On an ending note, I look forward to coming to Singapore in January 2018 with my family and my very best wishes to all your readers!
Happy 5th Anniversary Human Nature and Thank You Dylan for taking our interview! We wish you, your family, Human Nature and team all the very best!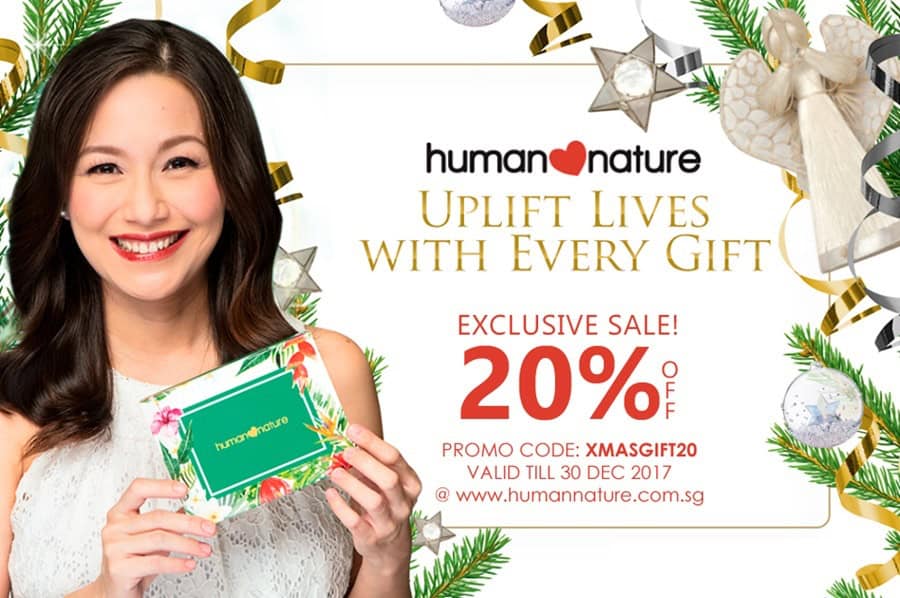 Human Nature has a wide range of products from cosmetic, beauty, bath and body, home care, food and drinks that cater to your everyday needs, suitable for young and old, and everyone in the family!
Good News! Try out Human Nature today and enter the promo code XMASGIFT20 to enjoy 20% off till 30 December 2017.
Christmas is round the corner! Get Human Nature products as Christmas gifts for your family and friends. To find out more and to order the products, please go to https://humannature.com.sg/