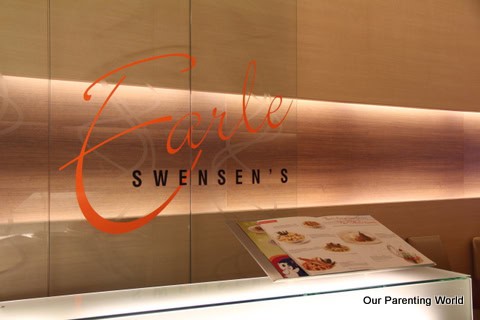 Our Parenting World team visited Earle Swensen's and we are excited to know that our favourite family restaurant is coming up with spanking new dessert fanfare at Earle Swensen's restaurants islandwide which is good news to all dessert lovers!
At Earle Swensen's, look out for the all you can eat buffet salad bar for a refreshing healthy treat of fresh compound salads, mixed greens, fruits, garnishing and a wide variety of homemade dressings.   
At the event, we were given a fun opportunity to create an Earle Swensen's sundae.
Gor Gor learnt how to garnish his banana split with the help of the friendly and professional Earle Swensen's staff.
Adding a finishing touch to the banana split by adding a cherry on top.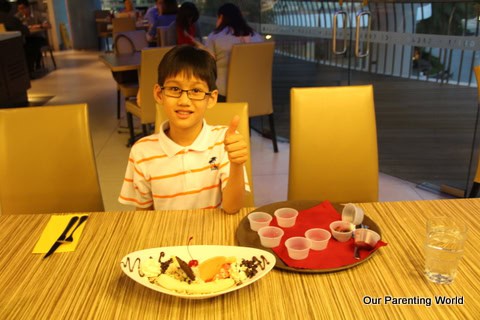 Yummy! I can't wait to finish up the whole banana split. This is a delicious treat that the whole family can enjoy.
Here's comes the highlight, this brand new year 2015, Earle Swensen's has revamped and introduced new dessert menu.
Introducing some of these new yummy desserts: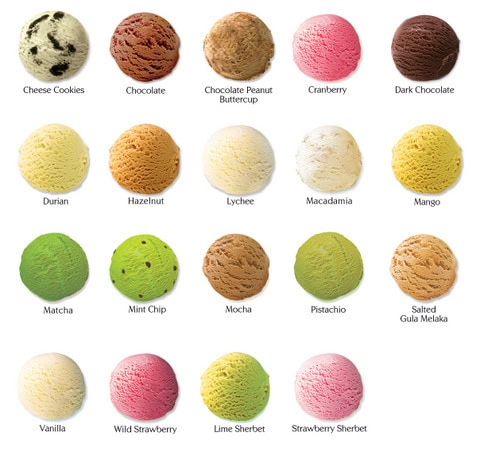 Gelato Bonanza ($5.50 per scoop, $7.50 for double scoop)
New dessert menu includes a wide selection of 17 highly coveted gelato flavours, from familiar favorites to localized specialties such as Vanilla, Macadamia, Chocolate Peanut Buttercup, Salted Gula Melaka, Mocha, Matcha, Pistachio, and Cranberry. Out of the 17 flavors, eight of these flavors will be available at Earle Swensen's exclusively, and not offered at sister restaurant, Swensen's.
Crunchie Cones ($7.00)
An Earle Swensen's signature and ardent favorite of those with a sweet tooth, the Crunchie Cones get a gelato makeover too! The Classic Vanilla Crunchie Cones now comes in creamy, velvety smooth Vanilla gelato, encased in dipped chocolate and chopped almond bits, whereas the Choco Pop Crunchie Cone features delectable Chocolate gelato, covered in Coco Pops cereal.
Craving for some more?
Desserts and Ice cream fans will be thrilled to know that Earl Swensen's classic desserts have met a gelato overhaul that come with scoops of quality gelato. Each of these creation is both delicious and beautifully decorated. 
Joy in a Jar | Joy in a Jar To-go ($13.90 | $15.90)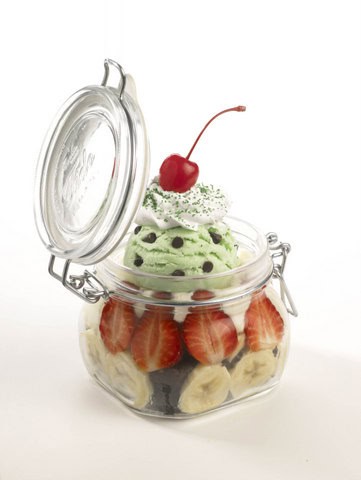 Aptly named Joy in a Jar, satisfy your sweet tooth with this jar of delight – decadent chocolaty brownie loaded with bananas, fresh strawberries, layered with Vanilla and Thin Mint ice cream. Crown it off with fluffy whipped cream, maraschino cherry and sprinkles, and you have yourself a bit of Joy in a Jar to indulge in. 
Poached Pear in Butterscotch Sauce ($11.90)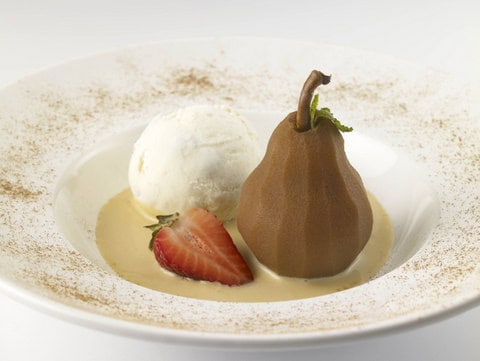 The Poached Pear with Butterscotch Sauce puts an elegant, finishing touch to one's dining experience. The stunning creation features a perfectly poached pear with overtones of strawberry tea, to enhance the goodness of its saccharinely enticing scent. Served with silky butterscotch sauce and a generous scoop of Vanilla gelato. 
Molten Chocolate Lava Cake ($13.90)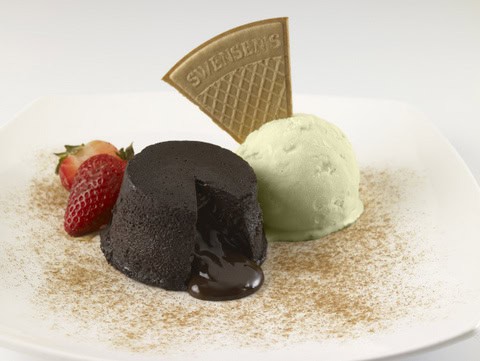 The decadent, warm Molten Chocolate Lava Cake oozes rich, silky-smooth dark chocolate that satisfy all cocoa cravings. Revel in dessert bliss with a generous serving Vanilla gelato, juicy strawberries and crispy wafer for that added crunch. 
Opera Dark Chocolate ($12.90)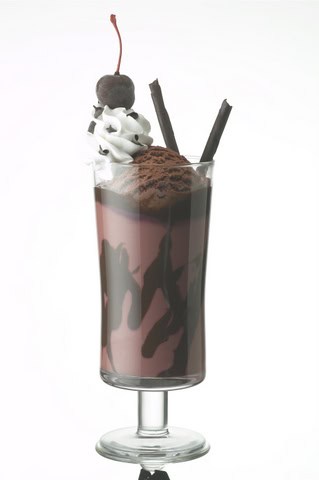 Get a taste of a dark chocolate heaven with the Opera Dark Chocolate, featuring luscious Dark Chocolate gelato engulfed in smooth chocolate fudge, topped with fluffy whipped cream, chocolate sticks and curls. 
Cheese Cookie Summit ($12.90)

All the above dessert photos credited to Earle Swensen's
A sinfully good sundae featuring a perfect harmony of smooth and delectable Cheese Cookies and Vanilla gelato coated with heavenly chocolate fudge, crunchy malt balls and a sprinkle of chocolate curls. 
*Prices stated are not inclusive of GST & service charge for dine-ins, and not inclusive of GST for takeaways.
That's not all, there are still many other detectable desserts available at Earl Swensen's new revamped dessert menu. Customers can be assured of Earl Swensen's quality gelato, they are all freshly made in its Central Manufacturing Plant and its branding and gelato are halal certified. 
Earle Swensen's NEW Gelato Menu will be available from 1st January 2015 in restaurants islandwide. 
Earle Swensen's Outlets
VivoCity
1 HarbourFront Walk, #02-117
Opening hours:
10:30am-10.30pm
Tel: 6272 3306
Jem
50 Jurong Gateway Road, #03-11
Opening hours:
10:30am-10.30pm
Tel: 6734 7712