The new Ben 10 movie is coming! 
The entire galaxy will come to a grinding halt as Cartoon Network's Ben 10 takes over your screen right on the dot of 10am with the worldwide premiere of "Ben 10 vs. The Universe: The Movie". 
Mark your calendar as on Saturday, October 10,  fans of the Emmy Award-winning show from across the globe can catch the highly anticipated movie on Cartoon Network, as well as on WarnerMedia channels HBO, HBO Family, Boomerang and Warner TV, via the streaming service HBO GO, and through the Cartoon Network Watch and Play app ( for Singtel TV Cartoon Network subscribers only). 
The action-packed TV movie will focus around a blast from Ben's past returning to do double the damage on Team Tennyson and planet Earth itself, forcing Ben to go interstellar to save the day. Meanwhile, Gwen and Grandpa Max team up to help protect the world in Ben's absence. But when our boy hero is confused for the villain in space, Ben must figure out a way to get back to Earth to help save it!
Leading up to the movie's premiere, evergreen fans can also enjoy the Ben 10 "Power of 10" stunt airing every Saturday on Cartoon Network. These special episodes feature riveting moments with several of Ben 10's most forceful adversaries such as Kevin 11, Steam Smythe and Vilgax, the insufferable intergalactic alien warlord.
Fans who want to embark on a thrilling mission with Ben 10 can also participate in the online Ben 10 Fan Challenge. From building their own epic Ben 10 battle to searching for hidden animated GIF graphics on the Ben 10 microsite, they will need to complete a maze of challenges to be rewarded with a downloadable Ben 10 Watch Party Pack. Visit the Ben 10 microsite: https://ben10.cartoonnetworkasia.com/ for more details.
The series is produced by Cartoon Network Studios and created, and executive produced by Man of Action Entertainment (Big Hero 6, Generator Rex), with John Fang (Mixels, Generator Rex) as executive producer.
Image Credits: Cartoon Network
Tune in to "Ben 10 vs. The Universe: The Movie" on Saturday, October 10 at 10am simulcast on Cartoon Network, HBO, HBO Family, Boomerang, Warner TV, HBO GO and Cartoon Network Watch and Play app. Just remember – it's hero time at exactly 10am on 10.10.2020!
Channel Details:
Cartoon Network

: 

StarHub TV 316, Singtel TV 226

 

Boomerang

: 

StarHub TV 317, Singtel TV 228

 

Warner TV

: 

StarHub TV 515, Singtel TV 306

 

HBO: 

StarHub TV 601, Singtel TV 420

HBO GO available with a free trial on Google Play, App Store or via Singtel, StarHub and MeWatch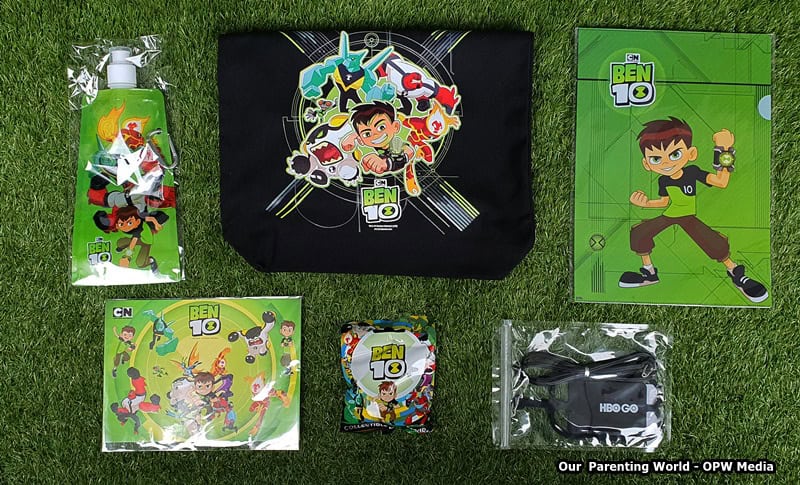 Thank you Ben 10 vs. The Universe: The Movie for the gift set! Join us on 10am on 10.10.2020 at  Cartoon Network to catch the new Ben 10 movie!