Jamie's Italian was founded by Jamie Oliver and he is a well-known British celebrity chef and restaurateur for his English cuisine. He has also appeared in many television shows and restaurants. 
Jamie's Italian takes pride in using only fresh, carefully sourced and seasonal ingredients to make all its beautiful, rustic dishes. The restaurant is so popular that it has expanded to more than 60 outlets worldwide!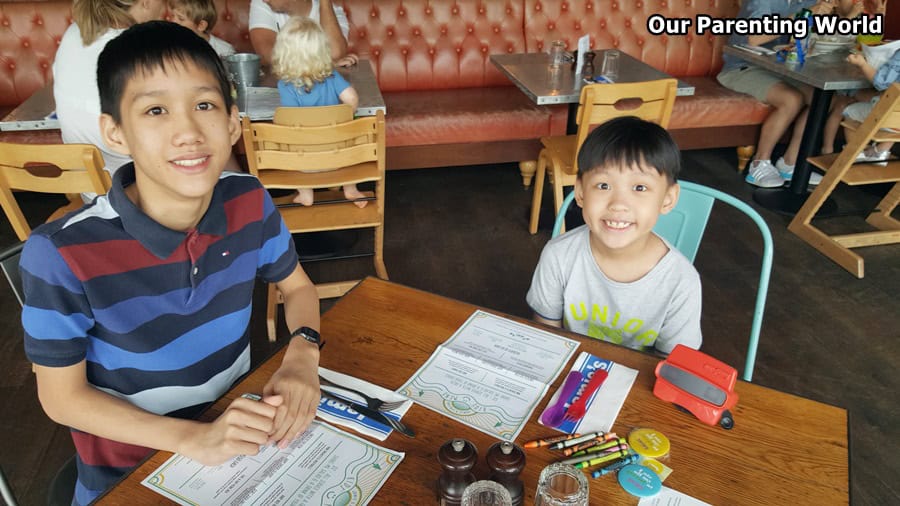 As parents, we do want our children to eat healthy food and encourage them to eat more vegetables, this is often not an easy task. Most kids do not like to eat vegetables. We are glad to learn about Jamie's Italian's refreshed kids' menu strives to provide kids with more variety, more healthy options and of course, more fun!
We arrived at Jamie's Italian at Vivocity to try out its kids menu. Kids are excited to be here and quickly settled down to select their meals. At Jamie's Italian, the new refreshed kids' menu is at a pocket-friendly price of just $12 ++ for children 12 years old and below. Kids can choose from a wide variety of 7 kids main consisting of Mini Spaghetti & Meatballs, Baby Beef Burger, Fantastic Fish Stew, Happy Chicken Lollipops, Secret Seven Gnocchi, Margherita Pizza and Five-A-Day Picnic Box. 
All dishes on the menu come with a choice of fruity water (free flow), or a glass of milk or juice, as well as a Shake-Me Salad. Served in a plastic jar with baby gem lettuce, cucumber, cherry tomato and carrots, Jamie's Italian keeps it fun by getting the kids to mix their own salad and dressing by shaking the jar.
The new revamped Jamie's Italian's new Kids' Menu will showcase Jamie Oliver's world-famous Secret Seven sauce on its homemade pizzas and pastas. Parents will be pleased to know that the new menu will make it easy for any parent to introduce vegetables into the meals of fussy kids who don't like to eat vegetables.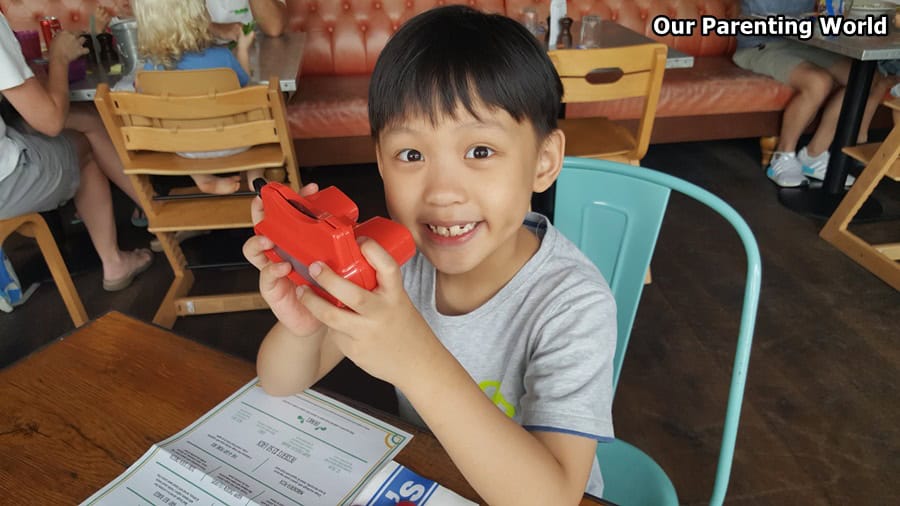 The little one is having fun choosing his own menu! At Jamie's Italian, a red view master is provided for the kids to choose their meals that add an interesting element to the kids' dining experiences. Colouring papers, crayons and stickers are also provided in a small metal pale for the little ones to keep themselves occupied. 
Mini Spaghetti & Meatballs
This dish consists of homemade beef meatballs with Jamie's seven-veg tomato sauce together with their freshly made spaghetti & a sprinkle of Parmesan cheese.
Our kiddo who doesn't like to eat vegetables didn't know that he has already taken seven types of vegetables which consists of carrots, spinach, swede, onion, butternut squash, courgette and sweet potato in this delicious pasta dish!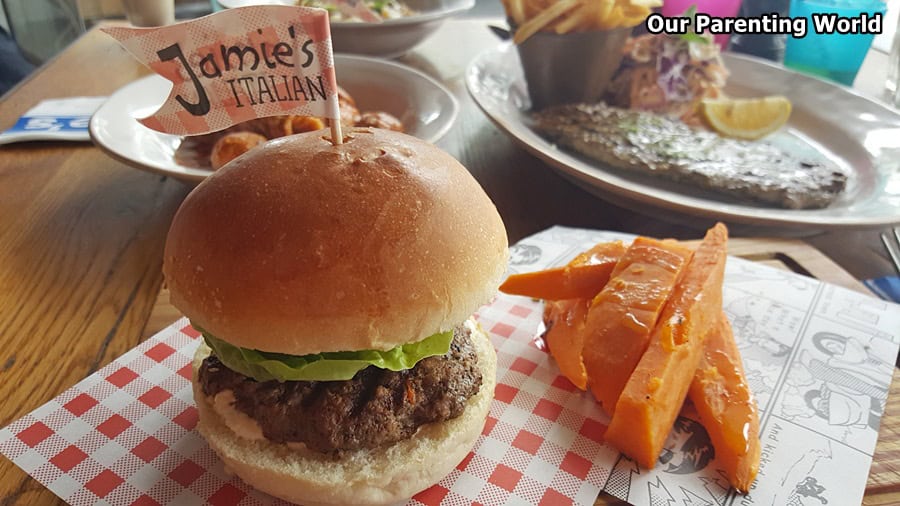 Baby Beef Burger
This kid's main consists of beef burger in a scrummy bun with lemony yoghurt, freshly sliced tomato & lettuce and served together with baked sweet potato fries. The beef burger is so tender and juicy, our kiddo enjoys it so much! The baked sweet potato fries is healthier, more nutritious and are much lower in fat as compared to the deep-fried version.
All the kids meal are healthy, well-balanced and full of quality ingredients with no artificial ingredients. Each meal contains at least two portions of fruits or vegetables.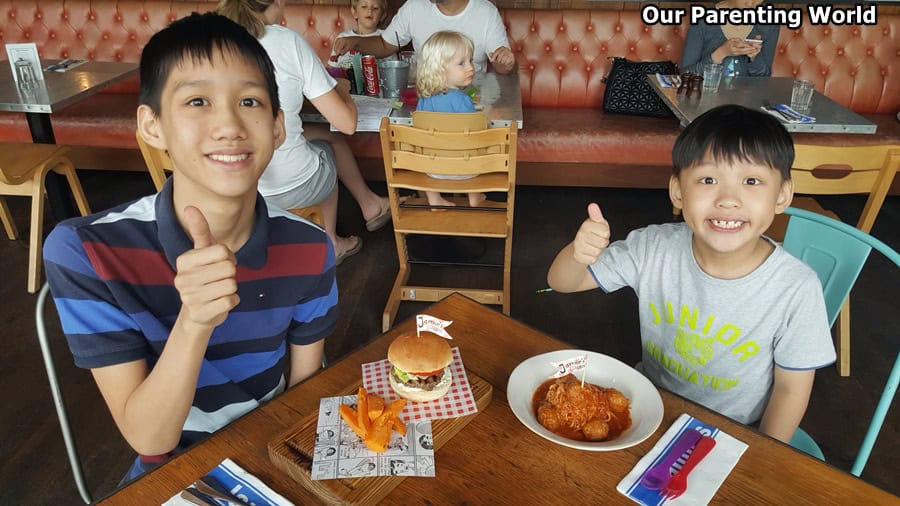 Our kids enjoy their kids' meals and the little one is so surprised that he has eaten vegetables without even realising.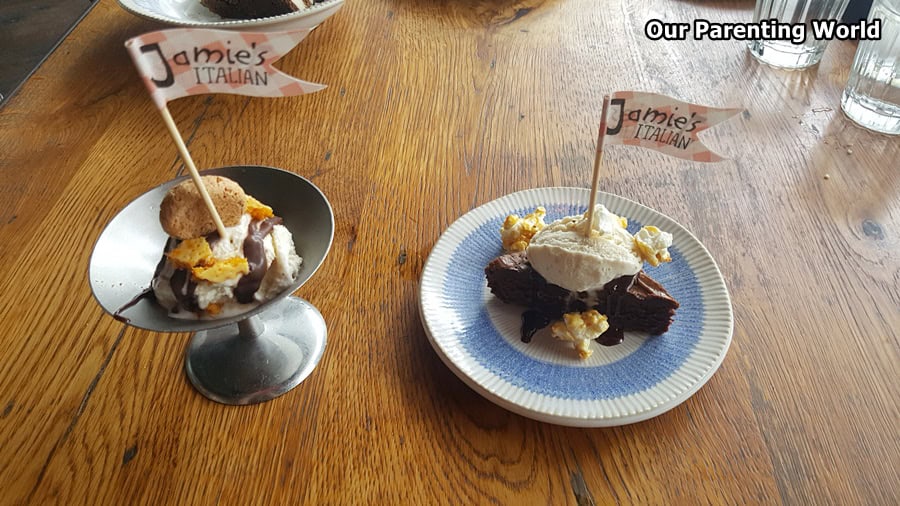 For desserts, just top another $3.50 each, kids can choose from ice cream (a jumbo scoop served with crunchy toffee popcorn & chocolate sauce), warm chocolate brownie that comes with a scope of vanilla ice cream, sorbet which is made of fresh fruit and fresh fruit which consists of a selection of beautiful, fresh seasonal fruit.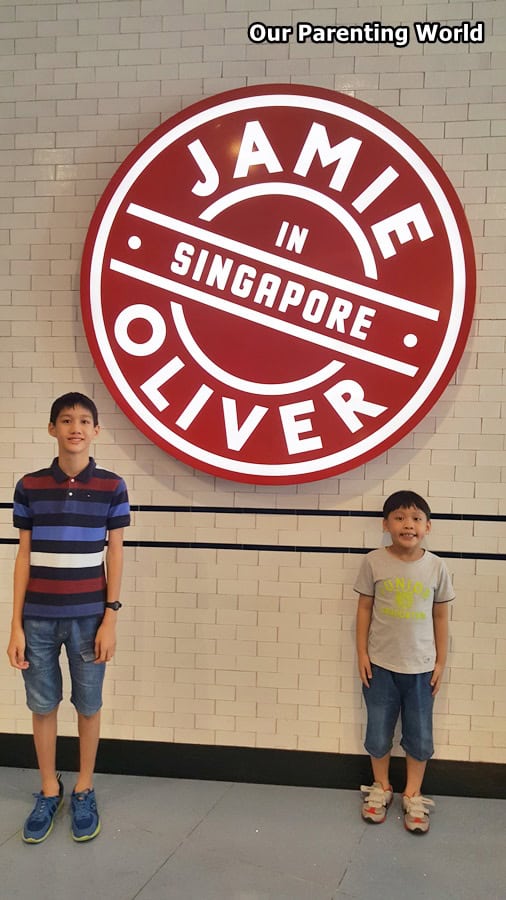 If you are looking for places to bring your kids to eat, visit Jamie's Italian where you can be assured that your kids are having tasty, healthy and well-balanced meal that is full of quality ingredients plus they will get to eat their vegetables without even knowing. That's a happy secret!
Jamie's Italian
1) VivoCity 
Venue: VivoCity, 1 HarbourFront Walk, #01-165/167, Singapore 098585
Tel: 6733 5500 
Operating Hours:
Monday – Thursday 12:00–21:00
 
Friday 12:00–22:00
 
Saturday 11:00–22:00
 
Sunday 11:00–21:00
2) Forum
Venue:  Forum, 583 Orchard Road, #01-01/04, Singapore 238884
Tel: 6655 7676 
Operating Hours:
Monday – Thursday
11:30–22:00
Friday – Saturday
11:30–23:00
Sunday
11:30–22:00
To find out more about Jamie's Italian, please visit 
https://www.jamieoliver.com/italian/singapore/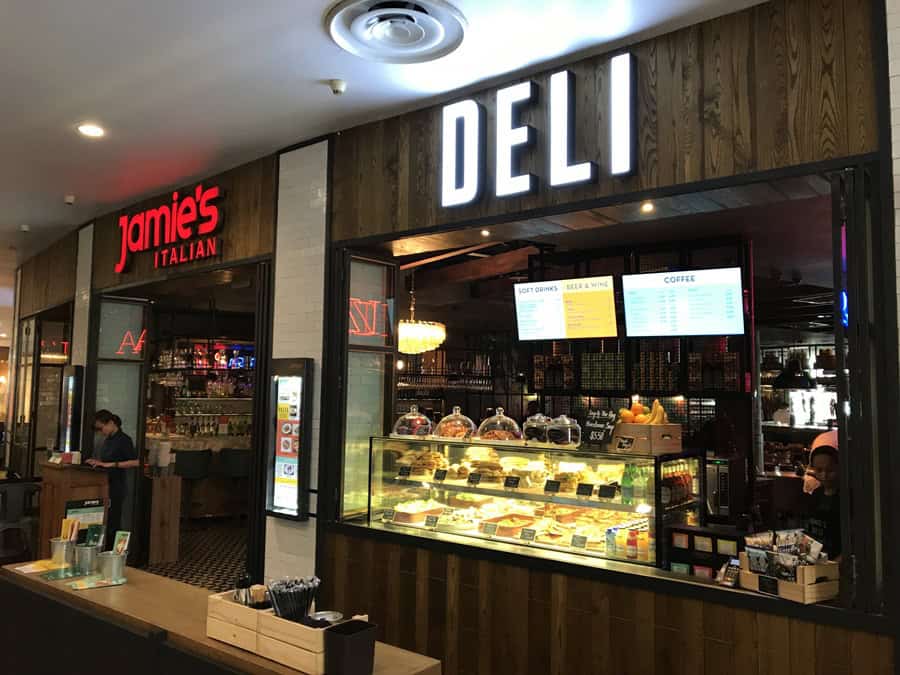 Update!! Jamie's Deli Opens As An Addition to Jamie's Italian VivoCity
Jamie's Deli is making its debut in Singapore this November as an all-day addition to Jamie's Italian VivoCity, dedicated to serving the community in the vicinity. Designed with a "grab-and-go" concept that starts from early morning, the intimate 16-seater deli caters to people on the move as well as those who prefer to dine in on quick and light ready-to-eat meals.
Keeping true to the food philosophy of British celebrity chef, Jamie Oliver, Singapore Head Chef Kwek Xiu Rong (or more fondly known as XR) ensures that only quality and sustainably sourced items are used in the preparation of the scrumptious Deli offerings. These include fresh salads, gourmet sandwiches, artisan pizzas, flavourful pastas and a mouth-watering selection of delicious sweet treats.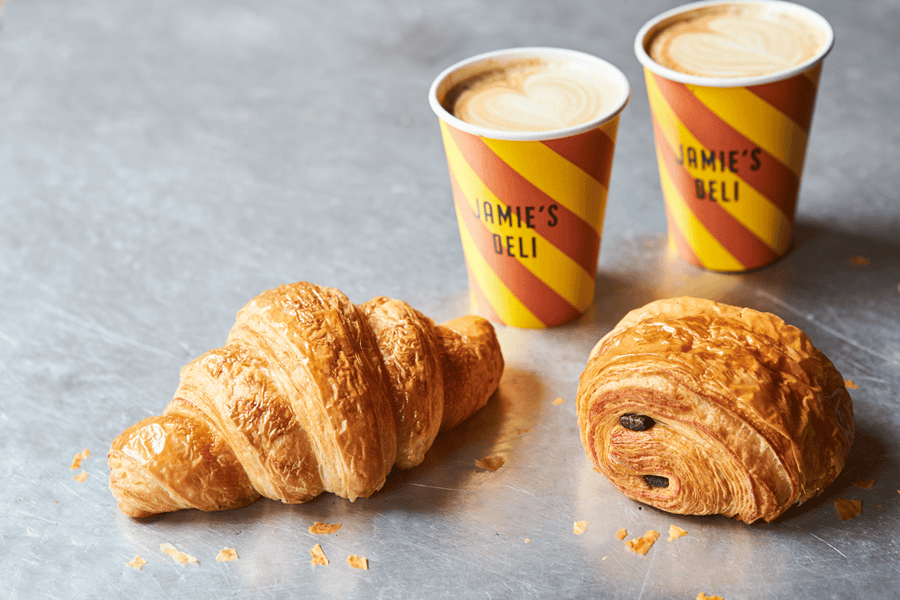 Jamie's Deli Offerings
Breakfast Offerings
In addition to hot and iced coffee, and a selection of tea, one can enjoy Danish pastries ($3.60+ each) such as the flaky Butter Croissant, light Raisin Roll and Dark Chocolate Croissant. Muffin lovers can tuck into Soft Centered Muffins ($3.60+ each) that come in four well-loved flavours – caramel, blueberry, chocolate chunk and red fruits.
Salads and Sandwiches
Guests looking for fresh greens can choose from salads such as the Big Fat Greek Salad ($5.50+ for small, $8.50+ for large) prepared with fresh lettuce, cucumber, tomato, feta cheese, and mustard dressing; or the Superfood Salad ($8.50+) – a super-fresh combination of beets, mixed pulses and grains, broccoli and feta cheese.
For those in search of a comforting sandwich ($9.60+ each), The Reubens, served with succulent roasted beef slices, mustard, cheese and sauerkraut will keep those bellies satisfied. Up for tasty yet guilt- and fuss-free wraps? One will be sure to love the Superfood Wrap, packed with quinoa, avocado, roasted peppers and baby spinach.
Hot Deli Items
Guests can look forward to hot deli items like stone-baked pizzas ($5.50+ each) including The Parma, adorned with fresh tomato sauce, mozzarella, San Daniele prosciutto, rocket and Parmesan.
The daily evening deli menu showcases selected Italian nibbles and antipasti such as the Crab and Avocado Crostini ($15.95++), made with fresh white and brown crab, crunchy fennel, smashed avocado, yoghurt and chilli; and the aromatic Garlic and Chilli Prawns ($16.95++) cooked in their shells with butter, ciabatta and parsley.
To find out more about Jamie's Italian, please visit