Our Parenting World is pleased to announce that Japan's number one online shopping mall Rakuten celebrates Singapore launch with three-day public extravaganza from March 28 – 30 at Ngee Ann City Civic Plaza.
Members of the public can experience the best of Rakuten's products – in food, fashion, beauty and many more. 
During the three-day "Rakuten Super Bag" extravaganza (11am – 10pm daily), members of the public can experience the following and more:
·  Japanese culinary demonstrations by celebrities Paul Foster and Keagan Kang (March 28, 6.30pm), Michelle Chia (March 29, 5.30pm) and Wong Lilin (March 30, 2.30pm), together with a chef from merchant Kuriya Fish Market.
·  Showcase of more than 300 products from Rakuten's top merchants.
Food section: A gorgeous array of fresh fruit, premium seafood, sake and delectable sweets and snacks all the way from Japan, from merchants Kuriya Fish Market and more.
Fashion section: The best of Japanese fashion from Rakuten Direct and more.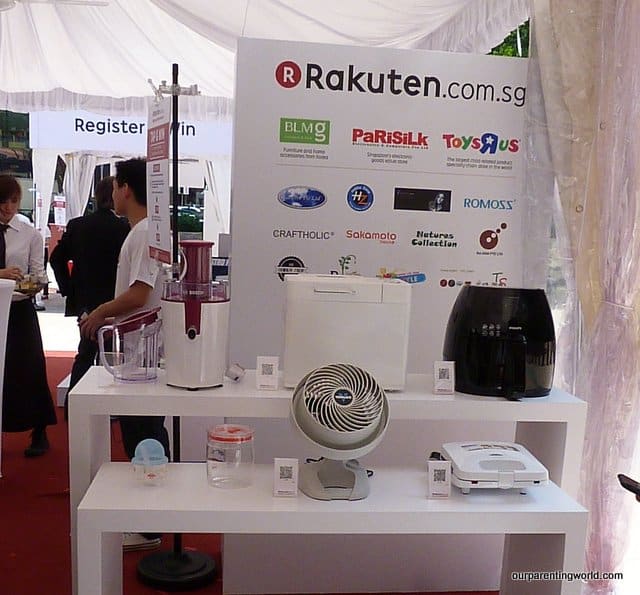 Home and living section: Consumer electronics, home furnishing and toys by merchants Parisilk, BLMg and Toys'R'US respectively.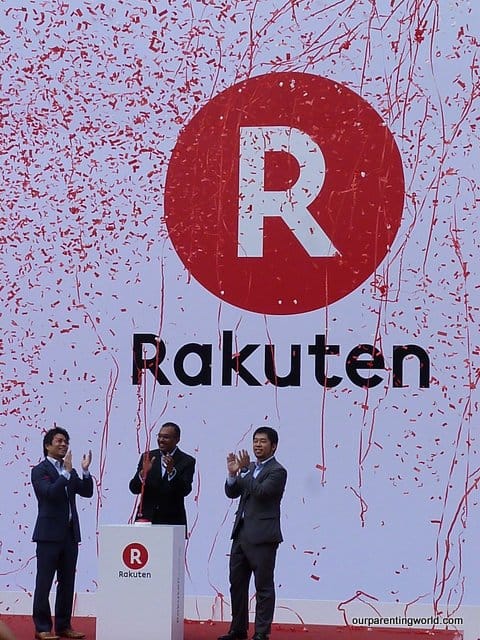 Shin Hasegawa, Global Vice Chief Marketing Officer, Rakuten; Kiren Kumar, Director, Infocomms and Media, Singapore Economic Development Board and Shingo Okamoto, Head of Singapore e-CoCommerce Business, Rakuten. (Left to Right) 
Rakuten, Japan's number one online shopping mall, has arrived in Singapore, literally with a big bang! To celebrate its launch in Singapore, the e-commerce giant has brought together the best of its Japanese and local merchants' products in an experiential showcase at Ngee Ann City Civic Plaza over three days, from March 28 – 30. Set against the ultimate icon of shopping – a larger-than-life Rakuten Shopping Bag installation – the event will give members of the public a taste of what Rakuten has to offer on its Singapore e-commerce site (www.rakuten.com.sg).
Stand to win exciting prizes on-site through Facebook and make international free calls with Viber

Special discounts on all showcasing products, and more at www.rakuten.com.sg
Mr Okamoto Shingo, Head of Singapore e-Commerce Business, Rakuten said, "One key reason why we chose to start up our Singapore operations was that we saw a tremendous response from Singapore consumers on our global marketplace. We thus wanted to create a Singapore e-marketplace that offers consumers access to high-quality Japanese products that are not readily available elsewhere, with the added benefits of lower shipping rates and shorter delivery times than when purchasing from our global marketplace. Through this event, we hope to introduce the Rakuten brand to even more people in Singapore, and enable more people to experience and enjoy what we have to offer."
But that's not all. Foodies, shopaholics and fans of Japanese products can also look forward a Rakuten food festival and Rakuten Super Sale – a signature Rakuten online event featuring massive product discounts – later this year. For more information, log on to www.rakuten.com.sg.