Our Parenting World (OPW) team attended the first-Ever Defensive-Aging Medical Conference in Singapore by Jeunesse Global together with 2 Globally Renowned Stem Cell Doctors, Dr Vincent Giampapa and Dr Nathan Newman. Being beauty and health enthusiasts, we are certainly excited to find out more at the conference on products that will address defensive aging and the use of cellular technologies.
About Jeunesse Global, it is a billion-dollar global health, wellness and beauty company, it has launched 2 new exciting products in Singapore. 1st, the NVTM BB (Blemish Balm) Perfecting Mist Foundation that incorporates a revolutionary technology to cover skin imperfections and 2nd, AM & PM EssentialsTM. These products are part of the company's YES Youth Enhancement System™ to help people realise beauty and vitality from inside and out.
Jeunesse NV™ formulated with the exclusive, APT-200™, includes a skin-perfecting primer, foundation and bronzer that provides an enviable, professional airbrush finish.
NV™ BB Perfecting Mist Foundation also blurs skin imperfections and delivers photo-ready coverage fast. With a range of up to nine tones, NV™ caters to every skin colour and every skin type.
Celebrity Make-Up Artist, Yolanda Holston (L) applying the spray-on foundation on Dr Nathan Newman and Dr Vincent Giampapa.
Celebrity Make-Up Artist, Yolanda Holston made a special appearance at the conference where she demonstrated how effective the spray-on foundation, NV™ is to provide enough coverage to cover up and evens out the skin from the smallest imperfections to tattoos. She shown that the products are good for ladies and even men. 
Dr Newman is the founder of the anti-aging technology behind Jeunesse NVTM  and he shared that "Jeunesse has been successful at leveraging the special growth factor complex that slows down the appearance of the aging process." The NVTM range of products, is easy to apply, its BB mist spray-on foundation settles as a fine mist of foundation to help to enhance the appearance of the user to give a youthful, perfect-finish look.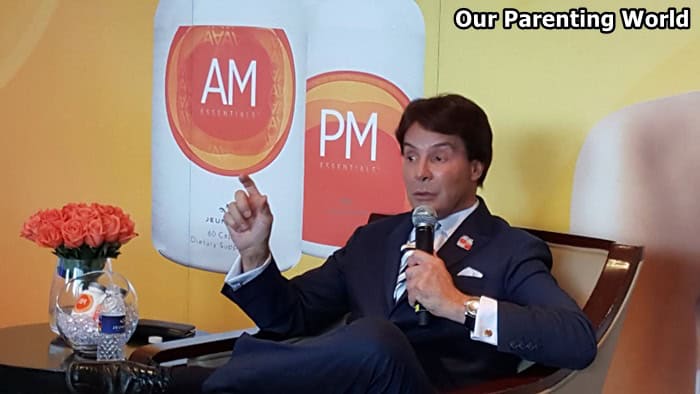 2nd product launched is the AM & PM EssentialsTM, a dietary supplement for morning and night that helps achieves optimal health by Dr Vincent Giampapa who was nominated in 2014 for a Nobel Prize for his groundbreaking research in cellular restoration technology. AM & PM Essentials is celebrated as the next evolution of vitamin and mineral supplements for the human body. Using cellular technology, it is designed to increase daily energy levels and to maintain optimal health.
Dr Giampapa is a world leader in anti-aging medical surgery and a strong proponent of stem cell therapy and advanced regenerative medicine research. He shared that "I am excited to share with Singaporeans, the science behind this technology so that they can make better informed choices for their health." AM & PM Essentials will aid in nutrient absorption and helps improve overall composition.
To find out more and to purchase the products, please go to www.jeunesseglobal.com