Jus Juice It (就榨吧), a new homegrown take-and-go fresh fruit juice outlet founded by three partners, Jeremy Tan, Ixson Tan and Walter Tay has just recently opened its door at V Hotel Lavender, 70 Jellicoe Road, #01-14. It offers an introductory menu of nine fruit juice concoctions that took over two months to perfect. It gives customer the option to add a generous topping of bite-sized fresh fruits for more texture and goodness. The juices are also available for delivery via GrabFood, making them accessible to juice and fruit lovers. 
Our team speaks to co-founders Ixson Tan and Walter Tay where they share about Jus Juice It, their inspiring entrepreneurial journey and others. Read on to find out more.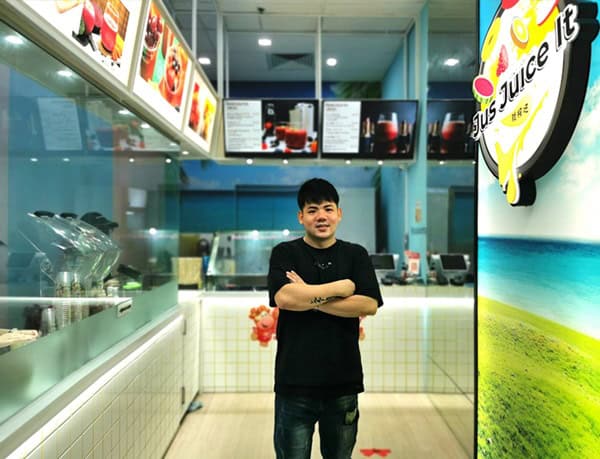 Exclusive Interview with Jus Juice It's Co-Founder Ixson Tan
1. Dropping out of secondary school to help your family make ends meet at a young age has made you appreciate the value of hard work even more. What are the other valuable lessons that you have learnt and what spurs you on?
What I have learnt through all these years of working is that are no short-cuts in life. And now that I'm running a business, it is even more apparent that everything is pure hard work, sheer determination and self-motivation.
It is also good to work with like-minded people with whom you share a common goal of where and what you want to achieve in say five to ten years' time.
What spurs me on is my family. I want to be sure that I can take care of my aging parents in their golden years and to provide comfortably for them.
2. What was your key driving force to become an entrepreneur?
It was an opportunity that came up during the COVID-19 lockdown. My long-time friend, Jeremy, asked if I was keen to embark on a business venture with him and another friend, Walter. After several discussions, we decided to start a fruit juice outlet as we feel that the food & beverage industry is pandemic resilient, especially one also focuses on a healthy lifestyle. Knowing that I am going into the business with two experienced people definitely made it easier to kick off my entrepreneurial journey. And being a hands-on person, I am driven by the fact that this business allows me to interact with customers and innovate new juice drinks to offer to them.
.
3. How do you generate new ideas or where do you draw inspirations from to concoct the juices?
I get my inspiration from everywhere, including conversations with our customers and also what I experience as a consumer. Before Jus Juice It, I was working in China for several years and I was always fascinated by how innovative the Chinese are in running their business, even from the name of their brand. There was a shop named "泰芒了" that sold mangoes. The clever play of the words sounded like "Too Busy", a common phrase that resonated with customers and created top-of-mind recall. When I was creating fresh fruit toppings with mangoes for our drinks, this shop came back to my mind.
More recently, I had heard our customers complaining about how hot the weather has been ad this sparked off the inspiration to create a perfect thirst-quencher in our newly-launched fresh coconut juice drink, CoCo Craze, which has proven to be hugely popular.
4. Who comes up with the unique name of the juice and how was it done?
Both my partners, Jeremy and Walter, and I came up with the names of the juices together over a few brainstorming sessions. We wanted the names to be fun and unique but also easy to remember. . For instance, 7.05PM was named due to the rich tangerine color of the drink that reminds us of the glow of sunset while our most 'upscale' juice, Berry Atas, is named due to the use of various expensive berries (blackberry, raspberry, strawberry) that are rich in antioxidants and to give it a local spin by using the word "atas" based on Singaporeans' way of saying 'high SES'.
5. What piece of advice would you give to college graduates who want to  become entrepreneurs?
There is no one route or formula to success. Perseverance and being resilient are what an entrepreneur should possess. Do your research well before starting and it is also good to have an open mind and learn from the successes as well as setbacks of other entrepreneurs in the same field. Always keep innovating and know what your customer wants.
6. If you had the chance to start your career over again, what would you have done differently?
The sum of all the good and not-so-good things that I have been through has shaped me to be who I am today. I have learnt from the challenges and mistakes but I would not have changed those aspects of my career journey. But I wish that I had taken the route of setting up a business earlier and met good mentors to guide me in this path. But I'm making up for the lost time by seizing every opportunity and putting in all my efforts in Jus Juice It.
7. What would you say are the top three skills needed to be a successful entrepreneur?
I believe that a successful entrepreneur is one who is highly self-motivated, able to think out of the box and humble.
8. What entrepreneurial tricks have you discovered to keep you focused and productive
in your day-to-day busy schedule?
Rather than a trick, I feel that it is every entrepreneur's responsibility to stay healthy as a service to themselves as well as those whom they work with. Being healthy means you are able to achieve what you what, stay focused and be productive. Like the famed Chinese saying, 休息是为了走更长的路,which means 'taking a break is to go on further and longer, it is important to step back, take a break and recoup your strength (mentally or physically), like a stroll in the park or a leisure swim in the pool. Sometimes we may get stuck in the rut and by taking a breather, we are able to see things from a different perspective or solve issues with a clearer mind. We need to work hard and work smart as well so that our health does not get burnt out
9. What key activities would you recommend entrepreneurs to invest their time in?
It is important to keep on the pulse of things and upgrade our skills and knowledge. The world is constantly evolving, and lifestyle trends and consumer behaviors change rapidly in this digital and social media age. Interacting with like-minded people through networking sessions to exchange opinions, ideas, thoughts is a good way to gain inspiration, motivation and validation.
Exclusive Interview with Jus Juice It's Co-Founder Walter Tay
1. What made you decide to embark on a hawker career?
I spent my early twenties chasing after material things that I thought were of great importance that validated my existence and status. It only dawned on me how much I had neglected my family when they were the ones who stood by me unconditionally at the lowest point of my life after failing several business ventures. Yet, they have never given up on me and continued to encourage me to keep trying. After much thought, I decided to open a hawker stall with my father to sell fried carrot cake in 2015. This was my way of becoming more grounded as well as building a closer bond with my family.
2. How do you see the hawker scene will be like in the next decade or so?
It will be inevitable that the hawker scene will lose most of its traditional flavour due to changing needs of consumers as well as the sustainability of hawker business/culture. We need to motivate our hawkers to continue their trade through better recognition and earnings that justify the tough, challenging and long hours that go into preparing and running the hawker stall.
3. How do you think the local hawker culture scene can be more vibrant?
One of the ways to make our hawker scene more vibrant is to integrate hawker centres with tourism spots. When the current pandemic is under control and the world is ready to travel again, the exchange of cultures and interaction with overseas visitors will inadvertently enhance the profile of our unique hawker scene make when they share about it with their families and friends back home.
4. Being the founder of Hawker Group, what are the challenges you face and how do you resolve them?
The goal of Hawker Group is to help aspiring hawkers to enter the trade and be sustainable in the long-run through mentorship, support and guidance. With the current pandemic situation, we are learning to adapt and respond to the changes necessary to keep hawker businesses viable and help to look for new ways to do what we were previously used to that might not be possible with the new norm. . We are also working on building trust and fortify the on-going relationships with all stakeholders so that we are able to move forward with ease once this pandemic situation improves.
5. There is no easy way out except hard work and passion. What was the impetus for you to start Jus Juice It with your friends?
It is my hunger to constantly learn new things and improve myself that made me start Jus Juice It with Jeremy and Ixson. I am fortunate to be able to partner with people from whom I can gain new knowledge, skills and life lessons.
6. What do you hope to achieve with Jus Juice It?
We want to make Jus Juice It a profitable and scalable F&B model, along with cultivating an inclusive and positive culture for the employees. We hope that Jus Juice It can become a formidable household name synonymous with innovative, fresh, quality fruit juice concoctions, and for juice-drinking to become a part of Singaporeans' daily lifestyle.
7. What are the qualities that are needed to be an entrepreneur?
Never give up and always believe that hard work pays off in due time. Be pragmatic and have zero wishful thinking of an overnight success. Last but not least, have a positive learning attitude and as the Chinese saying goes "活到老,学到老" (Keep learning even as you grow older).
8. What was the key mantra that kept you going?
Life can be more beautiful if we work towards it with relentless pursuit.
9. If you had one piece of advice to someone just starting out, what would it be?
I strongly believe that there is no failure as long as we keep learning and trying. The only time we
fail is when we stop.
10. Tell us about your juices – why makes them different and how did you decide on the menu?
The juices at Jus Juice It are elevated versions of traditional fruit juices found in our hawker centers/kopitiams. We have enhanced the taste of the juices with added fresh fruit bites, and there is no artificial sweeteners added to our juices.
We spent about two months coming up with the recipes for the concoctions, tasting them and perfecting them. We took into consideration the fruit mix, texture and taste of the juices. We also conduct tasting sessions with our family members and close friends to gather their feedback. From about 20 concoctions, we finally narrowed down to 9 to be introduced for our launch in late December 2020.
11. How has the reception been so far? What are the best-selling juices?
The reception has been very encouraging and positive. We get customers from as young as 3 years old to those in their 50s. Our best sellers include Berry Atas (which is a delicious concoction of blackberries, blueberries, raspberries, strawberries and grapes) and the recently-launched CoCo Craze, a perfect thirst-quencher made with fresh coconut water and generous chunks of coconut flesh.
12. Lastly, do you have anything else that you would like to share with our readers about Jus Juice It, any coming promotion and or your future plan?
For those who have yet to give Jus Juice It a try, we hope you will do so and support your friendly
local brand. We also introduce new seasonal juices and reward our customers with promotions regularly. Do follow us on Facebook at https://facebook.com/jusjuiceitsg and IG at @jusjuiceitsg for more updates and information!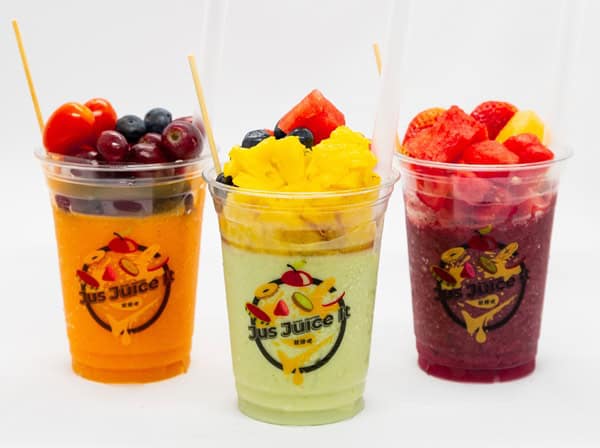 All images credit to Jus Juice It
Jus Juice It founders hope that with their fresh, enjoyable and competitively-priced concoctions, juice drinking can experience a resurgence and become the choice beverage for a perk-me-up and to hydrate and replenish vitamins and minerals into our body system. Try out their healthy and refreshing juices today!