Ka 3in1 Laundry Capsules, owned by Whealthfields Lohmann has announced an exclusive campaign with FairPrice, sending FairPrice shoppers on an adventure to win attractive prizes! 
A total of 1000 Ka Keys have been hidden in selected Ka 3in1 52-pack and these special packs have been distributed across the island at various FairPrice physical stores like FairPrice, FairPrice Xtra, FairPrice Finest, and online at FairPrice. Customers who find a Ka Key within the packaging upon buying the capsules will also get an instructional leaflet to explain the mechanics behind the hunt.
Sharie Lim, Head of Singapore, Whealthfields Lohmann shared that "Ka 3in1 laundry capsules have done very well since we introduced it into the Singapore market, and we wanted to do something special to thank our customers for supporting our brand. With all the gloom in recent months, we thought we would do something fun to lift the mood. A scavenger hunt across the island with a brand new Lexus at stake seemed to fit the bill and we're excited for what's to come."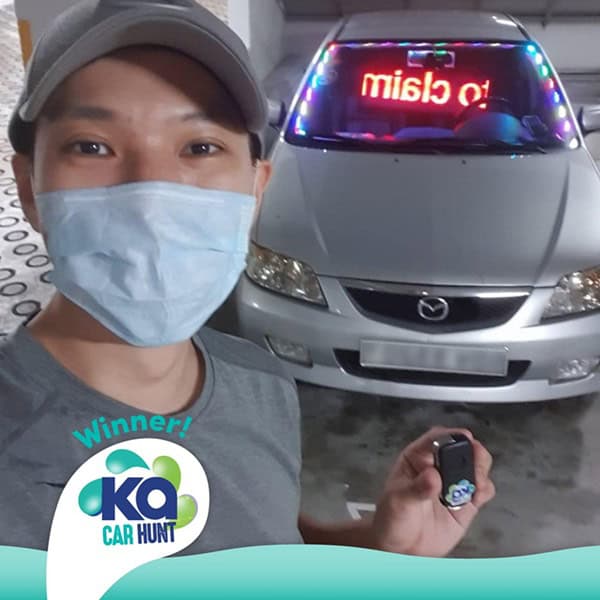 Winner of the Lexus
With just 5 days since the launch of the campaign, the mystery car was first found by Nicholas, who has walked away with a brand new Lexus UX200 Executive! 
The winner, Nicholas had purchased 8 tubs from four different locations and managed to get himself a Ka Key. After having a go at uncoding Clue 2 "Ka laundry capsules are floral scented for fresher smelling laundry", he admitted that he immediately linked this to nurseries and gardens and even visited quite a few places he thought it would be parked at including Gardens By The Bay. With no luck at 10 locations, he had almost given up hope on finding the car.
But a midnight craving for ramen turned his fate, chancing upon the mystery car in the public car park next to Takagi Ramen, which was the third location of the campaign. With the ongoing promotion of 2 tubs for $38.90, he essentially spent $156 for a brand new Lexus! 
Ka Car Hunt 
Although the Lexus car has been won, the hunt continues! Customers can still participate in the Ka Car Hunt and stand a chance to walk away with attractive cash prizes of up to $25,000!
To participate, purchase a Ka 3in1 52-pack at any FairPrice outlet (and even online) and find a Ka Key within! Only 1000 Ka Keys are available. Visit https://bit.ly/33SeY3r to purchase online!
Follow @kapodosg on Instagram and/or Facebook and uncode the clues to find the mystery car's location.
There will be a total of 11 clues released. A clue will be released every 48 hours, from 23 Oct to 13 Nov 2020. If participants find the mystery car, they can win the cash prizes at stake. The first clue is worth $5,000, and the remaining clues are worth $2,000.
If the mystery car isn't found for a certain clue, that prize money is added to the next clue's prize money. If the mystery car remains hidden until the final clue, someone could be walking away with $25,000! Remember to take a selfie with your Ka Key and tag #KaCarHunt! Gift pack redemption details will be shared after the event ends.
Using Ka 3in1 laundry capsules
Ka 3in1 laundry capsules are extremely convenient – say goodbye to the manual measurements and messy spillage. You just have to toss a single capsule into your wash!
Using advanced Japanese technology, its concentrated formula composes of cleaning, antibacterial and deodorising properties, the perfect combination for softer, cleaner and fresh-smelling laundry. It's easy-to-use, simply toss in one laundry capsule into the washing machine drum (not into the detergent drawer), add in your laundry and press start!