As parents, we are concerned with our children's health especially since the COVID-19 pandemic has affected our lives and create an increasing awareness and concern on how to better protect ourselves, and our loved ones from harmful viruses, bacteria and germs. BioCair, the local market leader in non-toxic aerial and surface disinfection solutions, has developed a revolutionary ion-energizing technology, the BC-65™ technology to create the BC-65™ solution.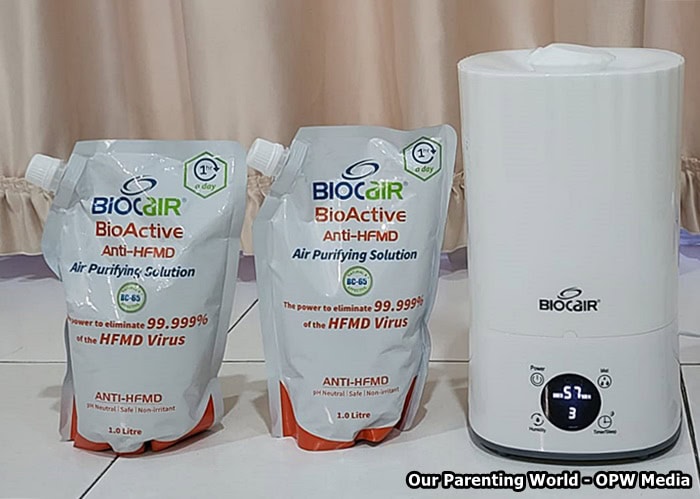 The BC-65™ solution is developed based on the human immune system's ability to fight bacteria and protect the human bodies against germs. The solution is formulated to be non-toxic, alcohol-free, and child-safe solution that can be used to kill bacteria and germs within 60-seconds of contact. This is certainly useful, fast and quick to protect our family and keep us safe. 
BioCair offers two types of Air Purifying Solutions, they are Disinfectant and Anti-HFMD. Both solutions are able to kill common airborne and surface germs such as bacteria, viruses, fungus and spores.
The BioActive Anti-HFMD Air Purifying Solution comes with protection against the Hand, Foot and Mouth Disease (HFMD) and viruses (Coxsackievirus A16 and Enterovirus 71), all within 60 seconds of contact. This will clean the air and keep our children safe especially HFMD, this disease is common in children under 5 years old, spreads easily and quickly in enclosed area.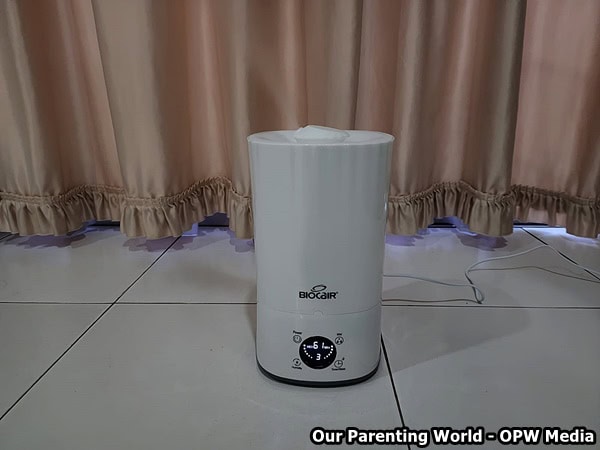 You have to use the Air Purifying Solution together with the BioCair Air Disinfection Machine. The classy designed machine is small, easy to operate with digital touch panel and timer function. The machine is light and convenient to carry around to different areas of the house. Remote control is also available. You have to dilute the solution with distilled water at a ratio of 1:1 for optimal efficacy and fill up the tank from the top after removing the lid. Once the machine starts to operate, it will convert the solution into a lightweight dry-mist, enough to stay suspended in the air to remove 99.999% of airborne and surface pathogens.  
The dry-mist is able to disinfect your area up to 65sqm, all you need to do is to use the machine and disinfect your desired area at least 1 hour per day. This gives us a peace of mind when we use the machine knowing that it will help to protect, purify our indoor air and keep us safe.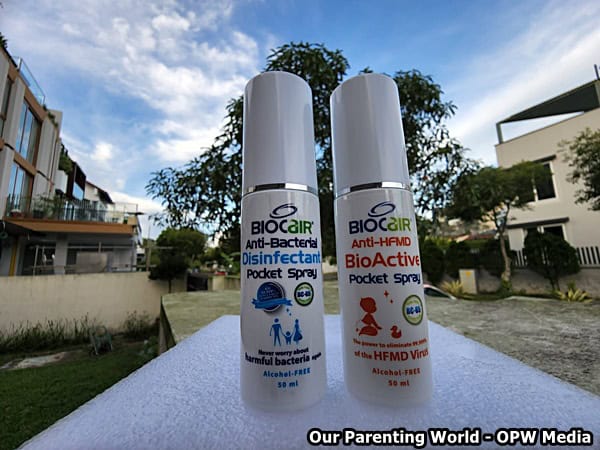 BioCair also comes in Pocket Sprays form, we find the BioCair's pocket-sized disinfectant easy to carry around, they are pretty lightweight and does not take up too much space in our bag. They are so convenient to use whenever we need to disinfect common surfaces and or items. Best of all, there is no need to rinse after use as the product does not leave any residue behind.
All BioCair products contains no toxic, no alcohol, non-irritant, safe for children and pet. The brand ensures that each product is proven safe and tested effective before reaching their customers as all products have undergone rigorous testing procedures at accredited, third-party laboratories in Singapore and the United Kingdom to ensure the highest quality and safety. The safety tests are conducted by leading certification bodies such as TUV SUD and SGS. 
To find out more about their products, please visit the following: 
Website: https://biocair.com.sg/
Facebook: www.facebook.com/BioCair
Instagram: www.instagram.com/BioCairsg