Above: Mr Amit Banati, President, Asia Pacific, Kellogg Company presenting a cheque for 100,000 servings of Kellogg's cereal to Grassroots Advisor Heng Chee How, Senior Minister of State (Prime Minister's Office), MP for Jalan Besar GRC (WHAMPOA)  
Photo Credit: Kellogg Singapore 
Our Parenting World team has earlier attended Kellogg's event on feeding a nutritious breakfast to over 300 people at Whampoa Community Club, and shared about Kellogg's initiatives in providing for around 120 preschoolers residing within the Whampoa district, all of whom are on financial assistance subsidy. 
This is in collaboration with Whampoa Community Development and Welfare Fund (CDWF) and ICAP Singapore to launch a 12 month long breakfast programme in Singapore under its signature cause Breakfasts for Better Days®.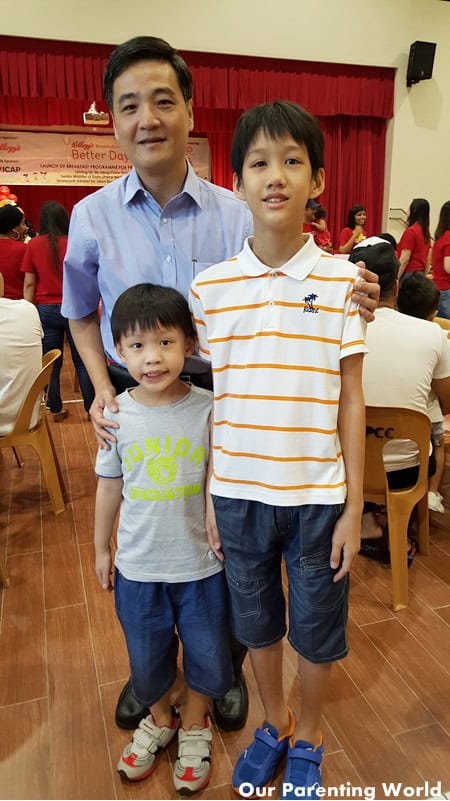 The event was graced by Guest of Honour, Mr Heng Chee How, Senior Minister of State, Prime Minister's Office. Our team has the pleasure of meeting Mr Heng Chee How at the event. The event was well attended by many residents in the Whampoa area where Mr Heng is also the Grassroot Advisor and Member of Parliament for the area.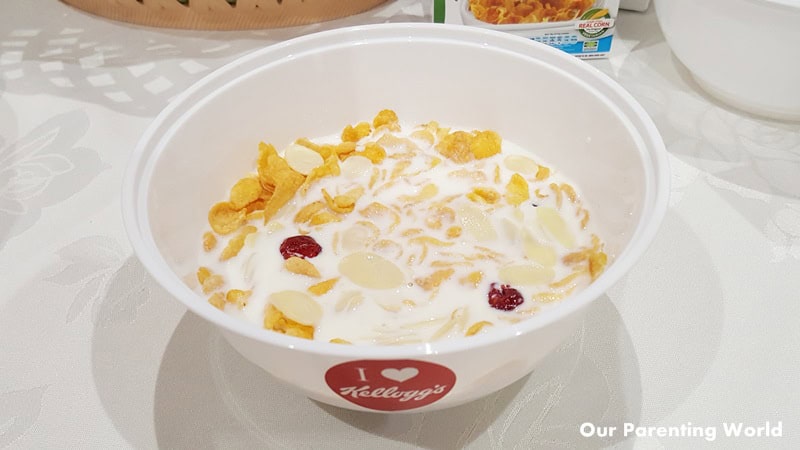 Breakfast is considered the most important meal of the day! 
Kellogg initiatives in this global programme that emphasizes on worldwide hunger relief firmly believe that every child deserves to start the day with the power of breakfast! By having a good and nutritious breakfast will provide for us the energy that you would need for the whole day especially for young and growing children.
At the event, Lynette Lee, Director of Nutrition & Regulatory Affairs, Asia Pacific, Kellogg Company gave a nutritional talk to the audience. Our Parenting World team has the honour of interviewing Lynette Lee (LL) to find out more. 
1. Can you share with us more about your role as the Director of Nutrition & Regulatory Affairs at Kellogg Asia Pacific?
LL: I help create great tasting food containing great nutrition so that families can flourish and thrive. Families will benefit from foods and ingredients that provide relevant nutrition for their daily needs, for growth and development or health benefits that they are looking for.
2. How does Kellogg differentiate its products from the other brands in the cereal breakfast market?
LL: Breakfast cereals as a food category are made with real cereal grains and fortified with essential nutrient such as vitamins and minerals. Often times, they contain nutrient-packed nuts and dried fruits, even pulses and legumes. Breakfast cereals are low in fat and also contain dietary fibre, and are perfect choices of breakfast foods eaten with low fat milk which provides calcium and protein.
3. Why is breakfast more important than other meals?
LL: More than just a meal, breakfast is the springboard to the day's possibilities. It helps break the overnight fast, kick-starting our metabolism and provides us with nutrition to start the day. Breakfast restores glucose levels, an essential carbohydrate that is needed for the brain to function.
Many studies have shown how eating breakfast bring many benefits to people in all age groups. In particular for children, breakfast helps to support concentration and learning in school. Having a good breakfast enables the child to feel full rather than hungry, which will help to improve mood and behavior in school. Breakfast is essential to support the growth and development of children.
However, what one eats for breakfast is equally important as well.
4. What makes a healthy and nutritious breakfast?
LL: In general, a healthy breakfast should provide a balance of various macro-nutrients such as carbohydrates; protein and fat, as well as micro-nutrients such as vitamins and minerals, and provide about 20% of your daily requirements. Using breakfast cereal sprinkled with nuts or fruits and eaten with low fat milk makes a yummy and nutritious breakfast choice.
5. Can you share with us what's your favourite breakfast recipe?
LL: We just recently launched Kellogg's Breakfasts for Better Days® in Singapore, where we invited renowned local chef and Asian Food Channel host, Sarah Benjamin Huang, to conduct a live food demonstration on creating healthy breakfasts.
I tried my hands on one of her recipes that she showcased during the event – Kellogg's Cheesy Corn Omelette – and was impressed by how easy to make and delicious it was! The combination of eggs and Kellogg's Corn Flakes was perfect in both taste and texture. While I still enjoy the classic pairing of Corn Flakes with milk, I have to say the Kellogg's Cheesy Corn Omelette is my current favourite.
6. Lastly, what would you like to say to our readers about Kellogg brings Breakfasts for Better Days® into Singapore's heartlands and anything else you would like to share with us?
LL: Kellogg's Breakfasts for Better Days® is a global program that helps to fight hunger through helping families and children in need. Since Breakfasts for Better Days launched in 2013, Kellogg Company has helped provide more than 1.7 billion servings of food to people in need. In Asia Pacific alone we provided 33 million serves of food across the region.
Our global goal is to provide another 2.5 billion serves by 2025. Through Breakfasts for Better Days® we are honoring both our heritage of philanthropy and conservation, and fulfilling our company's purpose of nourishing families so they can flourish and thrive. We are excited that in 2017 we have a 12-month long breakfast programme that will provide 100,000 serves of breakfast cereals to eligible pre-schoolers in Singapore – a wonderful way for us to bring to life our Breakfasts for Better Days® programme in Singapore.
Thank you for taking our interview! 
With the expansion of Breakfasts for Better Days® into Singapore, Kellogg hopes to make sure kids get the best start to their day and help them live up to their fullest potential. Between January to December 2017, parents of preschoolers within the Whampoa district can also approach CDWF to check on their eligibility to enrol in the breakfast programme. To find out more about Kellogg, please click HERE.