Instrumental music lovers will be able to enjoy the music of world famous saxophonist, Kenny G, when he holds his solo concert "One Night Only – Kenny G Live in Singapore", this November 8th 2018.
One of the most iconic and best-selling instrumental musicians of all time, with global record sales totalling more than 75 million, Kenny G will be treating his ardent fans to a one-night only concert at The Star Theatre. The concert will feature his album, "The Brazilian Nights" which was released in early 2015. The album which helped Kenny G get on to the Billboard 200, at number 86, was inspired when he was touring and travelling in Brazil, especially in Rio de Janeiro. Whilst there, he fell in love with the bossa nova genre, the people in Brazil and the nights of dancing and singing. He decided, then, to include the bossa nova sounds into his new album. The album's deluxe edition also contains four live versions of Kenny G's biggest hits, such as "Forever in Love" and "Heart and Soul."
The winner of several music awards including a Grammy for Best Instrumental Composition for "Forever in Love" and American Music Award for Favourite Adult Contemporary Artist, Kenny G is excited to be back, having held his last concert here in 2015. He is eager to share his love for bossa nova that has inspired him for a long while, with his Singapore fans at the exclusive one-night-only performance.
"I cannot wait to meet all my loyal fans in Singapore to give them a taste of what a romantic and exotic night in Brazil is like, through my music. It will be such a great reunion. I hope to be able to share my love for bossa nova with all my fans in Singapore," said Kenny G.
With a career that spans over three decades, Kenny G is the most celebrated instrumental musician of the modern era with his signature smooth jazz. He was ranked the 25th best-selling artist in America by the Recording Industry Association of America with 48 million albums sold in the U.S. as of July 31, 2006.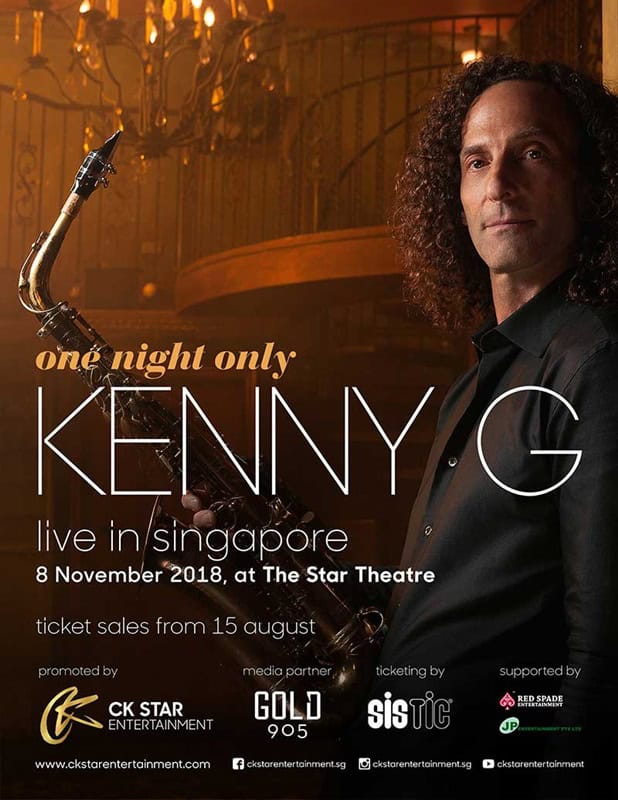 CK Star Entertainment, a music and entertainment promoter, is thrilled to bring Kenny G to Singapore. Don't miss Kenny G Live in Singapore – One Night Only! Get your tickets now! 
Show Dates and Time: 
Thursday, 8 November 2018 at 8pm
Venue:
The Star Theatre
Ticket Pricing:
(Excludes Booking Fee)
VVIP(Meet and Greet + Fan Sign): S$328
Standard: S$228, S$208, S$178, S$148, S$128, S$108, S$78
Box A & C: S$228
Restricted View: S$78
For more information about CK Star Entertainment and "One Night Only: Kenny G Live in Singapore" 2018 concert, please visit http://www.ckstarentertainment.com/
To purchase the tickets at SISTIC, please visit https://www.sistic.com.sg/events/kenny1118