KidsFest 2017: Gruffalos, Ladybirds and Other Beasts with Julia Donaldson – Review 
Our Parenting World has earlier shared that KidsFest 2017, the world-class theatre festival for young people proudly presented by ABA Productions will be happening in January 2017. We are so excited that KidsFest 2017 is finally here and it will be showcasing a total of NINE world-class productions adapted from best-selling children's books currently showing across two venues: Victoria Theatre and KC Arts Centre – Home of the SRT.
This year KidsFest returns, bigger and better! Parents and children can look forward to the biggest line-up of children's theatre productions that runs for a month which is the longest KidsFest ever! Tickets are on sale at SISTIC now and to find out more about KidsFest 2017, please click HERE. 
Our Parenting World is delighted to catch Gruffalos, Ladybirds and Other Beasts with Julia Donaldson today. Audience watching the show will join UK's award-winning and bestselling author, Julia Donaldson as she set to perform in this brand new show Gruffalos, Ladybirds and Other Beasts live on stage!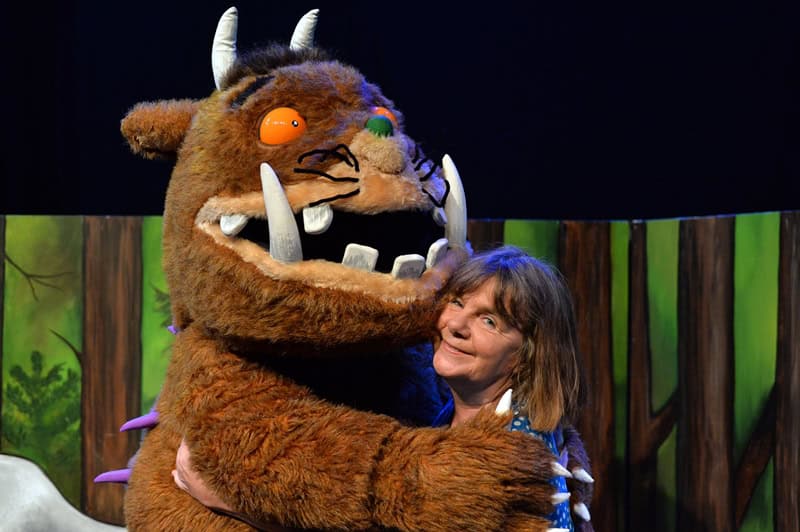 A very interesting, lively and fun show to watch! That's how Our Parenting World's kids find the show. 
If you have read Julia Donaldson's books, you will be familiar with her styles, her books are funny, creative and inspiring. Besides being a writer, she is also a playwright and performer. She is well-known to be a great story teller. 
Gruffalos, Ladybirds and Other Beasts, this is a brand new show that combined stories and songs featuring the most iconic characters from five of Julia Donaldson's best-selling books – The Gruffalo; What the Ladybird Heard; Zog; A Squash and a Squeeze; Jack and the Flumflum Tree. This is a good opportunity to watch the iconic characters all in one show!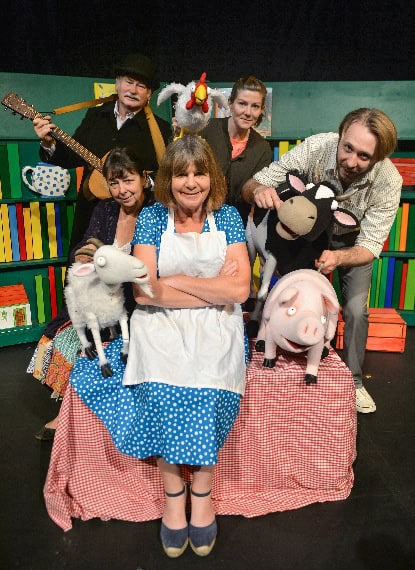 We thoroughly enjoyed watching the show and it has many highlights that makes it even more memorable and unique. Highlights includes seeing the multi-talented, Julia Donaldson performing the stories live on stage and the five members cast consists of her husband, Malcolm Donaldson playing the guitar and Julia's sister, Mary Moore. This really add a special touch to the show as most of the cast are Julia's family members. 
The story begins in a library and see the bookshelves cleverly transformed into a boat, an island, a farm, travel into the deep, dark wood as the story unfolds one by one. Throughout the show, you will be entertained with vibrant storytelling with adorable puppetry, catchy songs to sing along and engaging performances by the cast. Audience can expect lots of interaction with the cast. Children also have the opportunity to come up on stage and perform with Julia and the cast. This is a highly entertaining show that is suitable for the whole family! 

All the above images credited to KidsFest 2017
Don't miss the opportunity to watch Gruffalos, Ladybirds and Other Beasts with Julia Donaldson now showing till Sunday, 22 January 2017! Audience can look forward to meet Julia Donaldson in person at the book-signing session after the show. 
Final Chance to Meet Julia Donaldson, only 4 performances left!
KidsFest 2017: Gruffalos, Ladybirds and Other Beasts with Julia Donaldson 
Show Dates and Times:
Thursday, 19 – Sunday, 22 January 2017
Thursday: 3pm, 6pm
Friday: 3pm, 6pm
Saturday: 11am, 4pm
Sunday: 11am, 4pm
Venue:
Victoria Theatre
Ticket Pricing:
(Excludes Booking Fee)
Standard: S$62, S$52, S$42
To buy the tickets at Sistic, please go to http://www.sistic.com.sg/events/ckidsfest2017c
In addition to the brand-new Gruffalos, Ladybirds and Other Beasts, not to be missed are three other classics by Julia Donaldson – The Gruffalo, The Snail and the Whale and Stick Man. Back by popular demand, the shows are recommended for first-time theatre goers aged three and up. 
Exciting shows in the line-up – with a blast into the past!
Also not to be missed is Shark in the Park, presented for the first time at KidsFest! Follow Timothy Pope on his day at the park, where he tries out his new toy telescope. What does he find through the lens? Could there really be a shark, in the park?
KidsFest also promises a historical and literary treat with a series of shows specially catered for the older kids and history buffs.
Think it is impossible to travel back in time? Think again, as Horrible Histories brings two unconventional lessons on the past, straight from the theatres of the world-famous West End. Like its name suggests, Horrible Histories Best of Barmy Britain delves into the craziest milestones of the country, and everything in between. The show will be packed with fun facts and colour personalities, from Henry VIII to Queen Victoria.
Awful, ancient secrets await you at Horrible Histories Awful Egyptians. Travel back to a time when pharaohs walked the earth; discover the mystery behind the mummies and what lies in stores for them in the afterlife.
Shakespeare's Globe brings a refreshing twist to the classic romance by William Shakespeare at the one-woman show, Romeo & Juliet Untold. Revisit the tragic romance of the most famous star-crossed lovers from the perspective of the party planner of the Capulet Ball.
Where to Buy Tickets?
Tickets are now available at any SISTIC outlet, the official SISTIC website at http://www.sistic.com.sg/,  or at the hotline 6348 5555. Prices range from $42 to $62.
Please visit the KidsFest website at www.kidsfest.com.sg or the official Facebook page at www.facebook.com/Kidsfestsingapore for more information on the festival and productions.