Yay! Our Parenting World, Gor Gor and Di Di are so happy to be here at KidsSTOP™, Singapore's first and only children's Science Centre.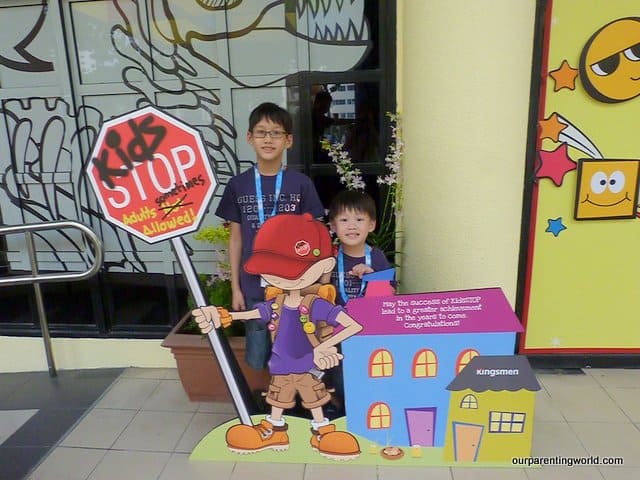 "We can't wait to start our adventure at this kids' wonderland!"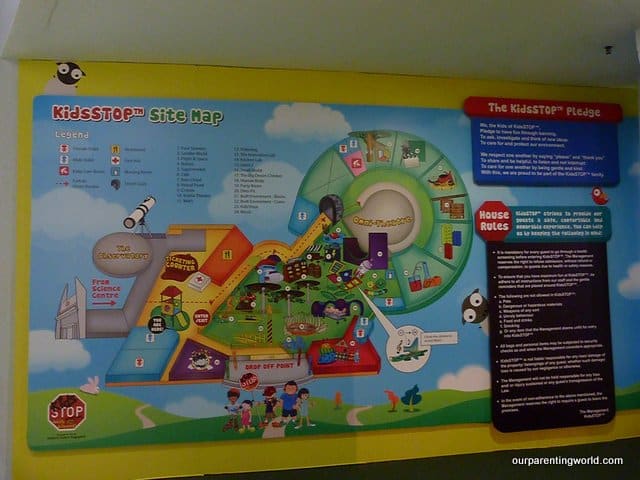 The site map of KidsSTOP™, this is a huge place occupying 3,000 squares metres of fun and is a children's Science Centre that aspires to be the place based on the four themes where every child gets to Imagine, Experience, Discover and Dream spread across 17 zones.

It also provides a safe and exciting learning environment suitable for children aged 18 months to 8 years old.
These are the play areas for toddlers:
At Four Seasons station, children get to learn more about the four seasons of Spring, Summer, Autumn and Winter.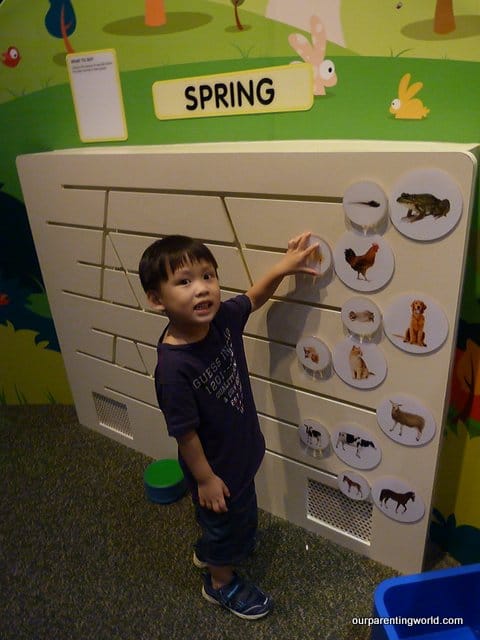 "This is the Spring season station, Spring is always associated with the season of new life. I have to match the baby animals to their parents."
Summer is the time to go outdoors and do some activities, at the Summer season station, children get to build their own "sandcastles" using the blocks.
At Autumn, leaves turn brown and start to fall off the trees. Children will get to push the leaf-shaped pop-up panel and find out what happens.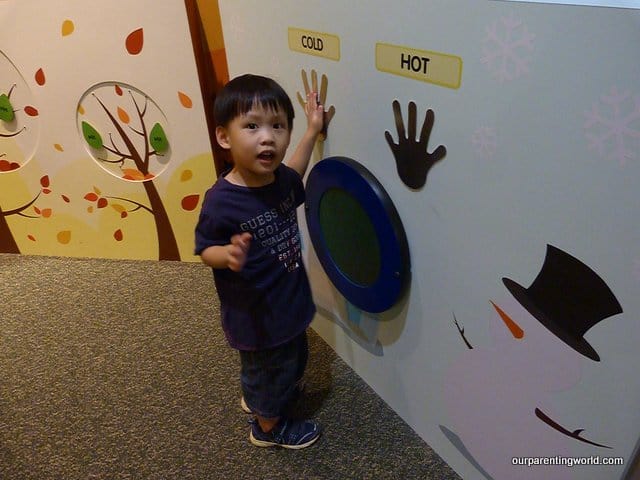 During Winter brings snow and it is cold. At this season station, children get to feel the differences between Cold and Hot.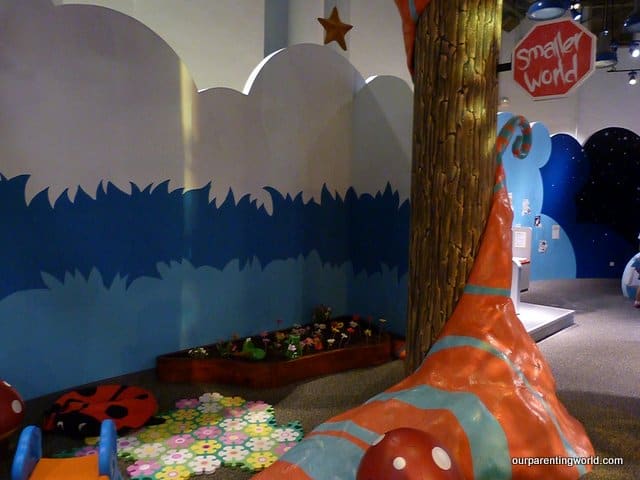 Other play areas for toddlers are Smaller World and Small World.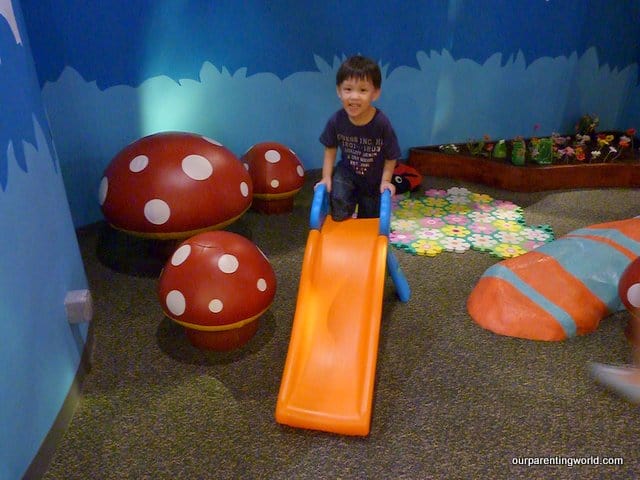 "I really like this place and I have so much fun!"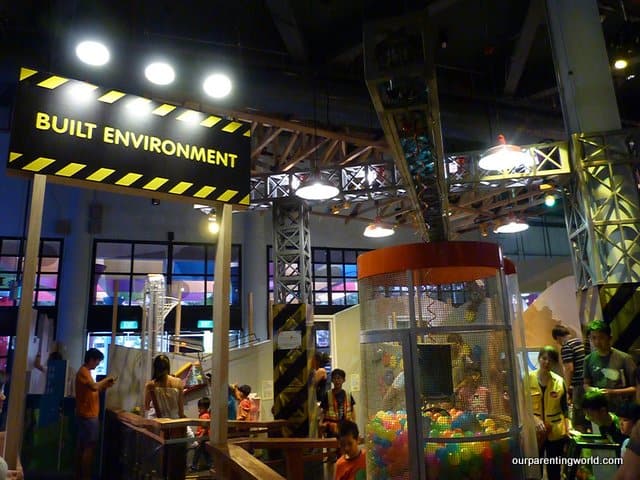 This is the Built Environment which comprises of a bustling construction site and young children can get hands-on being in a construction site, operating a mechanised crane and be exposed to various elements of construction.
Built Environment is sponsored by the Building & Construction Authority, it also features a magnetic wall with movable pipes and ramps, where children can create their own kinetic ball sculptures. Magnetic gears will also introduce visitors to the idea of gear ratios and energy transfer.
This is one of the most popular play stations, the Fight & Space station. Many children went straight to this station upon entering KidsSTOP™.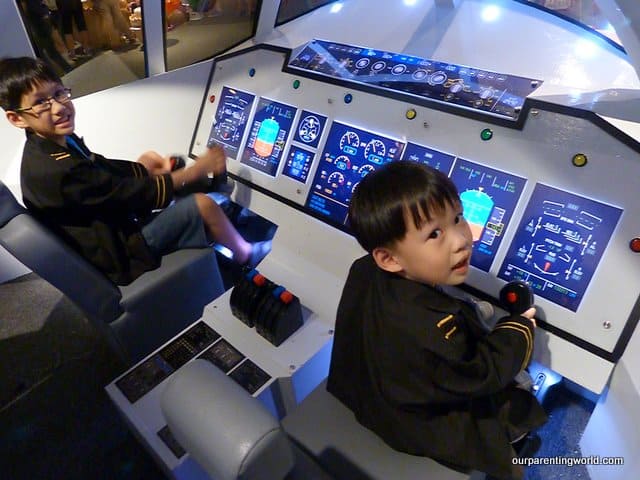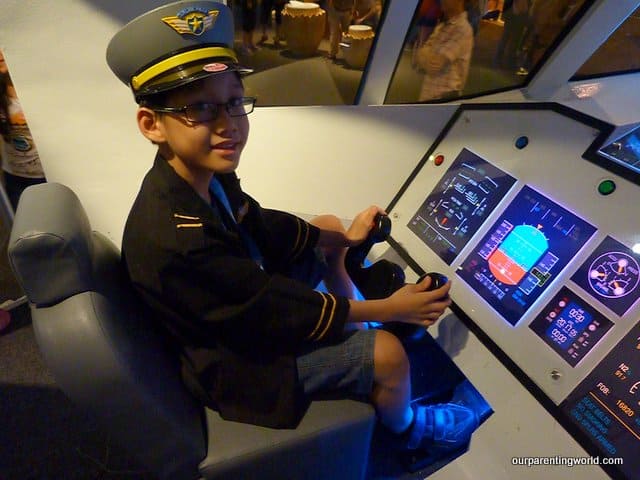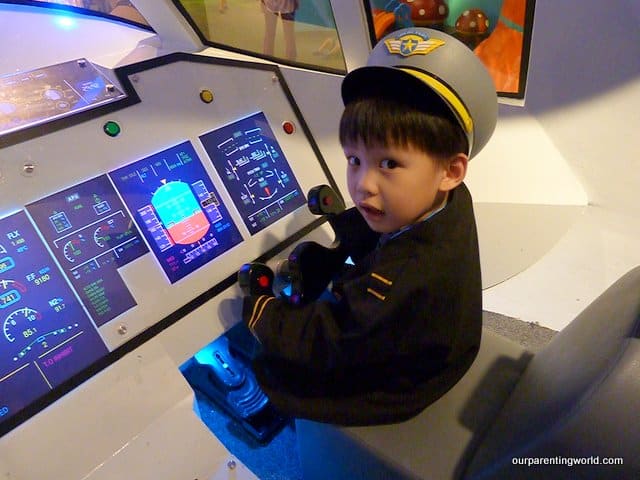 "We get to be pilots!"
"Do we look cool in our uniforms?"
The Flight & Space Zone is sponsored by the Civil Aviation Authority of Singapore. Children have the opportunity to explore and experiment with flight.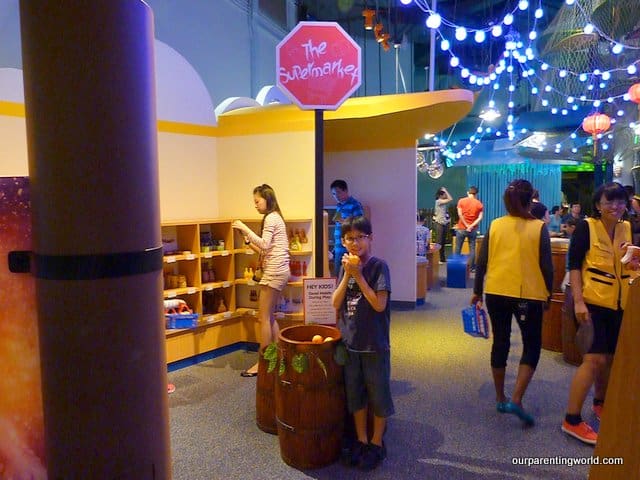 This is the Supermarket play station where children get to do role-play as customers and or cashiers.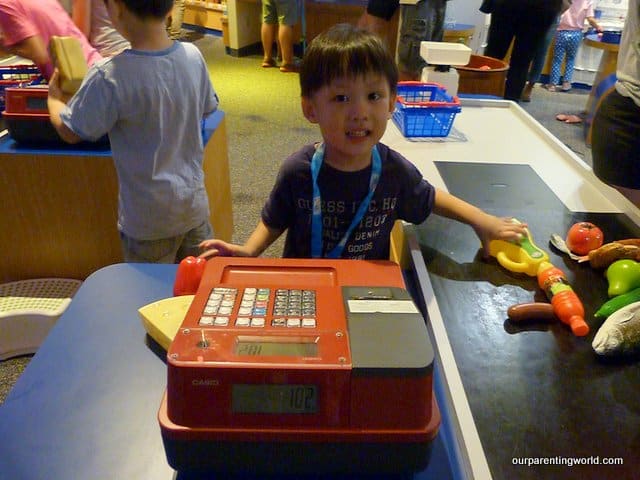 "Welcome to the Supermarket, I am the cashier for today!"
"After I am done with my job as a cashier, I am going to do grocery shopping."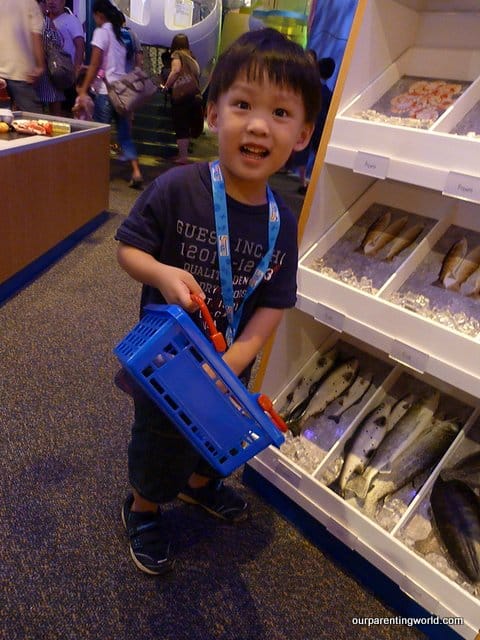 "I love to eat fish and it is good for children".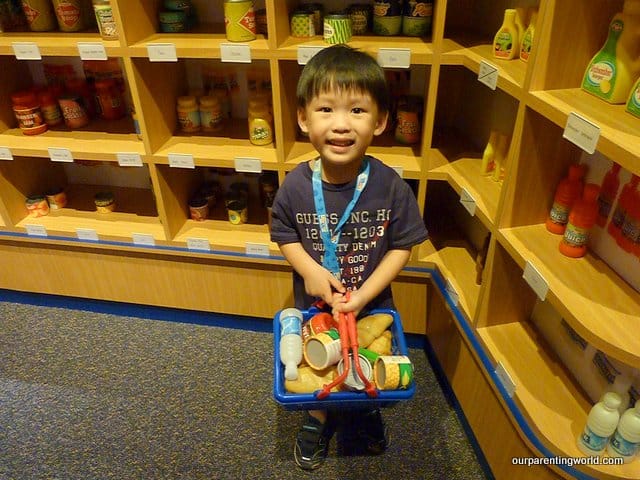 "Okay, I have finished my grocery shopping and I am going to cook for you tonight, Mummy!"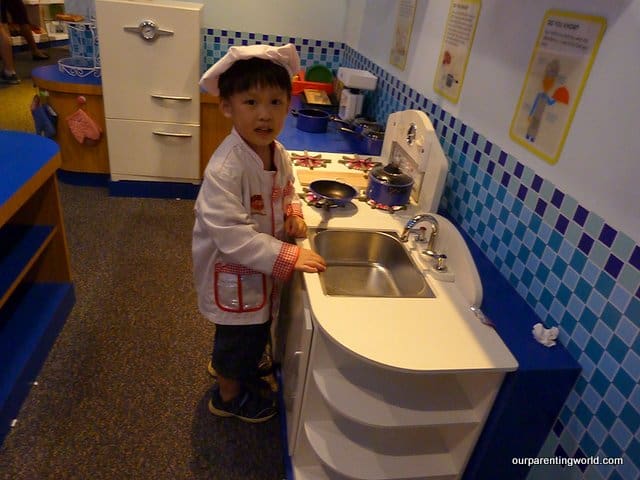 This is The Cafe station, children get to play cooking which helps to stimulate a child's imagination and learn how a kitchen and cafe works.
"My Mummy always cook for me and this time, I will be Chef Di Di and cook for my family to eat."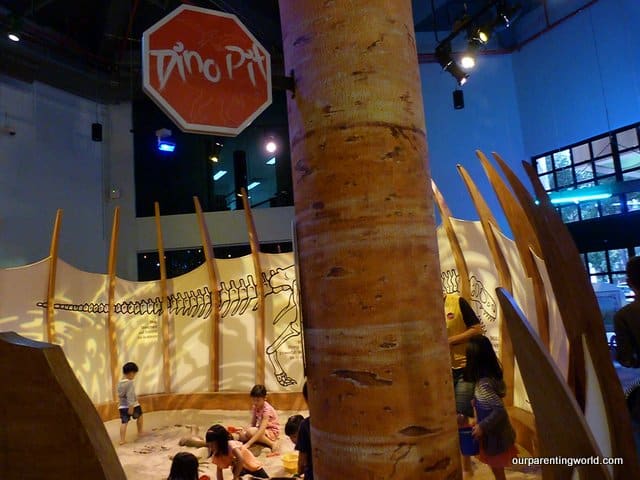 This is the Dino Pit where children will play the role of paleontologist and search for fossils.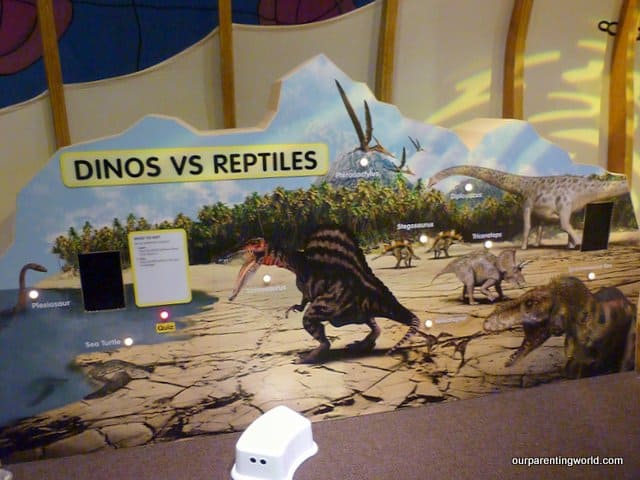 Children not only get to search for Dinosaur bones, they also learn about some of the common dinosaurs, and can try their hands at a quiz to classify these now-extinct beings.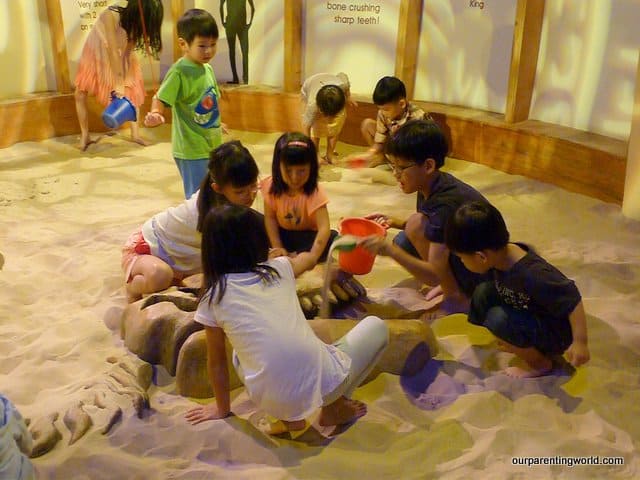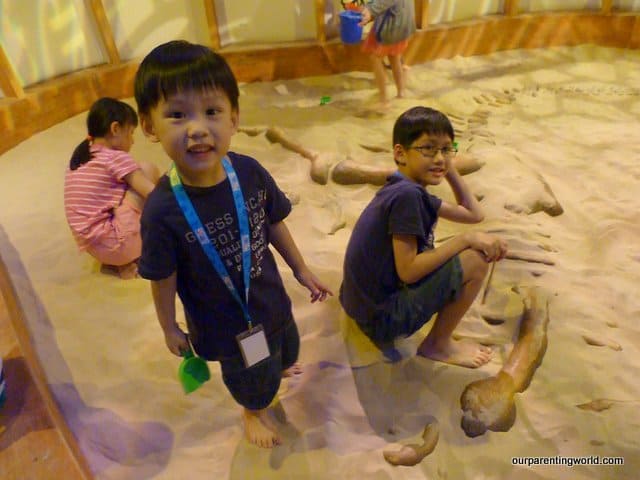 "This is really fun, we are given brushes, chisels and shovels to search for Dinosaurs' fossils."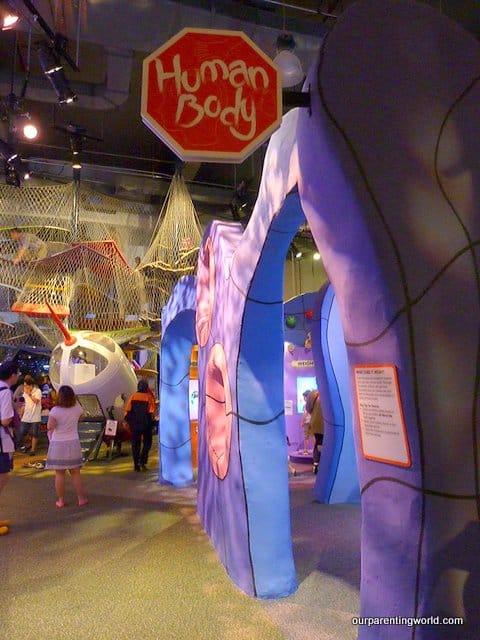 This is Human Body station where it is devoted to biology and the study of our bodies.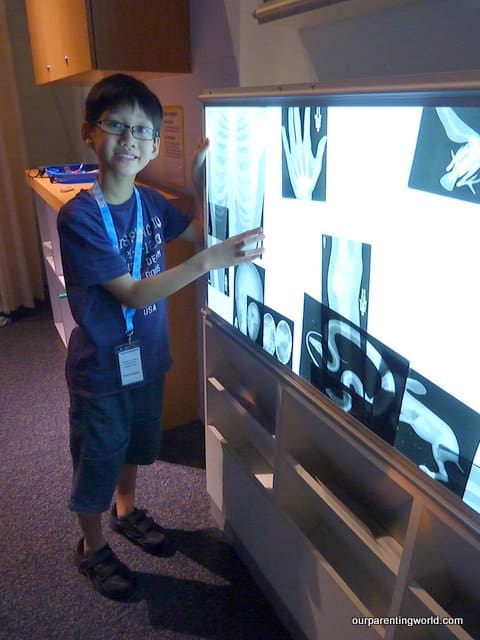 At this station, children are able to learn about X-Ray, see what is inside their bodies and to understand how a human skeleton is different from that of the animals.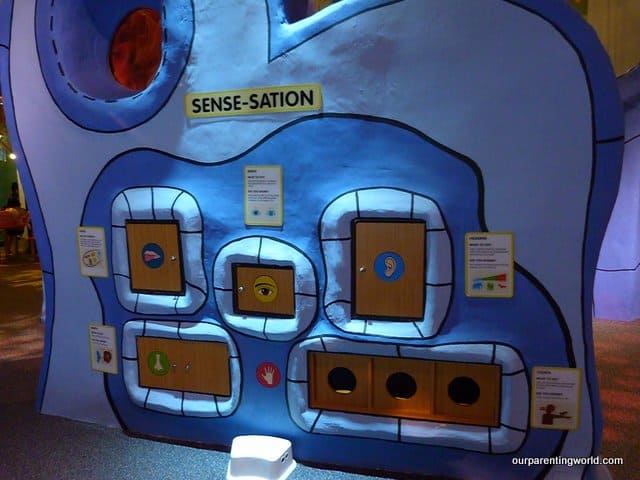 There are various activity stations at The Human Body station. Children can explore and find out more about their physical bodies, sensory skills and what makes their bodies unique.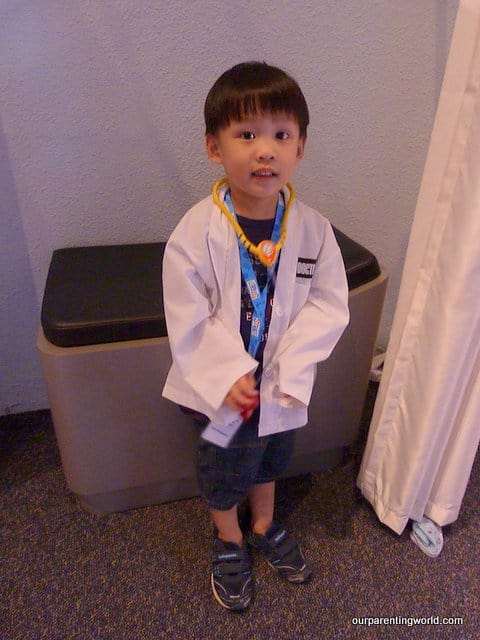 "Hello everyone, I am Dr Di Di and this is my clinic that I shared with my partner."
"Let me introduce my partner to you."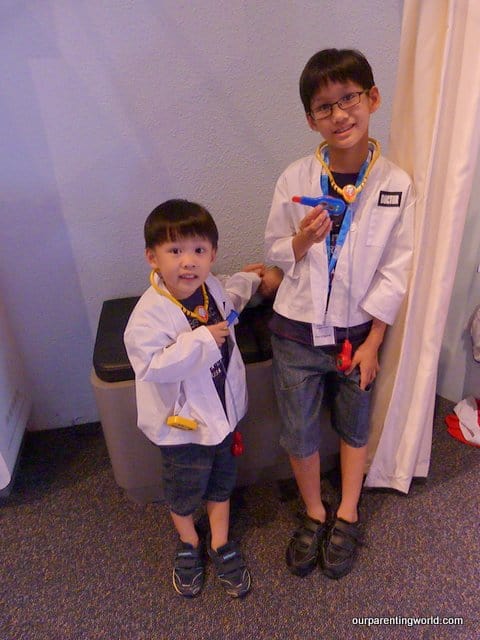 "This is Dr Gor Gor, my partner."
At this station, children can pretend and do role-play as a medical staff at a "doctor's office" or "hospital". Here, an Operation Game exhibit, featuring removable body parts, will educate children about the position of various key organs within our bodies.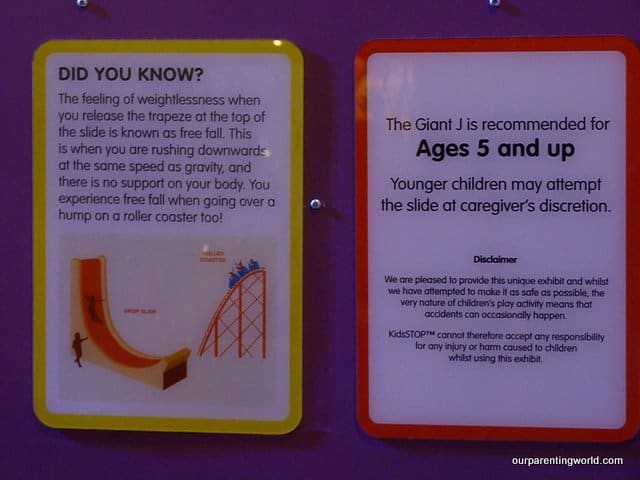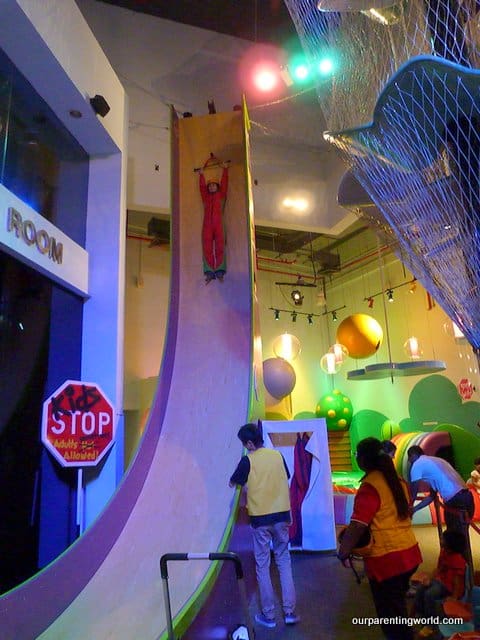 This is the Giant J, visitors can have an exciting experience sliding down a seven-metre slide where they will experience a sensation of free-fall before sliding to safety.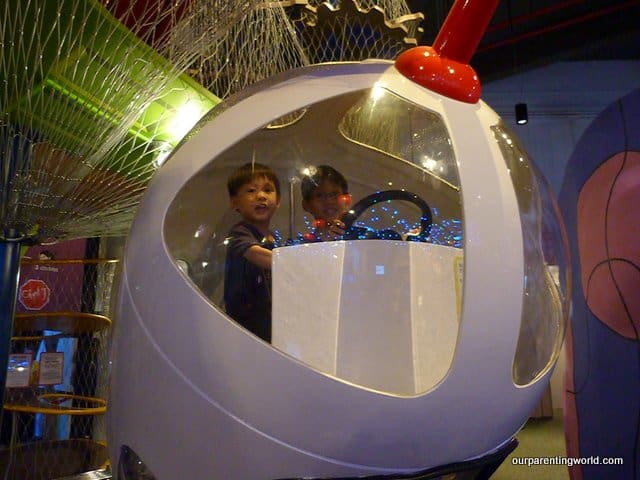 At the Fly Me To The Moon station, children get to climb into the rocket ship to take a space trip and role-play as an astronaut. 
The Big Dream Climber zone is a lofty 9-metre climbing structure that is the icon of KidsSTOP™. This is the place where children can explore, discover and enjoy this unique climbing zone.
Please remember to bring your socks as children are required to wear their socks at this zone.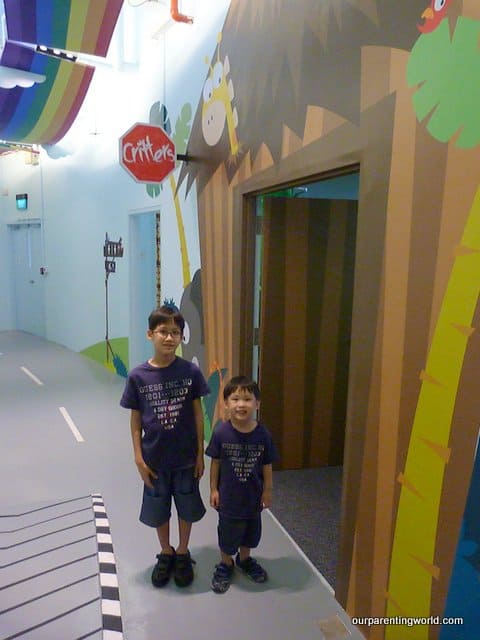 "We love animals and we are at Critters room where we will get to see unique displays of live animals like chicks, fresh water fish, hermit crabs and others."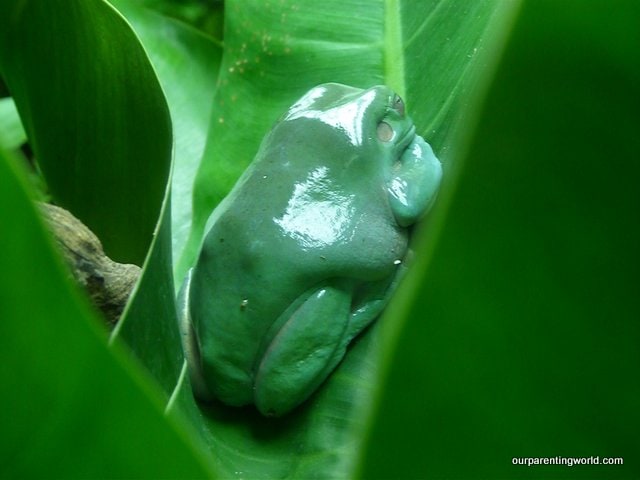 "Guess what frog is this?"
Answers: It is a White's Tree Frog, it lives in forest and has toe pad to help it to climb tree. White Tree Frogs can even change colour from green to brown depending on the temperature.
Gor Gor and Di Di loves animals and they can't help adoring the lovely little chicks. 
At the Critters Zone exhibits will provide knowledge about the families of various animals (e.g. mammals, birds, amphibians, etc.) and how they differ from each other.
The Kiddie Theatre where kids can display their creativity and imagination to create their own tales and videos experiences in film-directing, singing and acting.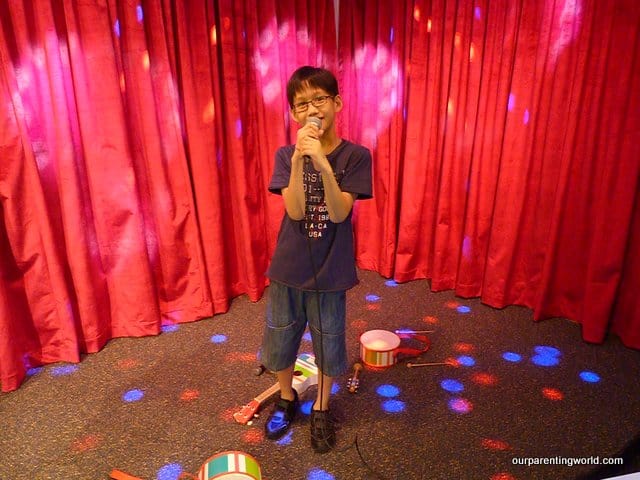 Children get to learn that besides having the performer on stage, there are many people working behind the scene like the director, crew members who are involved in lighting, sounds and visual effects and others.
Di Di is busy on screen and working behind the scene on Gor Gor's latest MTV.
Children can choose a background and role play on various scenarios. Like being an astronaut at Galaxy Space, as Superman flying, as a scuba diver in the deep ocean and being a reporter reporting in extreme weather.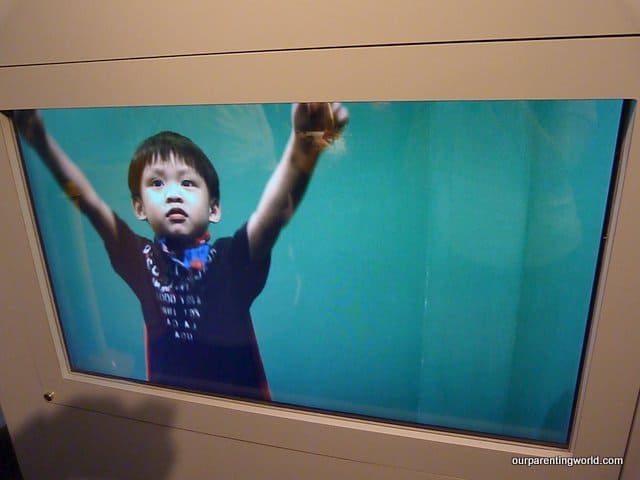 Di Di wore the superman cloak and "attempted" to fly through the cloud on a green screen.
"Breaking news, this is Di Di reporting that typhoon has swept through Singapore!"
The machine was under maintenance when we were there so Di Di did a mock up on some of the scenarios of what you would expect if you try this out.
Director Gor Gor working on his latest movie. At this station, children learn how to make their own motion pictures.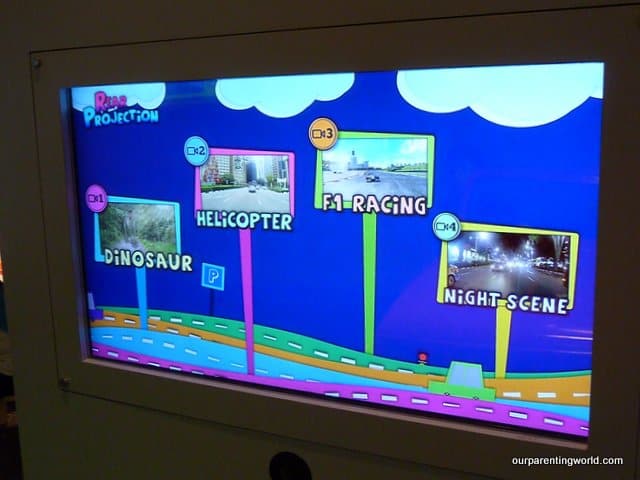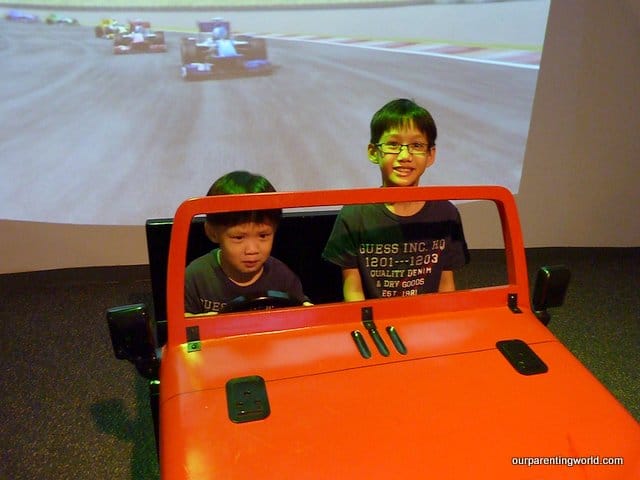 Gor Gor and Di Di are very honoured to act in four big budgets "Hollywood" movies where they sat in a car and being caught in four different situations.
Look at Di Di's determined face, he would display his amazing driving skill and get his Gor Gor to safety.
"We are being chased by a helicopter, quick Di Di get us out of here!"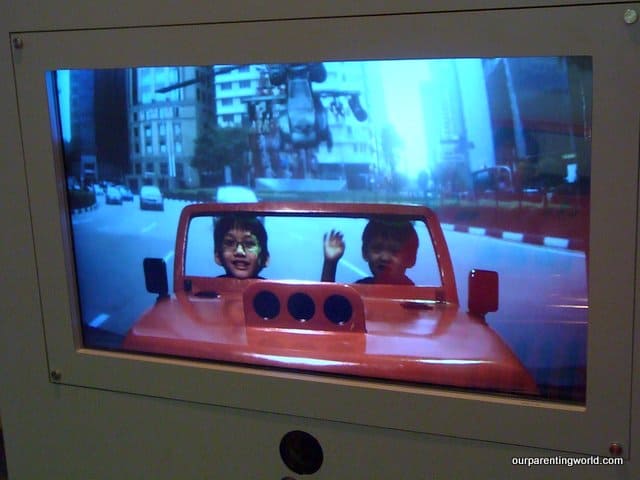 "That's how it looks like on-screen, the helicopter can't catch up with me. Bye helicopter!"
"T-Rex is just behind us, quick get out of here!"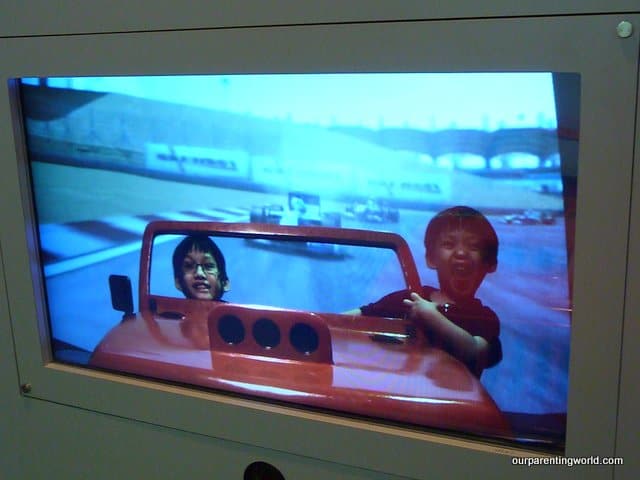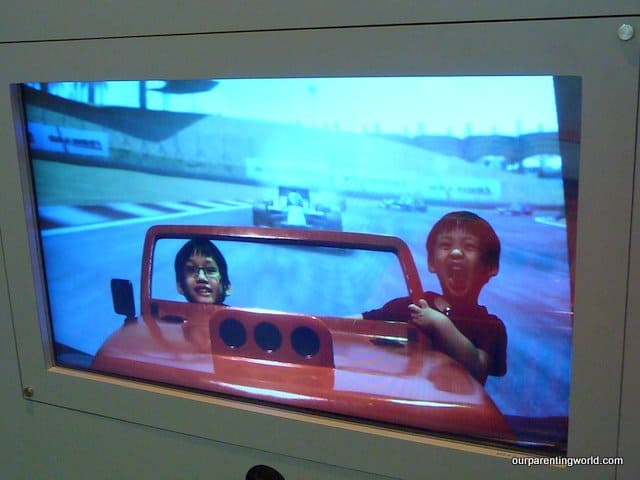 Di Di being a car frantic can't control his excitement. "I am a Formula 1 racer!"
Our Parenting World, Gor Gor and Di Di would like to thank the kind and lovely organisers, KidsSTOP™ and Science Centre Singapore for having us. Be prepared to spend many wonderful and fun hours at KidsSTOP™! 
Additional Information on KidsSTOP™:
Opening hours

 

 

 

 

 

 

 

Weekdays (excluding
Weekends (including

 

 

 

 

public holidays)
public holidays)

 

 

 

School groups

9.30 – 11.30am

–

 

 

 

 

Public

12.00 – 3.00pm

10.00am – 2.00pm

 

 

 

 

4.00 – 7.00pm

3.00 – 7.00pm

 

 

 

 

Admission rates

 

 

 

 

 

 

KidsSTOP™ only

 

 

 

 

 

 

 

 

 

 

 

 

 

 

 

Weekdays

 

Weekends,
public

 

 

 

(excluding
public
holidays and school holidays

 

 

 

holidays and school holidays)
 

 

 

 

 

 

 

 

 

 

Singapore residents

 

 

 

 

 

Child (18 months – 8 years)

$20.00

 

$23.00

 

 

Adult (anyone aged 9 years & above)

$10.00

 

$13.00

 

 

Overseas visitors

 

 

 

 

 

Child

 

$25.00

 

$28.00

 

 

Adult

 

$15.00

 

$18.00

 

 

Member rates

 

 

 

 

 

 

Child

 

$14.00

 

$16.10

 

 

Adult

 

$7.00

 

$9.10

 

 

Applicable only for 1 child & 1 adult

 

 

 

 

 

Additional  children  and  adults  pay

 

 

 

 

 

rates for either Singapore residents or

 

 

 

 

 

overseas visitors

 

 

 

 

 
Membership details: 
$30 per year. Includes 1-time free admission for member and one adult. Valid for weekdays and weekend.
Member benefits:
30% off KidsSTOP admission rate for member and one adult for subsequent visit

20% off Science Centre admission rate (card holder only)

20% off birthday packages

Discounts at KidsSHOP and tenant outlets

Merchant discount booklet

Discounts at selected retail and F&B outlets within Science Centre.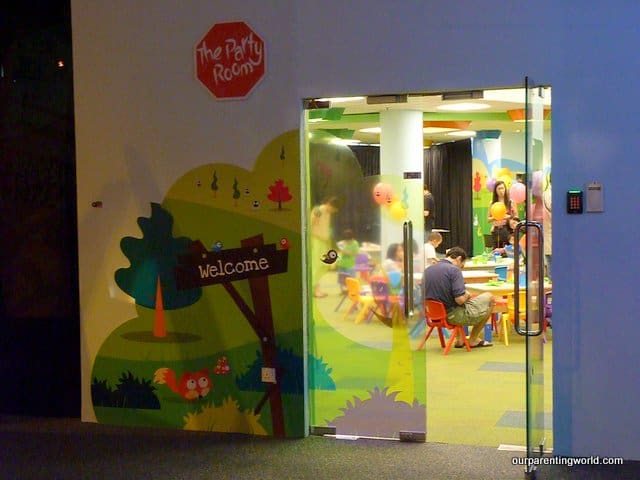 KidsSTOP™ has attractive party packages for birthdays and other celebrations to give everyone a fun and memorable time. 
For more information, please go to  http://www.kidsstop.edu.sg/.